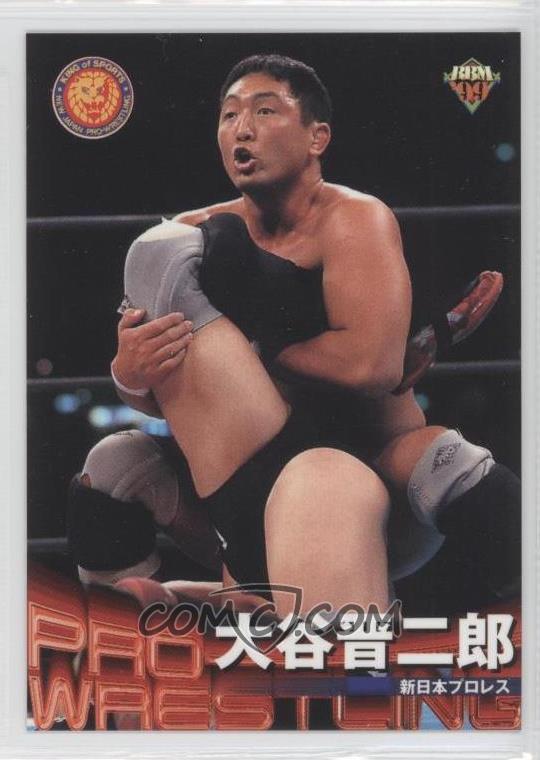 Shinjiro Ohtani: If disdain was a person.
Welcome back to more Dream Matches! This one features a true wild one for me, as we see two of New Japan's top Juniors… in WCW, taking on the American Males! Koji Kanemoto & Shinjiro Ohtani vs. Bagwell & Riggs! Plus, four of the most disparate guys you can imagine end up in one match- '80s tag legend Bobby Eaton, '90s failed Power Plant grad Kenny Kaos, never-was failed '90s hire Bobby Duncum, Jr., and former Beverly Brother Mike Enos have a tag match on Saturday Night! And I'm pretty sure the ending is buggered!
Then ANOTHER possibly buggered ending, as that weird Late-96, Early-97 WWF era where they're just throwing EVERYTHING at the wall to see what sticks rears its head, as we have Mexican legends Pierroth & Cibernetico taking on All Japan top team Doug Furnas & Phil LaFon! But check that weird ending!
Also, come see Lex Luger & The Giant take on two roided Power Plant guys I've never heard of in "The Power Company" (here called the Power Team)! And did you know that ELIX SKIPPER got his TV start in WCW? It's true! Come watch him get some showcase as a job guy for Billy Kidman! Plus a random mess of a match as Barry Horowitz is left trying (and failing) to wrestle a lucha-style match against Silver King!
KOJI KANEMOTO & SHINJIRO OHTANI (w/ Sonny Onoo) vs. THE AMERICAN MALES (Marcus Alexander Bagwell & Scotty Riggs):
(WCW Worldwide, Dec. 2nd 1995)
* Oh YES!! Two of the best New Japan Juniors and they go to WCW and end up stuck with the Power Plant pretty boys! Now THAT'S a weirdo "WTF? This happened?" match! Ohtani in particular is THE SHIT, famous for the sheer amount of disdain he holds for every opponent. Kanemoto I've seen less, but he was the third Tiger Mask and I've seen a LOT of **** ratings thrown his way. The Males are still in the midcard at this point, and OH MY GOD they're so '90s. I love Buff's bouffant hair and Riggs with his dirtbag semi-mullet. They have hideous black & white-striped singlets and jean shorts on, while Ohtani's in his trademark plain black trunks, and Koji's dressed like Bruce Lee with a white belt. Curiously the size difference is nowhere near as prominent as I was expecting- Bagwell isn't any taller than Ohtani from the looks of things.
Heenan sings the praises of the Japanese ("and not just because they PAID m– because I'm paving the WAY for them!"), then asks if Ohtani's wearing speedos- Bagwell wins an "international" sequence on Ohtani, but is kicked down and Koji lands some karate kicks on him. Bagwell powers out of a wristlock and gets his own, and the Males trade off on Koji- Riggs wins another international, but Ohtani nails Bagwell from the apron and Koji gets a standing side-kick. They double-team him for a while, Koji twisting the knee and such while Heenan completely writes off the U.S.'s chances in the "World Cup of Wrestling". Koji dropkicks Marcus in the tree of woe and starts completely no-selling Bagwell's offensive comeback and chops away. Ohtani gets a somersault senton for two, but Bagwell grabs the ropes to avoid a dropkick and it's a hot tag to Riggs! But he immediately misses a charge when Ohtani flips up the ropes and hits his Springboard Missile Dropkick, blowing the commentators' minds! Then Koji comes in and hits a Moonsault, and when Ohtani holds off Bagwell, he lands a heel hook and gets the immediate submission win at (6:10)! Holy shit- total squash by the Japanese in the end! They charge the Males after the bell and get sent away so the hometown boys can retain some heat.
Pretty good "showcase" for the international stars, as they tee off on the Males (who are still so green they're doing Power Plant running sequences and punches for all their offense). The Juniors did some simple basics or just landed strikes for the most part, but dang- check their ending offense. Okay, so Ohtani's missile kick hit Riggs in the ass- it's a slick dodge-move!
Rating: ** (the equivalent of a jobber squash with a tiny bit of Males offense, but it's impressive that it wasn't a style clash)
Possibly the most inexplicable hires of WCW's inexplicable hires- the most bloated company in wrestling history, and they throw in a tall generic cowboy because his dad was famous in New York twenty years ago.
BOBBY EATON & KENNY KAOS vs. BOBBY DUNCUM, JR. & MIKE ENOS:
(WCW Saturday Night, Jan. 16th 1999)
* Before you say "What the FUCK?", I should point out that there was a mini-story on this show about young Kaos searching for a new tag team partner when Rage was out injured, and asking Bobby, then a TV jobber, to join him. I still remember the backstage interview where he asked, because he was more or less like "Yeah you're almost done with your career- it was a GREAT career, though!" in this accidentally-condescending way. But it was like this eager rookie looking for a vet to maybe learn from. And then they're fighting a random grab-bag of guys who weren't busy- Enos teaming with Duncum, who hadn't joined the West Texas Rednecks yet. Kaos is actually shorter than Bobby, but is roided to the gills, while poor Eaton has the same weirdly featureless torso as ever (like, it doesn't STICK OUT anywhere!). Every single dude here is wearing black, like they're taking hints from the Attitude Era. At least Eaton has the '80s-style threads that have to be Midnight Express originals.
Enos easily powers around the much smaller Eaton to start- he manages some right hands but Enos & Duncum just splatter him with double-team elbows. Eaton gets a neckbreaker on Duncum, but the Texan easily kicks Kaos's ass and Enos chokes him with Duncum's bullrope. Kaos manages a clothesline and powerslam (you can see Enos directing him, like a good vet) for two. Enos gets double-teamed himself, but manages to catch a leaping Kaos in his own powerslam, and Duncum bowls the kid over. Now Rage strolls out to ringside and Kaos eats a double-back body drop, and Duncum harmlessly legdrops him for… the three (4:03)??? Kaos CLEARLY kicked out but the ref counted it, and I swear that was not supposed to be the ending. Duncum seems to reflect that, as he's starting to pick Kaos up and is like "…?" and Rage's appearance didn't matter because Kaos doesn't once notice or react to him.
Rating: 1/2* (like the first half of what was supposed to be an eight minute match- the ending was completely out of nowhere and from a move that only pins when Hogan does it)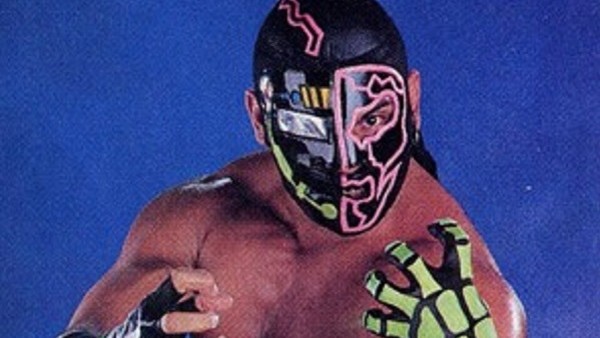 Cibernetico later becomes a top-tier star. Here, he's just a roided rookie.
DOUG FURNAS & PHIL LAFON vs. CIBERNETICO & PIERROTH:
(Jan. 5th 1997)
* Yes, it's back to that weird "WWF pretends to try Lucha" thing I'm still convinced they did just to discredit WCW's lucha guys by proxy ("You like LUCHA? Look at how lame it is!"). While also trying to do something with a charisma-free duo who made their names in Japan- using their real names, with no gimmicks, and generic blue trunks. Pierroth (an older veteran in a black & yellow split-colored mask) cuts a promo in Spanish to start, while the roided young Cibernetico (green & pink split-colored mask), who later became a big star, merely stands there. Furnas & LaFon are in blue. Mil Mascaras is on commentary, but is so quiet I can barely hear him.
Furnas knocks around Pierroth as Jim Ross & Jim Cornette put the latter over like crazy on commentary, saying he was the "Champion of Champions" in a AAA tournament of all the title-holders, and JR says he & Cibernetico are considered an all-time great team. Cibernetico tries, but LaFon beats him in an armbar-reversal sequence and hits a thigh kick, then Ciber just bails after getting chopped once- that's a very "lucha" timing thing that looks weird in the US, because it breaks up the momentum. Pierroth chops LaFon and dares him to try one in return, but LaFon just headlocks him down and tags out- Furnas tries, but hits the corner and takes a huge bump to the floor. Ciber drops an elbow off Bret's rope, but gets caught in an overhead belly-to-belly. Furnas tags out but Ciber doesn't for some reason, then LaFon spinkicks him for two, but ignores an interference boot from Pierroth. And another! Like he's just acting like it didn't happen and does his own thing! Furnas & Pierroth brawl to the floor, and LaFon goes for a leap out of the corner… but Cibernetico holds the ref in the way so HE gets splattered, but the ref just pops right up instead of selling it, calling for the DQ at (4:38)! That has to be the toughest referee I've ever seen! I've seen the YOUNG BUCKS sell a move for longer than that! That ref looks legit furious, too- like he's leaving with the faces while shaking his head- he's either a phenomenal actor or that was NOT supposed to happen.
Four capable dudes, but two different matches being wrestled here, as the lucha style was an odd fit for the WWF- it's interesting actually having seen lucha and noticing just what Pierroth & Cibernetico are doing that's odd for the American style- things like tagging out immediately after getting hit once (instead of just taking a bigger beating and acting upset about it), thus breaking the match-flow, as lucha is more about "stop & start". Then you have weird stuff where they're clearly not on the same page, like the faces practically stumbling over one dude, or LaFon ignoring interference completely because he had some other plan to do. Then the weirdest damn ref bump ever, getting flattened by a wrestler's offensive move but just jumping up in anger and DQing them immediately and looking SUPER pissed off. Like, not just "acting" angry.
Rating: *3/4 (some decent wrestlers, but they were practically on different planets here)
LEX LUGER & THE GIANT vs. THE POWER TEAM (Dave & Dean Power):
(WCW Saturday Night, April 12 1996)
* Wow, who the hell are THESE guys? They look like a pair of short, squat, ultra-roided guys, seeming like a proto-High Voltage, decked out in blue & white singlets & arm tassels. But like, they're RIDICULOUSLY short- nearly every fan in the front row stands taller than one of them at least. One has a huge mullet and the other a ponytail. I guess they're better known as the Power Company and are twins who jobbed out on WCW TV between 1996-98, even though I've never heard of either guy. Cagematch has them wrestling until at least 2008!
The Giant goes up against Mullet, easily shoving him into the corner, slapping his chest, then biels him across the ring. A big boot levels him, and Ponytail runs in and gets one two (hilariously just slinking back to his corner while selling the head). Giant clotheslines Mullet and brings in Luger for a flying shot, but the kid manages an eyerake and the Power Team hits a double-shoulderblock to bring him down! Ponytail only gets one hit in before putting his head down and getting booted- Luger suplexes him and signals for the Rack… but gestures for the Chokeslam instead, bringing in his partner for the "hand under the ass & walks him around" Chokeslam at (3:07). Super easy squash for the monster team.
Rating: 1/4* (just an easy squash with almost zero offense for the poor schmucks)
SILVER KING vs. BAD BARRY HOROWITZ:
(WCW Saturday Night, Jan. 15th 2000)
* So in the last year of Saturday Night, they'll pull out just any two random guys on the card, in this case a luchadore they treated like a jobber and an iconic former WWF jobber just as "card filler". Silver King's in cowboy gear (fitting, for his old tag team was Los Cowboys) and black tights with silver lightning bolts on them, while Barry's in blue trunks. And yes, he's called "Bad Barry Horowitz" on the chyron for some reason. Is he the third member of Disorderly Conduct? Do we live in a world that beautiful?
Barry easily controls SK with European uppercuts while the crowd heat is suspiciously immense for the duration- like those vuvuzelas playing at the African FIFA World Cup. They cock up a crucifix spot HORRIBLY (SK's deceptively-stocky legs can't get up to Barry's shoulder to hook him) and just kinda fuck around in the corner to regroup for a while, then decide the next thing, where SK does the Tiger Feint, they pause awkwardly, and Barry runs into a tilt-a-whirl backbreaker. Barry eats a spinning DDT but gets his foot on the ropes, then SK misses a Moonsault, landing on his feet and hitting a wheel kick, landing funny on Barry but kinda improvising a pin out of that. Jesus. Barry's stuck in the ropes and dropkicked then clotheslined over, but they do a weird bit where SK tries a slingshot something to the floor but Barry's so far away from him there's no way even Rey Fenix could have reached him, so SK just lands on his feet and gets clobbered from behind. Barry's Jawjacker in the ring gets two, and a Northern Lights suplex gets two, but misses a dropkick and Silver King hits a Double Springboard Moonsault for the pin at (4:39).
HOLY SHIT this was bad- like both guys are good workers but because of language barriers or the wacky lucha offense vs. 1990s WWF Jobber-Fu they just couldn't mesh well, so Silver King was trying fancy shit and Barry was like "???" and getting out of position for everything, often pausing awkwardly or just being way too far away. Barry should have either just ate a bunch of offense like a job guy or controlled everything but for comebacks. I mean, what even was that move to the outside supposed to be? Looked like SK was going for a pescado but Barry wasn't even in the same time zone.
Rating: 1/4* (worst-case scenarios for having a language AND style barrier between two guys… and why luchadores were just jobbers for other luchadores)
Okay I did not know Elix was even IN WCW, much less this prominent.
BILLY KIDMAN (w/ Torrie Wilson) vs. ELIX SKIPPER:
(WCW Saturday Night, Feb. 26th, 2000)
* Elix Skipper! In WCW! Yeah, he was fairly new to the business at this point, but already 33 years old, which probably explains why ne never went quite as far as you'd expect given how good he was. Skipper's in crimson shorts and Kidman's still in his white shirt & jorts look, with his real-life love interest Torrie Wilson, who draws the lion's share of the commentary from Scott Hudson & Larry Z (who even finds reason to trash hooking up with HER).
Great start, as Skipper lands on his feet from a hiptoss, misses a huge spinkick, then gets clotheslined right over the top- pescado to the floor and flying cross-body in the ring get two for Kidman. But Skipper dropkicks him to the floor and hits a HUGE springboard cross-body out there! That gets two in the ring, and Skipper gets a mule kick but ends up clotheslined after bouncing off the corner. He manages a Northern Lights suplex to a powerslam-kinda thingie for two, then a flying axehandle. He misses his next thing, getting just a bit too energetic out there, and Kidman hits the sit-out spinebuster for two. But Elix is right back with a DDT, then makes the dramatic mistake of attempting to powerbomb Kidman. This shockingly ends in him getting slammed to the mat, but he swiftly reverses another thing for that goddamn Overdrive (ugh, 2000s wrestling). But he goes up and slips up a bit, Kidman pouncing on him and hitting a Super Frankensteiner for the pin at (4:31).
Oh man, what a spotfest- almost nothing but high-flying moves. Skipper was definitely an outstanding flippy guy at this point, even if he was a bit limited in JUST doing that. His stuff was incredibly smooth and had a lot of crazy jumps- think Dante Martin today and you're in the wheelhouse. So naturally he was just a jobber on WCW TV. Kidman was largely letting him get his shit in and hitting the occasional comeback, but it was decent for that- he played the wily veteran hitting his reversals, even finishing by catching him up high- a classic "Rookie Mistake" in going to the top rope over and over again and getting caught.
Rating: ** (hard to hate a 4-minute match that's all big moves)