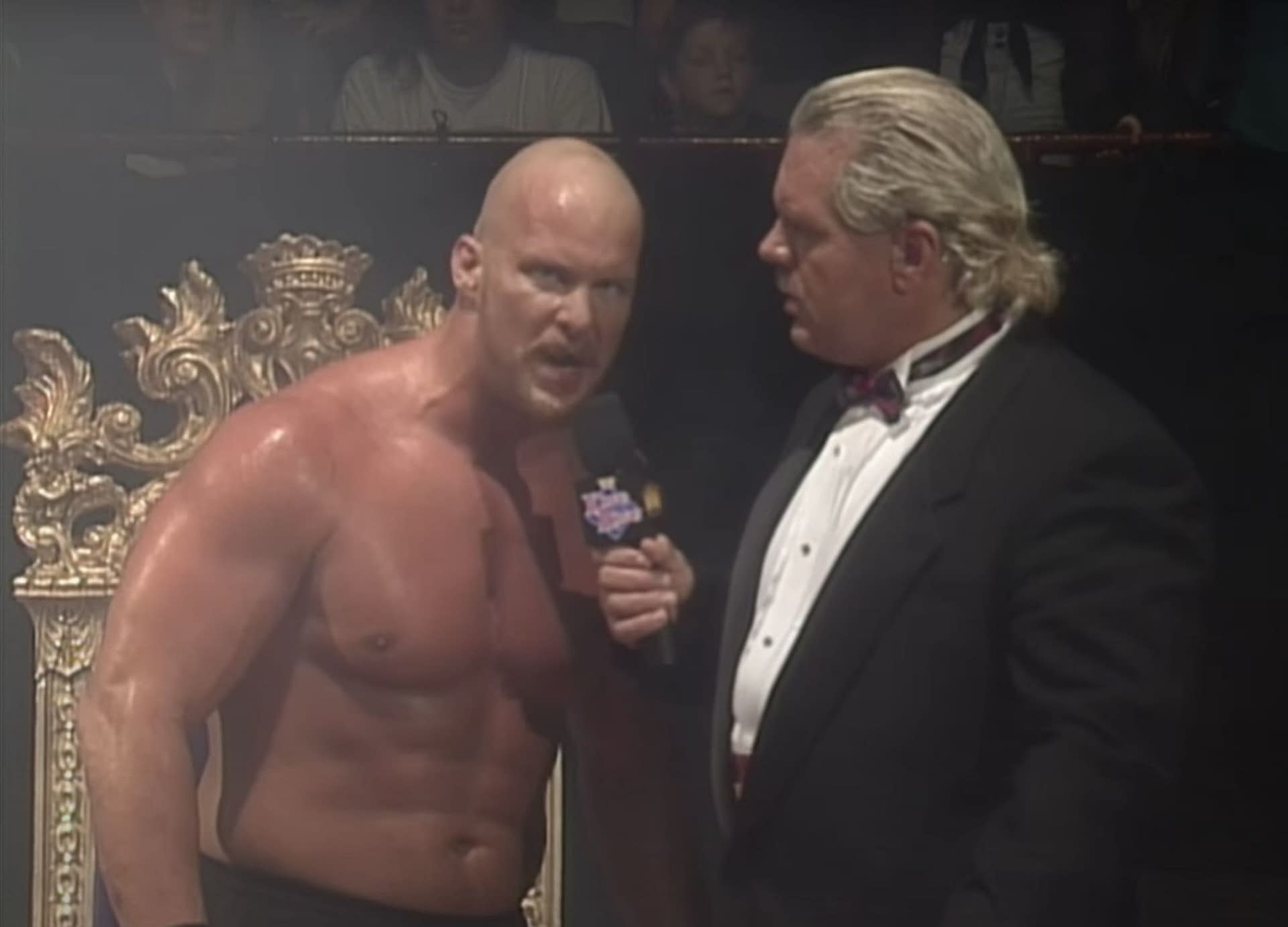 Beating a bunch of midcarders and you change the business forever. Wrestling is weird.
WWF KING OF THE RING QUALIFYING MATCHES (1996):
* You might have heard of this tournament before. So by this point, the tourney was kind of up in the air after Mabel's failed Main Event push. It could have even poisoned the "King" title, in fact. Hopefully THIS year's winner makes more of a go of it.
So the backstory here was that the crown was meant to go to the "Next Big Midcarder", more or less- mid-tier heel Hunter Hearts-Helmsley was expected to win it. But instead, he was one of the few guys the WWF could punish for doing the infamous "Curtain Call" (the Kliq members all coming out for a group hug in the ring, "exposing the business" by confusing fans at an MSG house show). And so he had his big push taken away and they threw it on some other guy. Thus giving HHH a lifelong persecution complex and an obsessive need to look smarter and better than everyone else, covering his own ass at every opportunity. But who knows what effect THAT had on the business?
This review is comparatively massive, because I decided to put the trio of Quarterfinals in the same review instead of splitting them up. Easier to look at the tourney as a whole that way! Hopefully it's not too long, haha.
HENRY O. GODWINN (w/ Hillbilly Jim) vs. JUSTIN "HAWK" BRADHSAW (w/ Uncle Zebekiah):
(WWF Superstars)
* Weirdness abounds as tag wrestler Godwinn is out there with absolutely ZERO chance, taking on rising midcard guy Bradshaw, then a super-green Stan Hansen wannabe in red trunks and a ponytail managed by Zebekiah. At this point, the future JBL was nowhere near as protected as he would be even as part of the Acolytes, but he was protected enough.
The two trade headlocks, often pulling the hair, as I realize that HOG's actually as big as Bradshaw- man did I not realize how big he was when I was a kid. He hurts his knee on a leapfrog, but hiptosses Bradshaw and punches away. Bradshaw makes a comeback, only to be lifted over the top by Godwinn's feet. That's a weird spot. Bradshaw barrels right back in but gets wiped out by a clothesline as we take a break- back with Godwinn still selling the leg as Bradshaw hits a big boot- elbow gets two. Elbow off Bret's rope gets the same. He builds his SmackDown! meter ("BUUUHHHHHH!") and tries for a suplex, but it's reversed, only for Justin to hit a flying shoulderblock for two. He clumsily climbs again and gets caught after slipping, and Godwinn fights him into a superplex! Both guys are out, but HOG rolls over for two. He fights up and hits a snap powerslam, but goes for a big kneedrop, and MISSES! Big mistake- he writhes in agony, allowing Bradshaw to easily slip out of a slam attempt and wipe him out with the Lariat for the three at (7:36).
Wow, this actually wasn't bad! I mean, Bradshaw was green but Henry sold his ass off, did a knee injury right away to give himself an "out" and look tough for fighting through it, then bumped around a ton to put the new guy over, hit a good comeback to look like he still had a shot, then went back to the knee to justify the loss! Good, hard-fought win that makes Bradshaw look good.
Rating: **1/2 (pretty shockingly good bout!)
Marc Mero debuting and suddenly getting a mega-push seems so weird in retrospect, and did not endear him to his fellow wrestlers. They were probably delighted when his wife outstripped him in fame.
"WILDMAN" MARC MERO (w/ Sable) vs. SKIP:
(WWF RAW, June 10th)
* I could only find this JIP version. This was a "Foregone Conclusion" one, with a tag guy taking on a hot midcarder. Mero's in black with gold stripes, while Skip's in red & blue, and has neither his partner nor Cloudy (possibly not the Body Donnas' manager yet).
Skip has a headlock, but takes boxing jabs and a kneelift from Mero, but Marc takes a huge bump sailing over the top rope on a cross-body attempt. Skip follows with a somersault pescado but just eats the floor, and now Marc hits a tope con hilo! Slingshot splash in the ring gets two. Super Frankensteiner gets the pin at (1:51) shown, Mero winning handily. Man, they were killing each other with high-flying stuff out there and the fans were barely going "oooh!" at all the bumps. A lot of effort for nothing as the product was ice cold at the time.
Rating: * (some good stuff in this abridged bout, but effectively just one high spot after another with the actual mat stuff cut out of it)
OWEN HART (w/ Jim Cornette) vs. YOKOZUNA:
(WWF RAW, June 10th)
* A very interesting match, as the guys who were WWF Tag Team Champions last year are now meeting in the first round. Yoko is now a babyface, but is horribly bloated and at his fattest. Generally, whenever you see Yoko with a beard, you know you're gonna see a bad match.
Owen attacks before the bell, but quickly gets up-ended by a series of chops, puntcuated by Yoko just slowly ambling around. He misses an elbow and Cornette uses the racket on his throat, leading to Owen choking him on the ropes and throwing punches- Yoko does his "teetering" sell, and Owen just wipes him out with the running roundhouse kick. Owen showboats, leading to missing an elbow off the second rope (how do you MISS YOKOZUNA?!?). They both fight their way up, with Owen trying headbutts, no-sold by Yokozuna (KAYFABE, man! You're supposed to be Japanese, not Samoan!), who headbutts Owen down, hits his double-chop, and sets up the Banzai Drop. But amazingly, they RUN THE BANANA PEEL FINISH AGAIN, Yoko once more losing his balance and falling backwards like an imbecile, and Owen scoots out of the way, jumps on, and puts his feet on the ropes for the pin at (3:57)- Owen wins!
Man, Yoko kept doing that finish. I don't know if that was his idea or what, but it always made him look like an idiot.
Rating: *1/2 (pretty basic back-and-forth with decent Owen moves and Yoko doing just enough to keep it moving)
I love how Bob had like 4-5 color variations of this one terrible outfit.
"STONE COLD" STEVE AUSTIN vs. BOB "SPARK PLUG" HOLLY:
* Another "foregone conclusion" one, though Austin has just recently lost a strap match to Savio Vega (but implied he did so just to be rid of Ted DiBiase). Neither guy is exactly on a hot streak at this point, though. Austin still has his somewhat unsettling, but a bit too theatrical, pre-"Glass Shatters" theme song, but has the exact look he'd keep for years (albeit he was way leaner in those days). Holly's in blue tights with his old hockey-hair look.
Holly & Austin chain-wrestle a bit, Austin hitting a few strikes every time he's in trouble. He does the falling elbows and then hauls Bob up for a fireman's backbreaker. Kneedrop & Bret's elbow get two. Austin dumps him to prevent a comeback, and nails him off the apron and garrotes him on the top rope. Bob fires back after a chinlock, but puts his head down early and Austin drops more knees. Back from break in another chinlock, but Bob fights back and crotches Austin on the top. Back body drop hits, but Bob goes for the corner punches and Austin just shoves him off, slapping on the Million Dollar Dream for the knock-out, winning handily at (6:40 of 9:12 shown). Scott just reviewed this one, and his version was 11 minutes, but CageMatch says it was 9, so this got edited down somewhere along the line.
Very easy win for Austin, with Bob not doing a whole lot beyond the very basics, and never looking close to even winning. You'd hardly think Austin was the future star of the world here, but he definitely had an edge of "meanness" to his offense, just snapping down with knees and talking shit in chinlocks. It's the "little things" that were making him stand out around this time.
Rating: **1/4 (pretty basic TV match with not much of a shot for Bob)
SAVIO VEGA vs. MARTY JANNETTY:
(WWF Superstars, June 8th)
* "New Rockers"-era Marty is an odd choice for the KOTR, but Savio just beat Austin, so this is largely just another "bring in a tag guy to do an easy job" bout. Marty's in black, yellow & blue, and has now been refashioned as a giant dork (seen here lying belly-down in the ring and waving to Savio). Savio's in the red shirt & black pants combo, as usual. He's one of the weirdest guys around this time- Vince is a "Body Guy", but here's this short, dumpy, pregnant-looking guy whose entire offense is punches and some spinkicks. And he was given an omnipresent role on TV for ages, and just protected enough to not be a JTTS. Sort of like the babyface Dino Bravo.
Marty keeps doing ridiculous dances and taunts after running shoulderblocks, but Savio embarrasses him, hitting armdrags and punches- the usual uninteresting stuff with him. Marty begs off and gets clotheslined to the floor, but slides under him back in the ring and slams his head into the mat. He keeps showboating between moves, and we're back from break in a chinlock as Leif Cassidy apparently came out but got sent back by the ref. Savio hits a charge but eats a clothesline for two. Savio keeps going into the corners for bumps, but gets his foot up when Marty tries a fistdrop off Bret's rope. Savio does his usual array of punches, Marty doing his trademark 360-bump off an elbow, but Marty hits an inverted atomic drop… only for Savio to try a sweep-kick, Marty dodges, and Savio catches him with a spinning heel kick for the pin at (7:21 shown).
Way too long for what they were going for, here- Savio was so limited that Marty just had to kill time between EVERY MOVE by gloating and dancing around, and all of Savio's comebacks were "just punching" and "also punching, but slightly faster". Dude was just this weird aspect of the WWF at the time- he was around for years, yet never got any better.
Rating: *1/2 (fine enough TV match with a decent ending, but too long)
The original, simpler Goldust facepaint.
THE ULTIMATE WARRIOR vs. GOLDUST (w/ Marlena):
(WWF RAW, June 26th)
* So Goldust was the wildly controversial "adult" progression of the Gorgeous George character, actively attempting to hump his male opponents to provoke huge homophobic reactions- it worked, making him a major heel, even as he fawned over his "Director", Marlena. Now, I know what you're thinking: "Warrior as a homophobe? That's extremely unlikely!", but shockingly he plays it quite well! Goldust is in his old full-bodystocking with simple gold paint look, and the Warrior's kind of '90s-fied his look with black & red. He still looks super out of place even in 1996 WWF, though. Like, Stone Cold and the Warrior seem like they should be on different planets.
So, um, if you're unfamiliar with Dustin's usual milieu around this time, it's "bail often and lie around in restholds" because he's in that Memphis zone of heels for some reason, so it's a minute before they're both in the ring- Warrior does the old "punch the heel down so he pops back up and do it again" thing Goldust is outside again. Goldust catches him coming back in the ring, but Warrior soon Hulks up and tosses him around. Goldust goes over the railing and into the post for two back in the ring. Vince boasts on commentary about his comic book, being "the number one selling comic book in the entire world!" (CITATION NEEDED) while Goldust comes back with throat chops and a chinlock to set up another comeback via a huge electric chair drop. Goldust bails for the back, but Ahmed Johnson (feuding with Dust at the time) drags him back to the ring for more of a beating.
Another mini-flourish of offense is no-sold by Warrior, who is just giving this guy NOTHING. He goes into the post, so Goldust tosses him outside onto Marlena's director's chair, teasing a count-out to kill more time. Goldust works an arm injury, only for Warrior to no-sell AGAIN and back bodydrop him for two. Belly-to-belly suplex (!?!) gets two. Goldust goes to the eyes and balls to come back (hilariously misdirecting the ref by going "Hey! Look over there!"), then does a head-vice AND a chinlock. Warrior fights up, reversing a whip to a powerslam for two, but Goldust bails AGAIN and Warrior ends up chasing him out for a Double Count-Out (12:40). Jesus Christ, all that for THAT finish? Jerry Lawler runs from commentary to block Warrior's return with the shredded director's chair, which indicates to me he was supposed to have delayed Warrior getting back into the ring, but this was so mis-timed it was outta nowhere.
Oh man, who gave these two THIS much time? Goldust alone adores stalling at this point in his career, never mind Warrior's stamina issues and selfishness. Goldust could barely get in two moves before Warrior was beating his ass again, gobbling up everything for himself. He hit a few unusual moves for his style (a belly-to-belly!) but this was so interspersed with nothing. Both guys were eliminated from the tournament, giving Vader a bye. Warrior used this moment (and an infamous shot from a poster to his head, protected by a baseball cap to Lawler's chagrin) to challenge Lawler at the PPV, which was as bad as you'd expect.
Rating: DUD (it almost looked like "**" territory at points, but then they'd slow it wayyyyy down at points, doing restholds and bailing even by the end)
AHMED JOHNSON vs. VADER (w/ Jim Cornette):
(WWF RAW, June 26th)
* From the same show as Warrior/Goldust. Ahmed was insanely over and getting bigger and bigger reactions owing to his tremendous look and physical charisma, while Vader was hovering after his Shawn feud ended. Owen Hart, Vader's stable-mate, is on commentary, with his arm in a cast (I recall that being a particularly, um, lingering injury).
The only version I can find starts mid-match, with Ahmed charging Vader and himself over the top rope with a cross-body. Cornette whacks him with the racket and bails, leading to a Vader Attack in the ring. Clothesline off Bret's rope gets two, and he bear-paws Ahmed in the corner and hits two avalanches. A clothesline has him in real trouble, but Ahmed powers up and reverses a suplex- Vader just goes to the eyes and slams him, prepping the Vader Bomb… but goes one higher- Vadersault… misses! Ahmed hits two big clotheslines and a powerslam, but Cornette hits the apron. Ahmed launches him in and preps him for an ass-kicking, sending Owen into a hilarious tirade ("Get your hands off of my manager!") and bails from the desk- Ahmed hits a spinebuster as the crowd now gets REALLY into it, but Owen comes flying off the top with the cast, knocking Ahmed unconscious. Vader simply rolls over for the pin (6:35 shown of 11:00 or so) going on to the PPV directly thanks to the bye.
The aftermath is more famous than anything else- Ahmed is completely out, and gets wheeled to the back on a stretcher… where Goldust, still huffy over the Warrior match, comes out at gives him a sensuous bout of mouth-to-mouth. Ahmed promptly comes to, realizes that there's gold paint on his lips, and goes on an absolute jobber-murdering rampage, sending this feud all the way to King of the Ring and the IC Title. Ahmed is all "By heavens! This salacious individual hath committed an indignity upon my person! I shall seek vengeance with immediacy!", and kills the guy guarding Goldust's dressing room, but finds no villain. The part I remember most is him "hitting the cameraman", sending the shot tumbling to the floor… at which point it zooms all the way in on Ahmed as he goes down the hallway. The future looked bright for Ahmed, now defending all the fans against the terrors of homosexuality (1996, folks!)- he looked for all the world like the next World Champion (berserk babyfaces sell TICKETS, baby!), but then all that stuff happened. The match was fine- big hosses hammering each other (with Vader helpfully whispering stuff to Ahmed the whole way).
Rating: **1/2 (some good old-fashioned hoss ass-kicking)
Jake, with his "Fat Guy at the Pool" shirt.
HUNTER HEARST-HELMSLEY (w/ Some Floozy) vs. JAKE "THE SNAKE" ROBERTS:
(WWF RAW)
* Yes, we have finally come to Hunter's infamous "punishment", where he jobs out for four months instead of being made King of the RIng, and is immediately rewarded with the Intercontinental Title, thus giving him a lifelong persecution complex and protectiveness of his spot, directly leading to the "Reign of Terror". And yet this still ended up being a net-positive because of how the tourney ended up- wrestling is weird. So Hunter's in the classic long equestrian tights, while Jake's in his awful sea green during this run- looking like a 60-year old man (he's only four years older here than I am now! Don't do drugs, kids) with scrawny arms and a chubby belly, he could not have been more washed up.
HHH does his formal bow right away, but Jake hits a hiptoss and his kneelift, sending HHH scurrying with DDT attempts. They stall while Lawler talks to HHH's arm candy, who looks to be exactly Jerry's type- what is she, fifteen? Possibly the laziest wristlock ever wastes several minutes of time, and they stall more so Vince can talk about how Diesel & Razor Ramon are DEFINITELY not working for the WWF anymore, and "another organization" is just faking that they are. Back from break with HHH throwing shots and a kneedrop for two. He literally stands around shoving Jake's head with his foot for minutes at a time while Jake does his "I'm dying" desperation sell, so Vince & Lawler can talk about the Warrior's comic book, which leads to Jerry ripping on "Destrucity" not being in any dictionary he can find. HHH hits choking & a chinlock as I contemplate death, but Jake stunners out and does his jabs into the short-clothesline. HHH escapes the DDT and hits a back elbow for two. Back from ANOTHER break and HHH whips Jake into the corner, but Jake slips behind him and WHAM- DDT hits and finishes at (9:10 of 10:30). And just so you know Hunter was REALLY getting punished, he gets the full "snake draped across him" ending, which was typically reserved for jobbers only.
All Hunter's stuff looked very smooth and agile at this time, so I kind of dug his stuff- much more than the bloated roid-monkey he became later. But HOLY SHIT this match was absolute garbage. Just killing time in weak holds, then HHH standing around doing taunts so Jake can lie around. I'd blame both guys (Jake especially was AWFUL around this time), but Vince probably 100% told them to lie around and rest so he could do his big Diesel/Razor spiel and talk about the Warrior's stupid comic book.
Rating: DUD (absolute piece of shit match. Could not have been lazier and with less legitimate offense)
QUARTERFINAL MATCHES:
* So, unusually, this KOTR does something that's repeated in later years- not only are the Qualifying Matches televised and not on Pay-Per-View, but so are the First Round matches. This has the benefit of allowing more advertised matches on the card, and giving guys a more reasonable amount of bouts to wrestle in one night- two instead of three.
"STONE COLD" STEVE AUSTIN vs. SAVIO VEGA:
(WWF RAW, June 17th)
* This one is interesting because of course these two had just recently feuded, with Vega winning a pair of Strap Matches, getting Austin's manager booted out of the WWF. Two guys meeting in a tournament after a seeming blow-off is a bit unique. And we'll see the reason shortly. This match is particularly notable for one other reason, too- spoiled in the YouTube description as well.
Austin jumps Savio as soon as he hits the ring, but Savio fires back with chops and the Owenzuigiri. Austin bails, but lures Savio into getting his knee smashed into the post- back in, a chop-block puts him down and works over the leg. Austin dumps him, but gets a taste of his own medicine, ALSO having his knee go into the post. Austin sells his ass off, just flipping onto the mat when Savio kicks his leg out, then collapsing on a whip and screaming in an anklehold, but he finally claws at Savio enough to put him into the turnbuckles. But he collapses trying a slam and Savio gets two, then ducks a clothesline and hammers Austin down for two again. Savio tries a splash, but Austin gets the knees up, then sells the pain from THAT because he was awesome at little touches like that.
They collide in the corner and we're back from break with Austin choking Savio on the ropes, but Austin goes legs-first into the ropes when he misses his charge! Savio hits his Spinning Heel Kick finisher, only for Austin to get in the ropes! Savio hauls him up and starts punching him in the back while he's against the ropes, so Austin pushes off and grasps Savio's head with his right arm… and drops him down for what till this point was a common sleeperhold reversal, but modified with more of a head clutch. And this new move wins at (8:10). That's right- we've just witnessed the birth of the Stone Cold Stunner. And Austin beats Savio clean, thus making up for two losses in a row in "stipulation" bouts.
Great little war of attrition, both getting hurt early on to justify them just desperately scrapping as the match goes on- especially Austin, whose selling was dynamite. All those great little touches of trying to claw up despite the pain, making him look like a bad-ass even as he was putting over the other guy's shit. And Savio controlled the majority of the match, looking like he had Austin's number, until that random counter out of nowhere got the pin. At the time, nobody really expected this random reversal to be such a big deal, but we were entering the era of "Simple Finishers" again. And the quick application of the Stunner ended up becoming a huge part of Austin's offense in and out of the ring. Austin, of course, would be the dark horse winner of this year's KOTR, defeating Marc Mero in a great match on PPV, then crushing an injured Jake Roberts, looking like a heartless sociopath in the process. And then he cuts one of the most legendary promos in history, trashing Jake's religion and insisting he get "Not just outta this ring, but out of the World Wrestling Federation!". "Your psalms and your John 3:16- Well AUSTIN 3:16 says I just whipped your ass!". Austin's push was a long time coming even after this, but fan reactions got bigger and bigger and he was well-protected until a guy smart enough to see what was going on hitched Austin to his wagon and made him a megastar.
Rating: *** (pretty great, simple story of Austin having his leg hurt and still fighting and clawing his way to victory)
Bradshaw's old look, with the red trunks and cowboy-style boots.
JAKE "THE SNAKE" ROBERTS vs. JUSTIN "HAWK" BRADSHAW (w/ Uncle Zebekiah):
(June 15th)
* The winner goes on to the PPV to face Vader (who has a bye), which makes the winner here pretty clear. Both are in the same gear as before.
Bradshaw does a bunch of boring headlock-to-shoulderblock spots to kill time so they can show a split-screen of Jake doing a sit-down interview with Jim Ross about his past (one of the attempts to pull off his comeback, which was to elaborate upon his demons), building his SmackDown! meter with taunts as I observe something my friend noticed way back when Bradshaw debuted- the guy NEVER sat still back then. He was like all this bundled up energy, constantly waiting to explode. It has a cool look, and fit the character. Jake gets the kneelift but Bradshaw bails from the DDT attempt- back from break and Bradshaw is kneeing away at him, and avoids another DDT. Standard "long methodical beatdown on Jake" segment that goes on for AGES, with Jake doing that desperation thing with his hands as always- Jake catches him with some reversal shots after all that, then ducks the Lariat. Poor Bradshaw then tumbles forward and eats the DDT, and that's that at (6:15)- Jake is heading to the KOTR.
Really bad match, largely thanks to the "Jake Template" of just lying around selling while the other guy can only hit plodding kicks, chokes and taunting. And then after all that he does a one-move-comeback for the pin. I remember this really halting Bradshaw's momentum, and looking it up, he loses to FREDDIE JOE FLOYD only two weeks later. He wins the rematch and the feud, but that's kind of the last real thing he did before the New Blackjacks became a thing. Jake beating two guys I liked- youngsters with potential (HHH & Bradshaw)- did not endear him to me, and made Austin's eventual verbal bitchslapping all the better. I LOVED that.
Rating: 1/4* (almost nothing to it)
"WILDMAN" MARC MERO (w/ Sable) vs. "THE KING OF HARTS" OWEN HART (w/ Jim Cornette):
(WWF RAW, June 17th)
* This one actually has a bit of "up in the air" to it, at least until Austin beat Savio- both guys were still "pushed names" at this point, though Owen was between Tag Title reigns and hadn't been a singles focus for a while. Mero's in black trunks with gold accents here, while Owen's in the usual, but with his arm in a cast. Austin's on commentary, here.
The two do some pretty good, tight grappling for a couple of minutes, Mero frequently launching Owen with his legs or body, but he misses a cannonball off the top. Two minutes in? That was dumb. McMahon & Austin even give him shit for that. Owen kills time with a chinlock then wipes Marc out with that great Roundhouse Kick of his for two. Backbreaker & gutwrench suplex get two as Austin gets off commentary and is escorted to the back during the break. Suplex & Boston crab continue the weardown- Mero reverses to a pin and they get into a chopfest, Owen hitting a Perfect Plex for two. Owen comes off the top, landing on Mero's knees, setting off a comeback, but Owen goes to the eyes and sends him into the corner- Mero lands on his feet from a backdrop suplex attempt, and scoops Owen back with a leg-clutch… for the pin (7:06 shown)! Mero beats Owen clean! Owen Pearl Harbors him and knocks Mero out with his cast in revenge, cheering as if he'd just won the match, thus hurting Marc's chances at the PPV.
Solid match with a solid reversal ending- both guys were legit good (especially Owen, who does the basics better than almost anybody) and even though it was kept pretty simple, everything looked good and it didn't come off as lazy or "filler" with a lot of plodding brawling. Funnily enough, someone on the Blog mentioned Foley's book talking about Owen deliberately sandbagging the match because nobody liked Mero, with Foley wishing HE could look that good by dogging it. Mero getting a clean win goes a lot towards setting him up as a "name" down the line and with some momentum for the KOTR.
Rating: **1/2 (good TV match, though never hit any next levels or anything)
So, um, last time I did a King of the Ring Qualifiers review I went into the potential of re-booking the 1995 show. This time, it's kind of hard to argue with the results (given it set off a rocket that led to the biggest star in history), but ya know, the tournament still could have been better. Hell, Jake/Vader ended with a DQ and a hurt Jake, who looked weak as he went on to job to Austin, who didn't really get a "full" win out of the deal. Austin being King was not mentioned that often as I recall, either- it was slow going to give him a full push, as he was on the pre-show at the next PPV, but at least he generally won. But still, I don't think anyone's regretting how that show ended up.