This week I'm looking at matches from New Japan featuring the Bad Man from Borger, Texas, Stan "The Lariat" Hansen, with a match recommended by Patrick McDaniel and Manjiimortal up first and then some other eye-opening after that!
Stan Hansen vs. Andre the Giant (Tokyo, Japan, September 23rd, 1981)
As requested, and it's off to a fast start, with Andre attacking as he comes over the top rope, deflecting Hansen with his boot upon entry. Hansen gets some shots back, but it's again the big foot that stops his flurry. Andre traps him in a bearhug and it looks like Hansen's trying to pull out the chin hairs to escape to no success, so he uses a headbutt (hurting himself) and a short lariat. Great camera work catching the flustered look on Hansen's face. Andre goes to work on the left arm to neutralize the lariat and tells the crowd to shut up as they cheer voraciously for Hansen. Stan avoids a charge and goes for a slam, but it's Andre the fucking Giant, and you're not getting that so early, so it's back to the hammerlock for Andre. Hansen uses the free arm to hit the knee. Andre's grimacing, with what looks like an inch between every tooth, makes for a gruesome visage. Andre gets a suplex, which I would imagine has to be a record for the tallest man to ever deliver a standing suplex. Head down for a back body drop, which Hansen meets with a kick and then gets that slam, but misses an elbowdrop. With Andre down, Hansen goes to a rear chinlock while sitting on the back.
Andre pulls through the legs to escape, but gets blasted with a shot to the head and effectively plays dead while having the boots put to him. He rolls through the ropes to the floor and Hansen follows, with really chaotic camerawork as the cameraman shoots over the shoulders of photographers. Bell rings for what I would believe would be the match being thrown out at the nine-and-a-half minute mark. Hansen calls himself the winner, protested by the referee, so ARNOLD SKAALAND, acting as Andre's manager, gets up to protest the non-decision. The ref gets on the mic as they seem to be going for the old "I didn't come all the way to X to get counted out and I'm sure you fans want to see a real winner, right?!" routine, so they restart the match.
Hansen rushes Andre when the bell rings with blows and gets a judo throw to roll him down, then blasts him with a knee that ties him in the rope. Andre gets out quickly and chops the fuck out of him, then cackles evilly as he readies him for a big headbutt. Andre removes the corner pad to expose the steel, but Hansen blocks it and rams Andre's head in. He misses another elbow, though, and Andre grabs the right arm to trap him, then stands him up into a surfboard, with headbutts to the back of the neck, then gets a double chickenwing. Hansen actually gets his feet in the ropes, but Andre swings him out like a little baby. Switch to a big slam, again as high up as you feasibly could go, with some bounce, but he telegraphs the big splash and misses, going down headfirst. ANOTHER missed elbow on the more injured arm for Hansen. Both back up, Andre throws in Hansen for a big boot, but Stan sweeps past it and hits the LARIAT, with Andre doing a massive bump through the ropes and to the outside (imagine the end sequence to WrestleMania III, but with Andre being played by Curt Hennig). On the outside, Andre is armed with his own blue elbowpad for throwing his own lariat. The ref blocks him from using it, so gets to taste a French lariat himself, then it's a sea of red and white tracksuits as young boys run in to separate them and the bell rings constantly. Both guys beat them out of the way to continue their fight. Andre, in true heel style, questions why on Earth he would have been disqualified with the alternate ref. Hansen splits up that conversation by throwing in a chair, causing Andre to beat a hasty retreat. Awesome match with great psychology throughout and a hot crowd. ICHIBAN!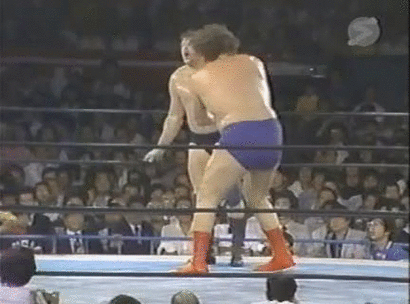 Stan Hansen vs. Big Van Vader (Tokyo, Japan, February 10th, 1990)
Pretty infamous match here. Again, no time for ceremony, with Vader whaling away to begin. I do like that some of the New Japan matches offer an "English commentary", which is ostensibly an introduction from Kevin Kelly to provide a bit of context. Hansen was actually back with All Japan at this point, as this was an All Japan vs. New Japan super-card. Kelly's hyping of the upcoming gore is like Alfred Hitchcock teasing "It's TOO horrible to describe!" in the old Psycho promo film. Vader is in his black singlet with red lightning bolts and full mask with same colour scheme and design. Vader gets a short clothesline that doesn't fell Hansen, so they just pepper each other with punches and elbows. A cut follows to later in the match as Kevin talks about blood on Vader's shoulder being from his already broken nose. Vader tries to hold an armbar, but breaks it of his own volition to peel off his mask, as Kevin reveals that in the part of the match they edited out that he got his eye poked and it popped out of the socket, at this point with his inverted and battered eyelid looking like a cauliflower eyeball! Wusses, Bill Watts would've shown that every five minutes if he was booking!
Hansen, the gentleman that he is, spares Vader any stiff shots to the right, the side of the injured eye, and instead just pounds on his left. Vader whips him into the corner for an avalanche, but Hansen moves away and scoots behing to get a back suplex. Stan kicks him to the outside and rams him into the ring post and cameramen ("Why not?!", Kevin facetiously remarks). The sound channel goes a little bit weird as Vader throws and hammers Hansen over the railing, but it reverts back to normal as they return to the ring. Vader pounds and kicks away with nasty shots, which Hansen sells like he's almost dead, with no drama. Powerslam gets two. Vader goes to the top for his flying clothesline for another two. Back up to their feet, Hansen ducks one clothesline but runs into another when he tries a lariat. That knocks him outside, with Vader cornering him and trying to avalanche him against the post, but misses and nuts it himself. That came off better in their WrestleWar '91 rematch, to be honest.
Hansen shoulderblocks Vader over the barricade and follows to beat on him. Back in, Hansen gets an elbowdrop for two. Elevated kneedrops for two. Hansen readies the pad for the lariat, but Vader gets a DROPKICK off the reversed Irish whip. Chance lariat, but Vader won't go down, and they both head to the floor for the final DCO at sixteen minutes in. They individually return for their curtain calls. Pretty legendary, stiff, stiff match. Non-finish, but ones like that you can excuse it. ICHIBAN!
Stan Hansen & Roland Bock vs. Antonio Inoki & Tatsumi Fujinami (Tokyo, Japan, December 8th, 1981)
Back a decade once more to meet the Japanese wrestler quota. Roland is listed as Laurent Bock for some reason and is a German wrestler who I initially thought might've been Killer Tim Brooks. He looks thrilled to be there and has a Bobby Charlton comb over. Fujinami insists on starting with Bock, who does the "Calm down" gesture to him, but Inoki tags in quickly and Bock goes to the outside before tagging in Hansen. Inoki gets the first shot of the match with a chop, which Hansen returns during a break on the ropes, but Inoki sweeps the leg and brings in Fujinami to take over. If you want an impression of how big Hansen is, he dwarfs Fujinami, who I always thought of a decent size. Bock (also a fairly large guy) returns and tosses Fujinami after Hansen has called some spots for him during the double team. He goes down for a dropkick with an awkward bump. He gets a kneedrop that reminds me of the time Aksana dropped a similar one on Naomi's face and fractured her eye socket. Hansen tags back in, probably the only time in recorded history where he's been the light one in a tag team.
Slam and elbowdrop for two on Fujinami. Bock's tagged back in for a double elbow, then his own single elbow, but Fujinami won't go up for a butterfly suplex and tags in Inoki. Inoki's got the vibe of possibly wanting to wipe the floor with Bock and Bock seems to know it, so Hansen is tagged in. Short arm tag back in for Bock, who gets a kick and forearm uppercut, but Inoki won't go up for the butterfly either, so he takes him down by the leg and tags in Fujinami for a kneedrop off the top right to the throat, which I would imagine was a receipt. Bock gets a slam and splash when he's back up and tags in Hansen, who gets an atomic drop for two. Bock back in for what looked like it was supposed to be a linked arms shoulderblock, but it goes awry and they end up leaning forward and just half-flipping Fujinami over with a slam. Fujinami WILL NOT allow himself to go up for another double-arm suplex, meaning that Bock's either got a killer finisher in that or they just don't trust him to have them upside-down in the air. Bock sweeps the leg and splashes the leg. Hansen returns to work the leg and tells off Fujinami for kicking him while swearing at the ref. Bock comes back in, but Fujinami gets a tag to Inoki, who dropkicks him to the map. Again, the bump is very un-wrestling-like, with him just going down with little expression or selling.
Sensing a bit of awkwardness, Hansen tags back in to wrestle Inoki. Fujinami comes back in from the top with a kneedrop to the gut. He can't get Hansen up for a vertical suplex, so switches behind and gets his trademark side suplex instead. Hansen presses him off and Bock holds him for a shot, but Tatsumi escapes and Hansen hits Bock instead. Two weak dropkicks that Hansen barely acknowledges. Bock somes back in with a slam and FINALLY gets that double-arm suplex with a float-over for the win. Hansen gets in a tussle with the Japanese guys and walks off, while Bock hangs around like a bad smell. Weird but engrossing match given the dynamic of Bock, who after the fact I researched and found out was a pretty uncooperative guy that Inoki hated, so there was this tension simmering throughout. I kinda liked his total lack of giving a shit for wrestling tropes and you'd never find a guy anything like him again today, so I rate the match but could understand others turning their nose up at it. ICHIBAN!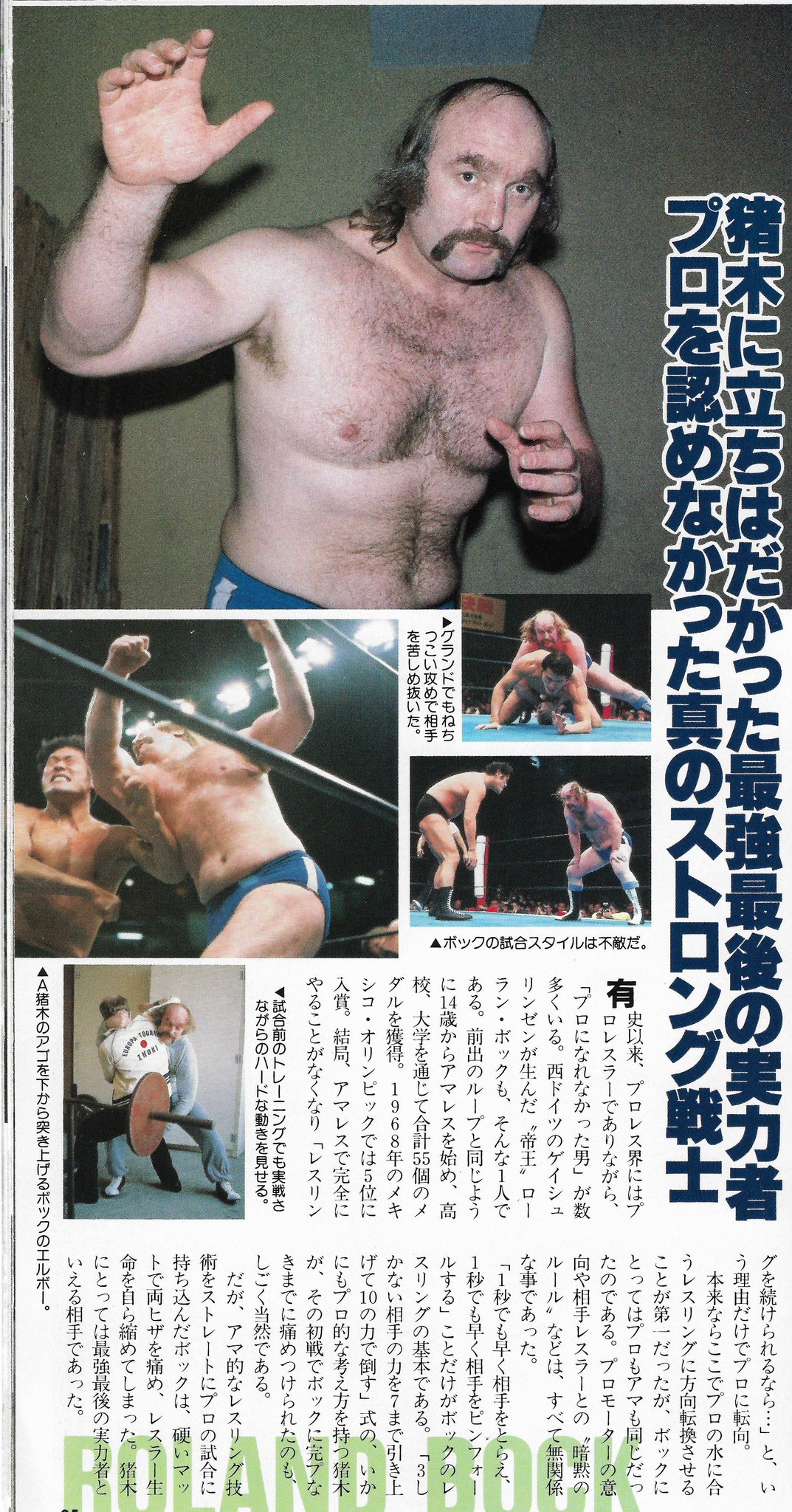 Melting it down: Some great showings from Stan, although a surprising lack of lariats being fired off like cannons except in that first match with Andre. Stan was a legend in Japan for obvious reasons, and the first two matches would be the best examples to demonstrate why.