https://www.youtube.com/watch?v=EFP2j4aCZZk&t=348s&ab_channel=ReedBettor
Oh man, I found some wild stuff for everyone today! VADER AND EARTHQUAKE as the mother of all Monster tag teams! In the weirdo Fake-Shoot Japanese UWF-I fed, no less!
Also, here's a horrifying indie match between the Warlord and an ultra-green Ron Reis, plus a tag match in the storied No-Limit Soldiers/West Texas Rednecks feud. And we end things with a Saturday Night match between Eddie Guerrero & Blitzkrieg, as my "check out all the Blitzkrieg stuff on YouTube" series finally continues!
SUPER VADER & JOHN TENTA vs. GARY ALBRIGHT & KAZUO YAMAZAKI:
(UWF-I, 08.10.1994)
* Now THIS is a Fat Man Stand-Off! So Vader/Albright is the big feud in the company at this point, and Vader (the reigning champ) brings it Earthquake for a tag match. Quake is noticeably taller and wider than Vader is, in fact. Both are wearing their standard gear, though Tenta has an oddly blank upper torso, as "Earthquake" has been taken off. Albright was a big kinda homegrown UWF-I star, becoming a big name they were building up. He got pretty fat after this, but here is a barrel-chested guy in yellow, being dwarfed by the opposing team. Yamazaki has no physique, but was a shooter-type guy through most of the UWFs- feeling skipped over for title shots, he bailed for New Japan (his original company) and even sided with them during the "New Japan vs. UWF" angle, training its boys against the "Shooters".
Vader gets into it before the bell with Albright, but Tenta insists "let ME start"- the crowd chants "VAY-DAH!" and want him in there BAD, so of course the tease the fans with Quake/Gary starting to massive boos. Hah. Tenta pushes him around to start, but Gary takes him down with an armdrag (yeah, RIGHT) to a huge pop. Tenta's in the ropes, and takes Gary down by the leg, controlling with an armbar until Gary draws another big pop just for a go-behind into a waistlock. He can barely get his fingers together, and Tenta ankle-picks his way out of it- a bit more ground stuff and Yamazaki's in to a pop. Tenta no-sells his kick flurry easily enough, and easily squashes a single-leg, but Yamazaki just lures him into a sleeperhold (a huge move in a shoot fed)! But since it's still fake, Tenta hangs on for twenty seconds before shoulder-throwing his way out. Vader comes in and swats Yamazaki down for a "6" count and knees him for "7", then deadlifts him into a MONSTER German- Kazuo stumbles up punch-drunk, but gets the crowd into his flurry of slaps and head-kicks, Vader finally stuffing him and tagging out.
Kazuo bails after a short bit and Gary's in again, wrestling Tenta to the mat. Tenta makes the ropes and NOW the fans get Vader/Albright ten minutes in. The two beasts grapple, Vader winning with his bearpaws in the corner for "3" and "6", Gary being unable to get anything going, but he charges out with forearms and hits a HUGE belly-to-belly suplex for another gigantic reaction. Vader goes to his belly to save himself, and averts a cross-armbreaker. Yamazaki flies in with more head-kicks, mostly ignored and Vader swats him down again. A mat-hold is reversed to a near cross-armbreaker for Kazuo, but Vader tags out. Tenta flattens Kazuo with a belly-to-belly for "8". Kazuo lights him up again and hits a beauty of a kick right to the jaw, but Tenta just snatches him up for his trademark powerslam, but Kazuo's up at "7". He weathers shots from Vader and throws more kicks to escape, and Gary charges in for another big belly-to-belly, then fights Vader into a full German Suplex! Vader pops right up immediately and starts throwing paws again, but Gary hits another belly-to-belly and finally snaps on that Cross-Armbreaker, and Vader instantly taps at (17:54), proving that Albright has what it takes to challenge for the World Title!
UWF-style is so interesting to watch, because it's this weird combination of fake puro and "we're pretending it's real" so sleepers and armbars are treated as series and not restholds, but also you can just sit in them for a while and then fight out. And they do the big suplex spots, but with a ton of build-up and space between them so they come off as huge moves that were well-earned. You could tell Albright was getting a huge push because he's tossing Vader around in suplexes despite giving up a ton of size, but Vader was practically no-selling huge strings of kicks to the face. It works for a Monster Heel, but in a shoot fed looks weird. This does make the Cross-Armbreaker the ultimate submission, though.
Rating: ***1/4 (the style remains fascinating, though often results in stop-and-start stuff and guys no-selling. Also probably too long a match for such big guys)
One is so roided he can barely move and the other is so green he just started singing "Defying Gravity"- what could go wrong?
THE WARLORD vs. "GIANT" RON REIS (w/ Big John Studd):
(International Wrestling Federation, 1994)
* Oh man, I've just GOT to try this one out. The Warlord is now gone from the WWF (no way he was lasting once the government was looking at Vince for steroid distribution), and shockingly never touched the Big Two ever again. Ron Reis is a student of Big John Studd's, sporting an enormous body and tiny lil' t-rex arms, not quite ready for WCW (that came next year). The IWF was run by Killer Kowalski, and was both a way to showcase and use his trainees (including Triple-H, Chyna, Perry Saturn and others) and get nostalgia pops for washed-up acts like the Valiants & David Sammartino. Reis, with a very high-pitched voice (Jesus, no wonder he never talked), has Studd's signature white tights with red stars on the leg. Warlord is weirdly wearing his solo gear (including that beautiful "W" staff) but also his Powers of Pain make-up. Kowalski himself is the ref.
Warlord is clearly the babyface here, getting jumped from behind, but he avoids a charge and back-body drops Reis and clotheslines him over the top. Reis whines and Warlord cuts a promo I can't hear (the sound is messed up), and Reis boots him out of a long test of strength, clubbing away and hitting a flying axehandle. They do the classic "hit a stomp, walk around a bit, then hit another stomp" thing to kill time- Reis kneedrop gets two. Monkey flip and running elbows keep on Warlord for two, as poor Kowalski can barely hit the mat to count. Warlord arbitrarily comes back with counterpunches and a clothesline, but is hammered trying a bodyslam, and eats a billion more clubbering blows and a bearhug. Reis climbs up, but gets Flair Tossed off for a delicate bump (he was leaning way forward and down to make the forward roll easier) and clotheslined down by a VERY sweaty Warlord (WHY ARE YOU SWEATING?! You haven't DONE anything yet!). Warlord finally gets that slam, but gets distracted by Studd like a moron and is beaten up again, taking the Andre Ass Slam and more, but soon Kowalski checks on Warlord and Reis deliberately flattens him. The monsters brawl back and forth for a bit until Warlord whips Reis… and KOWALSKI clotheslines him down! Reis immediately bails as Kowalski rings for the DQ and raises Warlord's hand at (9:26).
Good lord- who let the baby rookie control 90% of a NINE MINUTE MATCH? This was almost all "Clubbering forearm, stand around, walk in for another clubbering forearm" for nine minutes straight, with Warlord doing the laziest "Savage Template" match ever, somehow soaking himself with sweat despite just laying there taking shots the whole time. His comebacks were weak as hell, as he could barely move and didn't look impressive beating on Reis… and then we get a bad finish!
Rating: DUD (oh god I was watching this to snark but it was STILL horrible to see!)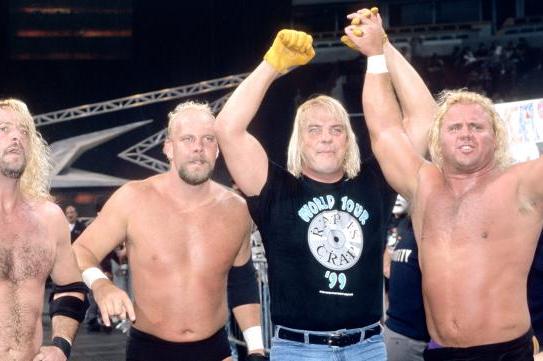 Kendall Windham: When you're like 6'4″ but suck so bad that even "couldn't care less" Barry Windham is the superior brother.
THE WEST TEXAS REDNECKS (Barry & Kendall Windham, w/ Bobby Duncum, Jr.) vs. THE NO-LIMIT SOLDIERS (B.A. & Swoll)
(WCW Saturday Night, 08.07.1999)
* More excitement from the legendary feud, which had of course spilled over to the D-show. Unfortunately, anyone in the Rednecks who wasn't Hennig was awful at this point. The Rednecks are in black, Barry still afraid to take off his shirt, while balding Kendall just looks like a really tall jobber. Swoll is now in lime green fatigues, while B.A. is in military drab- oh god, Brad Armstrong trying to act charismatic is always death. Dusty at least puts him over heavily on commentary, pointing out he's one of those guys "who always knows what to do" and that Swoll should be thankful every night that he has this guy as a partner.
Kendall & B.A. start off with '80s basics, Kendall being unable to do proper armdrags, and B.A. dodges an elbowdrop and comes back with generic stuff, including a snap powerslam of all things (the size difference makes that a weird choice). Swoll hits his basic clothesline & slam, but misses his own elbowdrop and runs into a big boot- he kicks Barry's ass, but runs into ANOTHER boot. He at least catches a stomp, but Barry signals Bobby to jump to the apron, using the distraction to go to the eyes AND the balls- great heeling! They triple-team Swoll when B.A. comes in, and Barry hits a backdrop suplex for two. Kendall beats on him and sets up more cheating on the floor. Swoll gets a cross-body, but Kendall pops right back after a one-count and Swoll gets his ass kicked AGAIN- Barry's lariat gets two. Swoll dodges a falling fist and FINALLY makes the tag, but B.A. can only knock the guys around a bunch with punches before Bobby tosses a cowbell into the ring, and the ref is distracted so Kendall wipes out B.A. with it for the pin at (6:32).
Watching Swoll in these matches is actually very interesting, because it's clear he's super-limited, but is a legit athlete and looks strong, so they carefully place him in there for what limited moves he CAN do, and never give him a chance to get lost. Barry was obviously whispering stuff to him during the match to keep him on the next spot, too. I'm curious that they used a 280+ lb. football player as Ricky Morton for the match- maybe as a learning experience? Because he certainly didn't get a lot of offense- it went on way too long with them hitting basic stuff on him, and the match ending 10 seconds after the hot tag was a buzzkill (and not just cuz Brad Armstrong was in there!).
Rating: * (pretty basic, forgettable match. Some good heelin' but the heat segment went on too long)
EDDIE GUERRERO vs. BLITZKRIEG:
(WCW Saturday Night, July 17th, 1999)
* Here's another match in the short history of Blitzkrieg, as he takes on an absolutely SHREDDED Eddie Guerrero, looking pissed after apparently losing control of the Latino World Order shortly before this. Eddie, in black, looks like he's about to explode from steroid abuse, I swear.
Eddie does a hammerlock sequence that Blitzkrieg nearly fucks up, but bails when Blitz snapmares him and tries to tell the ref his hair was pulled. He can't get an advantage until he naturally cheats (going to the eyes) and beats on Blitz for a bit until the kid flips out of an armdrag and hits AJ Styles's Pele kick. The run-up flip out of the corner into a dropkick hits, but Blitz misses a flipping senton and gets tossed, Eddie ending up choking him with the TV cable! Back in, Blitzkrieg lands on his feet from two big throws and hits a springboard dropkick and follows to the floor with a pescado. Eddie rolls out of the way of a Moonsault in the ring, but climbs up and eats a Super Hurricanrana for two. Both land on their feet from suplexes, but Blitzkrieg goes from Eddie's shoulders to a spinning rollup for two, then hits a tilt-a-whirl backbreaker and goes up- Corkscrew Moonsault ALSO misses and Eddie spikes him with a brainbuster and hits the Frog Splash for the three at (7:12).
Pretty basic match with a good ending- Blitzkrieg loses more due to inexperience than because he sucks- Eddie's just too crafty and too good at avoiding stuff, so even Blitz's greater speed can't give him the momentum for long. Add in some character stuff, some cheating, and that great brainbuster and you have a veteran stuffing the rookie.
Rating: **1/2 (another solid basic TV match from Blitzkrieg, though this was mostly controlled by Eddie)