I've not really had anything of interest to review lately alongside being busy, but have seen clips of this on YouTube and while it may end up being a load of bullshit it at least looks to be entertaining bullshit and clocks in at just over an hour.
Filmed in Las Vegas at the Hammer's place in the last few weeks for Title Match Wrestling.
(Back in the day.)
How did the pair meet for the first time and how did the friendship begin? Greg jokes that they bonded over a joint at his house in 1977 in North Carolina, then met again in the WWF in 1984. Beefcake had totally changed his look as well as his name from his Dizzy Hogan/Dizzy Boulder/Eddie Boulder days by '84, dropping weight and changing his hair colour from blonde to black, becoming unrecognisable and getting a push against the Hulkster.
(Unfortunate bottle placement.)
Greg relocated to Florida, where Brutus was also based, so they travelled and worked out together a lot. Greg took seniority in the team because he'd been wrestling for seven years longer. Brutus contrasts their continuity with when Hulk and Ric Flair wrestled, where both wanted to take charge. Greg also makes note of how they looked opposite to one another as far as hair colour, costumes and bodies, so you had the best of both worlds.
The vision of the Dream Team came from George Scott, who wanted to keep both guys in the spotlight after their respective programmes with Tito Santana and Hulk finished.
Their initial programme together was to be with the US Express, but Barry Windham went haywire and flipped, so after they got the belts the programme was done. Brutus dreams of all the money they could've made and feels sorry for Mike Rotunda getting hung out to dry with nothing going on.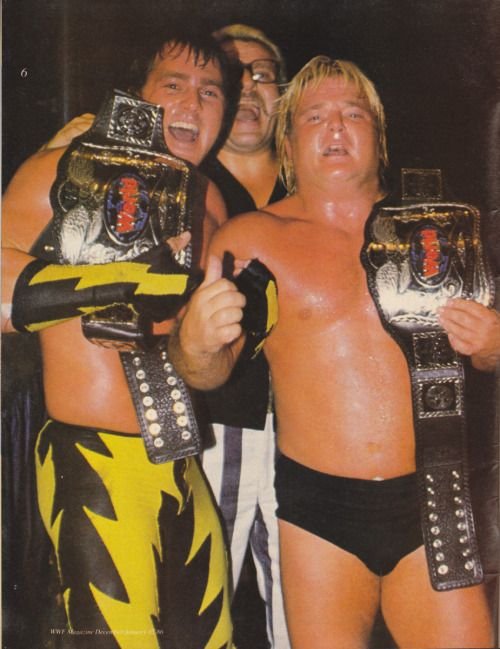 (The champs.)
Greg recalls being in Baltimore and having Windham and Rotunda playing "bumper cars" with him, by banging the back of his Lincoln Continental with their car, which normally he'd see the humour in, but he could see they were messed up so drove off. The next day, Windham took a flight home and was done, messing up their deal.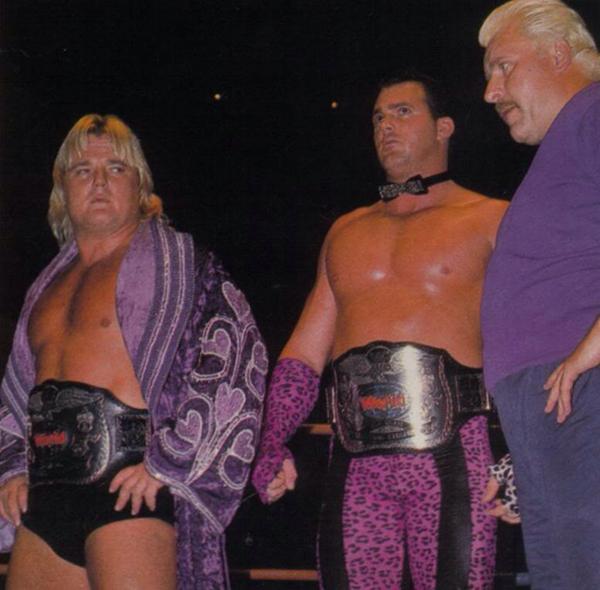 (With Johnny Valiant, looking a lot like Fred Blassie.)
This led to switching to the British Bulldogs, who Brutus says were good but weren't ready for TV(!). He clarifies that this was because they couldn't do interviews. He thinks that they should've kept the belts longer because the thrill was in the hunt, not in the eventual victory.
Greg talks about how busy it was at that point, with the tours going on forever, and when you eventually got home you couldn't properly unwind before you had to go home. Greg again mentions that smoking copious amounts of dope and slurping cognac did help!
Greg and Brutus talk about how Dan Spivey, as Barry Windham's replacement, was in a no-win situation. They both liked him and talk about how tough he was, but he didn't get over.
Greg talks about how the non-title loss to the Bulldogs on TV heated stuff up to where they could sell out shows with them on top without Hulk or Randy Savage on the card. Let me check those records… They also played babyface against the Iron Sheik and Nikolai Volkoff and sold out with them. Greg reckons that the big cities liked the Dream Team, so they could have matches like that, but the smaller towns bought them as heels.
(The beginning of the end.)
They stop to talk more about Sheiky Baby, who would introduce Greg to people as the person who taught him how to smoke pot. Sheik blew his top one time at Denny's after drinking "and doing other stuff" with how long it took to make their meals, which led to the police being called, but they were so intimidated by him that they let him go as long as they left without problems. Sheik would play up to big crowds of people if there was an audience. Both put him over as on the level of Danny Hodge as far as toughness.
WrestleMania 2 comes up for discussion, with the tag team championship match headlining the Chicago segment. Brutus derails stuff for a minute or so by thinking they were on top in LA, but Greg an the interviewer correct him. It was the plateau for them, and although they did well in rematches it was the beginning of the end.
The Big Event is next up, with a massive crowd in Toronto. They didn't enjoy wrestling the Rougeaus as Jacques and Raymond didn't want to sell, so potatoes got thrown. Greg would use his experience and being the heel to straighten things out in the ring. Brutus claims he would wipe the floor with them too, but… The line they'd use to sum up working with them was "It was like pulling teeth!".
Greg recalls the experiences his dad of working with babyfaces, who would want to shine and shine and shine and not give anything back: "I fucking hate babyfaces!".
Brutus thinks the best times they had were in their tag team period where they'd see the fans fighting among themselves over who was better, the good guys or the bad guys.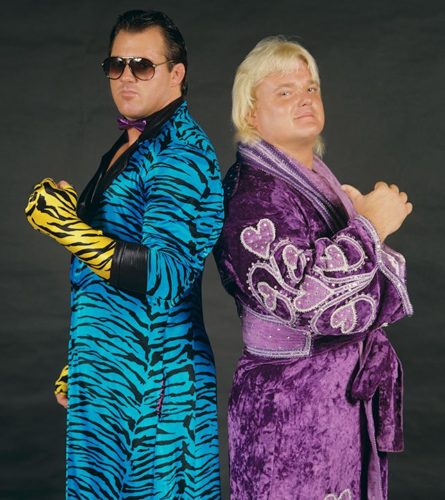 (Check out that gear!)
Greg talks about the inclusion of stars and celebrities at the first WrestleMania and how it was cool to rub shoulders with the likes of Aerosmith and ZZ Top. Greg recalls going to Wall Street one time and having yuppies cheer for him in the foyer of a building. The flip side was coming out of MSG and having HIS car pelted with batteries and cups.
Roddy Piper was a riding buddy for a while, and Greg recalls his failed first occasion of having his bagpipes stuffed with toilet paper by Fred Blassie, which killed his push.
Mention is made of guys like Ricky Steamboat and JYD having enough star power to where they could headline shows on their own, so when you had WrestleMania III with "100,000 people there" (steady, Greg!) it was because of them all being brought together. He revises the figure to "96,000". Brutus thought Bob Uecker was a blast, marvelling at guys like Andre the Giant who weighed "680 pounds!". He would keep on going "Fuck baseball!". Greg had met him already via Bobby Heenan, who was buddies with him, and had sat in the commentary booth with him. Greg wishes he'd had chance to meet Leslie Nielsen, but as a runner-up prize he got to work out with OJ Simpson one time!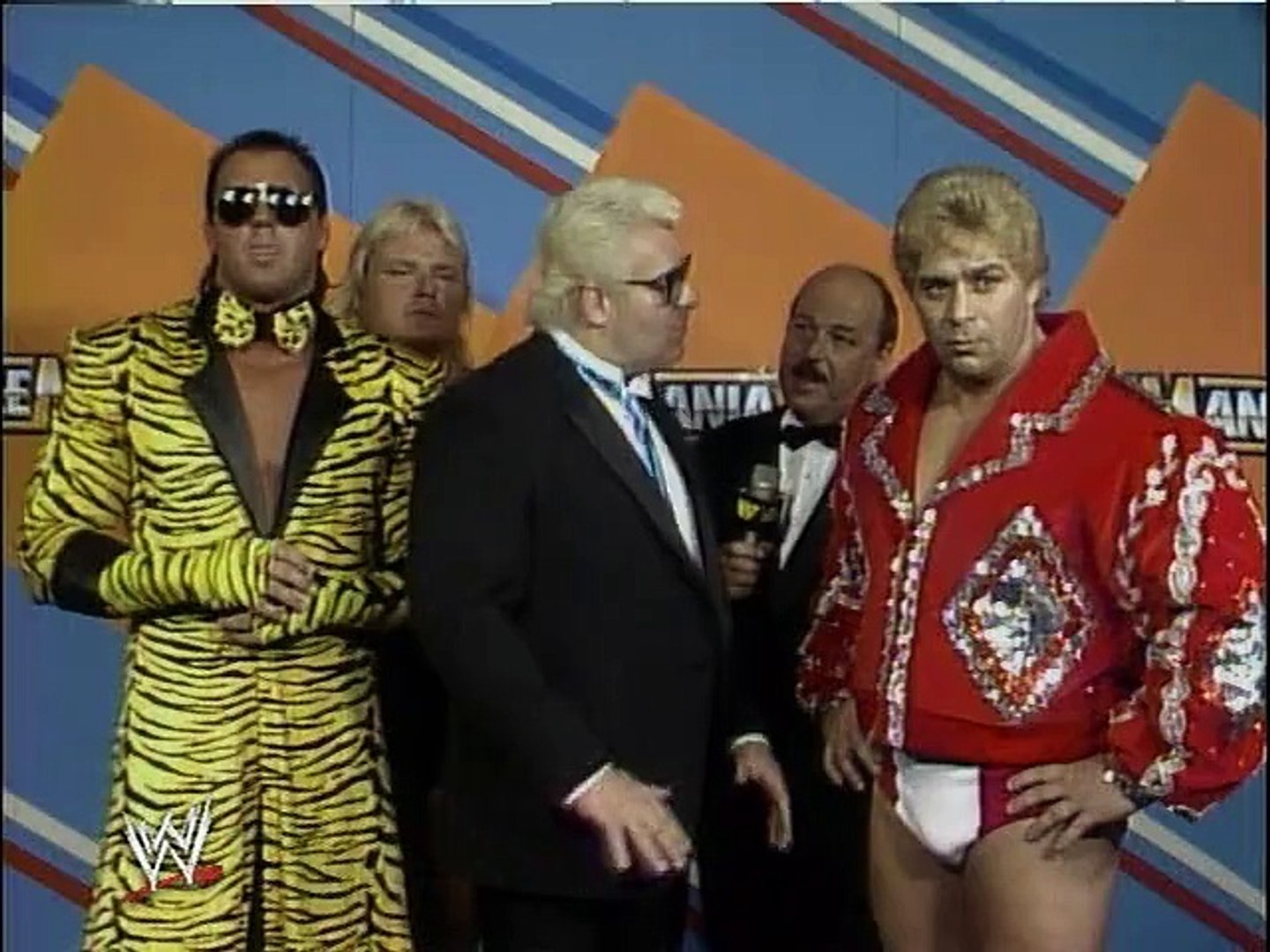 ("Parlez-vous scrambled eggs, grandma!")
There wasn't much discussion about splitting them up, with Pat Patterson engineering the situation where Adrian Adonis accidentally cut Beefcake's hair in order for him to get revenge later as "The Barber". Brutus felt sorry for Greg about having to team with Dino Bravo as the New Dream Team. Dino had a terrible temper and didn't gel well with him as a partner, throwing tantrums every day about stuff like not being able to find the airport, to the point that Valentine flew home and told the office that he was ready to quit, which brought about the end of that team.
(Out with the good old Dream Team, in with the not-so-good New Dream Team.)
Brutus talks about the first picture they took of him with the white coat on as the Barber, with a face like thunder because he hated the idea initially. Somehow he "pulled a rabbit out of my ass" and they decided on him putting people to sleep and cutting their hair. He talks about even wrestling Pat Patterson in Montreal with Mr T as the referee and cutting his hair, which even Greg sounds doubtful of, but it did actually happen!
Greg had quit, but they still wanted him around so they programmed him against Brutus. The New Dream Team were supposed to do the deal the Islanders did where they stole Matilda and then came out with invisible dog leads, but his initial quitting fucked that up and he regrets it because he thinks they could've gotten another title reign out of it.
(The chop should knock him backwards, but you know he's going to go forwards.)
Greg talks further about his aborted run against Don Muraco, which came off the angle where he attacked Billy Graham and injured his leg. Muraco and others got fucked up on liquid Valium in Europe and pissed on the tour bus, which ran down from the top deck to the bottom deck, which got on some French female TV executives. Nick Bockwinkel was the agent and blamed Muraco, so Muraco told him "Fuck you, you pecker checker!", which came out of Nick being the guy who had to watch them piss for drug tests after Arnold Skaaland said he wouldn't. Guys were getting their wives and girlfriends to pee in Visine bottles so they could give false samples, but Bockwinkel had to see it coming from the source. When they got home it was the end of Muraco, the British Bulldogs and some others, with Greg being one of the few to survive.
Greg mentions how the Bulldogs were pretty much done after Jacques Rougeau sneak attacked the Dynamite Kid in the canteen. Dyno wrestled the whole tour with no front teeth and looked a mess, which Greg thinks was a way for Vince to humiliate him a bit. Greg loved working with them and the matches were stiff, but they were OK at the end. Brutus had met Dyno in Japan prior and recognised he was wrestling the Japanese style, while Davey Boy was working the British style, but eventually they got things to work. Brutus thinks they had their best matches, forgetting the Hart Foundation. Greg thinks their matches were better than the ones with the Harts too.
The Islanders come back up for discussion. Greg tried to chop Haku hard one time, so Haku chopped him back even harder, to the point where he felt like his heart was going to come out of his chest. Greg learned his lesson from that! "He's a tough son of a bitch!" Brutus was friends with the Samoans from the early days, so he knew Tama already. The Samoans taught him how to work, sometimes via hazing.
Greg talks about the difficulty of wrestling guys like Wahoo McDaniel, who sometimes would want to stop selling and fuck the matches up. "I'm not a tough guy, I'm not a fucking idiot like that fucking Verne Gagne, I just want to make money!" He would have to fight to get his shots in. Wahoo actually liked that Greg stuck up for himself and remarked upon it to his wife.
Brutus had less of a difficult time with Wahoo, probably because he wasn't a threat. Greg thinks Wahoo was wrestling him like he'd wrestled his dad, Johnny Valentine, and was trying to bring him up to that level, to where it built his rep.
The Can-Am Connection are next up for discussion, alongside Strike Force. Greg can't believe Tom Zenk passed away. They get mixed up with which guys were members of which team. Brutus calls Zenk an idiot who could've had everything served up to him on a plate, but he freaked out like Windham did and quit. He thinks he may have been the victim of bad influences.
Greg discusses how happy he is that Brutus got put into the WWE Hall of Fame. Brutus lobbies for them being put in as a team together ("If you can put idiots like Kid Rock in… !"). Greg thinks both Bulldogs should be in too.
They talk about some TV projects they're involved with, including a documentary on Roddy Piper and some things for A&E. They talk about their closeness with the Hart family and Davey Boy Smith and his kids, who are obviously grown up now. "Stu Hart reminded me of Herman Munster, with his twelve kids and thirteen cats." Greg talks about how one cat would come around Stu when he was on the phone and Stu would tickle his balls and arse with the eraser end of his pencil, so every time the phone rang the cat would turn back up and assume the position. Greg's not so sure about the stories of Stu using the same spoon he used to stir eggs with to also scoop up cat shit, though.
The Dream Team never wrestled the Hart Foundation to the best of their knowledge, but Greg wrestled them with Honky as his partner. They talk about wrestling for two years running at Trump Plaza and finding Donald Trump a nice guy who showed them respect before signing off and Greg giving a quick tour of his office and mementos and photos of himself from across his career.
The Bottom Line: Pretty much as expected, mostly entertaining bullshit, with the best bits being the Don Muraco and Stu Hart stories. If you can find those bits look them up.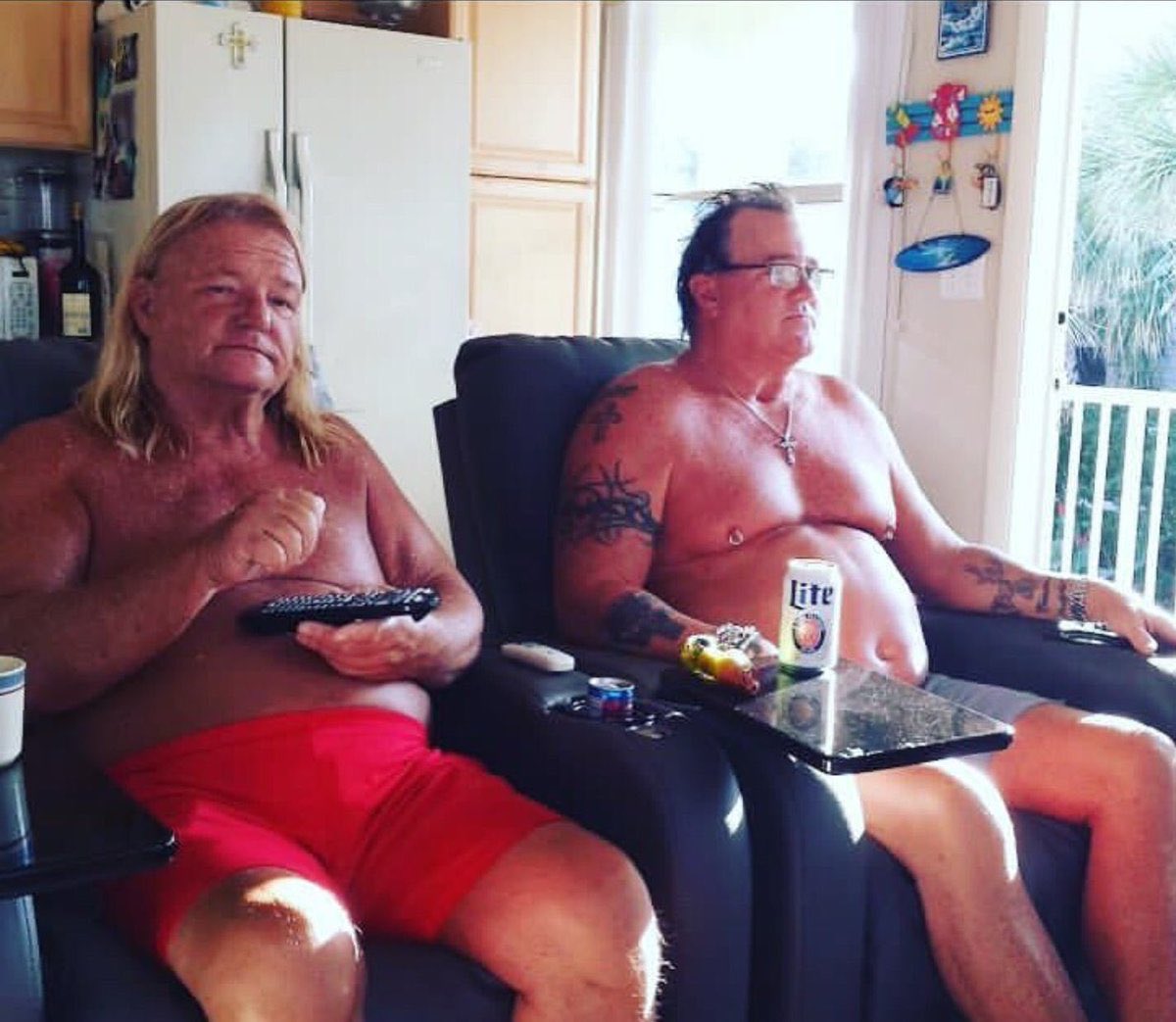 (Just chilling.)