Rock Star Gary reflects on WCCW 06-01-1985
By Rock Star Gary on 22nd February 2021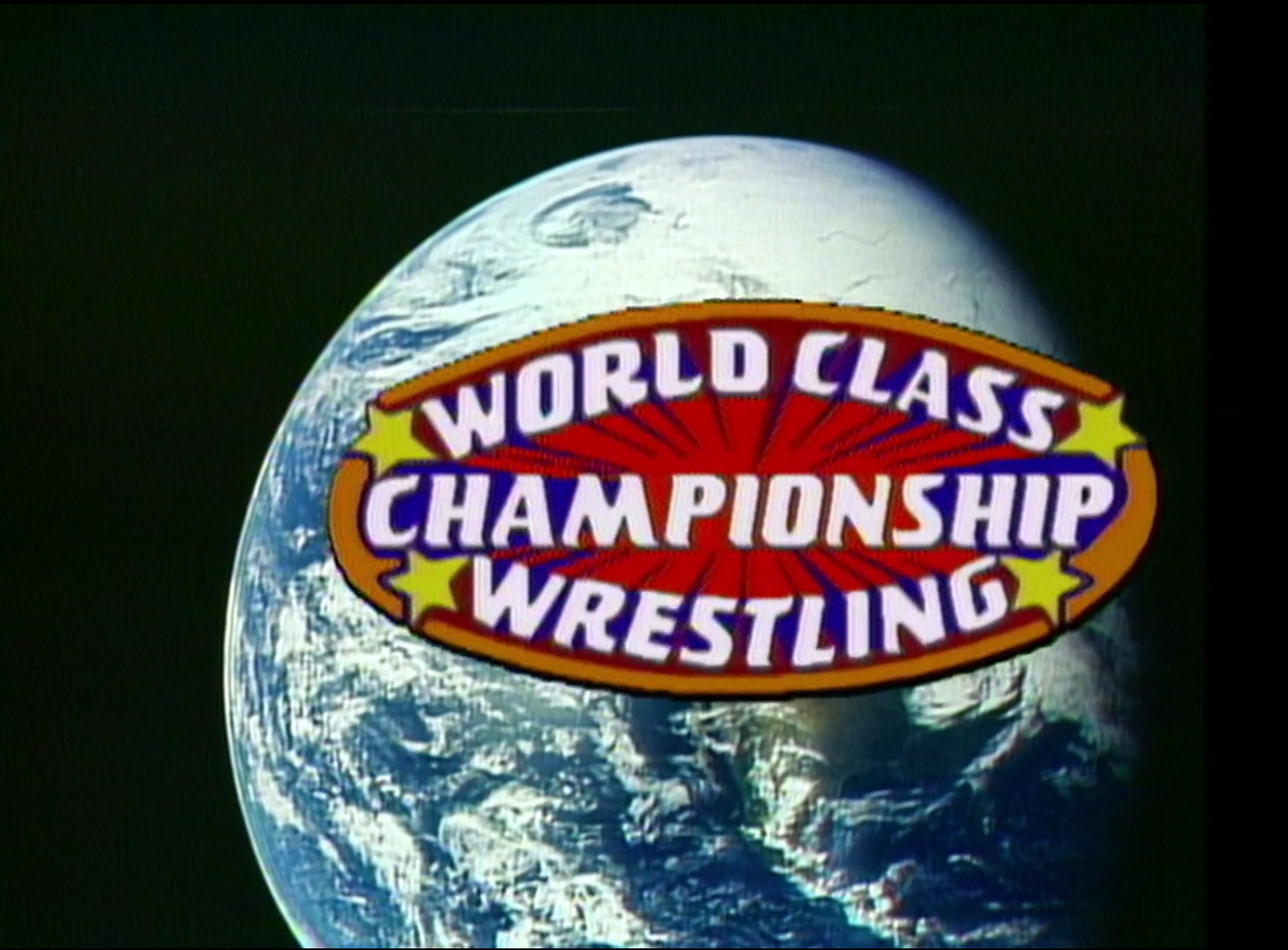 Taped from Dallas, TX
Airdate: June 1, 1985 (taped 05/17)
Attendance: unknown
Hosted by Bill Mercer
Can Adias defeat Gino and become Texas champion? What's going on between Cornette and Casey? And who will join me for this greenish episode?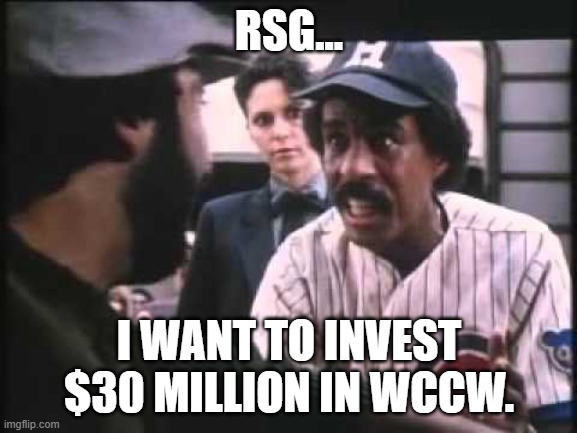 Sorry, Mr. Brewster, but you cannot retain any assets with your lump sum. Please don't cry the blues because this should be a fun episode.
Opening montage.
Match 1: The Dynamic Duo versus Great Kabuki & Scott Casey (w/ Sunshine)
Highlights:
This match occurred on 05/05 in Irving, TX.
When Kabuki caught Adams' left foot, he ate an enziguri.
Adams gave Kabuki a cross corner whip but ate a thrust kick on his follow-through.
As Kabuki landed a spinning thrust kick, Casey tagged in and lowered the boom on Adams.
Casey slammed Adams and got 1.
After Adams clotheslined him, the Irving faithful chanted "go Scott, go."
Casey countered a side head lock with a backbreaker, but Gino tagged in.
While Gino scored with a back elbow, Casey leapfrogged him.
Kabuki tagged in and backdropped Gino.
When he supplied Gino with a belly-to-back suplex, Kabuki got 2.
Adams tagged in and delivered his own belly-to-back suplex to Kabuki.
As Gino tagged in, he clotheslined Kabuki.
Adams tagged in, mounted the top turnbuckle, and lowered the boom on Kabuki.
After Casey tagged in, Gino put a knee into his back. SNEAKY!
With all four wrestlers in the ring, Gino dumped Kabuki outside, and Adams superkicked Casey.
The Dynamic Duo then pulled Sunshine into the ring, but Kabuki rescued his defenseless manager.
While Gino leaped from the top turnbuckle, Kabuki sprayed green mist in his eyes.
Referee Bronko Lubich called for the bell to disqualify Kabuki and Casey at 8:17.
Rating: **
Summary: Decent tag match that showed the Dynamic Duo's strength as a team as well as Kabuki's strength as a one-man destructive crew.
After the match, Gino throws two chairs into the ring. Kabuki then grabs his nunchucks to send the heels away.
We then head to Fort Worth when Casey defeated Dennis Condrey on 4/29. After the match, Condrey and Oliver double-team Casey, but Casey makes a comeback to send them to the floor. Cornette tries to decapitate Casey with the tennis racquet, but Casey ducks and provides him with an atomic drop. Next, he removes Cornette's green blazer, but Condrey and Oliver save their manager's bacon.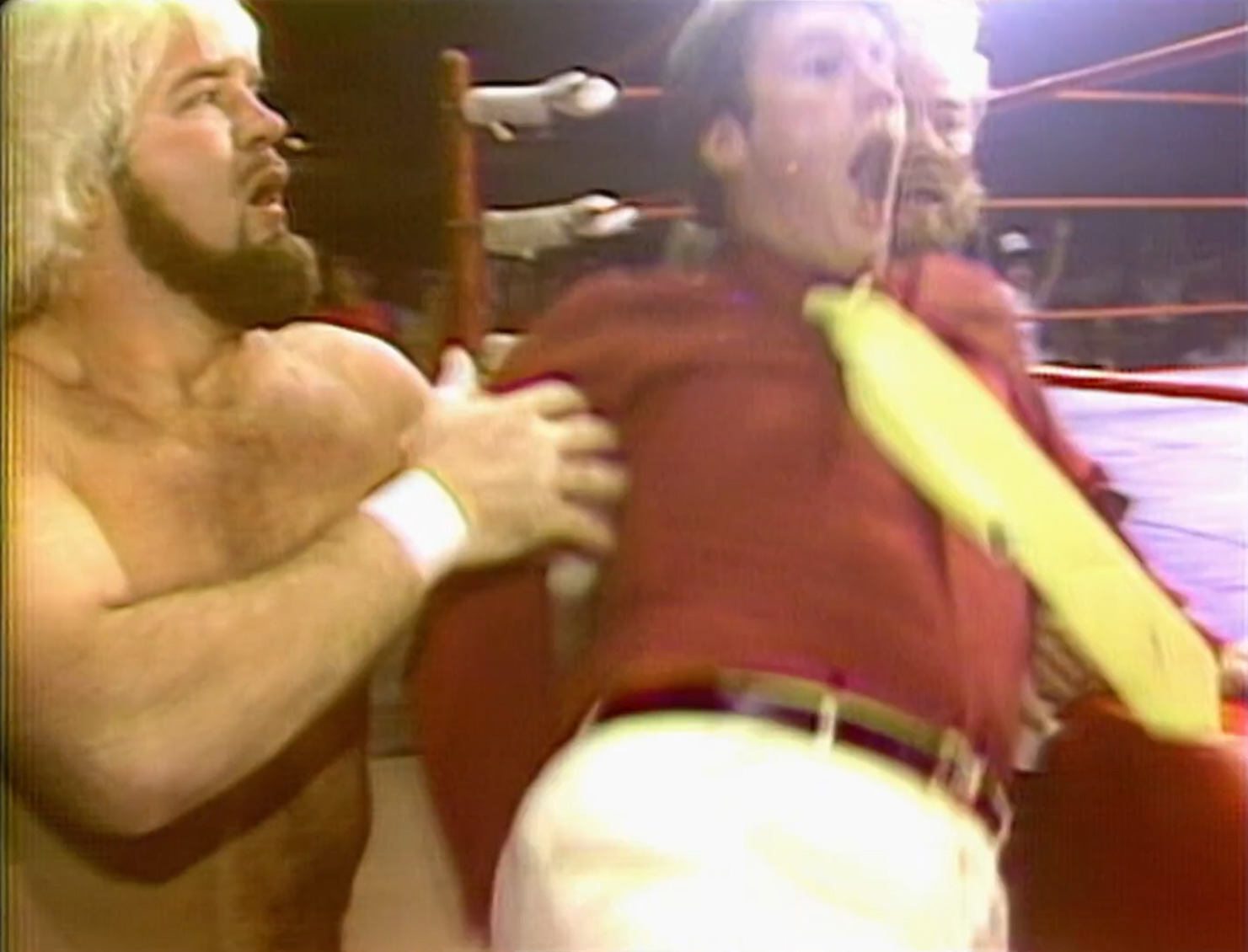 From the locker room, Marc Lowrance interviews Cornette who refers to Casey as a "thief." He then cuts a promo on the Fantastics.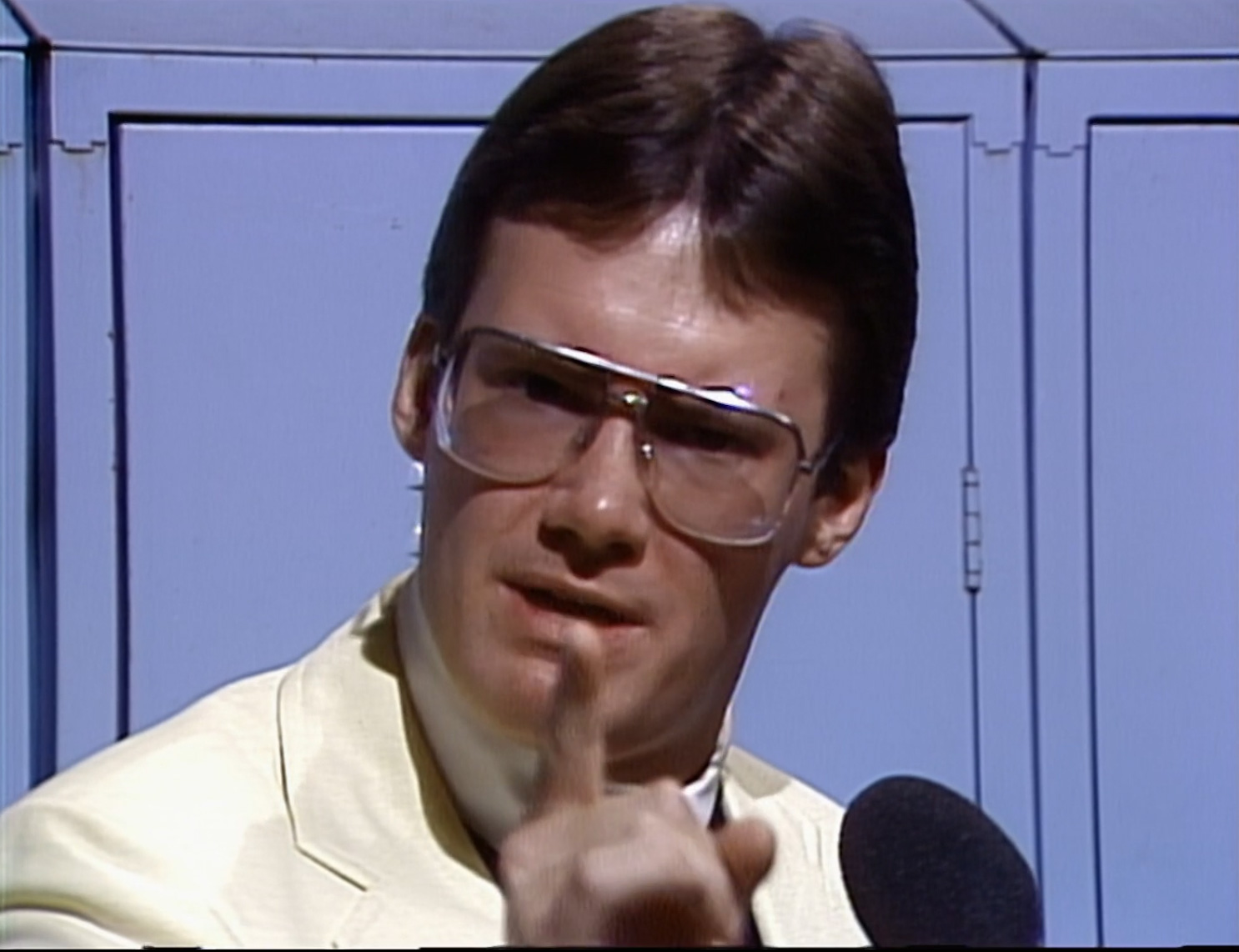 Match 2: Midnight Express (w/ Jim Cornette) versus Sweet Brown Sugar & Mike Bond
Highlights:
With the Parade of Champions behind us, Mercer springs the good news of a great card on 7/4 for us.
Sugar leapfrogged Eaton and followed with a dropkick.
As Sugar slammed Eaton, tags were exchanged on both sides.
Bond missed a dropkick, but Sugar tagged in and hip-tossed Condrey.
When he dealt Condrey a flying headscissors, Sugar traded insults with Cornette.
Eaton tagged in, Cornette distracted referee Rick Hazzard, and Condrey tripped Sugar. How dastardly!
After Eaton delivered an elbow drop, Condrey tagged in.
Eaton prevented the hot tag, tagged in, and popped Sugar sending him down to the floor.
While Eaton gave Sugar a cross corner whip, he hit a back elbow on his follow-through.
Condrey tagged in and caused Bond to distract Hazzard.
Hot tag Bond.
As Bond gave Condrey a cross corner whip, he followed with a knee to the midsection.
Condrey quickly took over and powerslammed him.
When Eaton tagged in, the Midnight Express annihilated Bond with a double goozle.
Eaton then provided Bond with a double knee drop to the midsection, and Condrey followed with a double stomp.
1-2-3.
The Midnight Express won at 6:44.
Rating: **
Summary: Showcase match for the Midnight Express.
Match 3 (non-title): WCCW TV champion Scott Casey versus Kelly Kiniski
Highlights:
For those unaware, the TV title was strictly defended on Championship Sports; thus, this match was non-title.
Casey brought Cornette's green blazer with him as a souvenir.
When Casey hip-tossed him, he followed with a belly-to-back suplex.
He then slammed Kiniski, hooked an inside cradle, and got 1.
As Kiniski rebounded with an inverted atomic drop, he followed with a backbreaker for 2.
Kiniski then applied a rope-assisted abdominal stretch and a bear hug.
After Casey escaped, Kiniski hooked a Boston crab.
Casey escaped again and provided Kiniski with an atomic drop.
While Cornette and Eaton approached ringside, Eaton entered the ring and popped Casey.
Referee Bronko Lubich called for the bell to disqualify Kiniski at 5:48.
Rating: **½
Summary: More storyline than match as you will see.
After the match, the heels double-team Casey as Cornette retrieves his blazer. Casey stops him, dropkicks Eaton, and regains possession of the green blazer. Eaton makes another attempt but gets thwarted. Kabuki joins Casey in the ring while the Dallas faithful goes apeshit.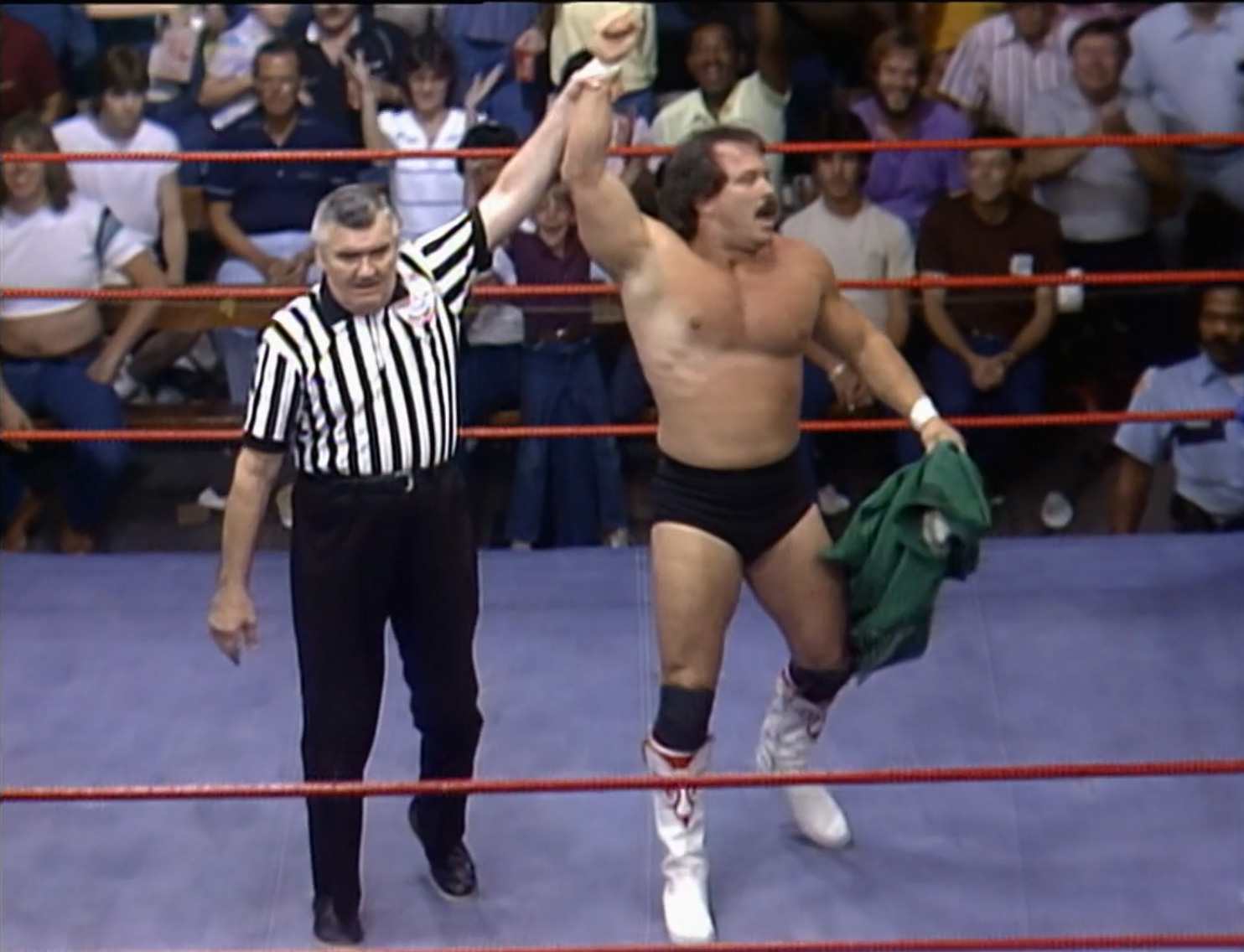 What's that, Ms. Drake?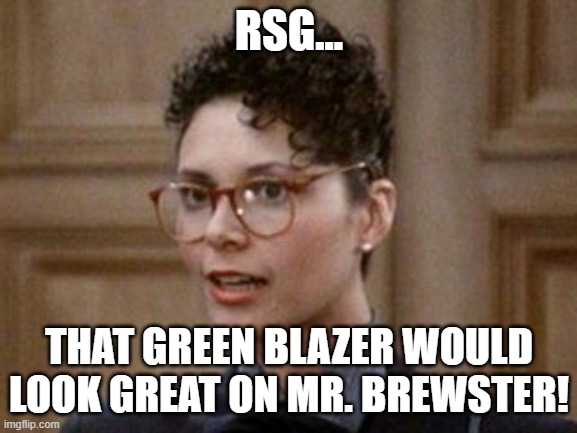 Once again, no assets, Ms. Drake. Although it could go well with a…
Match 4 for the NWA Texas title: The "Handsome Half-Breed" Gino Hernandez (champion w/o "Gentleman" Chris Adams) versus Brian Adias
Highlights:
Adias leapfrogged Gino and followed with a dropkick.
As Gino put a knee into his midsection, he used momentum to send Adias down to the floor.
He then guillotined Adias with the top rope and supplied Adias with a back elbow.
When Adias rebounded with a back drop, he got 2.
He then hooked an inside cradle for another 2.
After he secured a back slide, Adias couldn't get 3.
He then dropkicked Gino for another 2.
While Gino countered a back drop attempt with an inside cradle, he pinned Adias at 6:34.
Rating: **
Summary: It took a while to get going, but the match had a stellar finish as Gino retained.
Conclusion: The shenanigans surrounding the green blazer made for an entertaining episode. In addition, the Texas title was finally defended on TV while Gino remains strong as champion. Mr. Brewster, were Kevin, Kerry, or Mike Von Erich anywhere near this show?
Thanks, Mr. Brewster and enjoy your inheritance.
Next week, Mike Von Erich, Scott Casey, and Kabuki battle the Midnight Express and Rip Oliver. Will Cornette succeed in retrieving his green blazer or will Casey convert it into a putting green?
TV Rating: NONE
Stay tuned for WCCW 06-15-85!
Comments? Suggestions? Send them to me at [email protected] and follow me on Twitter (@rockstargary202). Also, please check out all of my reflections at rockstargary.com including Herb Abrams' UWF!