Rock Star Gary reflects on WCCW 09-08-1984
By Rock Star Gary on 3rd March 2020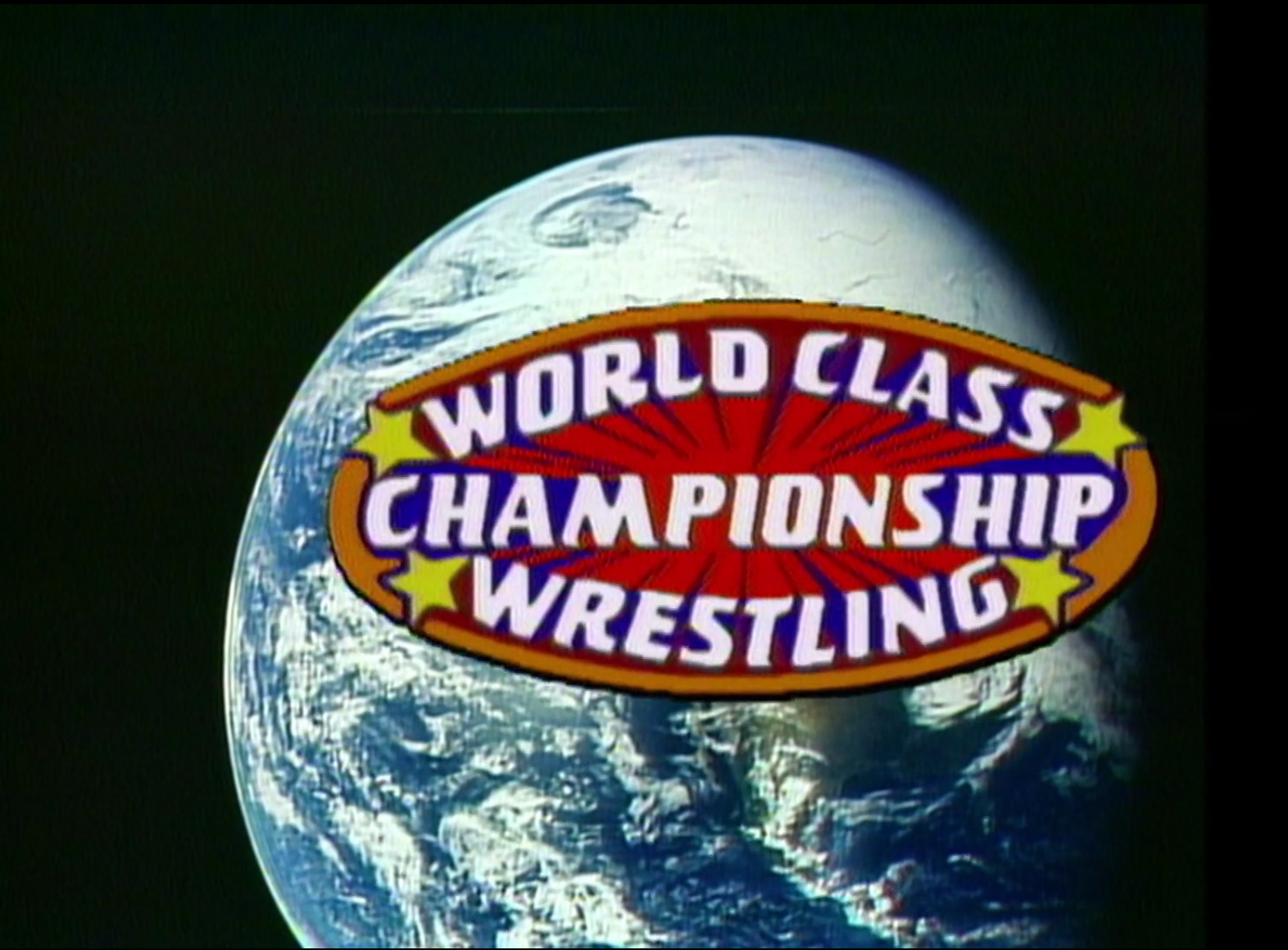 Taped from Dallas, TX
Airdate: September 8, 1984 (taped 08/31)
Attendance: unknown
Hosted by Bill Mercer
Can Kerry conquer Khan? Will the Pretty Young Things get the better of Zumhofe and Strongbow? What's going on with Hart and Adams? Not one, but two BONUS matches including an American title and cage matches! Who will join me for this landmark episode?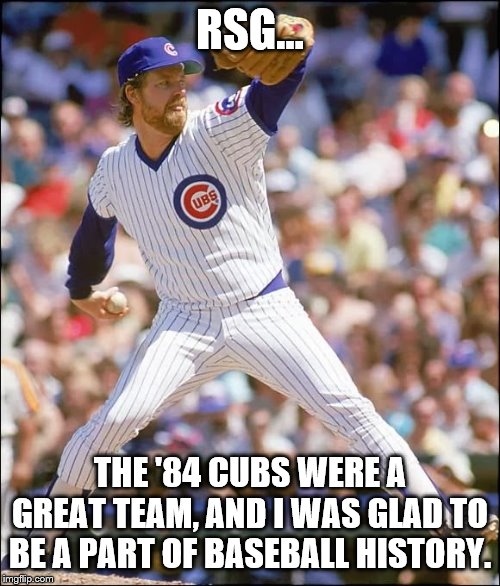 Rick Sutcliffe! The trade that made the difference for the '84 Cubs! The buzz for the Cubs was crazy!
Opening montage.
Prior to the opening match, we revisit last week's episode when Hernandez found a devious way to keep his title despite the overturned decision.
Match 1: "Iceman" King Parsons versus Kelly Kiniski
Highlights:
For those curious, this match marked the Sportatorium refereeing debut of Rick Hazzard. You may remember his Sportatorium wrestling debut back on 6/16.
Parsons hooked an O'Connor roll and got 2.
When Kiniski gave Parsons a cross corner whip, he came up empty on his follow-through.
He then clotheslined Parsons for 2.
As he scored with a knee drop, Kiniski got another 2.
He then delivered a swinging neckbreaker, but Parsons rebounded with a knee lift.
After Parsons connected with his own clothesline, he reversed an Irish whip and backdropped Kiniski.
Parsons then ate knees on a splash attempt, so Kiniski hit an elbow drop.
While Parsons secured an inside cradle, he pinned Kiniski.
Rating: **
Summary: Decent opener where you weren't sure that who would win.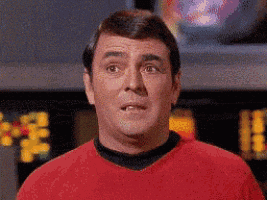 Following a commercial break, Mercer interviews both Gary Hart and "Gentleman" Chris Adams. That's rather odd, no? Regardless, Adams drops the bombshell that he has signed Hart to be his "advisor." Afterward, Hart cuts a promo on Akbar in anticipation of the Adams-Bill Irwin match next week. Adams and Hart shake hands to end the interview.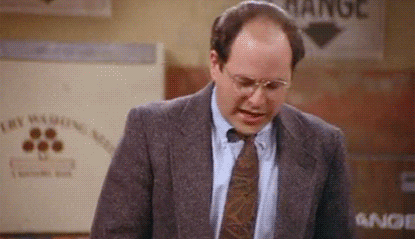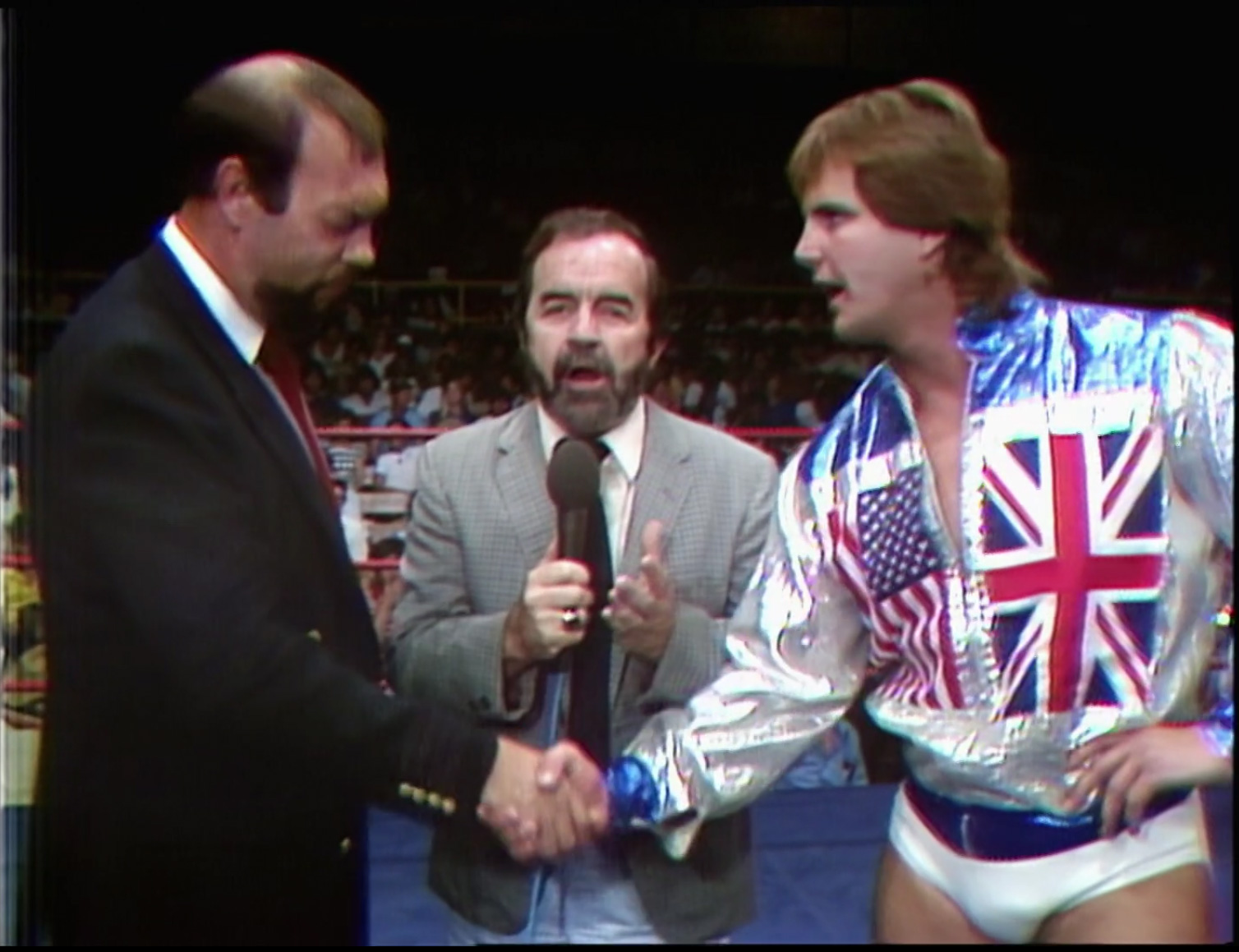 We then get a video featuring the Pretty Young Things where the WWE Network apparently overdubs "PYT" by Michael Jackson.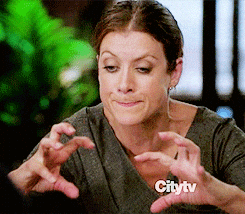 Match 2: Pretty Young Things versus "Rock'n'Roll" Buck Zumhofe & Jules Strongbow
Highlights:
Zumhofe tagged in and rang Austin's bell.
As Zumhofe landed on his feet after a back drop, he dropkicked Austin.
Strongbow tagged in, delivered a knee drop, and got 1.
When tags were exchanged on both sides, Ware scored with a back elbow.
He then slammed Zumhofe, and the Pretty Young Things controlled him for a bit.
That was until the hot tag to Strongbow.
After he gave Ware a cross corner whip, Strongbow followed with a chop.
Ware rebounded with a knee lift and tagged in Austin.
As the Dallas faithful chanted "go, Chief, go," Austin hit a high knee to their hero.
Tags were exchanged on both sides again while Zumhofe gave Ware a cross corner whip.
When he brought Austin in the hard way, all four wrestlers were in the ring.
The Pretty Young Things then reversed a double whip causing the babyfaces to collide.
After Ware disposed of Zumhofe, the Pretty Young Things demolished Strongbow with their finisher.
Ware made the cover, but Zumhofe was the legal man; so, referee Bronko Lubich disallowed it.
All of a sudden, Zumhofe launched a cross body block from the top rope onto Ware.
1-2-3.
Zumhofe and Strongbow won.
Rating: **
Summary: This was a variation of the tag formula for this match, but the Dallas faithful loved the victory by the babyfaces. What's that, Sandberg?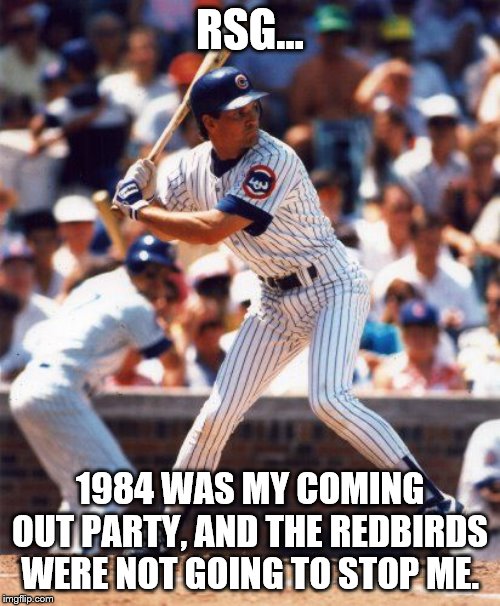 Absolutely, Ryno! I remember your homers against the Cardinals caused Cubs' fans to dance along Waveland Avenue.
Match 3: The "Modern Day Warrior" Kerry Von Erich versus Killer Khan (w/ Gen. Skandor Akbar)
Highlights:
Near the beginning of the match, the Dallas faithful clamored for ME. Amazing!
My mistake, Mr. Hart, but thanks for the compliment.
Nevertheless, Kerry launched a dropkick and followed with a discus punch.
When Khan rebounded with a thrust kick, he attempted an Asiatic spike.
Kerry blocked it and applied an Iron claw to Khan's midsection. Let's hope Khan didn't eat enchiladas for dinner.
As Khan escaped, he gave Kerry a cross corner whip but came up empty on his follow-through.
Kerry scored with a back elbow, but Khan knocked him silly.
After Khan hammered Kerry down to the mat again, he mounted the second turnbuckle but missed a flying knee drop.
Kerry then backdropped Khan and applied an Iron claw to Khan's head. That's a headache waiting to happen.
When Khan made the ropes, Kerry knocked him down to the floor.
Immediately, Missing Link stormed the ring to attack Kerry.
Referee Bronko Lubich called for the bell to disqualify Khan.
Rating: *
Summary: While I enjoy the Von Erichs battle Devastation, Inc., I miss the Freebirds. They generated more heat than a microwave oven.
After the match, Kerry catches Link in an Iron claw. On the other hand, Khan returns to the ring and nails Kerry. Devastation, Inc. double-teams Kerry until referee Rick Hazzard arrives to shoo them from the ring.
Before the show leaves the air, Mercer plugs Requiem for a Champion.
BONUS MATCH #1 for the NWA American title: Mike Von Erich (champion) versus the "Handsome Half-Breed" Gino Hernandez
This match occurred on 9/3 in Fort Worth.
As the Fort Worth faithful LOUDLY chanted "we want Stella," Hernandez gave Mike a cross corner whip but came up empty on his follow-through.
Mike then hip-tossed Hernandez and followed with an elbow drop for 2.
While Marc Lowrance reminded us of Mike's ability to hang with Flair one year ago, Mike hooked a sunset flip for 2.
Hernandez then suplexed Mike, mounted the top turnbuckle, but missed his patented big elbow.
When Mike backdropped him, Hernandez got tied up in the ropes.
Mike then supplied Hernandez with a series of punts to the midsection before Hernandez escaped.
After Mike backdropped him again, Hernandez punted him on a third attempt.
Hernandez landed a couple of elbow smashes, but Mike leapfrogged and dropkicked him.
As Mike battled and won a test-of-strength, the Fort Worth faithful cheered wildly.
Stella Mae French made her way to ringside, but Nickla Roberts attacked her.
When Mike leapfrogged Hernandez again, he applied a sleeper.
Mischievously, Hernandez poked referee Bronko Lubich in the eye. Sinister!
Roberts then WALLOPED Mike with her purse. How dastardly!
After Hernandez hit a shoulder breaker, he pinned Mike.
WE HAVE A NEW CHAMPION!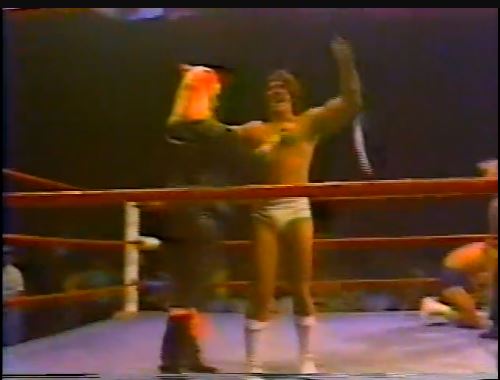 Rating: **½
Summary: Unfortunately for Mike, his time at the top of the promotion lasted about a month. For those unaware, Roberts was better known later as Baby Doll.
After the match, Kerry and Kevin storm the ring to chase off Hernandez and Roberts. Meanwhile, Mike's arm appears to be injured.
BONUS MATCH #2 for the vacant WCCW World Six-Man tag titles (cage/elimination): The Fabulous Freebirds versus Kerry, Kevin, and Mike Von Erich
This match also occurred on 9/3 in Fort Worth.
According to Lowrance, Mike had a separated shoulder and would not compete.
Therefore, the Von Erichs must compete two against three. I don't like their odds.
Much like their 7/4 bout, this match had Texas tornado rules.
Kerry supplied Gordy and Roberts with a double noggin knocker, and Kevin provided Hayes and Gordy one as well.
When Kerry rammed both Gordy and Roberts into the cage, Kevin removed Hayes' boot and CREAMED him with it.
While Kevin delivered a ten-punch count-along to Hayes, Kerry rammed Gordy into the cage again.
Kerry then made Hayes taste the fence and raked Roberts' forehead against it.
As Hayes restrained Kerry, Gordy tried to clobber him but nailed Hayes instead.
Kevin then applied an Iron claw to Roberts, and Gordy hammered Kerry with a boot.
While Roberts was BUSTED OPEN, Gordy reversed an Irish whip and clotheslined Kerry.
He then attempted an Asiatic spike on Kerry, but Kevin made the save.
After Kerry attempted an Iron claw upon Gordy, Hayes made the save.
Kevin brought the collective minds of Hayes and Gordy together again, and Kerry prevented Gordy from applying an Asiatic spike with an Iron claw.
When Roberts mounted the second turnbuckle, he landed an axe handle to Kerry.
With Hayes tied up in the ropes, Gordy mounted the top turnbuckle.
While Roberts held Kerry, Gordy leaped but inadvertently nailed Roberts.
As Kevin applied an Iron claw upon the prone Hayes, Kerry applied his own to Gordy.
Roberts tried to disrupt Kerry but succumbed to his own Iron claw.
After Kevin earned a 2-count on Hayes, he rammed Roberts into the cage again.
Hayes then handed both Kerry and Kevin the same punishment.
When Hayes mounted the top turnbuckle, he hit a double axe handle to Kevin.
Gordy then applied an Asiatic spike to Kerry as the Von Erichs appeared to be swooning.
While Kevin administered the fourth double noggin knocker of the match, Roberts ensured Lacey Von Erich wasn't conceived that evening.
Gordy and Roberts executed a spike piledriver on Kerry while Kevin added another ten-punch count-along to Hayes.
1-2-3.
Kerry was eliminated, so Kevin had to face the Freebirds 1-on-3.
As officials assisted Kerry who was OUT COLD from the cage, Kevin sat atop the top of the cage.
Kevin then swung a boot wildly knocking all three Freebirds silly.
After Hayes pounded on Kevin with a boot, Roberts choked Kevin with his belt. Heinous!
Gordy then rammed Kevin face-first into the cage, and Hayes flew from the top rope with a boot.
When Roberts laid in the leather upon him, Kevin rebounded by rolling up Hayes for 1.
He then blocked a shot to the cage and rammed Hayes instead.
As Kevin served up double noggin knocker #5, Hayes was BUSTED OPEN!
Kevin then hooked a sunset flip and pinned Hayes.
At the moment, the Freebirds held a 2-to-1 advantage.
Gordy and Roberts combined their efforts to toss Kevin into the cage.
After they double-clotheslined Kevin, Gordy piledrove him.
Gordy then scored with a swinging neckbreaker while Roberts mounted the top of the cage.
When Gordy attempted another piledriver, Kevin countered with a back drop.
Suddenly, Mike, with his shoulder taped, came to the ring and shook Roberts all the way down to the mat.
As Kevin covered Gordy, Mike covered Roberts.
1-2-3.
A double pin!
WE HAVE NEW CHAMPIONS!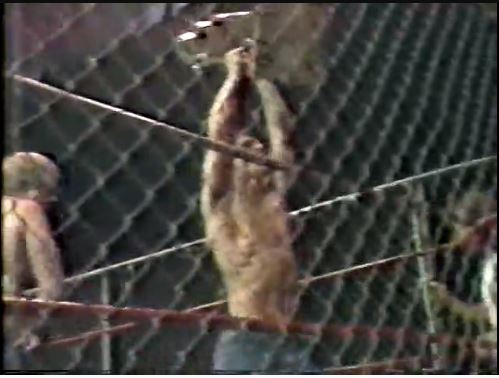 Rating: ****
Summary: If you want a Texas-style brawl with some ELECTRIFIED heat, then this match is for you. Wow!
After the match, Gordy throws a tantrum in protest.
Conclusion: Incredible cage match to blow off the Von Erich-Freebird feud if only for a moment. Thanks to a new valet, Hernandez recaptures the American title. Methinks we haven't seen the last between these two. Meanwhile, Kerry gets the duke over Khan, but the battle between the Von Erichs and Devastation, Inc. continues. Zumhofe and Strongbow grab the underdog victory while Adams makes a pact with Hart. Very intriguing episode, and I wonder how the Adams storyline will play out. Don't you, Harry?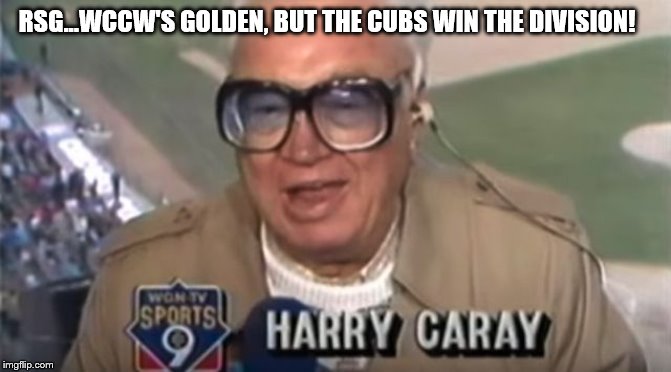 I'm so excited, Harry, and I just can't hide it. Go Cubbies!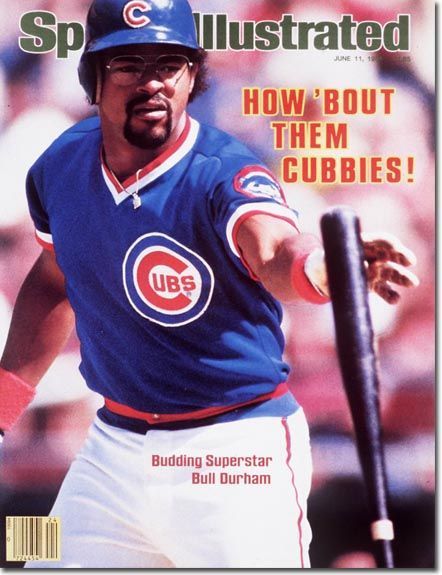 TV Rating: NONE
Stay tuned for WCCW 09-15-84!
Comments? Suggestions? Send them to me at [email protected] and follow me on Twitter (@rockstargary202). Also, please check out all of my reflections at rockstargary.com.