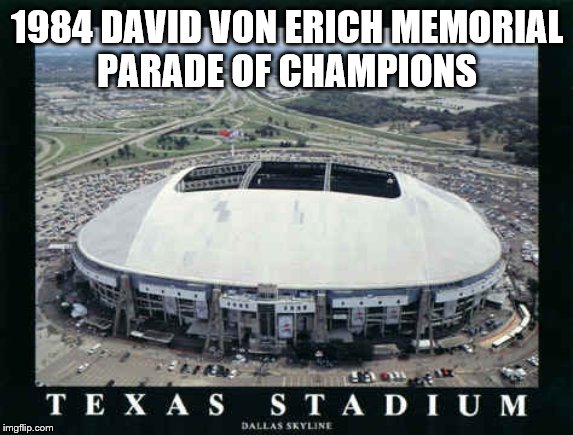 Taped from Irving, TX
Airdate: May 19, 1984 (taped 05/06)
Attendance: 50,123 (43,517 paid)
Hosted by Marc Lowrance
Will Sunshine finally get her hands on Precious and exact revenge upon her? Oh, and Kerry challenges Flair for the World title. Ya think he has a chance? Also, who will join me for this colossal episode?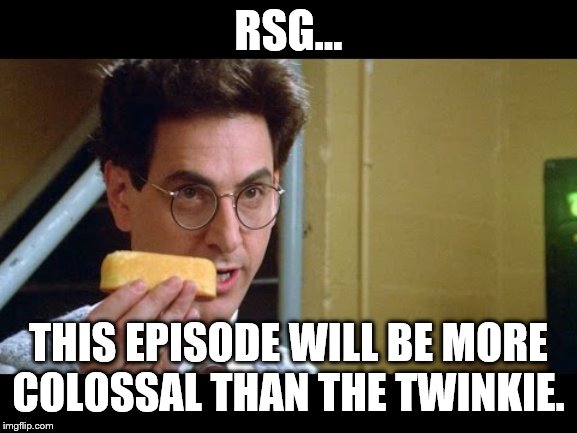 You may be right, Egon. It may be just as colossal as a Mark Twain novel.
Opening montage.
Match 1: "Hacksaw" Butch Reed versus Chick Donovan
Highlights:
Unlike most wrestling matches during this era, both wrestlers possessed well-built physiques.
Reed trash-talked him about his physique, so Donovan responded with a dropkick.
When he hip-tossed Reed, Donovan ate an elbow smash.
Reed then tossed Donovan to the feet of Miss Texas Dana Rogers not to be confused with Miss Texas Jacqueline Moore.
As Donovan returned to the ring, he delivered a back elbow.
Reed then military-pressed and dropped Donovan like a bad habit.
After Reed scored with a flying shoulder block, he pinned Donovan.
Rating: *
Summary: Showcase match for Reed.
Match 2 for the NWA World title: "Nature Boy" Ric Flair (champion) versus the "Modern Day Warrior" Kerry Von Erich
Highlights:
While Kerry made his entrance, he wore a blue robe bearing "In Memory of David" on the back and carried a yellow rose.
Ring announcer Ralph Pulley declared there was no time limit and the disqualification rule for the champion was waived. Now there's no way Kerry could win, right?
As the Irving faithful LOUDLY chanted "go Kerry, go," Flair leap-frogged their hero but ate a pair of dropkicks.
Kerry then gorilla-press-slammed Flair who sought refuge on the stadium floor.
When Flair returned, he tossed Kerry down to the stadium floor, but Kerry returned via sunset flip for 2.
Kerry then reversed a cross corner whip and hooked a sleeper.
After Flair countered with a belly-to-back suplex, he delivered a knee drop.
He then suplexed Kerry for 2.
Showing that he still had a lot left, Kerry supplied Flair with a standing dropkick.
He then hooked an abdominal stretch, but Flair escaped with a hip toss.
As Kerry hit a pair of his own knee drops, he applied an Iron claw.
Will Flair submit?
No, he put a knee somewhere down near Brownsville, TX.
Referee David Manning warned Flair but didn't disqualify him. Why? Because Kerry can't really win, right?
When Flair mounted the top turnbuckle, Kerry caught and slammed him down to the mat.
He then gave Flair a cross corner whip resulting in a Flair flip.
While Flair attempted a figure-four leg lock, Kerry blocked it.
Flair made a second attempt but was denied.
After each wrestler blocked a hip toss, Kerry hooked a backslide.
Do we have a new champion?
1-2-3!
No way! I can't believe it!
WE HAVE A NEW CHAMPION!
Texas Stadium is SHAKING!
Rating: ***
Summary: One of the most historic matches of all-time. Not because of workrate or for being a technical masterpiece, but because this match is a monumental achievement for a family deeply in grief over the fallen David. Care to chime in, Dana?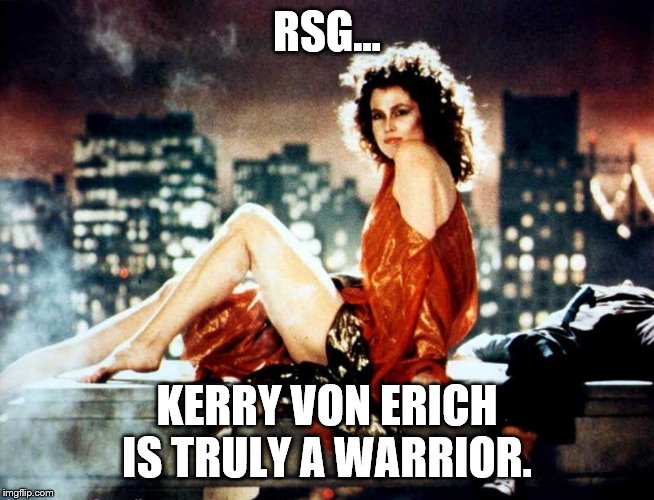 After the match, the Von Erich brothers (including Chris), Adams, "Iceman" King Parsons, Buck Zumhofe, and Donovan flood the ring to congratulate the phenomenal victory by Kerry. In the meantime, Flair is beside himself yet informs Kerry that "(he'll) be back." Before he exits the ring, Kerry wraps the belt in the Texan flag and holds a yellow rose high in the air. That was a beautiful nod to David. During Kerry's return backstage, both Fritz and Doris embrace their victorious son.
Match 3 (mixed): "Gentleman" Chris Adams & Sunshine versus "Gorgeous" Jimmy Garvin & Precious
Highlights:
When Adams made his entrance, he wore Garvin's white jacket and bow tie. To further insult Garvin, he and Sunshine tore it to shreds.
Before the match began, the "Handsome Half-Breed" Gino Hernandez entered the ring and grabbed the microphone. He belittled the importance of how special and important this show was because he's not wrestling on it. He then challenged whoever the American champion would be to a match in San Juan, Puerto Rico in two weeks.
Adams and Garvin started the match proper, and Adams slammed him.
As he hooked a sunset flip, Adams got 1.
While the Irving faithful chanted "go Chris, go," a double clothesline put both male wrestlers down on the mat.
Adams then delivered a superkick and tagged in Sunshine.
After she brought Precious into the ring the hard way, Sunshine catapulted her into the second turnbuckle.
Precious then clawed her way back to her corner and tagged Garvin.
Although Garvin was still weary from the superkick, Adams suplexed him back inside the ring for 2.
He then slammed Garvin again and hit a leg drop for another 2.
When Garvin rebounded with Snake Eyes, Adams was BUSTED OPEN!
As Garvin attempted a piledriver, Adams countered with a back drop.
Sunshine tagged in, but Garvin tripped her. What a scoundrel!
After all four combatants were in the ring, Garvin tossed Adams to the stadium floor.
He then held Sunshine so that Precious could slap her. How dastardly!
While Sunshine tossed Precious to the stadium floor, Adams returned to the ring via a sunset flip.
1-2-3.
Adams and Sunshine won.
Rating: **
Summary: While it wasn't anywhere close to being a fantastic wrestling match, the entertainment value of getting Sunshine and Precious involved along with an Adams victory sent the Irving faithful into euphoria as they went wild.
After the match, Precious re-enters the ring and WALLOPS Sunshine with her purse. Nefarious! Before Garvin and Precious leave the stadium, Sunshine tackles Precious from behind. Garvin quickly gets his valet out of Sunshine's clutches but eats a shot from the bloodied Adams. Immediately, they hightail it back to the locker room.
Conclusion: Another historic episode as Kerry becomes the only Von Erich to win the NWA World title. Additionally, Adams and Sunshine give Garvin and Precious their overdue comeuppance. While I encourage you to watch each and every episode of WCCW, this one is required for ALL pro wrestling fans. Want to put the finishing touches on this, Peter?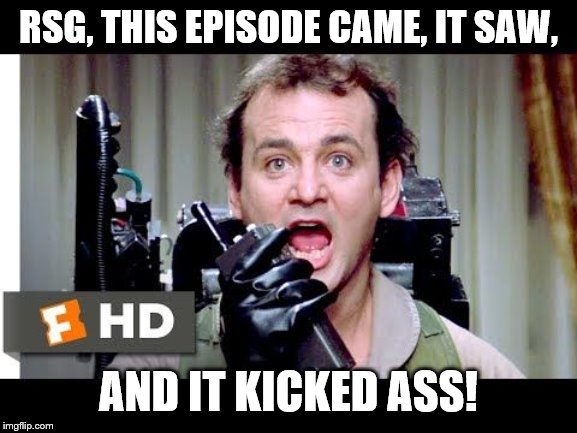 My sentiments, exactly. Who ya gonna call?
TV Rating: NONE
Stay tuned for WCCW 05-26-84!
Comments? Suggestions? Send them to me at [email protected] and follow me on Twitter (@rockstargary202). Also, please check out all of my reflections at rockstargary.com.