So….King of the Ring time, eh?
I wonder how much some of the guys weigh? Maybe they'll address that.
But first…
– Dave offers his take on the OJ Simpson police chase: "In a world where the common folks cheered for a fugitive from justice on two counts of first degree murder to escape trailing police cars, either ignoring or being in denial on what he was charged with because the man was one of the three or four greatest running backs in history and appeared in funny movies and rent-a-car commercials, people have the nerve to single out wrestling fans as being gullible."
Bazinga!
– Yes, in a statement that is saying a LOT, Dave calls Sunday "one of the more embarrassing days in the history of pro wrestling." First up, WCW ran a Control Center on 6/19 that gave away the results of the Clash of Champions a week early, including Flair beating Sting to unify the World titles and Hogan challenging for the title at the Bash PPV on 7/17. Realistically, everyone already knew all the stuff given away and it won't affect ratings, but YEESH. Regardless, since Bill Watts isn't running the company any longer, they're just going to ignore the gaffe and pretend like everything is normal instead of panicking and changing all the finishes to swerve the fans or protect the business.
– But all of that pales in comparison to the King of the Ring PPV, which gave us Art Donovan on commentary on a live TV show. It seemed like a cute idea to put him on TV, trying for the clueless "Coach" idea from Cheers, but it backfired. (Now THAT'S an understatement!) The low point was when they put their supposed top star Lex Luger out there and Donovan asked "Hey Gorilla, who's the guy with the flag on his shirt?" Speaking of which, Gorilla had to handle commentary since Vince McMahon was in the hospital getting surgery for a herniated disc in his neck and wasn't even at the show. So Gorilla just spent the entire show ignoring everything that Donovan said, basically coming across as rude and unprofessional. When RANDY SAVAGE has to carry the three-man broadcast team, you know it's a trainwreck.
– Also hilarious was the debut of the "New Generation" slogan to really hammer home how WCW signed washed-up Hulk Hogan, when the main event of the PPV was Roddy Piper facing Jerry Lawler, two men who are both older than Hulk. Meanwhile, the company is also bringing back such youngsters as Bundy, Neidhart, Slaughter, Valentine, Koko B. Ware, Lanny Poffo and Nikolai Volkoff. (Hey now, let's be fair – I think Valentine ended up in WCW instead.)
– Finally, to end the comedy for the night, they aired a video package equating 41 year old Hogan with deceased Andre the Giant and senior citizens like Iron Sheik and Ivan Putski, but then interviewed Maryland governor Donald Schaeffer, who promptly named his favorite wrestler as…Hulk Hogan. Todd Pettingill "nearly wet his pants" on live TV and freaked out, while Gorilla pushed the New Generation stuff on commentary even harder in response.
– Apparently Tonya Harding is getting into wrestler after all, after turning down the much-publicized offer from All Japan Women. She'll be doing a one-shot deal for Sandy Barr in Vancouver, WA on 6/22, working as the manager for Eddy Guerrero & Love Machine in a AAA crossover card. (That's actually kind of an awesome pairing.) They did a press conference on 6/20 that was supposed to set things up, but Tonya was so nervous that she couldn't get her lines out. And then Love Machine got into a brawl with Blue Panther, at which point Tonya got freaked out and left because Sandy Barr was kayfabing her into thinking it was legit.
– King of the Ring was…just a show. Dave thought it was OK, although everyone else hated it. (He's got the gift of understatement this week!) Dave does concede that it was a complete failure at achieving any of the goals that it set out to accomplish, so that's not good. But, at least it wasn't boring.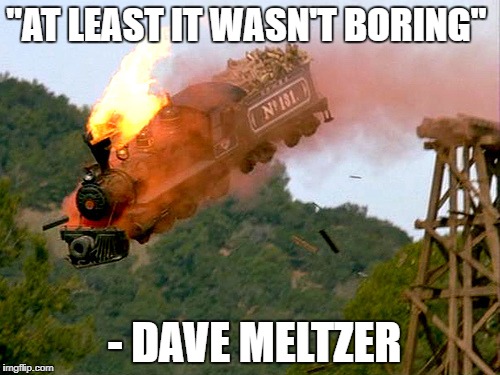 0. In the dark match, Sparky Plugg pinned Kwang in a horrible match.
1. Razor Ramon pinned Bam Bam Bigelow in 8:24 with a suplex to bring Bigelow off the top rope. A fair opener. *3/4
2. IRS pinned Mabel in 5:38 when he shook the ropes to bring Mabel down and then pinned him with the ropes. The only highlight was Donovan proclaiming "This is great acting!" No worse of a match than you'd expect. 1/2*
3. Owen Hart pinned Tatanka in 8:18 by blocking a sunset flip. Good match. ***1/4
4. 1-2-3 Kid pinned Jeff Jarrett in 4:39 with a small package. (That's HALL OF FAMER Jeff Jarrett.) Too short. **1/4
5. Diesel beat Bret Hart by DQ in 22:51. Despite a torn groin, Diesel was at least good enough for Bret to carry.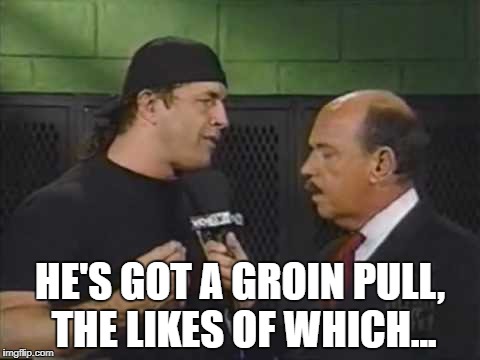 – Right, right, we know. Anyway, Bret got a great match out of Diesel by some miracle, despite some blown spots due to Diesel being hurt. Diesel came back with a powerbomb on Bret, but Neidhart interfered for the DQ, which left people wondering if Bret would have kicked out. The announcers of course were clueless and didn't that get that story across at all. ***3/4
6. Razor Ramon pinned IRS with a Razor's Edge in 5:13. Totally uneventful. 3/4*
7. Owen Hart beat 1-2-3 Kid in 3:37 with the Sharpshooter in the best 3:37 of the entire show. Kid ignored the supposed injuries suffered against Jarrett earlier in the show and just did all his shit like normal. Also, why limit them to 3 minutes if they're just ignoring the injuries anyway? Hot move after hot move for the entire match and about as good of a short match as you'll ever see. ***1/4
8. The Headshrinkers beat Yokozuna & Crush to retain the tag titles in 9:31 when Lex Luger distracted Crush. Dave points out that the crowd chanted "USA" even though everyone in the match is American. *1/2
9. Owen Hart pinned Razor Ramon to win the tournament in 6:35. Wasn't bad, but it was too short and didn't get Owen over as a main event guy. Neidhart "shockingly" turned on Ramon to give Owen the win, and Owen did a coronation ceremony where he changed his nickname to "The King of Hearts". **
10. Roddy Piper pinned Jerry Lawler in 12:30. Unfortunately, Hogan's return in WCW killed most of Piper's momentum here and the match was lacking in heat. (Yeah, THAT'S what killed the heat here.) Piper got the pin with a bridging suplex. *
– In a major shock, Great Sasuke announced his retirement in Japan after the 6/19 Michinoku Pro show. He wants to finish up with an exploding barbed wire match against Onita and then take over as President of Michinoku Pro wrestling. There is a lot of thought that this might be an angle.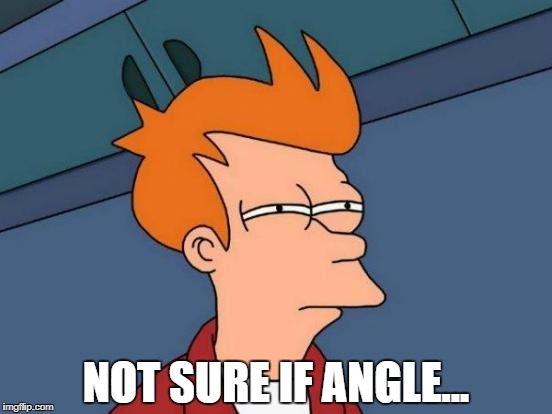 – Back to Hogan and WCW, as the company is pulling out all the stops to make Bash at the Beach the biggest PPV they're ever done, including interviews with Shaq and George Foreman and further plans to bring in Mr. T for an appearance as well. Negotiations are underway to use Mike Tyson, but there might be some backlash since he's in prison and all. (Just don't ask Hogan if any of these celebrities can date his daughter.)
– As a note, most of the first few rows in the arena are being held back for Hogan's VIP crew, to ensure as little negative reaction as possible.
– Another five star rating from Dave this week, for those keeping track, as he watched Misawa v. Kawada with the Tiger Driver '91, which he describes as "doing a Tiger Driver, but dropping Kawada on his head". (A more accurate description would be "HOLY SHITBALLS, HE DROPPED HIM RIGHT ON HIS MOTHERFUCKING HEAD.")
– Further to that show, the ad wizards at the TV network split up the match over two weeks, which drew tons of protests and flooding of the switchboards with complaints.
– There's some controversy in SMW, where Cornette wants to turn Scott & Steve Armstrong heel and feud them with Bob.
– Jim Crockett is making noise about promoting in the Carolinas again.
– And now, THIS WEEK IN SABU!
– On 6/17, Sabu and Scorpio broke the ring after collapsing the top rope during a superplex spot. Neither was seriously injured. On 6/19, Sabu wrestled Chris Candido in a ladder match, and managed to break the ladder in the first minute, plus the ropes were too loose and the scoreboard was too low to do any high flying moves. And most of the crowd had left because one of the undercard guys (Mike Diamond) had brought 100 of the 250 people in attendance from his work and they all took off when his match was done. Sabu then tried to moonsault a table, but was unable to break it after four attempts.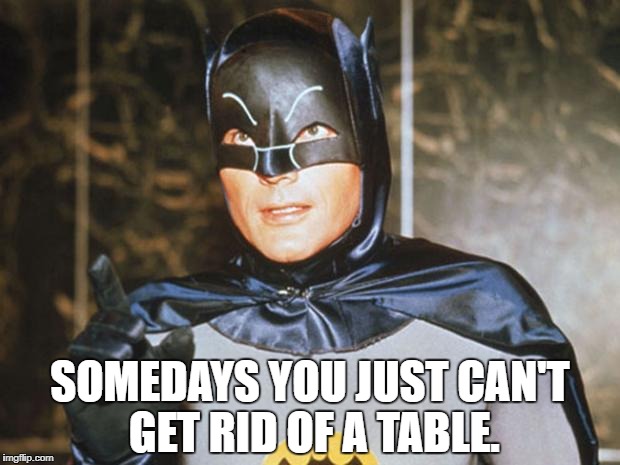 – Meanwhile, in San Jose, Dave went to a house show put on by AAA, and he missed the opening match, which everyone was raving about due to the performance in his first match ever by a 143 pound kid named Matt Hyson. (And that's the Observer debut of Spike Dudley!)
– Potential main event for Fall Brawl is a WarGames match with Funk & Buck & Meng & Arn Anderson v. Dusty & Dustin & Nasty Boys, so that pretty much tells you how the Dustin/Arn tag team union is going to go.
– Jesse Ventura has announced he won't be running for another term as mayor of Brooklyn Park. (Well, I guess that's the end of his political aspirations!)
– To the WWF, where Basil DeVito resigned as Vice President of the company for reasons not elaborated on.
– Dave runs down future results of Monday Night RAW tapings, and sums it up thusly: New Generation, same angles.
– Only noteworthy item was Jim Powers' physique, which might as well be a neon sign.
– Kevin Nash apparently called up Sid and told him that the company was interested in bringing him in, but he should call first.
– And finally, although everyone was raving about the Hall of Fame presentation on 6/9, one dark spot was the total exclusion of Bruno Sammartino, as Arnold Skaaland was honored for "managing two former WWF champions, one of whom was Bob Backlund." However, some WWF officials did note that they'd be happy to induct Bruno, but he wouldn't accept. Dave thinks they should be classy and just let Bruno make that decision himself, rather than trying to give the illusion of honoring history while at the same time trying to erase an important part of it. (Well, get used to it.)