So with the year in PPV finally caught up, let us venture back to the world of 1994 again, with rumors of Hulk Hogan jumping to WCW heating up. But first, we finally close the book on Jerry Lawler…
– On 2/23, Jerry Lawler settled his case in the pre-trial hearing, accepting a deal where he plead guilty to witness harassment in return for all other charges being dropped. Lawler was assured that he wouldn't have to serve any prison time, and he was sentenced to 12 months suspended sentence and two years of probation. If Lawler doesn't break any laws during the five years following the deal, the conviction will be expunged from his record. (Well, luckily there's no law against drinking too much Diet Coke and having sex with underage girls. Er, hold on…)
– The rather pedestrian ending to the case is a stark contrast to the wacky series of twists and turns that characterized the saga. Lawler went on TV that week and thanked everyone involved (without mentioning the charges he plead guilty to) and said he didn't hold ill will towards anyone involved. Privately, however, he wasn't so nice towards the prosecutors, accusing them of proceeding with the case only because he's a local celebrity and they wanted to make an example out of him.
– Although the WWF has maintained all along that Lawler would be brought back once the legal issues were cleared up, with a rumored appearance at Wrestlemania X as Owen's manager, no contract has been signed yet, and in fact he might not go back due to the long travel days.
– The WWF may have accidentally leaked the main event finish of Wrestlemania, based on a TV taping on 2/22 where Luger stole the WWF title belt from Jim Cornette in an interview segment that wasn't taped, and then came out wearing the belt for an interview segment that WAS taped, to be aired the week after Wrestlemania. However, it could be a swerve, with Bret Hart winning the title instead, although history has shown that every other time they'd done this kind of thing, it wasn't a swerve. (Holy shitballs, how come that didn't make the Unreleased DVD? That's the kind of awesome sauce I would have loved to see! Also, it was of course totally a swerve.)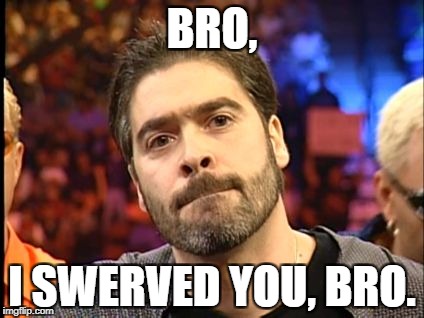 – Over to Japan, where Antonio Inoki announced his retirement on 2/24 at Budokan Hall. He'll have 5 to 7 more matches, counting down to his final retirement match on 01.04.95 at the Tokyo Dome. (You'll pardon me if I'm skeptical about the veracity of this retirement.) He announced that he wanted matches with everyone from Hulk Hogan to George Foreman before his retirement kicked in. Dave says don't hold your breath.
– Meanwhile, Satoru Sayama decided to un-retire, announcing that he would have his first match since 1985 against Masashi Aoyagi sometime in October. However, he also announced that it wouldn't be a pro wrestling match, it would be a SHOOT.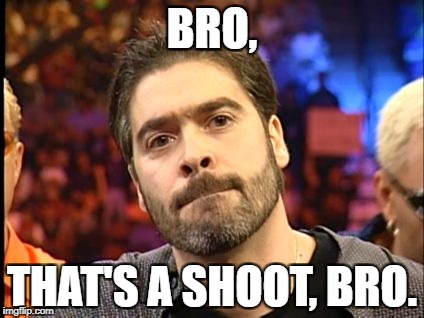 – Jim Ross's WWF contract won't be renewed when it expires in March, which is something of a surprise on one hand but completely not a surprise in any fashion on the other hand. JR was never really a good fit in Titan, plus the whole Bell's Palsy thing. For the moment, announce teams will be Vince & Johnny Polo on Superstars, plus Gorilla & Stan Lane on Challenge. The sticking point is believed to be that Vince wanted Ross to become more of a comedic character, who would wear a black cowboy hat and become "Good Ol' JR" as a play on JR Ewing. (Jesus, can you even IMAGINE Jim Ross going along with that silliness?)
– The timing of the move is odd, since Vince is under indictment and they're desperately in need of people to be announcers. And while WCW is also in need of announcers, Ross has made too many enemies, most notably the duo of Tony Schiavone and Jesse Ventura, to be seriously considered for another run there. So his future in the wrestling business is probably bleak.
– Speaking of Ventura, he decided to take an ill-timed vacation to Hawaii just after Bobby Heenan arrived, and Bobby essentially won Ventura's job while Jesse was gone.
– Back to Japan, where the crazy story of the UWFI and their "16 man tournament" grandstand challenge to Maeda got crazier, with Maeda actually ACCEPTING THE CHALLENGE. Not only did Maeda come out and say he'd be happy to enter the tournament, he offered to send 9 of his top guys from RINGS to be a part of it. So on the UWFI show after the challenge, Takada got on the mic and clarified that they didn't want some kind of 9 v. 9 team series, and really he wanted a one-on-one match with Maeda in the first round of the tournament on 4/3 to settle things for good. Dave thinks that if this is an angle, it's a hell of an angle. (Well, Maeda was definitely not in the tournament, so who knows.)
– The lineup for the second "Ultimate Fight PPV" was announced for 3/11, with another one-night single elimination tournament. It'll once again feature Ken Shamrock and be filmed in Denver, CO, with the winner getting $60,000. This time around, groin shots are LEGAL.
– The World Wrestling Network finally ran its first TV taping after months of delays, at the Manhattan Center on 2/28. The taping was largely "mediocre", aside from a main event between Terry Funk and Sabu that was described as "incredible" and ended in a double countout at 18:21, rated at ****3/4. (C'mon now, was it Dave Scherer who sent in that rating?) The show drew 390 people, seemingly all hardcore newsletter fans. The promotion had tons of problems with the state commission and no advertising, and there's no plan about where the tapes will actually be shown. The show was largely squash matches featuring ECW talent, and Kevin "The Convict" Wacholz. (Was that gimmick REALLY such a cash cow that he needed to desperately cling to it through multiple names and promotions?) Dave is also amazed that whenever a new promotion comes into New York looking to run opposition to Vince, the athletic commission finds all kinds of problems with the show and undiscovered medical issues that never seem to plague Vince. Sabu broke two tables during his match with Funk and smashed a bottle on the ringpost, sending glass flying everywhere, which was a bit of a dangerous situation. Dave just hopes that Sabu saves his money before the inevitable happens and his time runs out. (Which he did not, but I guess that's why Kickstarter was invented.)
– Seiji Sakaguchi held a press conference and announced that the winner of the 4/16 "All Star Juniors" tournament would be given the WWF junior heavyweight championship belt and would be the "Super Junior Cup champion". (Sort of how the J Crown started, I guess.)
– Also in Japan, there's some guy named Rio Lord of the Jungle working for FMW, who appears to be the same person as Jungle Jim Steele in WCW, and Dave's skeptical that there's actually TWO Ultimate Warrior lookalikes who wear "Fred Flintstone ring wear". (And yet, here we are. Rio is of course the future Renegade, even more ironically.)
– On the 2/28 show in Memphis, JC Ice faces former partner Wolfie D in a "Boys in the hood" match where the winner gets to spraypaint the loser. (As if people getting spraypainted will ever get over.)
– The THRILLSEEKERS debut for SMW on 3/7, and the first video for them aired this weekend and was "said to be one of the greatest wrestling music videos ever done."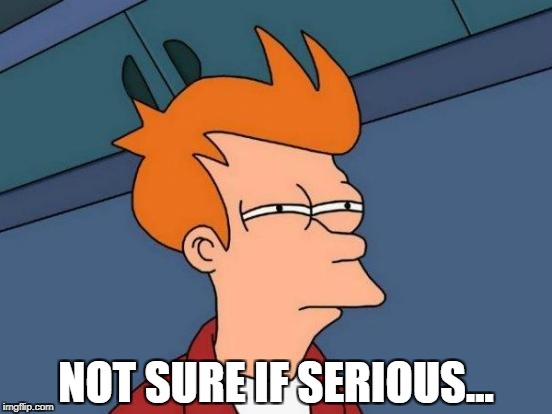 – Darryl Van Horn got the funniest line of the week on SMW TV while complaining about the unfair treatment of his man Prince Kharis, saying that they should change the name of the promotion to the PTL Club because "it's the Jim and Tammy Show every week."
– Also, Prince Kharis, who does a mummy gimmick, was listed in the most recent Japanese Super Catalogue as being 3000 years old under "age". Dave thinks it's hilarious because everyone is so amazed that Baba can still work, and he's only 56!
– Victor Quinones, the booker of W*ING in Japan, launched his own promotion there with a marathon taping for a new promotion called IWA, which was naturally taped in San Juan, Puerto Rico. (Oh god, I'm gonna have to bust out the chalkboard meme again, aren't I?)
– Oh hey, how do you know we're reading a newsletter from 1994? The new promotion Oregon did a gimmick where someone used a "Nancy Kerrigan stick" on someone else's knee for the finish, with the guy laying in the ring yelling "WHY? WHY? WHY?" Even in 1994 Dave is sick of hearing about Nancy Kerrigan. (I'm assuming he's not going to see the new movie about it, then.)
– Ric Flair was officially made head of the booking committee and immediately turned himself heel in preparation for the feud with Hulk Hogan.
– WCW, the company that most recently drew 690 people to the Omni for a loaded show, is already planning on a 50 city tour of the Flair-Hogan feud, leading to a blowoff at Starrcade in the 65,000 seat Georgia Dome. (Yeah, good luck there.)
– WCW is also teasing that Flair will defend the title on the 5/22 Slamboree PPV against a "6-7, 300 pound blond former World champion", which would seem to narrow the choices down to Sid Vicious and Barry Windham, but Sid isn't under consideration and Barry doesn't want to do it.
– WCW also redesigned the WCW Saturday Night set at Center Stage and debuted "Wildcat Willie", the WCW mascot. They also taped the famous Rude-Sting contract angle that people were talking about in last week's Observer.
– WCW was trying to get Mr. Perfect, but his WWF contract doesn't expire until December so it turned out that there was very little they could actually do.
– The Earthquake v. Ludvig Borga match scheduled for Wrestlemania has been changed to Quake v. Adam Bomb because Borga isn't coming back from his ankle injury any time soon.
– And finally, Bill DeMott (Crash the Terminator) got a tryout and lost to John Paul both nights of the tapings, not getting much of a reaction. Indy guy Rocko Gibraltar, doing some kind of "garbage man gimmick", looked terrible, but had a hot-looking finisher that was a tilt-a-whirl powerslam. (So DeMott can add "lost a job to Duke Droese" to his resume.)