Wrestle And Romance ~ WAR-ISM Dragon Spirit~
By Maffew Gregg on 19th November 2023
Wrestle And Romance
Fukui, Japan
City Gymnasium
Attendance: 3,700
WAR and LLPW are combining for a show on 11/28, which is worth mentioning is the show would be called WRESTLE AND GORGEOUS.
WAR is feeling some cracks for the first time in a while as they opened their tour on 10/1 and failed to sell out the Nakajima Sports Center. Glad they decided to record it for a home video release!

10/1/93 Akitoshi Saito vs. Masao Orihara
So Orihara is fighting guys like Saito now? Because he lost so much against high ranking NJPW high flyers?
Whatever, we're clipped to the second round and Orihara landing a scoop slam in a supposed shoot match. Saito laughs at Orihara's kicks before spitting and responding with his own kicks. Orihara tries some more and Saito is so unimpressed that he removes the top of his Gi and dares Orihara to hit him some more. Orihara attacks Saito after the bell, causing the seconds to run in and cause issues, letting Orihara to land a shoot-style moonsault.
Round three starts with Saito down and Orihara being a complete dick with his cocky kicks know he has the advantage. Clipping ahead to Round 4 with Orihara landing German after German until deciding to dive onto Saito's mates at ringside. They respond by kicking him a lot and the ref doesn't bother to stop because he had it coming. Back inside, the ref counts that as the start of the next round because he's lost control so Saito casually drops him with a Powerbomb. Orihara makes what I think is a brave comeback but Saito lols and kicks him some more before pinning him at 2:01 of Round 5. Orihara immediately gets up and kicks the ref, causing Saito to defend him because Orihara's gimmick is now 2002 Christian.
Orihara is a fantastic bitch now he's losing and getting beat up, which is the best thing I can say about the match.
10/11/93 Masao Orihara vs. Akitoshi Saito
So because this tape covers the start and end of a tour, we see photos of the shows in between before jumping to the rematch at the end of the tour. Oh.
Orihara and Saito hold each others Gis during the introductions in an amazingly manly moment. Match takes a while to start as the NJPW and WAR guys insist on going at it and then Orihara twats Saito with a stool because the ref is as effective as Madonna's rapping in 2003.
We're in Round 3 as Orihara lands a Double Stomp and spams the German Suplexes again with topless Saito refusing to tap out. The seconds interrupt again as we're getting the best of Gedo NJPW booking, but unlike the other match the crowd are cheering Orihara along. Yeah, c'mon you prick! Both men slap HARD with sweat flying poetically across the well-lit ring. Orihara gets attacked again by the NJPW guys but makes a comeback to piledrive Saito but misses the moonsault to take a spinning wheel kick to lose again and like last time, he immediately jumps up and attacks his opponent before everyone jumps in for more argy-bargy, busting open Saito and then buggering off.
Well this was interesting! Orihara is changing his style while also keeping the NJPW feud going by being a little bastard to everyone around him and the crowd either react because they like WAR or because they want to see him get beat up.
10/11/93 Masashi Aoyagi vs. Koki Kitahara
Aoyagi (wearing his red Gi, giving him fire damage) doesn't give Koki's offence any respect while the two of them keep their distance as WAR are shoving Koki into these PWFG matches to keep him warm. Crowd are really into this as we clip to Round 3 with Aoyagi finally feeling pain with a kick to the ribs. Orihara is at ringside to smash chairs over Aoyagi because he was the Roddy Strong of WAR. Koki headscissors Aoyagi on the mat for a while and when he escapes it's GI-OFF-A-CLOCK as Aoyagi gets his serious kicks in to end the round standing proud.
Round 4 starts with Aoyagi pounding away on Koki until he counters into a Single Crab and uhh ends like that too as we massively clip ahead to Koki getting a cheeky kick as he heads to his corner.
Fifth Round is again full of kicks, mostly from Aoyagi who spins around like a Beyblade. Koki weathers the storm to apply a choke to survive the fight and give us a draw. Then all the seconds come in for another brawl which would be great if we hadn't just seen this several times already on the same tape.
As for the match: I don't know what the point of it was. Crowd were into it when it got taken seriously but they faded out when Koki dropped the ball again and chairs got involved. Started off like UWF-i then ended up like Herb Abrams' UWF.
10/1/93: Hiro Saito & Tatsutoshi Goto vs. Super Strong Machine & Koki Kitahara
The pre-match video explains Goto was teaming with Machine but then they won a match and now they're not teaming up. Thanks for clearing that up. It's a big ol' brawl on the dimly lit outside to start off, with Machine bowling a strike through several rows of chairs.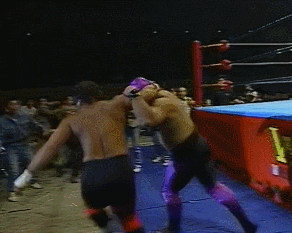 This tremendous bump gives him all the reason to lie down and not do anything as stodgy Goto and ancient Saito choke and stretch him.
Thankfully we clip ahead to Goto ignoring Koki's offence until Machine helps out. Man no wonder Koki never made it to the higher level when even this dullard won't sell for him. Saito tags in to drop all of his body weight on a pair of back sentons. Jesus God. He's like Wile E Coyote's anvil falling from the sky. Machine and Koki stick Saito with a double clothesline (DOUBLE CLOTHESLINE) to win a mostly forgettable bout at 15:37. Machine and Goto could literally be fifteen other puro lads who throw lariats. And then there's more brawling with the NJPW/WAR guys afterwards, c'mon man.
10/11/93: Hiromichi Fuyuki vs. Super Strong Machine
Why is Machine getting two matches on this damn tape? We're JIP to Fuyuki kicking out of a German Suplex. Fuyuki makes a comeback and has some of the crowd behind him but hurts himself landing the Butt Drop and the crowd laughs. One step forward, two steps back. Fuyuki can't make a comeback as his ankle hurts too much but at least the crowd is happy to see either Fuyuki in pain or Machine being awake. Both men land lariats at the same time, with one-legged Fuyuki able to land another quicker than Machine for a two count. Backdrop Suplex quiets the crowd as they don't like the idea of Fuyuki on offence. Winning they're OK with, just not him doing moves. Machine and Fuyuki keep trading moves as the realisation that this is going to a draw kicks in. Machine kicks out of the third German Suplex to land a fifth lariat that Fuyuki kicks out of before Machine kicks out of a Fisherman's Suplex and that's the 30:00 draw.
Ehhh. This would have been a much better match without the time limit dictating they pad out the match by spamming moves. But being positive, at least there was no post-match brawl!
10/1/93: Ultimo Dragon vs. Mil Mascaras
Mil takes a dropkick to the outside so Dragon fakes out the legend. Mil gets his revenge with the Flying Cross Chop and Diving Crossbody to…end it. Oh. This clip show sets up…
10/11/93: Mil Mascaras & Ultimo Dragon vs. Stan Lane & Earthquake John Tenta
That's right, it's the Understated Observer Debut of the Completely Nuts WAR Tag Team Booking!
Ultimo teases Tenta with quick rolls around the ring, causing The Tent to grin. Tenta wants a test of strength with Ultimo having to go to the top rope to reach him, with Tenta responding by going down on one knee. Crowd is loving these antics and also enjoys Ultimo's unsuccessful shoulder tackles leading him to angrily fake out a dive on no-one in particular and tagging in Mil. Tenta treats Mil with the respect the crowd (and Mil) expects, with Tenta allowing him to win the test of strength but squishing his sucked-in gut even more by stomping him. Mil attempts to take down Tenta with just his legs, with Earthquake simply staring at him and tagging in Lane. Stan has been hanging out with Rob Viper so he is able to take all of Mil's stuff and also able to escape and check his hair. Mil gets his giant smoking patch of a bandage worked over so we get Ultimo vs. Tenta again to the crowd's delight. Dragon attempts a chinlock takedown and Tenta casually slams him down and wears him out, with Ultimo able to send him outside and fake him out as the crowd is all over this. Tenta angrily sends Dragon outside and TEASES HIS OWN DIVE TO THE OUTSIDE with Dragon running for his life.
Tenta is so disappointed he tags in Lane so he can go cry on the apron. Stan takes everything Ultimo can throw at him because he's such a nice guy. Mil gets squished in the corner by Tenta but he's THE MAN OF A MILLION MASKS and comes back with the Flying Cross Chop with Tenta only just kicking out. Stan and Ultimo get some more smooth sequences, looking like they've been wrestling for years. Tenta continues to swat Dragon away like Dr. Doom fighting Squirrel Girl until it's hot tag to Mil who lands the Flying Cross Chops, but Stan's insists on getting something resembling offence in this match so Dragon takes a Russian Leg Sweep with Stan continuing to rotate and land on his feet in one sweet sweep. Tenta saves Lane from a German Suplex Pin by nonchalantly kicking Dragon's foot away. Mil side-steps a charging Tenta to send him outside and to leave Lane to lose to an Ultimo powerbomb and another Flying Cross Chop at 15:00
This was Stan's last match before retiring to become a WWF commentator and what a lovely match to go out on! The mixture of comedy, action and lucha worked so damn well and the crowd ate up every second of it. Thanks for saving the tape lads.
10/1/93: Shinya Hashimoto & Masahiro Chono vs. Ashura Hara & Genichiro Tenyru
Oh hell yeah, Tenryu vs. Hashimoto again! Hash picks up where he left off kicking Tenryu's face off. Tenryu retaliates with Al Wilson-stiff chops but it's not enough to keep Chono from sticking him. Hara tags in to…stop abruptly so Chono can nail him. Hash tags and is nice enough to to take a lariat from a man who is evaporating before our very eyes. Hash and Chono kick Tenryu like he's on fire and they're trying to put him out. Hara sneak attacks Hash from behind like a real face to help his Dad out. Hara lariats and lariats and lariats because it's all he can really do now. Chono gets the Organised Crime Kick, which Hara absorbs and throws back with another lariat. Tenryu chops Chono and he sells it so well the crowd approves him yelling "ohhh!" A Dirty Powerbomb wakes up Chono enough to tag out to give us Hara vs. Hash and the crowd are going nuts for the idea of that. Hara absorbs everything Hash gives him, followed by everything Chono throws at him until Tenryu needs to save him, but Hash cuts Tenryu off so poor Hara has to make his own comeback out of Chono's STF. And he does, making the ropes by himself! Tenryu tries to help his mate but Chono kicks him away for a giant pop. ON A WAR SHOW. WITH TENRYU'S KIDS AT RINGSIDE.
Chono locks in a STF again so Tenryu Blind Elbows Chono to help his mate. Hashimoto kicks Tenryu some more, but he comes back and both of them land a Powerbomb/Neckbreaker combo on Chono for two, so Tenryu gets his own Powerbomb for two with Tenryu interrupting with a brutal kick to the head. Hara keeps Hash at bay with headbutts and Tenryu Powerbombs Chono…for two! Chono Organised Crime Kicks Tenryu, with Hara blasting Chono from behind to let Tenryu lock in the WAR Special for the very vocal submission win at 10:58.
They shoved a lot into that brief match time. The first third was stiff and the last third was exciting, but the middle bit with Hara continuing to look worse and worse as his body is finally giving out wasn't encouraging. Still, the crowd was really into it unlike last month's show, but Tenryu beating Hashimoto again is certainly a decision.
10/11/93: Genichiro Tenyru & Ashura Hara vs. Tatsumi Fujinami & Osamu Kido
Match explodes out the gate with Hara headbutting Kido repeatedly who sticks to his Fujiwara Armbars. Tenryu tries to save but he gets one too. Fuj adds a flying knee-drop to a downed Hara before both Nooj Noobs work over Hara's legs which now resemble tooth picks. Fujinami locks in a Dragon Sleeper on Hara with Tenryu having to half-kill Fuj to get him off. Hara busts open Fujinami with headbutts before deciding to tag in Tenryu, blowing the roof off the place as the Black & Yellow decides to Kill A Fellow with repeated kicks to the face. Fuj and Tenryu scrap it out with the Powerbomb/Neckbreaker sets up Hara's lariats. They don't get the job done because they're both Hara's finisher and his set-up. Tenryu looks super-energised wiping his feet on Fujinami's face, giving this match the energy it needs to power the crowd up. Tenryu goes for the Blind Elbow but Kido applies the Fujiwara Armbar while he's on the top rope! That's sweet. Fuj batters Tenryu as he's furiously bleeding from his forehead. Hara has to save the day with the lariats (take a shot) because Tenryu can barely Powerbomb Kido before everyone comes in for a quick brawl. Then Tenryu powerbombs Kido again…to end it at 11:04?
Oh man that was an abrupt finish to a really heated and differently-paced clash from the previous match, with Hara playing Ricky Morton wonderfully. Glad the matches with Hara are getting shorter and shorter as the man is aging quicker than the guy from the end of Last Crusade.
Overall: WAR's had such a crazy 1993 that the biggest thing about these shows was their inability to sell out. The WAR vs. NJPW feud is finally feeling like the MCU post-Thanos. OK the big bad (Hashimoto) has been defeated after being built up for months, so now what? What's the new endgame? Are we heading to a big blow-off or just doing these shows until they stop being profitable? Which is now-ish? Sure Tenryu vs. anyone is entertaining but all the big ones have been done now so a change is needed, one that doesn't involve continuing to book Machine and Goto regularly.
Until that happens, I recommend the hell out of the Tenta/Dragon tag match as well as the Tenryu tags because even without direction he's still Mr. Pro Wrestling.
I've been Maffew and I know a thing about not changing it up for years