Pro Wrestling Crusaders – Starting Second 03/22/93
By Maffew Gregg on 24th September 2023
Pro Wrestling Crusaders
Hamamatsu, Shizuoka, Japan
City Gymnasium
Attendance: 1,791 (lol)
PWC's first show was overshadowed by actual dogs so let's see if this one is any better. George Takano isn't wrestling so it's already looking like a "no."
We start off and I take it back THERE'S MORE DOGS.
They don't enter the ring or stroll around like last time, the dog's agent must have seen the crowd numbers and told them to stay outside the ring so they can deny they were ever involved.
This event is taking place in a very empty hall so PWC is already in trouble (and yet would last longer than NOW).
Masaru Toi & Shunji Takano vs. Hiroshi Shimada & 'Sad Genius' Great Yoshinogawa
The only appeal of bothering with these shows is seeing how drunk Shunji is and how hard he decides to hit his opponents. And as I type that OH MY GOD does he chop Shimada hard as he dared to try to take him down. Then Shunji shoulder tackles him with no fucks given, with Toi landing a missile dropkick that seemed like a gust of wind by comparison. Toi's a nervous nelly and spends the match slipping here and there. His giant flare tights probably aren't helping. Shunji tags in and the crowd ooOOOooos as they know what's coming. A single clubbing blow is all it takes to knock Yoshinogawa down. I wouldn't hit a burglar in the middle of the night as hard as Shunji is hitting these guys. Shimada is dragged in to take offence but apparently he's hurt his knee for real-real and can't stand. Yoshinogawa drags him to the corner but Shunji allows him to chop his Goodyear-sized tits and Yoshinogawa is like OH BOY. Shunji lands an impressive dropkick before tagging in Toi who demands to tag in the properly-hurt Shimada for reasons I don't understand. He physically can't do anything so Shunji slams him and finishes with a top rope knee drop at 8:55. A fascinating match for all the wrong reasons.
Tsunehito Naito vs. KAZU
Naito had 51 matches over 23 years. He'd make a good WWE Universal Champion. This is very shoot style but the crowd doesn't give a damn. It's fairly nifty in fairness but it's going down like the Ronda vs. Shayna Summerslam match. Naito takes KAZU down and responds with stiff shots to the face before KAZU spikes Naito with a Dragon Suplex before the ref decides Naito kicked out. No he didn't! Well anyway Naito immediately recovers with his own Dragon Suplex to end it quickly at 3:53. Nice when they were striking but fell apart when they tried silly things like "kicking out."
Ultraman Robin vs. Ho Des Minh
Robin is still around to this day and Ho can be unlocked in the Smackdown Mall in WWF No Mercy 64. Ho lands some stiff kicks as the crowd roars their approval as this is resembling a RINGS show with all the shots and mat stuff. Even Ultraman gets in the mood with hard strikes and then Ho lands not only a crazy-fast Backdrop Driver but a jumping piledriver too. This is some crazy skinny violent fast action, not far off 2005 CZW. Then Ho pulls off the Samoa Joe casual walk away!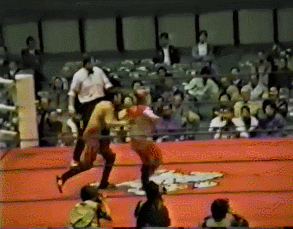 Robin lands more hard kicks and a dive to the outside as the crowd responds lovingly. Things slow down to a more normal level before Ho shotgun dropkicks Ultraman to the outside and then nearly lands badly as his legs collide with the ring ropes on the way down but he still connects. And then he follows with a sit-out dropkick off the top rope to the outside! What the hell is this match? The ref inexplicably then starts getting mad with the pair of them and shoot-kicks and slaps them until they go to the finish…which is supposed to be a powerbomb counter into a frankensteiner, but Ho drops Ultraman on his head as I think he's rattled by the ref's actions, so then they roll into a Frankensteiner pin but then Ho kicks out/rolls off so they do another roll to end it at 8:44. Well aside from the ref literally knocking the nerves out of them for the finish, this was a balls-to-psychology hard-hitting spot-fest and the first thing from a PWC show I'd recommend to someone non-ironically.
Hiroshi Shimada vs. Satoshi Kuroda
This is future FMW star Tetsuhiro Kuroda's debut. He'd hold multiple titles and headline many shows whereas Shimada would go on to this:
Things are naturally slower than the last match as we roll on the mat and out of the cameraman's view. Then Shimada goes into Veteran Strike Mode (my favourite GI Joe) which Kuroda doesn't recognise and takes the older guy down with a dropkick. Shimada comes back with a top rope splash and a nifty German Suplex to end things quickly at 4:03. Nearly a complete squash but Shimada knew his arse from his elbow so it was OK.
Iron Horse vs. Benkei
BOD's Fake Shemp reckons Iron Horse is also WWF enhancement talent Jim Peterson:
Huge if true. Benkei's a lifetime lump so Horse batters him like a Scottish Mars bar. It's funny seeing a WWF enhancement talent doing all the things done to him on TV over the years. Benkei takes it all before eventually slamming Horse on top of a Japanese Table. Horse doesn't care and shrugs it off to end with a Fisherman Suplex at 5:22. Fair play to PWC for realising their talent aren't all there yet and keeping the matches short.
Lumberjack Match
Isao Takagi vs. Gerry Morrow
Isao is the hot, new signing who is known for being fired by SWS for being a mess. Gerry Morrow decides to attack Isao with the pre-match flowers and makes a mess to establish he's the guy who's going to feel the wrath of the lumberjacks. And he gets it immediately as he tries to escape twice in quick succession. This is about as copy-paste as it gets for Lumberjack matches until Shunji Takano uses a chair on Isao, causing a brawl between the Lumberjacks…that gets quickly resolved. Oh never mind then. Look, shut your eyes and imagine a Lumberjack Match and you've got a good chance of guessing exactly what this match looks like. Isao lands a Frog Splash to end this at 10:30 and then calls out Shunji to start a feud.
Overall: Far more interesting and exciting than last time with actual matches worth watching and a loud crowd! Crusaders haven't got a chance but don't seem to care so watch this if you want to see brutally stiff shots, a fighting ref and DOGS.
Next Week: WAR shows us what a successful company is supposed to look like.