Stan Hansen vs. Terry Gordy (and other Dream Matches!)
By Jabroniville on 21st June 2023
Welcome back to more Dream Matches! This week, I have a hell of a doozy for you, as it's STAN HANSEN vs. TERRY GORDY in All Japan, when both dudes were legendary big, burly brawlers. Prepare to see some SLAPPING OF MEAT, as well as a lot of showcasing of just how smart a worker Stan Hansen really was, despite portraying this simple-minded brutish ass-kicker.
Even better, I have a classic Saturday Night-esque bout for you, as it's RENEGADE vs. SUPER CALO! Only in WCW will you get surefire main events like that, and then I follow it up with a US Tag Team Titles match as The Patriots (Todd Champion and Firebreaker Chip in my first time seeing either) defending against the Young Pistols! And Colonel Mustafa goes out on his back as he's utterly squashed by The Undertaker, freshly a babyface, before WrestleMania VIII! Read on!
STAN HANSEN vs. TERRY GORDY:
(All Japan, July 17th 1990)
* This looks to be a MEAT-SLAPPING masterpiece, with two huge burly dudes with similar physiques going at it in All Japan, where both hit their peak. Both dudes are in their trademark big trunks, but Stan is much chunkier- he's in navy blue while Gordy's in black.
They're hesitant to lay it in to start, but Terry's chest-slaps results in Stan walloping him onto his ass with one to the face. They're very deliberate with the pace, trading simple back elbows and usually hitting a resthold- Terry slaps the crap out of Stan to get the fans into it and hits a leghold. Stan, unable to just power out for once, slaps, claws and yanks at Gordy, throwing headbutts in the hold in a pretty interesting display of how a non-technician can find a variety of ways to do the "try anything to get out" escapes- very smart work. Terry's grip is finally loosened but he slaps the piss out of Stan and hits a running corner lariat to a big reaction for our first two-count of the match nine minutes in! Stan fights up from his knees like only he can, but gets his head snapped back by another back-elbow and he's down, but Terry sells his own arm and shrinks back to nurse it, preventing a follow-up.
Terry comes in with some varied shots, but a forearm hurts the arm further, allowing Stan to catch him selling, and he slugs away at the arm, twists it, and when Terry fires up a comeback, dumps him and chairshots it! And again! Terry writhes on the mat while Stan grumpily heads in and twists away and hits a resthold on it to get the crowd into a "GOR-DY!" comeback, but Stan just boots him down and smashes the arm into the guardrail, then wraps it AROUND that and yanks away while the ref admonishes him. Stan tries to whip Gordy into the post but goes into it himself, only to dodge a lariat and Terry RAMS his own arm into the post! oh, what a mistake! Stan works a count off that, sorta hammerlocking the arm (I love how even his technical stuff looks brutish and "just grab and twist"). Terry's escape is appropriately simple- he just headbutts Stan until he lets go. Terry uses his other limbs to assault, but Stan one-ups him, chops him down and stomps the arm.
Terry fights out of another hold and STEVE WILLIAMS runs through the crowd, wrapping up his partner's arm in tape. Stan is so angry he boots a ring boy in the head (haha!) and rolls Gordy back in while shooting Williams a dirty look, like "how dare you?". But Terry FIRES BACK, as the rejuvenating power of the tape allows him to hit lefts AND rights, and he slams Stan and drops a huge elbow for two. THE ARM NO LONGER HURTS! DDT! Stan rolls on TOP of Gordy on the sell, stalling the pin and it only gets two. But he misses a charge and Stan just goes right back to the arm, eventually putting on another long hold- Gordy headbutts out and it's a HOSS SLUGFEST, which Terry wins! Steve returns with an elbowpad, but Terry drops the catch and Stan bowls him down! He didn't quite get all of it, so Terry backdrops him and puts the pad on! But in a brilliant move, Stan whips Gordy off the ropes for the full Lariat and Williams trips his own partner so Stan misses! He kicks at Steve but turns around too late- GORDY LARIAT WITH THE PAD!! 1…2…3!!! Gordy beats Stan Hansen (21:04)!
Hot take: Stan Hansen is AMAZING. He's portraying this big, brutish, simple dude but if you watch carefully he's got a mastery of selling, timing and even how to work stuff while still coming off as a bullying brute. Terry Gordy is also a physical powerhouse so Stan doesn't "slug it out" with him like he would smaller dudes like the Funks or Misawa; he takes care to slow him down, stuffs his offense, and when he finds a weakness (the injured arm), he just TEARS into it with ferocity and meanness… but even the technical holds still have this "eh, that looks about right" nature to it, so he never looks like a technician- just a clever monster. The cardio of both dudes in incredible, too- obviously, they stuck in a ton of restholds in the early going to save it for later, but these are two hefty MFers and they're going 21 minutes. The ending was great, too- Williams helping out his partner with miraculous healthcare to negate some of the damage, then saves him from certain death- this puts over Stan in defeat while also making Gordy look incredibly tough and brave. As good as Terry is, it was so clear that Stan carried the day, controlling most of it and putting over Terry's stuff well.
Rating: ****1/2 (fantastic bully brawl with Stan being crafty and mean and Gordy firing back as well)
The "LOL, Renegade, amiright?" thing kind of flounders because of his tragic story- one of the first tragedies I remember as a wrestling fan. This felt like it was before they were commonplace.
THE RENEGADE vs. SUPER CALO:
(WCW Saturday Night, Aug. 16th 1997)
* A main event in any arena in the country, WCW Saturday Night gives us Renegade vs. Super Calo! Renegade has now apparently turned heel, with a Parallel Universe Goatee and a leather jacket signifying that he is evil, along with a sneer (thankfully his magnificent mane of hair remains untouched). Calo's mainly in black with white stripes, and his mask is now black with SILVER sunglasses, which is a look that frightens and confuses me. Barely-Trained Jobber vs. Luchadore is nearly always a recipe for disaster (or just "they trade punches and the lucha guy misses a top-rope move to set up the finish") so I'm looking forward to this.
They start off okay with Renegade pushing him around and Calo uses evasion, then he hits a crucifix pin for two and backflips out of the corner, of course slipping onto his ass because he's Super Calo. Renegade bails off a dropkick and asks for a time out, but eats a tope suicida. He dodges a missile dropkick back in the ring and chokes away, working the throat before hitting a pumphandle backbreaker and just stretching Calo out in that position. Powerslam gets 1.5, and choking & a running splash gets two. Renegade hits a camel clutch of all things, but Calo rolls through and drops strikes before Renegade gets a supremely ugly sunset flip, kinda just grabbing Calo and hauling him down into the ropes. Renegade hits a charging clothesline into one corner, but misses his awful Cartwheel Back Elbow and Calo hits a dropkick and puts him up for a Super Headscissors Takeover and GETS THE WIN at (3:55)! SUPER CALO WINS A MATCH!!
Hey, not bad! Not great, but not bad! The lamest luchadore and a weak "barely at the indie level" guy but they kept it simple and made it work despite a few ugly bits (probably not helped by having diametrically opposed styles). That this was as good as it was is somewhat surprising but neither is QUITE as bad as their reputations. Tony & Dusty of course ignored everything in favor of Hogan & Sting stuff but Dusty was at least good enough to mention that they were ignoring them and these two young guys were working hard to move up to the pay windah and such.
Rating: *3/4 (perfectly acceptable Saturday Night-tier match with some reversals, changes in offense and varied stuff)
Early '90s WCW is such a strange array of guys I've literally never seen, and have only ever read about in Scott Keith's reviews. I had no idea what either of these dudes looked like.
WCW UNITED STATES TAG TEAM TITLES:
THE PATRIOTS (Firebreaker Chip & Todd Champion) vs. THE YOUNG PISTOLS (Steve Armstrong & Tracy Smothers):
(WCW Main Event, Dec. 15th 1991)
* Oh hell yes! A match between teams I've never seen before, and for belts that stopped existing before I started watching wrestling! So the WCW US Tag Titles were secondary tag belts that got iced for some reason (they coulda been a nice consolation prize for WCW in the days of the Outsiders' chokehold on the gold), lasting from 1986-1992, when WCW consolidated the NWA, WCW & US belts all into one. I guess it makes sense that you'd want to focus your booking, at least. So the Young Pistols are future jobber Steve Armstrong teaming with Freddie Joe Floyd himself- Smothers was one of those dudes who could largely only make it on the indies but he was fine in the ring. They're in gold cowboy outfits that make this look like a total hillbilly federation. I have never seen the Patriots at any point- Firebreaker Chip is a shirtless firefighter dwarf with big muscles and baggy yellow fireman pants (plus the red helmet), while Champion is a taller muscular dude with a beret. Chip ends up in red trunks and Champion grey tights with stars on them, while the Pistols are in yellow trunks. Champion looks like he doesn't even know where he is.
The Pistols have apparently just turned heel, acting like jerks, though the Patriots are so bland nobody's really into them either. Tracy complains of hairpulling and does other heel schtick, but takes a clothesline out of an International as Champion reveals why a huge dude with a bodybuilder look never got a push- he's way too much of a stiff, seeming barely able to move. The Pistols have a chat and argue with the crowd, so Chip knocks their noggins together, and they continue to stall but Steve comes in and is armdragged by Chip. Man, these Patriots are just WAY too bland- neither is even acting like there are fans in the building and there's not much the Pistols can do with their low-end heeling. I don't mind stalling and maneuvering for position but the match isn't that long and they've spent all of it doing that.
Tracy slugs away after a dirty break, but Chip one-ups him, only to have Steve takes his legs out via a distraction when Champion hits the ring. Chip gets his leg worked over (though each of the three seems to disagree on what move is being done at one point) as they keep provoking Champion to distract the ref, but eventually they fail a double-dropkick. Champion gets the hot tag and they do some heatless, generic work bashing the Pistols together, and hit a Suplex/Flying Cross-Body combo to Tracy, but Steve comes in with a flying headbutt off the distraction, and pins Chip (9:39) while Champion just stands there like a dumbass.
Very dull-ass tag team match, openly called "slow-paced" by Tony on commentary. While doing heel schtick is fine in a match, doing 6-7 minutes of it in a 9 minute bout is way too much, and the babyfaces don't even REACT to any of it, as both guys are such bland stiffs that the Pistols can't even really get any heat on them! The faces having no discernable offense at all besides "punching guys" isn't helping.
Rating: * (just a boring, lame match where the Pistols try weak heel tactics and fail to get over against non-reactive faces)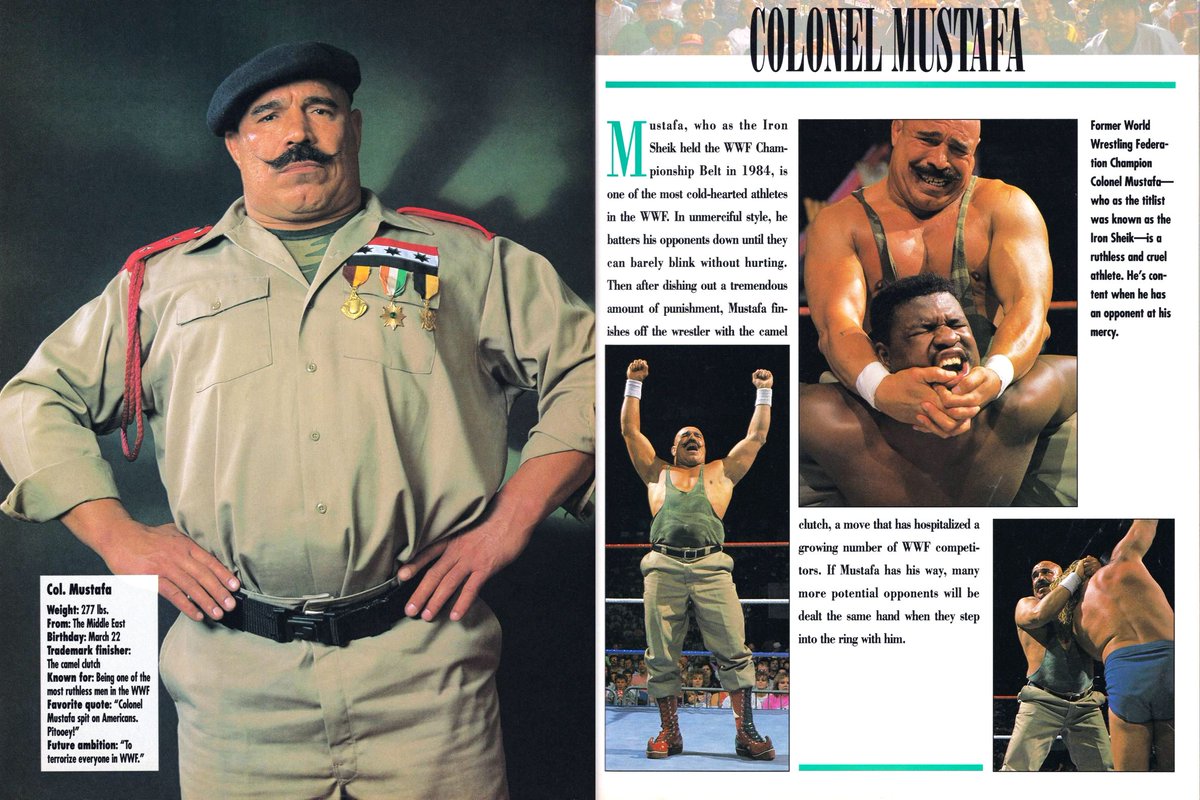 Someone suggested I review Iron Sheik matches in honor of his recent death and the first thing I do is find this, lol.
THE UNDERTAKER (w/ Paul Bearer) vs. COLONEL MUSTAFA:
(WWF Prime Time Wrestling, March 16th 1992)
* A fascinating match of former World Champions, as the freshly-babyface Undertaker is set up to demolish Col. Mustafa on his way out of the company. Mustafa had been actively jobbing since after last SummerSlam- I have no memory of his 1992 matches and I'd been watching since at least the month before this.
Mustafa attacks Undertaker right when he gives his hat to Bearer, and we're off immediately, but Undertaker simply blocks a punch and throat-thrusts him, hoising Mustafa right into the Tombstone for the pin at (0:17). HAH! Just Vince sending Shieky-Baby home with a "lol you fucking SUCK" on the way out.
Rating: DUD (not even a match!)