SWS Super Wrestle In Tokyo Dome 12/12/91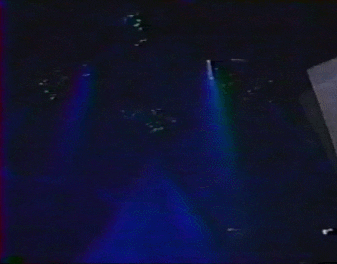 Tokyo Dome
Attendance: "61, 500" (lolol)
Previously In SWS…
Oh boy, there's plenty to get into this week. Apparently SWS is still playing their game of "get as much heat with wrestling reporters as possible" as they claimed that because Hulk Hogan defeated The Undertaker for the WWF World Heavyweight Title at This Tuesday In Texas that he'd naturally be defending it at the Dome…despite reporters already knowing the title was going to be held up/vacated because Jack Tunney has announced it a week ago on Superstars and so they felt SWS was lying to boost ticket sales (which they were).
Speaking of ticket sales: This show's attendance was announced as 61,500 tickets with the more honest number being around 30,000, but even Japanese sources disputed that number by saying it was the easiest SWS show ever to get free tickets to and that the majority of those in attendance didn't pay. Supposedly anyone going to Megame Super Opticals could get ten free tickets to the Dome show, and that the day of the show you could get free tickets directly outside the venue. They did exactly the same tactics last time they ran a Dome show so at least they're consistent.
There's also a big behind-the-scenes story with Akio Sato of the SWS office allegedly arranging a meeting during the final days of AJPW's tag team tournament at the Tokyo Ginza Hotel with five of their biggest foreign stars getting ready to sign with WWF and therefore work with SWS. Allegedly only two expressed an interest but I don't know anymore details about if this went anywhere so let's move on as this bloody intro is already longer than the one for David Lynch's Dune.
Masakatsu Funaki (PWFG) vs. Jerry Flynn (PWFG)
Funaki's last SWS before going back to PWFG full-time. Flynn making his only SWS appearance as he continues to pop up like Fake Crash in the weirdest of places (having appeared in the first Barbed Wire Rope match in Japan two years earlier for FMW). Weird way to open a show. Oh wait, like the last Dome Show the airing is starting off with the fifth match to occur and then during the intermission we'll get the first four matches. Makes sense. Both men try some kicks and get a decent takedown but whereas previous PWFG style matches have gone done well with the crowd, starting off slow with only the stand-up getting polite applause. Funaki takes a foot to the eye which wakes up the crowd, as well as Funaki who fannies around for a bit regaining his senses before submitting Flynn with something resembling a full nelson.
I know "making it look as real as possible" is the entire point of this style and therefore trying to figure out the intricacies is an insult to this…but I'm pretty sure Funaki was not wanting to get kicked in the eye and responded with a very thorough hold on poor dumb Flynn. Barely had time to get out of the garage.
Ultimo Dragon (SWS) vs. Jerry Estrada (CMLL)
And this would be the debut of Yoshihiro Asai's brand-new gimmick, Ultimo Dragon!
I give it six months.
You can still hear the commentators call him "Asai" but that would stop eventually….uhhh apart from anytime he'd do a moonsault to the outside. I only know Jerry from that match he had with Heavy Metal where the finish got changed mid-match causing HM to cry about losing his hair until Jerry did it himself instead. Anyway he he looks how Marty Jannetty thinks he does here, big haired and rocked up. Jerry backdrops Ultimo who lands on his feet and the crowd give that excited "yess, good lucha!" reaction. Jerry is a good dance partner for Dragon because he's full of expression and body language, getting annoyed when Dragon counters another move and eliciting laughter. Dragon's momentum-monkey-flip-into-headscissors blows the roof off, as does the off-the-top variant to the back of an opponent's head. Ultimo gets sent outside on a backdrop before realising the ring is really high up and has to stop himself leaving a Wile E. Coyote imprint on the mats. Dragon takes a small while to recover but Jerry takes a backdrop outside and gets punked out to get back on track. Jerry gets an interesting submission where he gets Ultimo in the Overdrive/Elix Skipper finisher set-up but holds it. Dragon reverses out of it fairly easily and they unleash a lovely victory roll counter counter sequence with Jerry landing outside and Dragon busting out a springboard turning senton, managing to land in between the elevated outside area and the guard-rail. The ring has not been Dragon's friend so far. The cameras miss Jerry's running senton off the apron in retaliation. Dragon suplexes Jerry outside so he can land the ASAI MOONSAULT on poor Jerry, the guardrail, the Japanese Tables and some commentators for good measure.
Back inside, Dragon misses a Lionsault so Jerry sticks him with the Mexican Surfboard before…I dunno, giving up on it and just dropping him. Huh. Jerry misses a top rope senton so Dragon connects with a Bridging German Suplex for two so Dragon lands a second German Suplex with the backwards roll thing that I don't know the name of to end it.
Signing Dragon was like The Bulls signing Rodman, giving the company much needed attraction and pizzaz. Wasn't even close to the best match he was capable of having with a few iffy moments but it didn't matter, the crowd absolutely loved him and his antics.
Ashura Hara (Revolution) & Davey Boy Smith (WWF) vs. Yoshiaki Yatsu (Dojo Geki) & Haku (WWF)
Hara got attacked by The Natural Powers after last month's show and was able to pick anyone he wanted as a partner so he chose The Bizarre One. We're JIP (wait I thought this was live?) for the match with the most build (of one show). Yatsu and Hara exchange headbutts but YOU CAN'T HEADBUTT HARA so Yatsu wins the war of attrition with an enziguri instead. Hara blocks a running bulldog out of the corner by holding onto the ropes, allowing Bulldog to charge Yatsu in a nice, simple spot. Luckily Davey Boy is here to get this one into second gear by immediately chinlocking Yatsu until Hara has to tag in, aka the guy Davey just saved. Yeesh. Davey tags in and takes a German Suplex from Yatsu which gets no pop but probably should considering he's the size of the General Belgrano. The Natural Powers attempt their Powerbomb/Slice combo but Hara interrupts so Bulldog gets dumped on his head, but it wasn't a proper move so according to the rules of wrestling he has to ignore it. Poor bugger. Yatsu and Haku completely body Bulldog with lariats and piledrivers but no-one cares about poor Davey here. Even Haku's beautiful series of backbreakers, with the big man holding on each time for another only gets faint applause. Hara tags in and Yatsu accidentally elbows his partner to set up Hara missing a lariat so strongly that he ends up catching himself in the corner, thus setting up Bulldog's small package roll up of Yatsu. That's an interesting finish.
You can tell not many of the freebie ticket holders had been watching SWS as this was a decent, hard-hitting match that would have got over tremendously in a smaller setting. Instead it sounded like background audio from Myst. Post-match The Natural Powers land the Powerbomb/Slice on Bulldog and Hara saves to show off his bleeding mouth to Davey.
Undercard Digest: Everyone loves Don Arakawa, Samson still doesn't get any crowd reaction during his six-man match victory, and Minoru Suzuki's destruction of Wellington Wilkins Jr. is given ten seconds.
The Rockers (WWF) vs. George Takano (Palaestra) & Shunji Takano (Palaestra)
JIP to George taking a Jannetty superkick and not liking it at all so he tags in his idiot brother to deal with him instead. The Rockers land double superkicks on Shunji and completely outclass him in everyway, with George thinking about interfering but changing his mind. George German Suplexes HBK who then ignores it and tags out Jannetty. Huh. Marty takes dropkicks from both men, with both looking below par. George is not feeling it like he usually does. Marty gets sent over the guardrail like how he'd try to escape via the barbershop window. Back inside, The Rockers try their all-action, always moving approach and you get the feeling that neither Takano is a fan of that so there's a lot of reluctance and slowing down from the big men. Takano starts getting the big moves in but Michaels saves Marty, setting Jannetty up for a top rope splash but he takes too long so HBK pushes him directly into George's knees for the pin-fall loss.
Michaels and Jannetty argue afterwards to set up that angle that WWE cannot stop referencing. Neither of the Takanos look thrilled with being background noise for this break-up angle and no wonder they didn't want . This would be the last time The Rockers teamed up on TV. Oh wait, the Legion Of Doom loss happened weeks before but aired after this match so I guess it's not.
"Texas Tornado" Kerry Von Erich (WWF) vs. Ted DiBiase (WWF)
I love how much Japanese crowds appreciate the Von Erichs. Kerry gets the Claw on early but Ted bails out to escape and the crowd are like "YEAHH IT'S THE CLAW!!!" Sherri is at her loud best cheering on Ted and the crowd stay quiet so they can hear her. Ted tries a sunset flip but Kerry lands THE CLAW and it's crazy how over that is. Ted regains the advantage after a head-rub from Sherri, before posting Kerry with a chair as both men brawl over the guard-rail. Sherri gets a slap and the crowd's disgusted "booOOOooo" is the highlight of the show so far. DiBiase busts out one of those good ol' suplexes where he looks like he's fighting with every bit of resistance to land it. You don't see them much anymore. Ted then showcases on the middle rope and misses a Blind Elbow to the crowd's love, setting up the Discuss Punch. He attempts THE CLAW but Sherri gets on the apron and takes it instead as the crowd explodes. Ted DDTs Kerry during the distraction to win a fun, decent and well-received match.
SWS/WWF Junior Heavyweight Title Decision Match
Naoki Sano (Palaestra) vs. Rick Martel (WWF)
SWS announced a tournament and even showed brackets on TV a few months ago but then nothing happened for whatever reason, so this is still listed online as a "tournament final" in some places.
The title belt only has the SWS logo on it but it is referred as the "SWS & WWF Junior Heavyweight Title" by the commentators so eh. Maybe the WWF was suddenly flirting with the idea of a Junior title because their roster was suddenly shrinking to that size. Anyway, Martel avoids a monkey flip with a cartwheel and is more impressed with himself than the crowd is. Both men exchange takedowns and headscissors on the mat, with Martel posing at every opportunity but crowd really aren't into that and much prefer Sano's rolling senton off the top rope to the outside. Sano enziguris Martel in the back of the head while Rick tries to make this match stay at a more Prime Time Wrestling pace in response, resulting in a weird mix of Sano wrestling like his life is on the line vs. Martel who is thinking about his shopping list. Sano knocks Martel off the rope rope with an uppercut and then follows with a crazy looking over-the-top swanton as Sano doesn't get caught by Martel and then has to stop himself landing on a guard-rail.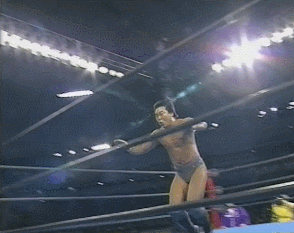 Sano then backflips over Martel in the ring before finishing with a follow-up German Suplex for a sudden victory. Sano appears hurt after that rough dive but there was no point stretching this one out with Martel not willing or able to go at the expected pace.
This was OK but Martel 1991 was miscast in the role of prestigious tournament finalist. At least Sano got to show us how great he could be.
Yoshiaki Fujiwara (PWFG) vs. Koji Ishinriki (SWS)
Hey it's Ishinriki's first appearance since July. I've missed him. Fujiwara's purely a big event only guy and his Ride Of The Valkyries entrance gets a huge reaction. Fujiwara toys with his opponent's hair, getting a lovely "oooOOOOhh" reaction and annoyance from Ishinriki. These two do very little but crowd are so buzzed over the two of them that it's fun to watch and absorb the heat. Ishinriki gets his former-Sumo slaps in the corner as the camera zooms in on the mad old guy's disgusted face. Ishinriki does his best to keep Fujiwara close enough to prevent any real offence and to force rope breaks, which goes well until Fuj kicks him in the face, sending his opponent to the outside. Fujiwara then teases a dive to the outside before laughing as the crowd joins in. Ishinriki gets the strikes in the corner again, with Fujiwara absorbing them all until he can lock in THE ARMBAR but Ishinriki is too close to the ropes. Ishinriki tries throwing whatever he's got now but Fujiwara is too old and respected to let anything affect him, so Ishinriki goes to the top rope…only for Fuj to simply get up and walk away to avoid the dive. Crowd applaud that! Ishinriki is able to take down his opponent and kicks away until Fuj grouchily stands up and checks himself for damage, before playing with Ishinriki again. Ishinriki gets the sumo strikes yet again so Fuj takes him down and stretches his arm with his legs in such a quick, smooth fashion that the cameras missed it. I blinked and suddenly Ishinriki was tapping out.
This was a lot of fun before Ishinriki ran out of things to do but it didn't overstay it's welcome or anything. Something that wasn't recorded as Ishinriki's announcement that he was retiring at 30, who is 30 due to doctor's advice. He'd return in April so I'm glad they cut it out.
WWF World Tag Team Titles
The Road Warriors (WWF) vs. Natural Disasters (WWF)
Ah, so after being The Road Warriors at the last Dome Show and then The Legion Of Doom at the Yokohama Show, they're back to being "The Road Warriors." Glad we got that sorted out. Also Earthquake is announced as "Earthquake John Tenta" because of his obvious success in Japan under his real name. I mean, that's if you can hear the announcer over the pops:
The Road Warriors using Iron Man as their entrance theme would mean they'd get a pop when the drums started, a pop when the riff kicked in and then another pop when they'd appear pic.twitter.com/hBGv9gUG2W

— forever botchamania (@Maffewgregg) September 23, 2020
Crowd love the visuals of these guys going at it, with everyone immediately brawling over the guardrails to start this one off heavy. Tenta takes a chairshot and everyone resets to Hawk and Typhoon cancelling one another's attempt at a lock-up. Typhoon whips Hawk into Animal so Animal throws Hawk into Typhoon, who catches him but an Animal dropkick sends them both down. Crowd LOVED that. Tenta accidentally strikes Typhoon which leads Hawk to shoulderblock both of them down. Tenta takes a sumo stance so Animal does it too with neither man able to bounce the other one down. They repeat it with the same result until Animal gets shoved down with a shoulderblock, so Animal takes down Tenta with his crazy diving shoulder tackle. Animal got crazy height with that one. He looked how Undertaker thought he looked with his jumping clothesline in the 2000s. Typhoon chokes Animal by lifting him up by two of his four shoulders with the big(ger) lads backbreaking Hawk before smashing him through a Japanese Table at ringside. Good God. Typhoon repeatedly backbreaks Hawk while Jimmy Hart counts at ringside, with the crowd joining in! Animal gets the hot tag and cleans house as the crowd again go nuts, to the point where Tenta is booed. The Warriors double bodyslam Tenta before double backdropping Typhoon in a terrifying spot. Jimmy Hart gets press slammed onto Tenta allowing the LOD to land a Hart Attack style double team off the top rope because there was no way in fucking hell of managing a Doomsday Device on Typhoon to end it.
Like the wrestlers, this was a ton of fun.
Hulk Hogan vs. Genichiro Tenryu
Booming reactions for both men because only Canada loves Hogan more than Japan. Hogan immediately busts out his rolling armbar and it's amazing how smooth he is with it considering the last time he did that, Jimmy Carter was in office. Tenryu armbars him so Hogan gets the ropes and tries for a STF before being unable to get it and going for a pin-fall instead, which is weird but OK. Tenryu gets a chop and the crowd goes nuts, as does Hogan who doesn't want any more of them. Crowd chants for both men as they stare off. Hogan again tries for the STF but Tenryu deflects with another chop and another pop. Both men stare off some more as Hogan's able to get more out of a facial expression than a move. Hogan busts out Tiger Mask's spinning takedown which blows my mind. Tenryu and Hogan continue to pump the crowd by teasing the upcoming action before finally going chop for uhhh eye poke, before Hogan misses the Axe Bomber and Tenryu sees the Big Boot coming and turns it into an Ankle Lock. Hogan makes the ropes and manages the Big Boot, only managing two. Hogan pounds away on Tenryu, managing the Axe Bomber in the corner and locking in a Boston Crab. Tenryu escapes and goes for a rolling axe kick but comes as close as Chael Sonnen's spinning backfist. Hogan comes back with a flying knee of all things, but hurts his foot in the process so Tenryu enziguris him out the ring. Tenryu uses a chair on Hogan to big boos. Hey it's outside the ring, Tony Schiavone said it was fine. Tenryu locks in an ankle lock as the crowd is loudly pro-Hogan now. Tenryu turns into grouchy Tenryu and kicks Hogan in the face while he's down before landing the Dirty Powerbomb for a loud near-fall. Hogan took it better than Savage. Hogan slams Tenryu and nails the Legdrop but…Tenryu kicks out because Papa Shango was late. Hogan simply charges up the Axe Bomber and connects for…two! Hogan tries a Big Boot but Tenryu catches it and Hogan is in another ankle lock. Tenryu chops away as the crowd is half pro-Hogan and half-worried for him. Hogan and Tenryu both think about going for a clothesline at the same time but it doesn't look too bad because Hogan doesn't panic and leg drops Tenryu again for another kick-out. Crowd's on fire now. Hogan lands the Axe Bomber, with Tenryu refusing to go down so Hogan lands a third one with feeling to end the match. Like a lot of people, I enjoy watching Hogan in Japan with his crazy move-set but I also enjoy seeing him play the audience like a fiddle and the crowd react the same way as they would in USA due to the international language of wrestling.
Oh and if there wasn't enough drama from this show:
So apparently there was the expectation/desire to Hogan to lose here, given that he didn't hold a title and then next time SWS ran a show they could do an easy rematch with Hogan getting his victory back. Plus Tenryu beating Hogan would have done wonders for SWS' reputation. This despite the fact he hadn't lost a match in the country since 1985 (count out against Inoki) and hadn't lost via pin-fall since 1981 (also against Inoki). But apparently Hogan arrived late for the show because he took the last plane out of Florida because his father was ill. So while the press was waiting around for him to show up, The Great Kabuki (who may as well call himself Zahorian for all the trouble he caused wrestling in 1991) told reporters that Tenryu was going to win. He even went as far as to give the rough time of the match and the ending sequence so the press could type up stuff for the morning newspapers and make their life easier I guess. So you can only imagine the look on their faces as they've faxed and phoned in their reports as the show is still taking place, only to hear the lyrics to Real American kicking in and having to rush back and do even more frantic work. God only knows why Kabuki did that, but I think we've all wondered that about him from time to time.
Overall: Well it wasn't dull, I'll give it that. Every match had something going on, from live rounds being fired to retirements to in-ring drama to out-of-the-ring drama there was something for everybody. Despite the glitz and the glamour, this would end up being the last glimpse of success for SWS as it's all downhill from here. But let's focus on the positives while they last and say this show is well worth a watch for fans of 1991 wrestling who want a bit of everything.
I also typed this up while I had COVID so I appreciate this being simple enough to focus on and fun enough to enjoy while I tried to get three hours of sleep.
I've been Maffew and I am neither STRAIGHT nor STRONG but at least I don't lie to journalists