SWS Wrestlefest In Tokyo Dome 03/30/91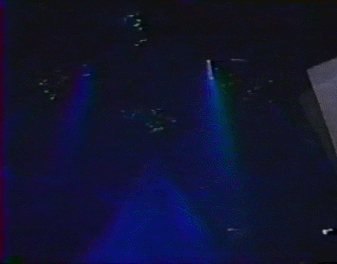 Tokyo Dome
Attendance: 64,618 (yeah right)
Aired on WOWOW Cable TV
Like last time, SWS haven't been selling tons of tickets for an enormous show. SWS have dealt with this situation maturely by getting into a feud with Weekly Pro (who have been very negative about the company, including saying something along the lines of "it's appropriate that their logo has a dinosaur in it because they'll be extinct soon") and have banned them from covering their shows. Other magazines were a lot more positive about their recent Korakuen Hall show because they wanted coverage of the upcoming Dome shows.
Ticket sales a week before this show were reportedly as low as below 18,000 so I'd want to cut journalists out of my life too if that was what they were saying. Meltzer says there's no real way of knowing the estimated real attendance but speculates it could have been anything from 42,000 to 25,000. The fact they had a presentable looking audience for such a huge show considering how cold the promotion is and the fact that NJPW ran the same bloody thing a week ago can be considered an achievement.
Both Genichiro Tenryu and Hachiro Tanaka of SWS were happy enough to want to return to the Dome (which they would for the last time in December 1991.)
Oh and before we get to the main show, here's some inter-promotional goodness a week prior to this show from Wrestlemania VII:
Demolition vs. Genichiro Tenryu & Koji Kitao
Master Fuji telling Alex Trebek what he's going to do to his "Jap opponents" and Regis Philbin yelling "Toyota! Izzuzu! Columbia Pictures!" in an attempt to communicate with the SWS crew before squeezing their cheeks lets you know the level of importance this match had at the biggest show of the year. I'm impressed Tenryu gets to keep his SWS entrance music rather than getting stuck with the Orient Express theme. Demolition are two months away from leaving WWF forever to give you an idea where this is going. Kitao "the big fortune cookie" takes on Crush while the crowd go for a break after Savage vs. Warrior. I mean Nine Inch Nails couldn't follow that so these guys have no chance. Crush works over Kitao thanks to Fuji's sneaky cane shows as Heenan continues to think Kitao's name sounds like "towel." Tenryu gets a decent pop (all things considered) before missing his Blind Elbow and getting worked over by Crush. Kitao interrupts the Demolition Decapitation, letting Tenryu land the enziguri and powerbomb to end a completely nothing match. No-one mentioned the upcoming SWS show so I have no idea how this helped anyone.
The Hart Foundation vs. The Rockers
The Rockers get a healthy pop but The Harts only get a small one, I'm guessing because they were heels at the time? Or the Japanese have been reading the Observer and are worried Bret thinks this is a house show. Jannetty's coke-filled mullet flows majestically as he runs circles around Bret. Shawn joins in and is able to out-manoeuvre Anvil, causing Jim to go to Bret's corner to get some advice. I always like it when teams do that, even in this case where the advice is "if you leave WWF, don't throw a monitor and hit someone…punch them instead, it feels way better." Anvil finally connects with his opponent and sends Marty flying to the outside. Marty is able to continue to out-quick Jim so it doesn't matter, with both Rockers continually tagging out and trying pin-falls to tire him out. HBK takes a Manhattan Drop and SELLS HIS TAINT rather than his groin. This match rules. Bret blindsides Shawn by leaving for WCW rather than simply threatening to get the advantage, wailing away with uppercuts until Shawn grabs one and turns it into a backslide for two. It's been so long since I've seen these two in their early 90s prime that I'd forgotten how great they were. Michaels gets great air on a back body drop, then manages to outclass that with a wicked Shawn Bump (trademark pending):
The only place you'll find crazier speed than that is in Marty's digestive system. Shawn continues to take Anvil antics (couldn't tell what as the production team seem insistent on showing as many shots of empty seats as possible) before avoiding the slingshot over-the-ropes splash to run right into some Bret antics as The Harts are unrelenting in taking apart Shawn. You'd think he was in The Dungeon. Shawn finally dodges an elbow from Bret's Rope to get the hot tag to Marty (with pop!) who takes out both Founders with superkicks. Marty rolls over Bret with a Sunset Flip and my god was he good before FaceBook. Marty runs under Jim's legs to get a tag to a recovered Shawn who takes apart Jim shot-for-shot as Jim has now reached his top speed despite his slow start, like Wario in Mario Kart. So Shawn has to run all over the place to even get him to wobble, finally managing to take him off his feet with a crossbody off the top rope for two. Unfortunately for him, Bret tags in and Shawn tries the exact same move with Bret rolling through it for the pin. Maybe Bret could have been more heelish with the victory but regardless this match ruled.
The Harts give an interview backstage with Bret proclaiming himself the best technical wrestler in the world while the interviewer translates. Jim laughs but it isn't translated.
John Tenta vs. Koji Kitao (Revolution)
NO IT'S NOT THAT MATCH YET, IT'S THE ONE BEFORE IT. Tenta is announced as "The Earthquake" John Tenta given his career in AJPW pre-WWF. And boy is the crowd ready for the battle of the sumos with Kitao getting a respectful response for once. Both men bounce of one another to establish that they're big bastards, with Kitao drawing first blood by knocking down Tenta with a clothesline then sending him into the Andre position in the ropes. Tenta gets his foot up when Kitao charges and sends him down with a clothesline too. Crowd is eating this up. Kitao doesn't understand the concept of a blind charge and stops in his tracks rather than continue so Tenta whacks him. They try a test of strength with Kitao striking to get out of it but is unable to knock down Tenta so he tries another clothesline but Tenta simply dodges out of the way and walks calmly backwards and if you hadn't seen the other match you'd not look into it too much but now that we all have, you wonder if there was already tension between the two with moments like that. Or maybe Tenta realised Kitao was crap and was going to have to do all the work. Either way they lock up again and Kitao sells for Tenta just fine, even taking a jumping kick from the big man. Kitao manages a side suplex with Tenta kicking dramatically out before absorbing a few Kitao kicks, grabbing one and converting it into a biiiiig slam. That's enough for Tenta to charge up the arse and pin Kitao with the Earthquake Splash. Hey this was a fun big man match and didn't overstay it's welcome and was over. There's hope for Kitao after all!
Backstage the interviewer asks Tenta "you are the real Earthquake!" and Tenta's such a pro he ignores the fact that's a statement rather than a question and vows to squish everyone.
King Haku & Ted DiBiase vs. Takashi Ishikawa & The Great Kabuki (Revolution)
Ishikawa are DiBiase go at it, causing me to apologise for making fun of old man DiBiase a weeks ago, he's like Baby New Year next to these opponents. Haku with man-bun and Kabuki tag in to kill a few minutes (and the crowd). A gutwrench suplex and dropkick look nice but the crowd are quieting out of existence. Ishikawa gets them back with a shoulder block on Haku before going back to nothing. They're doing moves and delivering strikes but there's zero flow to the match and no-one cares. Haku gets sick of the silence and splats Kabuki with a sweet piledriver for two. Crowd's like "aye fair enough pal" and politely applauds before going back to reading about the amazing deals on contact lenses. This continues at a pedestrian pace before DiBiase finishes Ishikawa with a back suplex. This was like getting hit by a car going 10 mph.
Sgt. Slaughter vs. The Ultimate Warrior
Slaughter gets zero reaction but surprisingly the fans fucking love The Warrior who rushes over the guard-rail and through the crowd like he spotted a sick kid backstage. Slaughter rushes (well, walks) to meet him in the crowd and Warrior destroys him from the get-go, including chopping him over and onto the commentators.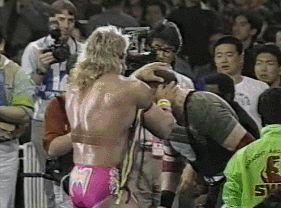 Once they enter the ring, the crowd continue to go nuts. Where were these fans when Warrior was getting mocked at the AJPW show last year? Slaughter is working his arse off and takes his crazy over-the-ropes bump before getting twatted by an entire table by Warrior. Slaughter finally gets a bit of offence with a short-arm clothesline before getting a chair of his own (with the crowd booing!) before locking in his finisher/rest-hold the Camel Clutch. Warrior makes his comeback by Hulking Up (did he have a term for that? One that can be typed on here without getting the site blacklisted?) before landing the splash for the easy victory. Slaughter was bumping for a family of four here and the crowd ate it all up. Match was way better than it had any right to be.
The live broadcast didn't begin until the fourth match so we get a replay of the first few matches while the crowd go buy glasses during intermission.
Apollo Sugawara, Masao Orihara, Samson Fuyuki & Tatsumi Kitahara (Revolution) vs. Don Arakawa, Fumihiro Niikura, Goro Tsurumi & Kenichi Oya (Dojo Geki)
We are joined very much in progress with Arakawa tiring himself out from an Airplane spin. It immediately breaks down with everyone brawling outside and then Samson gets the victory with a top-rope crossbody. Nothing here.
Jim Duggan vs. Kendo Nagasaki (Dojo Geki)
This would have been something great if this had been UWF Duggan. Instead, WWF Duggan eats Kendo alive and gives him no opportunity to do anything until Kendo gets a kick out of nowhere for the win and a "whaaa??" crowd reaction. Mel Phillips is doing the ring announcing and that somehow wasn't the worst thing on this show.
Demolition vs. Shinichi Nakano & Shunji Takano (Dojo Geki)
Demolition bum-rush the Dojo Geki guys with the crowd showing Barry Darsow more respect than Crush. Good lads, they know he's a Demolition scab. Oh wait my mistake, they're popping for the Mexican Wave going around the stadium. The S & M chums treat this like a Wrestling Challenge squash and pin Nakano after the Demolition Decapitation after selling nothing. They're going to be sticking around SWS for a while so a Marvin Heemeyer-style destruction job made sense.
UWF Rules: Naoki Sano (Palaestra) vs. Masakatsu Funaki (PWFG)
Dave credits Funaki's announcement with selling more tickets and the reaction he receives certainly makes you think there's truth to that. Because the ex-UWF guys are now part of the Megane Super-funded Pro Wrestling Fujiwara Gumi, it means none of the shoot-lads will be interacting with the WWF guys to make sure their style is protected. Which makes sense, but God it would have been great to have seen Minoru Suzuki vs. Brooklyn Brawler. Both men start off striking with both set of limbs before going for ankle locks, doing a lovely job of feeling each other out. Crowd reacts every time there's a takedown and murmur excitedly during the submission attempts. There's no way I can type up this style of wrestling well but I was entertained by their exchanges on the mat, plus having the likes of Duggan on the show only exaggerates how cool their style was by comparison. Funaki shrugs off a Northern Lights suplex to kick Sano from a downed position to tease a KO victory but he takes a big shot from Sano instead, only to deliver a gruesome German Suplex and finish with a cross armlock. This was apparently Sano's first attempt at this style and to a UWF luddite like myself, this seemed fine. Maybe they kept it too quiet for the first few minutes but started firing off missiles during the last minute to make up for it. At least they gave the PWFG wrestler someone who was able to wrestle that style and didn't freak out and embarrass himself and the company.
WWF Intercontinental Title: Mr. Perfect vs. Kerry Von Erich
Kerry gets a far bigger reaction than Perfect, with Kerry looking thrilled to be here considering what this country did to David. Perfect of course wastes no time flying around like a daft bugger: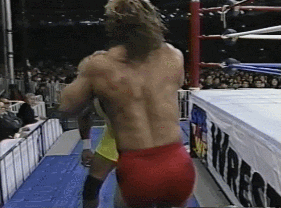 Von Erich gets a Boston Crab early, which Hennig counters by pulling down Erich's tights and the crowd cheers the arse. Kerry tries for The Claw but Hennig blocks it. Perfect lands a standing dropkick and right now the crowd respects the Von Erich name but his opponent has done all the hard work. Maybe he was the second Ultimate Warrior after all. Perfect blasts him with a chair (well, blasts the post while Kerry was near. His body wouldn't go DINK if you hit it. OK his leg might) and then takes out the referee. Perfectplex connects, ref tells Hennig it's over so he celebrates like he's won, only to be told that he's been DQ'd and it's Kerry who has won…and the crowd hates that. Kerry attacks Perfect afterwards to try and send them home happy but they boo as the finish is announced. Oooof. Both men worked hard (well Perfect did) but that was a bad finish executed badly in front of the wrong crowd.
As if there wasn't enough cocaine in the previous match, we now hear from The Road Warriors. "WE'RE GOING TO GIVE HOGAN THE SCARE OF HIS LIFE!" OK Bubba The Love Sponge.
Jimmy Snuka & The Barbarian vs. Ishinriki & Yoshiaki Yatsu (Dojo Geki)
This is Ishinriki's SWS debut. According to Wikipedia, he did very well considering his comparatively small size in the world of Sumo but decided to join his brother in the wonderful world of pro wrestling for the money. There's no way just looking at him you'd think he'd been in Sumo so fair play to him for doing so well. He wastes no time arm dragging and chopping away on the much-larger Barbarian, taking him down with a crossbody and landing a rolling standing senton but then still being shocked when Barb launches him half-way across the ring after a kickout. Yatsu tags in and the crowd go wild for his shots, yelling "yah!!" after everything. Snuka gets a nostalgic pop for his chop and pose. God he looks like a wreck, roided out of his mind but still looking like a bag of pennies. Ishinriki sends Snuka to the outside and the crowd loses their mind when he follows him with two consecutive dives to the outside. Barbarian stops a pin attempt and gets the best heat of the show so far. They keep going through basic offence but the difference between this and the earlier tag match is the crowd wants to see a particular team win. Yatsu keeps slamming Barbarian but Snuka keeps interfering until Ishinriki realises it'd be a good idea to grab Snuka to allow Yatsu to land a Back Suplex to end a loud match. Star-making performance here from Ishinriki. He's short and hard, just like life.
'Macho Man' Randy Savage vs. George Takano
Pop Art Cowboy and Purple Centurion finally collide. Savage brings the intensity with his facial expressions and body language, something he always paid attention to even in his later years. George takes apart Mach, who looks normal sized by comparison. Perfect dropkick directly to Savage's face sends him to the outside. Savage gets a cheeky slap in response before immediately leaving the ring again. Takano follows of course, which allows Savage to get the advantage once he enters the ring which is 90% of how I turn things around on the PS2 WWE games. Savage sends him outside and follows with a top rope axe handle, which Takano doesn't feel like selling much. So far this hasn't been awful but it feels like the crowd are expecting '88 Savage and are realising he's not coming. Savage sends Takano outside again and lands a suplex as the crowd start to sound bored and angry. I mean this has been a long show, having this so-so match isn't helping. Takano can't put away Savage with a top rope splash so he SPIKES him with a Tombstone before getting nothing but knees on a second attempt, enabling Savage to land a top-rope elbow to finish. I love Savage but the crowd didn't give a Macho Damn.
Genichiro Tenryu & Hulk Hogan vs. The Road Warriors
The Legion Of Doom get announced as The Road Warriors, Tenryu's a proud Hulkamaniac and wears red and yellow to the ring and finally Hogan kicks the cameraman while on the apron.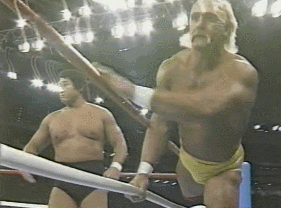 Crowd are definitely alive for this one. Animal launches Tenryu all over the ring so Hogan tags in to a "woaAAHHH" pop. Animal and Hulk go at it until Tenryu rushes the ring leading Hawk and Animal to Gorilla Press Slam both opponents. Hogan responds with Axe Bombas on both men and Tenryu gets his enziguri on both too. OK this has been everything you'd want so far. Hawk gets a perfect standing dropkick on Tenryu, with Animal slamming his partner onto Tenryu for good measure. Hawk and Hulk brawl outside, and Hogan's got his serious face on so you know it's good. Both men return to the ring bleeding (Hawk's bladejob is a beaut) and continue pounding away on Tenryu before Hulk is able to make the save with another AXE BOMBAAA. Hawk powers out of Hogan's attempt at a hold, enabling Animal to take him out with a flying shoulderblock. Crowd comes alive with "HOGAN" chants but Hawk doesn't let up as this match rules so far. It's the type of match you'd fantasy book as a kid. "What if Hogan and some other top level dude took on The Road Warriors and bled everywhere?" Tenryu tags in and takes out Animal, but the kick out is so strong that he flies out the ring from the power. Hogan then blasts Hawk with a chair multiple times on the outside, leading to Hawk dumping a whole-arse table on the outside to Hogan. Poor Tenryu gets half-stuck between the floor and the apron with Hawk having to send Tenryu back in to a big pop. Tenryu has no issues playing punching bag and he's playing the crowd's heart-strings like a harp. Tenryu manages to overcome the odds and powerbomb Hawk, but then gets immediately taken out by Animal's lariat. That's enough for Hogan who gives Animal the big boot and leg drop, which angers Hawk into ejecting him from the ring and landing The Doomsday Device on Tenryu, which in turn angers Hogan enough to blast Animal with a chair to break up the pinfall. There's more brawling on the outside and then very abruptly The Road Warriors are announced as the winners via count out. Ahhh the good old AJPW finish. Hogan and Tenryu send The Doomers out the ring because they're such good winners, but Hawk and Animal return with chairs to take apart the young boys dumb enough to get in their way. So Hogan and Tenryu also return for more violence as the crowd cheers them on and chants "PINFALL", and they aren't impressed when The Warriors walk away. Hogan's music plays even though he lost cos (insert Bruce Prichard sound-bite here). I thought this match was great even with the sudden non-finish, but I'm used to non-finishes in big Japanese matches and was too busy pumping my fist during the dual press slams to dislike it.
Overall: Wow, where to begin? It's a weird show to review as SWS wanted this to be both a set-up show and a big show at the same time, and maybe I'm just a simple non-glasses-selling company but that seems hard to do. The most interesting part of the whole thing was seeing SWS trying to juggle being a wrestling company, a shoot-style company and an American-style company all in one night and expect to not drop any of the balls.
I'd recommend the Rockers vs. Hart Foundation and the main event for purely wrestling, and everything else has at least some curiosity around it if you're a fan of 1991 WWF and also very understanding.
And if you couldn't be bothered reading all this (ha ha too late), Everyone's Favourite Racist Irishmen gave it a look a year ago:
Next time: SWS Wrestle Dream In Kobe, aka The One With Kitao vs. Tenta II.