SWS Declaration Of War 02/22/91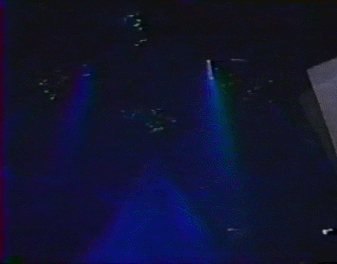 Tokyo, Japan
Korakuen Hall
Attendance 2,309

Previously On SWS…
The WWF and Super World Sports of Japan officially announced Wrestle Fest '91 in Tokyo Dome with a main event of Hulk Hogan & Genichiro Tenryu vs. Legion of Doom. The ringside tickets are set at $350, making it the most expensive seats in wrestling history at that point. Tickets aren't exactly flying off the shelves as Meltzer was dubious at the idea of running such a large event when NJPW are running the same venue a week later with a main event that'll have a proper finish.
Also SWS' recent show at Tokyo Bay NK Hall drew that venue's smallest wrestling crowd ever (announced as 5,909 but there were only 3,500). The crowd continued to laugh at Kitao's attempts at wrestling so his push is going as well as the Amstrad GX4000's.
Shinji Jin, Yoshiaki Fujiwara and Masaharu Funaki are in the process of joining SWS now that UWF has died to never be seen again. The UWF coolness factor is something SWS could really use right now to highlight something other than wrestlers AJPW were happy to be rid of.
Also in a rare case of SWS releasing someone rather than hiring them, Isao Takagi has been fired as WON reported he was "missing too many workouts" and "spending too much time gambling". The man was clearly built for baseball.
Here's SWS' first TV taping for 1991 and the set-up show for the giant Tokyo Dome show…which was then a set-up show the massive Kobe show a week later.
Kenichi Oya vs. Masao Orihara
Both men work through a lovely exchange of holds while I notice the very audible and loud chattering amongst the crowd as opposed to the deathly silence I'm used to from this period. No commentary either so this show is already a waste of time. Masao lands a middle-rope moonsault to a standing opponent but Oya kicks out because Masao is not Jericho. Oya gets dropkicked outside which gets a big "ooooah" as this means it's time for Excalibur's favourite move to reference: THE ORIHARA MOONSAULT.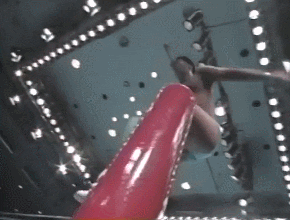 The reaction alone would make you think Orihara would simply roll him in and give him a fancy German Suplex to finish but instead Oya kicks out and wears him out with armbars while the crowd chants for Orihara to get up already. He recovers enough to get another German Suplex with the kickout being so close the bell rings, with the ref waving it off before Cody can fuck on him. From there, Oya gets a bloody nose courtesy of a missile dropkick before dropping Orihara with a backdrop suplex to somehow win. Huh. Orihara continues his push-by-getting-pinned-a-lot push as the crowd continue to love him. Would have been better if Oya had more to offer than the default CAW move-set from Smackdown 2.
Apollo Sugawara vs. Don Arakawa
Don is a giant joke in Japan. So is Apollo but not for the reasons he'd like. Don's exaggerated style and mannerisms go down a treat with the fans but lose a lot in translation when typed up decades later. Don kicks Apollo in the balls a dozen times directly in front of the referee for the disqualification and while Don attempts to argue his case, Apollo low-blows him in revenge to little reaction. They trusted Apollo with a basic comedy match and he was still barely able to do it.
Samson Fuyuki vs. Tatsumi Kitahara
Good lad isalrightnow kindly explained why Fuyuki has been getting boos from the crowd every time he shows up: shortly before joining SWS he gave an interview where he explained he left AJPW because "the conditions are good (money) and I don't have to work so much so it'll be easy." Joining a company for an easier life instead of the desire for violence? BOOO BOOO BOOO. He's half the size he'd turn into when he joined FMW but his mullet is so big now he probably weighs the same. It's at Groupie for Stryper levels of moulting. Kitahara gets nothing after the feeling out process and decides to throw strikes at Samson who doesn't know what to do so we get a well-timed cut in case the match breaks down. Highly unlikely in SWS, I know. Kitahara gets a sweet sit-out dropkick before going back to striking, but sadly runs right into a clothesline from Samson who follows with a top-rope knee-drop to end this before it got interesting.
Shinichi Nakano & Yoshiaki Yatsu vs. Goro Tsurumi & Kendo Nagasaki
Every SWS show so far has had a multi-man mid-aged mad lads clash, and they're either exciting or dull as hell. Nothing happens even with clipping so I guess it's the latter this time around. Instead I went and found a picture of Goro Tsurumi to show how he's the closest a Japanese wrestler can resemble a 1970s British Footballer.
Kendo annihilates Nakano with a jumping piledriver to win this for his team (Millwall FC).
George Takano vs. Naoki Sano
Both men start by keeping boxing stances and launching kicks at one another as the crowd "oooaaahhs" their approval. George lands a double arm over head to try to slow Sano down but instead they both alternate between the kickboxing stances and going for takedowns as this is about a hundred times more thrilling than the rest of the show. Takano tries to drop Sano but he can't escape his holds as he's doing so, having to resort to a rope break instead. We then cut dramatically to Sano kicking the fuck out of George: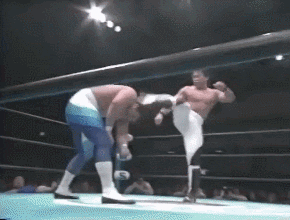 Crowd are begging for George to kick-out of CTE and he manages to beat the count, only to get immediately struck down again. George is on spaghetti legs but manages to block a missile dropkick by uhh jumping into it. Crowd are going BANANA so it doesn't matter, George gets his own missile dropkick to even the odds. George throws Sano outside and he gets booed by some of the fans because Sano is so damn good. Sano suplexes George from the inside of the ring to the outside and follows THAT with a crossbody off the top for another jump-cut. Both men appear exhausted now but Sano is still able to set-up a Superplex and then slip right off and have George land on him. Think that was a mix of planned and mistake as both men are covered in sweat. George then locks in a Boston Crab for the submission after 27 minutes and 19 seconds to an angry response from the crowd. Takano pinned Tenryu only a few weeks ago and it's already over for him. However despite the reaction to him, this was a banger as Sano is on top of his game in 1991.
Genichiro Tenryu & Takashi Ishikawa vs. Koji Kitao & The Great Kabuki
Gong Magazine came out with its popularity contest winners for 1990 with Tenryu finishing fifth in the native category, so he's giving himself a treat tonight by not teaming with Kitao. He's teaming up with Ishikawa which makes sense as they were both trained by Gilgamesh. Ishikawa steamrolls Kabuki to begin but then Tenryu tags in and goes shot-for-shot with The Great One. Crowd enjoyed that. Tenryu gets his Blind Stupid Elbow on Kabuki very early on but Kabuki simply ignores it and thrust kicks Tenryu out the match as Ishikawa and Kitao tag in. Giant "ISHI-KAWA" chants as Father Time slaps Kitao across the face. Tenryu has to calm Ishikawa down and tags in instead to get equally loud chants. Tenryu and Kitao also go strike-for-strike but Kabuki runs in to help him get the advantage and also make it so Kitao isn't doing stuff by himself for too long. So far it's working as the crowd are on fire and Kitao's only done strikes and taunts so far. Kabuki grinds things to a halt with that Lazy Susan Armbar he's fond of until the Black And Yellow Lightning Lads tag in again. Kitao sticks to throwing strikes until a hilarious moment where he tries to defend himself from a Tenryu strike leading to Genichiro hitting him across the throat instead: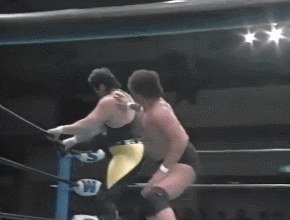 Tenryu tries diving off the top but lands right into Kitao's warm embrace for a Samoan Drop and a kickout. Tenryu ignores it and gives him a Step-Up Enziguri and tags in Ishikawa for more old violence. Ishikawa dives over the top rope to take out Kabuki because he doesn't care. Tenryu has more hard, hard chops for Kitao and hard, hard headbutts for Kabuki who gets busted open as a result. Match slows down as Kabuki sells and bleeds everywhere with Tenryu ending up on the wrong side of the guard-rail, which he then immediately ignores and runs back inside for more Kabuki kicking. The Great One is able to tag in Kitao who gets his first real genuine crowd response in SWS as a result of Not Being Crap as he charges in to suplex and slam Tenryu. On the outside of the ring, the meek are seen walking. Tenryu gets his dirty powerbomb on Kitao out of nowhere but Kabuki interferes to stop the pinfall because he's a get. Ishikawa then starts being a dirty get as well because Kabuki's cheating so much and distracts him enough for Tenryu to drop Kabuki with a dirty powerbomb to end a worthwhile main event. Despite a lull near the end, this was about a good a job as you could ask for and featured more false finishes than the end of Romeo and Juliet.
To end the show, Tenryu and Kitao are shown shaking hands as I see nothing but positivity and growth in Kitao's near future.
Next time on SWS: The very noteworthy Wrestle Fest In Tokyo Dome '91 featuring Road Warriors vs. Hogan/Tenryu, Randy Savage vs. George Takano, and Kitao vs. Tenta (not that one, the other one).