SWS Kumamoto City Gymnasium 10/30/91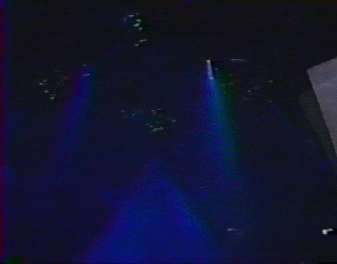 Kumamoto City Gymnasium
Kumamoto, Japan
Broadcast date: 24/11/91
Attendance: 3,450
Yoshihiro Asai is being allowed to finish his bookings for Universal because he was advertised for those shows. I love how not delivering what's on your posters is such a sin in Japan that even SWS is like "oh no it's cool, you can work those shows no problem." Apparently there's also some negative feedback from some wrestling fans because they're pissed that such a great wrestler is going to crappy SWS because it means that they'll have to watch it now, which is the greatest insult for this stupid company.
In even more encouraging news, SWS will be getting a weekly television show on Ch. 12 in Tokyo starting next April! All they need to do is survive until then.
…
Oh.
Pat Tanaka (WWF) vs. The Great Kabuki (Revolution)
Starting off cold with a Kabuki singles match, which is good news for fans of wrestlers lying around in basic holds getting their breath back. That takes up five minutes until Kabuki gets whipped into the guard-rails, taking the bump slower than I've ever seen anyone take it and that includes Abdullah The Butcher. Tanaka sinks in a STF which gives Kabuki a chance to hibernate. Kabuki wakes up in time for spring the finish, which sees him countering a Patera charge with a thrust kick and then a lariat. This was an eight minute match. Kabuki was as qualified to wrestle a singles match as he was to give advice to Kitao.
The Barbarian (WWF) vs. Kendo Nagasaki (Dojo Geki)
Thankfully this match is JIP. Kendo also enjoys applying holds to Barbarian but at least Barb wriggles around going "aaahh!!" and "oww!!" Barb gets sent into the guard-rails and nearly takes them out because he's built like a fridge-freezer combo. Barbarian big boots Kendo and finishes him with a top rope clothesline. Somehow these two managed to do even less then the previous match.
Bestia Salvaje (CMLL) & Masao Orihara (Revolution) vs. Tatsumi Kitahara (Revolution) & Yoshihiro Asai (SWS)
Asai's second appearance for SWS and it's going to be interesting seeing him with non-lucha guys. Bestia and Asai go through a slow feeling out process rather than go balls-to-the-walls like last time, maybe because they watched the previous matches and realised they didn't need to do much to overshadow them.
Kitahara jumps straight to being a dick by throwing kicks to Orihara before settling in for some bog-standard action. Finally the lucha guys kick it up a notch and start going through their delayed monkeys flips and you can tell from the crowd's reactions that this is what they've wanted to see. Kitahara and Bestia isn't anything worth typing about so Kitahara resumes being a fanny by suplex-dumping Orihara over the top rope to the outside in a brutal moment. Asai lands the ASAI MOONSAULT to the outside so Orihara naturally follows with THE 1991 SNOB WRESTLING AWARD WINNING MOVE THE ORIHARA MOONSAULT.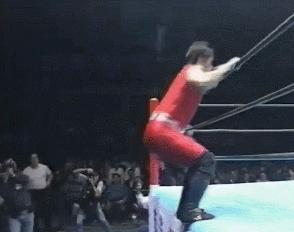 After Meltzer's finished re-painting his walls, Kitahara stretches Orihara in the crowd with a Boston Crab, as Asai locks in an Octopus Stretch in the ring to get the submission win. There was some fine action here but it felt very disjointed as it was literally two matches happening at once.
Paul Diamond (WWF) & The Warlord (WWF) vs. Naoki Sano (Palaestra) & Shunji Takano (Palaestra)
Those are two Jabroniville levels of weird pairings. We're JIP to Shunji Takano being unable to knock Warlord down. Add that to the list of things he can't do, along with "cardio." Sano gets isolated which isn't a good place to be as Paul Diamond is so tough that I hear JoJo Part4 was named after him. After shrugging off a piledriver, Sano lands a smooth dive onto big Paul. This somehow allows Shunji to get a tag and lay waste to Diamond, until Paul fenagles him into a Sunset Flip for two. Warlord tags in and he looks uncomfortable, still not really knowing when he's supposed to be selling and no-selling until a second after something's happened. Sano slams him, generating impressed "ooooos" and then the match meanders something chronic with Shunji having some awful communication issues with Diamond on an IRISH WHIP. Just run, you idiot. Takano lands a top rope dropkick to put this match in the recycling bin. Diamond and Sano had a stew going on until the Guys That SWS Had To Book ruined everything.
Undercard digest: Blah blah Don Arakawa blah blah some other stuff. Look, if you're not good enough for SWS' mid-card then you're not good enough for the Blog Of Doom.
Shinichi Nakano (Dojo Geki) & Yoshiaki Yatsu (Dojo Geki) vs. Ashura Hara (Revolution) & Samson Fuyuki (Revolution)
We're JIP to Samson taking a man-sized beating but the crowd aren't into him just yet. If Tenryu's taught us anything, the SWS crowds only start reacting for you when you're missing an eye and your lungs hanging out. Hara tags in and gets a bigger pop for a basic suplex than five minutes of sustained Samson abuse. Samson tags in, ignores a dropkick from Yatsu and lands a top rope crossbody and gets silence.
Yatsu distracts the ref while Nakano wails away on Hara in the corner which is a surprising spot to see in Japan. Hara bravely tags in Samson who gets no reaction for pasting the unlikable Nakano. Yatsu tries to use a chair so Samson knocks him off the apron, leaving Nakano able to use the chair on Samson instead…directly in front of the ref who has to ignore it and count the pin. Crowd aren't impressed with that. Brutal finish to a match that looked better on paper than in reality.
King Haku (WWF) vs. Takashi Ishikawa (Revolution)
This match may steal the show by simply being announced. And of course we're JIP and of course we join the action in the middle of a Haku chinlock. Ishikawa escapes but Haku catches him like an excited puppy greeting his owner after a long day at work before dunking him with a Manhattan Drop. Haku follows that by holding Ishikawa up for a long Atomic Drop, like that Bob Backlund/Ernie Ladd match this blog brings up all the time. Haku misses a stomp which sets up Ishikawa working on his foot with chairs and guard-rails. Haku is in so much pain he has to stretch it on the outside for a bit and tries to avoid Ishikawa's offence, so the man who looks twice his age sails over the top rope to meet the King on the outside. Ishikawa gets dumped outside by hobbling Haku, with Haku trying to keep his opponent downed so he can't hurt his foot anymore. It's not often you see Haku wrestling like this but it's working for him. Both men start exchanging meaty meaty slaps and headbutts with neither getting anywhere, until Ishikawa charges directly into a thrust kick and gets slammed for the win. Good solid stuff here from two tough big lads, with Haku's selling standing out like Worf when he has to look after Data's cat.
Genichiro Tenryu (Revolution) vs. George Takano (Palaestra)
To call Takano's reaction " polite" is to be polite. He's grown a Vince McMahon style moustache which isn't helping. Tenryu keeps getting slapped and knocked down early on, allowing Takano to land a freakish Frankensteiner for two. Takano wrestles like one of those huskies that still thinks it's a puppy. Takano continues slapping away as Tenryu stays on defence mode to make the fans think Takano has a chance. Takano gains some believers with a Mike Awesome style big man dive over the ropes!
Takano again continues to batter Tenryu until he flubs a Victory Roll and Tenryu gets two seconds of offence out of anger. Takano locks in an armbar to get things back on track with Tenryu again taking a kicking. Jesus that's been the whole match so far. Tenryu launches a chair at Takano to finally reverse the tide and land a Blind Elbow and Lariat. But Takano responds with a top rope crossbody off the top to the outside which gets some worried noises from the crowd, as does Takano's counter of Tenryu's Dirty Powerbomb back inside the ring but a quick lariat and proper powerbomb finishes a weird match. If you're a Takano fan then this match ruled but for a Tenryu match and a main event, this was weak. Takano's move-set and delivery of said moves was fine but with Tenryu doing nothing in return, it didn't make Takano look strong it instead made Tenryu look like he couldn't be arsed. And if he couldn't, then why should we?
Overall: Probably the worst SWS show (so far). Crap wrestlers that SWS has to use because they don't have anyone better, Asai still recovering from his previous match and finally Tenryu not being bothered.
Skip this show like a Conrad Thompson dickpill advert.