SWS Fukuoka Kokusai Centre 10/29/91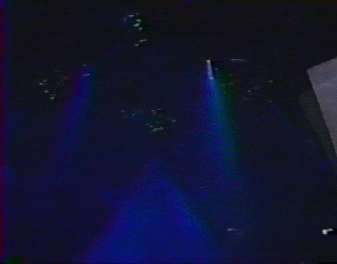 Fukuoka International Centre
Sapporo, Hokkaido, Japan
Broadcast date: 17/11/91
Attendance: 6,870
Even though he denied it a few weeks ago, it turns out with Yoshihiro Asai deciding to jump from the UWA to the EMLL in Mexico and with EMLL signing a talent exchange contract with SWS, that indeed Asai will be leaving Universal for SWS. Asai is apparently making nine times (gif of that nonce from Ferris Bueller) what he was making in UWA so it wasn't something he could turn down. He wasn't able to properly debut there due to a TV strike affecting broadcasts but everything seems OK for his wrestling in Japan (apart from with Universal, who really aren't happy with losing their biggest draw).
Genichiro Tenryu and Great Kabuki were in the U.S. this week with Kabuki making a trip to Mexico to get Asai's signature, and Tenryu popped in to see the WWF at the Philadelphia Spectrum to accompany his old NWA Six-Man Champ buddies The Legion Of Doom to the ring for their title defence against The Natural Disasters. There's no footage of that so you'll have to take historyofwwe's word for it.
The week prior to this SWS show, PWFG sold out Korakuen Hall for an event featuring Ken Shamrock submitting Beef Wellington (the M-Pro one), a 30 minute Jerry Flynn draw, and Masakatsu Funaki beat Kazuo Takahashi so badly that…Funaki's not on this show as a result? Man, fuck PWFG and it's continued success.
Pat Tanaka (WWF) & Paul Diamond (WWF) vs. Masao Orihara (Revolution) & Naoki Sano (Palaestra)
Hey The Orient Express/Badd Company/two dudes WWF weren't using right now ride again. We're JIP to Sano getting the hot tag to Orihara who goes through a smooth exchange with the much, much bigger Diamond. I had no idea he was that frigging huge until he came to SWS. He's such a big diamond I'm surprised David Niven hasn't tried stealing him. Orihara dropkicks him outside and lands THE DAVE MELTZER HOLDS HIS MIC WAY TOO CLOSE TO HIS MOUTH DURING HIS PODCAST AND NO-ONE'S TOLD HIM AND IT SOUNDS LIKE MY HEAD IS COMPRESSING LIKE IN THE FILM SCANNERS MOVE OF THE YEAR 1991.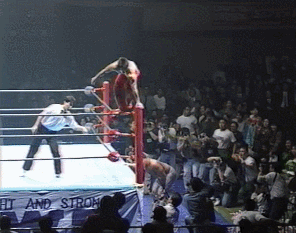 He naturally misses a follow up splash so Tanaka lands his pump kick which Orihara kicks-up and ignores to tag in Sano who gets sandbagged so Sano DDTs him off the second rope instead. Diamond kicks out easily so Sano Mexican Surfboards the bigger guy just because he could. Orihara tags in and immediately takes the AWA Special for old-times sake, so Sano takes Tanaka outside leaving Diamond to Reverse Suplex Orihara for the win. Way too disjointed and clipped to mean anything great but the spots were nice to look at. This'd be Tanaka & Diamond's last WWF related match before their last stand at Rumble 1992.
Tatsumi Kitahara (Revolution) vs. Akira Katayama (Palaestra)
Akira is in a mood and attacks Kitahara before he can remove his shirt and smashes him into the guard-rail. The bell politely rings when Akira throws him back inside and immediately chokes him with his own shirt. Kitahara lariats Akira in response before suplexing him on the ramp. When he limps back to the ring, Kitahara is ready to throw some of those sweet kicks of his before sticking his opponent with a Ganso Bomb (!). Akira resorts to ankle picks to slow Kitahara down which works until Kitahara escapes and kicks Akira directly in the bastard face, causing him to bleed from the mouth. Kitahara and Akira exchange ankle locks allowing Akira to grit his teeth and bleed everywhere and guarantee Scott Keith would lose ad-rev if I took a screenshot. Akira persists and lands his dive through the ropes but can't put Kickahara away no matter what he throws at him until he walks right into a Bridging German Suplex to lose. Sweet, heated match between two really promising guys who didn't reach the high levels for sad reasons.
Bestia Salvaje (EMLL) vs. Yoshihiro Asai (Fuck Universal)
It's the debut of not-leaving-universal-stop-asking-me Yoshihiro Asai, adding some much needed excitement to the SWS midcard. This tour would be his last appearance before transforming into Ultimo Dragon. He kickstarts things with a few jumping spin kicks so his move-set is exactly the same as Dragon. I know this is an obvious thing to say, but just in case anyone thought he'd be a completely different wrestler a week before changing his attire. Delayed monkey flip gets a lovely pop, as does a variety of headscissors as the crowd is loving him. Asai lands a giant crossbody to the outside, hurting his ankle in the process. That would be the most SWS thing possible if Asai hurt himself instantly in his big debut. I think he's just selling to let poor Bestia get *something* as Asai is busting out everything in his debut. A crossbody off the top transitions smoothly into a handspring elbow as the crowd have waited until this match to use their noise points. Another jumping back kick sends Bestia outside, the swing in the rope tease sets up THE ASAI MOONSAULT.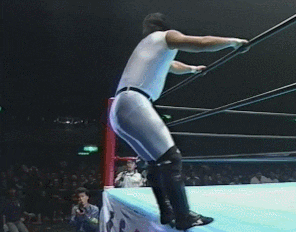 Bestia gets La Magistral for a close two which I swear was Asai's token move due to all the moves he won with it. Bestia gets his own top rope crossbody to the outside but no-one cares cos the only thing he's DRAGON is this match out. Victory Roll gets countered into a near-fall with Bestia landing a Powerbomb and a back senton for nothing. A cool looking neck submission can't slow Asai down who wriggles out, lands an inside-the-ring Asai Moonsault and ends it with a Bridging German Suplex. Hell of a debut with the crowd absolutely loving Asai's super-smooth lucha-based offence. Even SWS couldn't bugger this up!
King Haku (WWF) & Shinichi Nakano (Dojo Geki) vs. Samson Fuyuki (Revolution) & Takashi Ishikawa (Revolution)
We're cruelly JIP to Nakano getting bodied by Ishikawa. Ishikawa locks in the sharpshooter and Haku tries to stop him, which Ishikawa stupidly decides to deal with by absorbing the blows until he dies so hard he confuses the universe and comes back to life. Fuyuki decides he's over enough after the last show to deal with Haku and OH WOW he is, with his fat spin kick somehow knocking him over. Ishikawa gets tagged in and we somehow get the second rope DDT of the show as Haku is only selling for the good stuff I guess. Haku takes some more offence before capturing Fuyuki off a second rope dive and slamming him to end the match. Ehhhhhh. Samson's a long way to looking credible and this didn't do anything to help.
Midcard Digest: Don does the exact same match he always does and a Shunji Takano match gets digested into ten seconds.
The Barbarian (WWF) vs. George Takano (Palaestra)
We're JIP which is probably for the best. We join the match in a chinlock though, not sure the logic there. Barb gets one kick then goes to another one. Barb gets a few more shots before George powers up and German Suplexes him for two. George uses his freak strength and agility to get a pleasant Victory Roll to end a match they only aired because they had to.
The Warlord (WWF) vs. Ashura Hara (Revolution)
We get the rare singles entrance for Hara so we get the stunning reveal of Dreams by Van Halen as his theme music, something I was not ready for.
Hara repeatedly lariats Warlord to begin and I guess Warlord was thinking "oh the story of the match is going to be your inability to knock me down, right?" until Hara keeps on hitting him as hard as he can until he has to fall down. Warlord then messes up a leapfrog to the crowd's annoyance but they repeat the spot just dandy. Warlord ploddingly stomps away on Hara like it's an episode of Superstars until Hara wakes up and delivers a series of backdrops. Haku kicks Hara on the outside so Hara starts ignoring Warlord's inability to work a Japanese singles match and goes after Haku, who responds by running in and causing a DQ which is for the best. Kabuki waddles in to stop a beatdown but he's 7,000 years old and is taken down instantly by KingLord who walk away looking like bad-asses in the highlight of a worthless encounter.
Genichiro Tenryu (Revolution) vs. Yoshiaki Yatsu (Dojo Geki)
The first and last time these two square off in a singles match in SWS, so it's a tense opener with both men waiting for the right time to go off, finally culminating in Tenryu lariating Yatsu and then Yatsu lariating Tenryu in response. Both men gently headlock the other as they're in no rush to start firing first. Tenryu's scoopslam is converted into a small package, allowing Yatsu to land the Dirty Powerbomb for two. Tenryu instantly recovers with an enziguri so Yatsu lands two of his own. This is starting to feel like Rock/Cena II. Yatsu uses a closed fist so the ref goes to check on him, but Yatsu knows the only cure is another enziguri before pounding him in the corner like Gerry Cooney vs Ken Norton. Yatsu continues his assault as Tenryu is great at the start of absorbing a beating and only make a comeback when the crowd is at their ripest. Or not as Tenryu half-arses a few takedowns before getting an Octopus Stretch. Yatsu weasels out before getting even more bloody enziguris. However, Tenryu attempts to handcuff Yatsu who has none of it and lands a German for two and now the crowd is reacting. Tenryu absorbs another Dirty Powerbomb for two but misses a Yatsu top-rope elbow allowing him land yet another enziguri and NOW Tenryu's feeling it as he slaps Yatsu around like he's Kitao messing up an irish whip before ending this with Dirty Powerbomb # 4. This…was OK, with the first half of the match feeling like they were going through the motions to build tension for the comeback. Except the comeback was filled with exactly the same move-set so it was only when Tenryu woke up in the last few minutes that this meant anything.
Overall: After the show, WOWOW airs a preview for Damiani vs. Holyfield which didn't end up happening as Damiani injured his foot so we got the Cooper vs. Holyfield barnburner instead.
My summary of the show is watch the Asai and Akira matches, skip everything else then watch Holyfield vs. Cooper.