Super World Sports – The Battle Hall V 10/03/91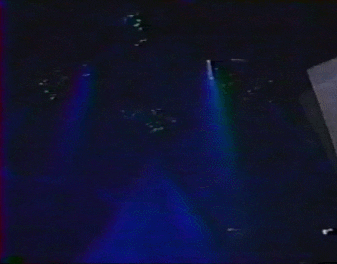 Tokyo, Japan
Korakuen Hall
Attendance: 2,369
PWFG Battle Of The Lions' drew 2,020 to the Hakata Starlanes (a bowling alley? Now featuring two types of strikes!) to see SWS lad Naoki Sano submit Bart Vale with a Single Crab to the crowd's delight.
Riki Choshu publicly met up with Genichiro Tenryu and two of them made it onto the front cover of Gong Magazine together, which had people wondering if this meant Tenryu would show up to the big NJPW January Dome Show… uhhh despite Tenryu having his own Dome Show in December. And you thought journalists on Twitter were bad for hearing hooves and thinking "oh shit, zebras!!!"
There's an early report emerging that with Yoshihiro Asai jumping from Mexico's UWA to EMLL, that he'd be leaving Universal Lucha Libre for SWS. But that can't be right as he denied it last time he was asked so shut up OK?
Slow news week so let's get to the SWS-ness.
This is the second of (I think) two commercial VHS releases put out by SWS so we get clips of the wrestlers selling merch before the show. Not shown are all the fans asking "hey, why do these 1992 calendars only go up to June?"
Hikaru Kawabata (Revolution) & Nobukazu Hirai (Revolution) vs. Hiroshi Hatanaka (Dojo Geki) & Tetsuya Yamanaka (SWS)
Cut to hell and is more like D-Von Dudley's forehead than a match. Hatanaka wins with a top rope legdrop.
Apollo Sugawara (SWS) & Don Arakawa (Palaestra) vs. Fumihiro Niikura (SWS) & Goro Tsurumi (Dojo Geki)
We're JIP to Don being Don and overshadowing everything in the match. Niikura tries to work shoot-style with Apollo who sells so bad I'm amazed they included it, reacting like he smelled a bad fart in a lift. Don tires himself out on an airplane spin then Goro pins him after an elbow. Thanks for breaking a sweat there lads.
Kendo Nagasaki (Dojo Geki) & The Great Kabuki (Revolution) vs. Akira Katayama (Palaestra) & Shinichi Nakano (Dojo Geki)
Akira is really motivated and dives through the ropes to a miserable Kendo who retaliates with chairshots like he always does. Nakano tries to out-slap Kabuki which goes as well as Anjo fighting a Gracie. We get a load of clipping and then Kendo blocks a German Suplex with an armbar in a nice spot before Kendo and Kabuki spike piledriver him for the win. Too clipped to mean anything.
Kenichi Oya (Palaestra) vs. Masao Orihara (Revolution)
WE'RE GETTING THIS MATCH AGAIN? Christ, CM Punk and Elijah Burke didn't have this many average matches together. At least the crowd is into it, popping for the opening feeling out process and Orihara's crossbody to the outside. It can't last as Oya locks in his "would have got him booed out the building on any Shooto show" mat holds that kill time until Orihara escapes and locks in his own holds. I've nothing against submission or mat-based wrestling but Oya is so fond of locking in these holds and not doing anything else, just sitting there while both men relax. Orihara escapes so Oya punches him in the balls. Oya tries to use a chair on the outside but Orihara dunks him then tries a crossbody but Oya declines to catch him so poor Orihara splats over the guard-rail. Big Oof. Orihara gets the ropes to escape a single crab before dropkicking him to the outside and following with THE WRESTLING OBSERVER MOST DANGEROUS MOVE YOU SHOULDN'T DO IN 1991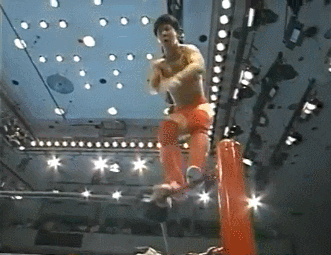 Orihara follows with a top rope splash which misses and the crowd is making a ton of noise now for his kick-outs. Oya superplexes Orihara and he has the audacity to kick out at ONE. An angry Oya drops him with a vicious backdrop before picking him up at two to unleash another one to uhh pin him.
Crowd was really into the idea of Orihara winning here, but he's already done that months ago and the match was virtually identical to their other matches so I'm sorry I didn't share their enthusiasm. Match was fine if you haven't seen any of the other in their Best Of ∞ Series.
Naoki Sano (PWFG) vs. Tatsumi Kitahara (Revolution)
Kitahara has been impressing with his kick-based offence and Sano is amazing so this has promise. Both men start throwing kicks to feel each other out before Kitahara gets a German Suplex less than thirty seconds in. Kitahara kontinues the offence with a superplex before taking him on a tour of the guard-rails. Sano changes things with a dive through the ropes before slowing things down to Oya levels of nothing with a chinlock. Then another. Kitahara finally wakes up and grabs the ropes to get both men vertical again which leads Sano to…locking in a Boston Crab to chill for a bit. He escapes (after Sano just stopped trying) and Kitahara lands a big kick to go back to the proper wrestling again, hopefully? Sano Sunset Flips for two before nearly getting a Frankensteiner roll-up for another near-fall. Sano ducks a big kick before setting up a Dragon Suplex…directly onto his own poor face as Kitahara's fat arse lands on it, with a messy roll-up getting a very sad ending.
There's a fair amount of boos from the crowd following that, a perfect summary to a disappointing match. Those six-man tag matches really made guys like Kitahara look like world-beaters but it's all been downhill once they started wrestling singles matches and have had such a miserable time filling the bits in between the cool spots. Would make a good music video I guess.
King Haku (Dojo Geki) & Yoshiaki Yatsu (Dojo Geki) vs. George Takano (Palaestra) & Shunji Takano (Palaestra)
Both teams gets the same entrance music and I have no idea why or why they couldn't fix it for the VHS release. This was set up by the chaos from last month's show so the Takanos take it to the bigger lads outside the ring before the match properly starts. This means Shunji starts off pounding away on Yatsu which is not what any sane individual wants to see. So of course we see it for bloody ages as Yatsu gets sent into the guard-rails and continues to let both The Good Takano and The Bad Takano work him over. Yatsu and George mis-time a side suplex to mild laughter from the crowd as Haku enters the ring to reminds everybody to shut the fuck up when he's around. George gets a Missile Dropkick before Yatsu dodges a spin-kick and finally tags in Haku to a hero's welcome, before the Takanos double dropkick him to instantly cut off his momentum. Haku then takes Yatsu's place absorbing all of the Takanos' moves as I wonder what's up with this match. Haku has to tag out to Yatsu to come in and get the first bit of offence on the Takanos by breaking a chair over his head. Takano grabs the bottom rope to break the hold so Haku stomps his hand from the apron. That was cute. Haku lands a spectacular piledriver that Shunji has to break up to big boos. The Natural Powers were heel but everything in this match is saying otherwise. Yatsu bodies George some more with Shunji getting a more negative response the longer this goes on. Glad the crowd are realising he's as useless as Worf in Next Generation whenever a new character shows up. Haku blocks a Sunset Flip with a chop, a kick and finally a spit and the crowd loves it. Haku's too likable to boo. Shunji gets the tag and connects with his top rope knee drop on Haku but doesn't go for the pin because he's crap and dumb, so Haku heads outside for a breather leading to the massive George diving over the ropes and splatting both of them. Shunji lands a top rope dropkick but they've had enough and The Natural Powers land a powerbomb/elbow slice combo with George bravely saving his dumb brother. So George takes the same double team to send him rolling outside, with The Naturals hitting the same double team yet again on Shunji to end it.
Took forever and a day to get going and was very weirdly paced for clearly defined face/heel teams but at least the last few minutes were very decent.
Genichiro Tenryu (Revolution) & Takashi Ishikawa (Revolution) vs. Ashura Hara (Revolution) & Samson Fuyuki (Revolution)
This would be Hara vs. Tenryu for the first time since Hara's comeback. Ishikawa and Samson start off with the bigger, fatter lad effortlessly blocking Samson's kicks disrespectfully before both of them try to out-work the other by running around before both men tag out to their Dads. Crowd's finally happy to have something good to eat. Tenryu lariats Hara as soon as he enters the ring so Hara powerbombs him immediately afterwards. Both men then trade shots in the middle of the ring with neither man conceding an inch. They both fly out to their respective corners so we get Samson and Ishikawa again, with Samson deciding to take a piledriver on the exposed concrete floor. Tenryu tags in to treat his Samson like a Young Boy and kick him directly in the face. Look, it's always harsh when Tenryu would do that but that doesn't stop it from being really cool. Samson dares to get a German Suplex onto Tenryu, leading Hara to tag in and lariat Tenryu into an Ishikawa tag. Hara dares Ishikawa to hit him, with nothing doing any damage so Hara lariats the oldness right out of him. Ishikawa dives over the ropes and onto Samson before everyone comes in for a bit of fat man slap. Hara and Ishikawa exchange headbutts until Tenryu comes back in and enziguris around the ring like a mad un. Tenryu's Blind Elbow doesn't put Hara away but Samson stops Tenryu from ending him with a clothesline and another German as the crowd makes impressed noises. "Wow that guy with auntie hair is attacking Tenryu!" Hara smashes Tenryu off the apron and into the guard-rail. Tenryu tries to relax on the hard table on the guard-rail but Samson splashes from the apron like a bairn jumping into a ball-pit.
Tenryu is dragged back in to take a Hara brainbuster before blocking a Fuyuki crucifix, which leaves him wide open for a Hara headbutt. OK that looked great. Crowd starts chanting "FU-YU-KI" for that clever tag teaming. Tenryu & Ishikawa don't appreciate that and keep kicking him, which means the pops only get louder as he kicks out of the Blind Elbow. Fuyuki blocks Tenryu's powerbomb and crowd fucking explodes. So Tenryu pauses, has a think then does it anyway to win the match on a slightly awkward fashion.
Wonderful scrap here with the crowd finally getting behind Fuyuki so Tenryu can stop paying air-fare for the likes of Valentine and Brawler. I don't ask for much, just old fat lads slapping one another until the beer-sweat flies off.
Overall: Main event ruled and delivered all the hard-hitting action we've come to expect from SWS.
Undercard sucked and delivered all the Crap, Clipped and Could Have Been Better we've come to expect from SWS.
Ultimo Dragon can't show up quick enough.
I've been Maffew and I am neither STRAIGHT nor STRONG or OLD and FAT