Super World Sports – Toyama City Gymnasium 09/17/91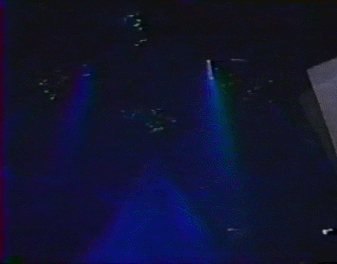 Toyama, Toyama City Gymnasium
Miyagi Prefectural Sports Center
Attendance: 3,130
It's the day after the previous show so there's no news, let's jump to the dodgy wrestling instead.

Kendo Nagasaki & The Great Kabuki vs. Samson Fuyuki & Shinichi Nakano
JIP to Samson getting worked over and yelling "ARGHHHH" to little reaction. Fuyuki's been forgiven for joining SWS but that doesn't mean the crowd is ready to cheer him just yet. Kendo batters him with chairs on the outside but the crowd is like "wow Japanese chairs are more cool-looking than American ones." Nakano gets the hot tag and thankfully Kendo & Kabuki sell his Enziguris better than Tenryu. Samson tags in to ruin his hard work by getting knackered by Kabuki's lariats before Nakano takes out Kendo to distract Samson into crucifixing Kabuki for a mild upset I guess. Eh. Samson's like Raid: Shadow Legends, no-one's buying it.
Kenichi Oya vs. Akira Katayama
We're not JIP which will mean plenty of Oya's trademark 'nothing' to skim through. Akira slaps Oya to motivate him to be not-rubbish, so Oya tries to retaliate but gets another slap for his troubles. Oya slams Akira on the outside to make up for the embarrassment but Akira lands a leaping lovely armdrag. This guy was really promising and AH OF COURSE as soon as I type that he buggers up a headscissors. My vote of confidence was all he needed. Oya and Akira manage to get the crowd into it by fighting over sleepers as suddenly Oya is presented with the challenge of someone who is eager to prove he can fill his time well. Oya synchs in a single crab but Akira actually fights out of it rather than lie down thinking about what he's having for tea tonight. More submissions are exchanged and fought out of and I'm so glad Oya is being dragged out of his comfort zone like this. Oya dunks Akira on his head with a vicious backdrop but he lands a Tope Con Howdy and a top rope crossbody as despite his effort, crowd don't give a damn. Oya has the audacity to kick out of the KATAYAMA GERMAN with Oya recovering to land a lariat and another backdrop to end it. A fine effort from Katayama despite the crowd not caring.
Tatsumi Kitahara vs. Masao Orihara
Crowd applauds the opening hand-shake, so we've found something they appreciate. Orihara wastes no time nailing Kitahara with a dive over the ropes and THE ORIHARA MOONSAULT off the second rope and thus technically an Asai version. Wow, he's opening matches with that move now? It's like Europe opening with Final Countdown. Kitahara shrugs it off to start stretching Orihara with holds for the sake of holds because Oya didn't get enough and there's a quota to fill. This carries on for a while as I think Orihara is regretting starting off with his biggest moves because now what has he got except Kitahara attacking him endlessly? Orihara after several minutes escapes and manages to stick to leg-based holds to at least keep his attacks focused. Kitahara escapes and suplexes Orihara out of the ring before dragging his empty body and suplexes him again on the WCW-style ramp. Orihara sucks it up and dropkicks Kitahara out the ring to land the ORIHARA MOONSAULT OFF THE TOP ROPE PROPERLY THIS TIME.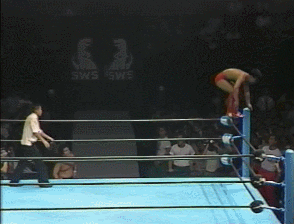 Orihara gets taken down but then decides to crucifix Kithara for a very near-fall and the crowd is reacting for him now, but I can't tell if it's for sympathy or not. Kitahara simply double-arm overhead belly-to-belly suplexes Orihara and it sucks it got the win because I can't remember the proper name for it and it's in the THQ WWF games. Ah well. Match was alright but Orihara's bloom has gone now his matches are just ORIHARA MOONSAULT something something ORIHARA MOONSAULT something GET PINNED.
Greg Valentine (WWF) vs. Fumihiro Niikura (Viet Cong Express)
Crowd pops for Greg but it may have been sarcastic due to how fucked he looks. I swear he looked better in 1997 doing squashes on Nitro than he does here.
I think we're JIP as I was too busy googling better pictures of Greg Valentine to pay attention to the start but Greg is already exhaling very loudly and he is hilariously loud due to the crowd being so quiet. So Greg elbows and clobbers Niikura around the ring and all you can hear is him breathing in and out. My Grandad used to breath like that and I told him one day when I was a kid that I knew he was entering the room I was in before I saw him because he "sounded like Darth Vader." He then let me know he only had one lung and I guess my family assumed someone else had already informed me and so let me insult my poor old racist Grandad like that. Greg continues his meandering ways before landing two elbows then comically charging up a third one to end the match to zero reaction as poor Valentine looks deflated. I mean, judging by the noises he was making the entire match he technically was.
Hey Judas Priest, who do you think the worst WWF guy sent over was?
Thanks guys.
Davey Boy Smith vs. Takashi Ishikawa
Ishikawa lands a backdrop as we're JIP before taking Bulldog down with a dropkick and then somehow follows with a crazy over-the-top rope dive onto Davey. What the hell? Ishikawa delivers a piledriver onto Bulldog (with the camera showing half the crowd running up front to see it) but Bulldog catches him with a rear chinlock to slow the crazy old man down. Davey lands the delayed suplex to a very impressed crowd reaction. Davey continues to wear down Ishikawa who before finding himself in a single crab, which he escapes then lands a top rope clothesline to finish in an undramatic fashion. Oh you can land the Running Powerslam on Warlord but not Ishikawa? I'd take that as a compliment if I was Ishikawa. Match was nothing but Davey got a good reaction.
We get a midcard highlight package showing nothing of note (Shunji Takano).
King Haku & Yoshiaki Yatsu vs. George Takano & Naoki Sano
Oh this could be sweet. We're JIP to George and his new 'tache suplexing Yatsu before Haku tags in to start the beatdown of poor Georgie. Haku lands a delicious looking sit-out powerbomb but Sano keeps making the save. Sano tags in after George insists on running into clotheslines from Yatsu, with Sano showing off ALL his skills. Frankensteiner! Backflip! German Suplex! Submit people for real in PWFG! He can do it all! George takes out Yatsu to act like he's helping before Sano does the same but better, allowing George to splash Haku with his fucking knees across his head, causing him to worry he's about to lose an eye but luckily one of the hardest wrestlers in history doesn't seem to notice and carries on scaring Sano (who George quickly tagged in). Yatsu and Haku land a powerbomb/neckbreaker on Sano but the pair of them get sick of the ref trying to get them to stop double-teaming so they throw the ref out and take out George with it instead, followed by giving one to Samson for good measure too. Match was disappointing considering who was in it but if it's the start of a Sano/Takano/Samson feud with the Natural Powers then I'll forgive it.
Ashura Hara & Genichiro Tenryu vs. Demolition (WWF)
Crush & Smash's last televised appearance together (they'd team up for a non-televised match for the final time tomorrow) and Demolition's last time in front of anything resembling a mainstream audience.
Everyone rightly loves the Ax/Smash version more but Crush works way better in Japan. Big painted gaijin that slams people? HELL YEAH. Crush proves my point by tossing Tenryu about and yelling at the crowd who tell him "BOOOOO". Tenryu doesn't let that go on too long before chopping both Demos, who respond by throwing chairs into the ring, with the Revolution lads throwing them immediately back out. Hara and Smash go at it with Smash getting maybe the pop of the night with his "tries to block a Sunset Flip with a punch but misses and hits the match" spot. Darsow assaults Tenryu off the apron instead but Tenryu follows him into the ring and chops the pleather right off his gear. Hara tags in and conserves his energy on Darsow by using only level 1 spells before Tenryu tags in to take a bearhug from Crush as this slows down from the already-slow pace. Crush tries to cheat behind the referee's back but he gets spotted and plays with Tenryu's hair instead. And that doesn't get a response. Well if the crowd aren't going to make an effort then why should these guys? Soon as I type that, Demolition steal The Smoking Gunns' old backdrop-into-a-piledriver combo: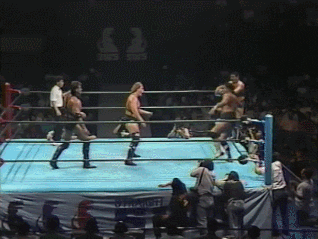 Tenryu isn't AC Connor or Tony DeVito so he tags in Hara who lariats Smash to end this. The cameras do their best to not show the rubbish being thrown in the ring as Tenryu very angrily storms out and through the crowd AND THAT'S ALL FOLKS.
Overall: Preston City Wrestling used to run these SuperShow Of Honor mega events with a long weekend of shows. As well as Friday Night and Saturday Night shows, they'd feature a Sunday Morning show known as The Hangover Show with every wrestler looking absolutely thrilled to be there because the only thing to do in Preston on a Saturday night is White Lightning and women who look like Terry Gordy. I hadn't thought about those Hangover Shows for a while but this event with an Oya singles match being the highlight brought all those memories back. Skip this one.