Super World Sports – Return To Fukui Fukui-Shi Taiikukan 09/16/91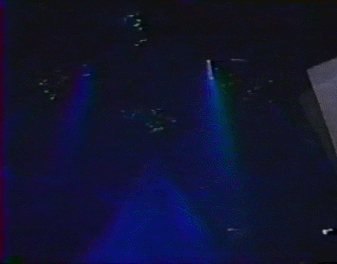 There's no Sano on this show and he wasn't at the latest PWFG show either, which featured another
legit shoot between Minoru Suzuki and Lawi Napataya
which out-drew this SWS show with a crowd of 5,240. I guess he needed a rest from carrying the undercard.
UWF-i (now funded by SWS' money backers) also out-drew this show with the
debut of GARY FUCKING ALBRIGHT
who destroyed Yoji Anjo quicker than an angry Gracie with a machete.
After Universal's 09/12 show, Yoshihiro Asai responded to rumours of him signing with SWS as "false" and insisted he's staying with Universal.
On a completely unrelated note, SWS announced they're creating a tournament for the brand new WWF junior heavyweight title. But there's not a lot of juniors running around so I wonder how they'll deal with this issue? Meltzer ruthlessly predicts that Randy Savage could potentially enter.
Davey Boy Smith (WWF) vs. Samson Fuyuki (Revolution)
Bulldog's SWS debut and he gets a healthy reaction from his reputation alone. He was only teaming with Dynamite Kid and Johnny Smith in AJPW last year so you'd hope they'd remember him. Bulldog powers out of a Full Nelson and flexes to the delight of the crowd. Fuyuki lands his finisher The Ass Slam for two but Bulldog kicks out dramatically and press slams the half-man half Chosu-tribute-act. Samson gets locked in a Mexican Surfboard and tries his best to get sympathy but the crowd is 100% behind the Roidy Magoo and his delayed suplexes. Samson whips Dog into the guard-rails but he's having none of that and effortlessly monkey flips Samson before stuffing him with a beautiful piledriver. Samson gets a brief volley but Bulldog uses his crack strength to catch him on a crossbody and land the Running Powerslam to end a milky squash.
Tatsumi Kitahara (Revolution) vs. Kenichi Oya (Palaestra)
Oya has grown his hair and beard out but I can't say it's doing him any favours. His scruffy features sadly haven't improved his singles matches as he drags this out with his holds-for-the-sake-of-holds until Kitahara kicks him and starts doing the exact same type of thing back to him. Eventually Kitahara lands a lariat but makes the mistake of trying for another with Oya seeing it coming and converting it into an armbar. It doesn't get the pin so moves are exchanged before Kitahara lands a bridging German Suplex to end it. I had to re-read this to make sure I hadn't missed anything, but Oya's matches are so much better when JIP because there's NOTHING going on until he gets to the final furlongs.
Naoki Sano (PWFG) vs. Masao Orihara (Revolution)
Orihara looks like a kid next to Sano the walking lunchbox. He's able to use his quickness to get the advantage to begin with, complete with some sweet lucha armdrag variants that he hasn't had the chance to bust out before and ends with a crossbody to the outside. Sano responds by spin kicking Orihara so hard in the face that there's a noticeable "oooow" from the crowd. Sano stretches Orihara but unlike Oya's bore-fest the holds are at least impressive to look at and the crowd is invested in Orihara winning. For example, Sano flexes a Mexican Surfboard into a Rear Choke just because he can. Orihara is forced to fire out THE WRESTLING OBSERVER MOVE OF THE YEAR 1991 THE ORIHARA MOONSAULT.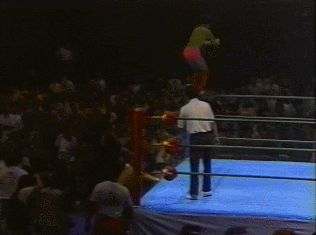 Orihara gets a two from a top rope splash so Sano responds with some PWFG style kicks to the fucking face to generate a standing eight count. Sano keeps up the abuse and double stomps his scrawny opponent off the top rope but he keeps kicking out and the crowd are going nuts now. A giant German (Ulf Hermann) can't stop him but a second giant German (Otto Wanz) does. Nice little match here with Sano sticking to the light heavyweight style but also not being afraid to kick like a bastard if need be. Orihara is getting lovely crowd responses while dying so I'm going to start calling him Mussolini.
We get a highlight package of the undercard with future NOAH/BJPW lad Kishin Kawabata making his pro debut as Hikaru Kawabata. There's a major error here though as they're supposed to be showing highlights but Goro Tsurumi is still visible.
George Takano (Palaestra) & Shunji Takano (Palaestra) vs. Demolition (WWF)
The penultimate appearance of the Smash/Crush version of Demolition. The Smash/Ax version is obviously better but it has to be said that Crush has been the better of the two during this SWS stint. Smash doesn't appreciate the loud "GEORGIE" chants so he launches Georgie half-way across the ring. Crush gets his impressive backbreaker into a whatever-he-wants on Shunji. Speaking of George's crap brother, I found this while reading the Wrestling Observer Flashbacks:
"In Oregon, Super Ninja (Shunji Takano) was arrested and tried for hitting a fan with his nunchakus in July, and was so committed to the gimmick that he showed up in court still wearing his mask. Didn't help as he was found guilty and sentenced to $250 and community service."
No wonder he's useless, he's had years of experience. Shunji lands a terrible side suplex that wouldn't have woken up a sleeping toddler so Crush slams him around, looking like Billy Robinson by comparison. Demolition isolate George and batter him in the corner with more slams. The match slows way down with Crush locking in a body scissors and yelling "RAR ARA ARRAA" until the crowd takes the hint and starts chanting for their lad Georgie. At least Crush gets the concept of being Big and American even if he's not smooth, Smash sticks with WWF style regardless of the situation. Shunji tags in and gets no reaction landing lariats so George has to help him throw double dropkicks to get a pop. Shunji lands the top rope knee drop on Smash but Crush interferes and press slams George to the outside, allowing the Demos to land the Demolition Decapitation for the three count and no response. Looked promising with Demolition on offence but stopped dead in it's tracks when Demolition were on defence.
Greg Valentine (WWF), King Haku (WWF) & Yoshiaki Yatsu (Dojo Geki) vs. Ashura Hara (Revolution), Genichiro Tenryu (Revolution) & Takashi Ishikawa (Revolution)
Crowd are thrilled to see Hara back. Like last time, he starts off with Haku and both men no-sell each other's headbutts until Ishikawa tags in and nearly gets pinned after a slam, so it's time for Tenryu to tag in and this crowd is thrilled to see the hometown lad come home. SWS should have stayed in Fukui and never left. Haku nearly takes The President's head off like it's 1963 so now seems a good time for Old Greg to tag in and somehow look older than all of Tenryu's team combined. No pop for him but maybe the crowd needs fifteen minutes to think about it. Haku beats up Ishikawa for a bit but Hara tags in to take more of the same because he's such a friend. Haku tries cheating so Tenryu dives off the apron and it all falls apart with the Dojo lads smashing chairs over Tenryu, with Hara jumping on him to save him from offence. Greg locks the Figure Four on Hara as he takes more punishment than the burglars in Home Alone. The Hammer chops him in the corner until Hara is able to get the tag to Ishikawa who gets the tag to Tenryu who…runs in gets immediately German Suplexed by Yatsu. Tenryu got so good at playing with the audience's reactions, it's really impressive seeing him play with their heart-strings. Greg chops Tenryu around but begs off Hara when he gets the hot tag, desperate for any reaction. Even the Greg Flop gets nothing. Ishikawa DDTs Yatsu off the top but he's still awake to kick out of a Tenryu Dirty Powerbomb. Haku splashes Hara and while the ref is arguing with Tenryu, The Natural Powers deliver a lovely powerbomb/neckbreaker combo. But it's not the finish as Greg lands some elbows before Tenryu sends Greg out the ring, followed by Hara doing the same to Haku, allowing Hara to lariat Greg for the win.
All-action main event here with everything working (apart from poor Greg) in front of a hot, hot crowd. Nothing more complicated or nuanced than that.
Overall: Show had mixed results in the ring but was made better with a hot, receptive crowd. I prefer SWS approach to only showing highlights of the undercards tough, if Oya isn't ready for singles matches then neither are human beings.
Oh and Meltzer disliked this show due to the "lack of reaction" all night, so I suggest he clear out the dust and copies of Magic Carpet 2 off his ancient PC as the crowd were some of the loudest SWS has ever had.
I've been Maffew and I am neither STRAIGHT nor STRONG but at least my speakers work.