Welcome to a very special Dream Matches edition! Wherein I searched Billy Kidman and found a Psychosis match, then went back to review it and found out they fought at least seven times on TV, six of which are captured by YouTube! So I managed a whole column's worth out of these two! It's interesting because the first three are total throwaway bouts on lesser shows where Kidman was just one of the forgotten background Cruiserweights, indistinguishable from anyone else, then suddenly they have a really competitive one, and then it's a big one when Kidman actually got his major push and PSYCHOSIS was the guy suffering from credibility issues! So it's an interesting cross-section of the careers and credibility of these two wrestlers! And also watch as WCW changes the spelling of the luchadore's name constantly!
PSYCHOSIS vs. BILLY KIDMAN:
(WCW Worldwide, July 27th 1996/WCW Prime, Aug. 12th 1996)
* Early in the WCW run of Billy Kidman, he's a generic skinny Cruiserweight in blue tights going up against Psychosis in his most garish, awful gear- the black bodysuit with the salmon-colored abs & gold chestpiece. God that version sucks. This same match was on two different D-shows- I nearly reviewed it twice until I realized they weren't just copying the same match… it was LITERALLY the same match.
Psychosis runs basic stuff, but gets dropkicked to the floor while Dusty tells Chris Cruise that Susan Sarandon (whom he met in Guatemala, according to him) thinks he's cute. "But she likes tall guys like Tim Robbins!" "Well you're on TV- she don't know you ain't tall!" "That's RIGHT!". Kidman follows with a pescado, but runs into the corner and takes a flying wheel kick for two. Kidman gets draped across the second rope so Psychosis can hit his dumb variant of the Guillotine Legdrop that way (like, you can clearly see Kidman holding himself up using the top rope), getting two after taunting.
And then Psychosis MOTHERFUCKING POWERBOMBS KIDMAN, only getting two thanks to a lax cover (or possibly the distortion field this created in the fabric of the universe) and Kidman hits a spinning headscissors, then dodges him in the corner and hits the Shooting Star Press for the pin at (3:27)! Huge upset for Kidman! Like, he was a total nobody here, pre-Flock, and he beats Psychosis, who was s'posed to be the guy who challenged the top Cruiserweights as their own personal JTTS! Dusty says we'll look back at this as the moment Kidman "broke out of the pack!" but he was still a jobber in the Flock for ages after this.
Rating: *1/2 (fine short TV match- lots of flashy stuff and it had a proper flow, as much as it was just a series of big moves)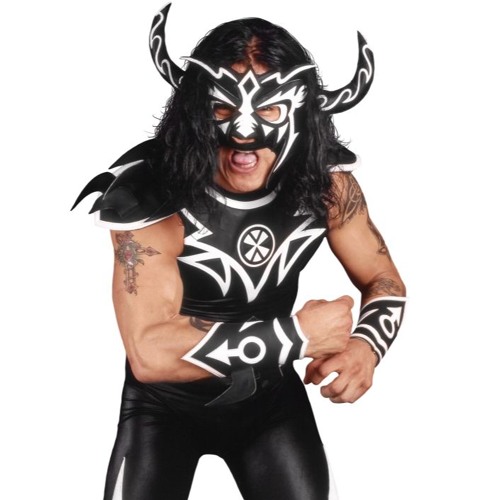 Psychosis had a lot of variants of this gear, but I think this was the most commonly-seen color scheme on WCW TV.
PSICOSIS vs. KIDMAN:
(WCW Thunder, March 26th 1998)
* Psicosis, in all black, takes on Flock-era Kidman. Raven had of course been recruiting guys for a version of his ECW stable… but only with jobbers, not guys that were actually getting pushes. Kidman was always seen scratching himself, which was lost on 16-year old me but was supposed to make him seem like a heroin addict. This bout is revenge for Psicosis injuring a brand-new Lodi, who broke his ankle off an Orihara Moonsault or something.
Kidman jumps him from behind to start and punches away while Psicosis tries a clumsy roll off the ropes and just gives up on it. He manages his wheel kick to put Kidman on the floor, but goes for the Moonsault again and gets shoved to the guardrail. Kidman then hits his Shooting Star Press from a run OFF THE APRON, which he didn't use an awful lot. He tries for a pin in the ring but the ref catches his feet on the ropes, so he does his new sit-out spinebuster for two. Punches and a chinlock set up a powerbomb, Psicosis landing on his feet and stumbling (damn, it woulda been ironic to see KIDMAN facecrushered off that), but landing on them from a tilt-a-whirl and lariating him for two. Crowd is not reacting to ANY of this, by the way. Kidman gets his foot up in the corner, but stands on the ropes taunting and gets crotched on them, setting up the most natural version of the Guillotine Legdrop in that position I've yet seen (because he's authentically kinda hung up there), for two. Tilt-a-whirl backbreaker and Psicosis goes up, but Kidman superplexes him off for two. Sick Boy runs in to interfere, but accidentally nails Kidman with his springboard dropkick (lol that's the only move he ever does) and the ref is like "hey get outta here" instead of ringing for the bell, and Psicosis finishes with the regular Guillotine at (4:33).
One of those fine enough TV matches- Kidman hit a really good SSP off the apron, but Psicosis was in a super clumsy way today. And why do TWO guillotines in one match? Kidman was mostly fine, but never quite got out of that "hit chinlocks and overhand shots in between all the cool movez" thing, and that kept him from being as good as the elite Cruiserweights of his day (even then, he's arguably underrated these days, as he's only known for botching his finisher).
Rating: ** (fine, inoffensive flying around in a short match, but Psicosis was out of sorts)
PSICOSIS vs. KIDMAN:
(WCW Thunder, April 9th 1998)
* A rematch!
They run around and dodge each other to start, then repeat the tilt-a-whirl to lariat spot from last match for two, then Psicosis just CRUNCHES him with a tope con hilo, landing short so his ass flattens Kidman. That gets two in the ring, but Kidman lands his sit-out spinebuster for two. Psicosis with a sunset flip, but Kidman gets a tornado bulldog and puts Psicosis up, but gets tossed off and eats a Flying Wheel Kick as Chris Jericho comes down to distract the referee. A rollup also can't get anything because of this and finally La Parka comes out and nails Psicosis in the back when he climbs to the top- Kidman hits the Seven Year Itch (his ssp) for the win at (3:36). A quicker one this time- just the greatest hits of their last bout and a cheap finish to set up… La Parka/Psicosis? Really I have no idea if that went anywhere because LP never got a push.
Rating: *1/2 (more basic stuff from these two)
PSYCHOSIS vs. KIDMAN (w/ Lodi):
(WCW Saturday Night, Aug. 22nd 1998)
* A later Sat. Night match, with Psychosis in black but with red & white decals, an outfit I forgot about. Kidman is in the weird "middle zone" where he's wearing jean shorts & a wifebeater, but is still a Flock member. He looks kind of dirtbaggy here, but as a good-looking dude with long hair, it was much better for him than the "skid row" look. And he's about to get a push, too- Saturn had endorsed him as "the most talented wrestler in the Flock" and was about to fight for the Flock's freedom from Raven.
Kidman grabs the ropes when Psychosis La Majistrals him and slugs away, cheering to the fans, which would NEVER happen in the prior matches- that, the outfit, and his lack of scratching are definitely calling attention to his upcoming push. Psychosis clotheslines him after landing on his feet from a tilt-a-whirl, then follows with a big flying clothesline to the floor taking out Kidman AND Lodi- Flying Wheel Kick gets two, but he then flies right into the sit-out spinebuster and Kidman backdrop/uranages him and holds a chinlock. They mess up something and Kidman just improvs a pin attempt and hits a slingshot legdrop, then sorta gets into that "fill time with random shots" zone as they trade pin attempts, Psychosis BADLY bungles his wheel kick (he totally thought Kidman was gonna stand up to meet it), and they do more ugly stuff until Psychosis hits his sit-out front suplex for two.
Psychosis does a rollup from leaping onto Kidman's shoulders, then shockingly picks Kidman up and hits the JAPANESE OCEAN CYCLONE SUPLEX of all things! Haha, don't see THAT move a lot in American wrestling! Right out of Manami Toyota's playbook! However, he immediately drops the bridge on the pin for some reason (Mike Tenay is taken aback by that), and a Somersault Corkscrew Senton gets two- he's upset, but puts Kidman up top for a Super Frankensteiner… and Lodi hangs onto Kidman's jorts so Psy splats and eats the Seven Year Itch for the pin at (7:52), with the trademark overshoot putting Kidman's knees into his chest, lol.
Pretty weak match for the length, as they struggled for most of the middle half of it, doing random "okay I'm gonna try.. oh wait he's in the wrong spot" moves and not realizing what the other was gonna do. Then Psychosis hits Manami Toyota's big finisher of all things, only to drop the bridge to everyone's surprise and go to the next move.
Rating: **1/4 (pretty good beginning and end, but an ugly middle that was clearly there to fill time)
WCW CRUISERWEIGHT TITLE:
BILLY KIDMAN vs. PSYCHOSIS
(WCW Nitro, Oct. 5th 1998)
* The match now takes on much greater significance, as Billy Kidman is now surprisingly the CRUISERWEIGHT CHAMPION- a babyface who was freed from the Flock. He was almost immediately rewarded with a title win- I remember this being quite sudden but he worked his ass off to try and justify it. His theme now sounds kind of like a hard rock version of "Voodoo Child". Psychosis is in all black, and has the English spelling of his name again.
Kidman snapmares Psychosis into a rope-run and then there's an awkward bit where he improvises a release Northern Lights suplex like they accidentally ran into each other at the wrong angle. Kidman headscissors him to the floor and hits a pescado, and a slingshot legdrop gets two. He puts his head down and eats the sit-out front suplex, Psychosis building his SmackDown! meter instead of covering. He still gets a huge Flying Wheel Kick to the back of Kidman's head in a great spot, getting two. He freaks at the ref and hits a chinlock- Kidman fires off a big dropkick but gets hiptossed over the top and Psychosis pescados into a LEGDROP on the floor! Crowd is oddly silent despite how crazy that move really is.
Psychosis adds a toss into the steps & a running dropkick out there and milks the clock, but Kidman whips him to the corner and springs off with a clothesline! But he flies into the corner and gets backdrop suplexed for two- Psychosis keeps up chinlocks and pounding on him, but then tries a powerbomb and OH MY GOD KIDMAN FACECRUSHERED HIM WHO COULD HAVE FORESEEN THIS? Psychosis surprises him with a hurricanrana for two, but Kidman gets a tornado bulldog for two, only for Psychosis to hit a tilt-a-whirl slam for the same while Tony Schiavone shits on his covers. Kidman gets his sit-out spinebuster for two, but hits a boot and Psychosis Moonsaults him for two as they're just going for everything now. Psychosis tries the Super Frankensteiner but Kidman hangs on to the ropes, and BAM! Shooting Star Press (with an overshoot again!) gets the pin at (10:41).
Really good little match, as they start slow but hit this point where every move gets a two-count like they're REALLY trying to win and just throwing their bodies over the other for the pin attempt. Once they hit a move, then try another but have it reversed, it gets really good- like WWE and Joshi, the transitions come off of failed Irish whip reversals a lot, keeping the action moving. Sadly the match wasn't really over- the crowd only popped for the Shooting Star Press. Kidman was pretty popular but Psychosis being relegated to JTTS status by this point probably hurt the drama for them. Too bad, because this was him clearly angling to impress, knowing he was getting ten minutes (a huge time for the era) and a lot of near-falls on the Champion. Though Kidman had a deathgrip on the ropes for the finish, it looked to the crowd (& Heenan) that Psychosis just missed him on the rana part.
Rating: ***1/2 (seemed pretty basic and first but they hit a higher gear and just kept going for it)
BILLY KIDMAN vs. PSYCHOSIS:
(WCW Saturday Night, 6/5/1999)
* Hey, it's another match! This time it's after both guys have lost the Cruiserweight Title, but Billy's one of the tag champs with Rey Mysterio. Psychosis is now in a rad BLUE/RED version of his standard gear and just had a one-week title reign.
Kidman scores two headscissors early on as this already looks weird because Psychosis just goes out for a breather and is rolled back in instead of pescado'd or whatever, but he manages his front suplex. Kidman sells this like death and Psychosis just stands over him taunting, then throws him into the guardrail and hits a dropkick as man you can DEFINITELY see the lack of effort for the D-shows, lol. Regular legdrop gets two to illustrate this, then he elbows Kidman down after eating a sunset flip for two- he then just hangs around and hits a chinlock. Kidman quickly fights up and does two Irish whips into his spring-off clothesline (you can see him change his mind on the first when Psychosis is out of position for the follow-up, haha- he stops and does a kick then whips him again to re-do the spot), but Psychosis just reverses a suplex and stands on Kidman's neck & stuff. Finally Psychosis misses a stinger splash in the corner and eats the sit-out spinebuster for two, but manages a release spinebuster, only for Kidman to hit a slingshot bulldog for two. Psychosis with an elbow and the Flying Wheel Kick gets two, but Kidman blocks a tornado DDT and rolls back on him for the pin at (7:05).
oh man this was so bad compared to the other matches, haha. Like they just screwed around and Psychosis did taunting instead of doing ANYTHING interesting until they hit the last minute and started doing cool things again and actually trying to win. Yeah it's Saturday Night and they had more time to fill than normal on this show, but WOW.
Rating: *1/4 (just dreadful for the time given- maybe 5 minutes of wasting time before they started doing stuff, and then a rollup wins instead of their cool stuff)
Also it turns out that Billy Kidman is the guy responsible for unmasking Psychosis… as they fought on a Nitro show while Rey & Juvie were heels teaming with their fellow luchadore, but Kidman managed a Shooting Star Press for the pin despite all the interference and ripped off his mask. This left all three guys maskless in WCW, which probably permanently killed off any chance for Psychosis to get over.