Straight And Strong Wrestle Dream In Kobe 04/01/91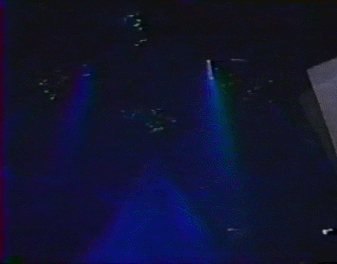 Kobe World Hall
Attendance: 5,877
Aired on WOWOW Cable TV
"The best thing about SWS is that it has improved the match quality on the All Japan cards."
Anonymous letter writer, Wrestling Observer Newsletter.
The only thing worth mentioning that isn't Kitao related is that last week's Wrestle Fest show was both the least attended Dome Show ever (even with all the freebies) and still able to generate a profit of $1 million. Whether or not this has an effect on fans wanting to actually pay for tickets when they know they can queue up and get them for nothing on the day is a SWS problem for another day because it's finally time to talk about this show…
Kenichi Oya (Palaestra) vs. Masao Orihara (Revolution)
A rematch from Declaration Of War. Orihara misses a top rope senton which allows Oya to show off his basic submission holds for five minutes. Masao responds with basic leg locks of his own before they slowly and un-dramatically go through some submission swapsies and I dunno, if I was on the same card as the PWFG guys I'd try something different rather than their thing at quarter speed. Crowd is silent by the way. Oya fudges a monkey flip to the outside and everyone notices, before eventually landing outside so Orihara can land Excalibur's favourite THE ORIHARA MOONSAULT on the outside.
Crowd love that and are very into Orihara's German Suplex attempt, which Oya kicks out of. Oya nearly puts him away with a Canadian Backbreaker but Orihara impressively sunset flips into another near-fall. Orihara uses the corner to kick Oya in the face and this has now picked up, before Oya wins out of nowhere following a short-arm clothesline because of course Orihara continues to lose. Match was non-existent before THE ORIHARA MOONSAULT.
Samson Fuyuki (Revolution) vs. Tatsumi Kitahara (Revolution)
This match is revolting. I've no idea why the Revolution lads are wrestling one another, I thought the whole point of having everyone in different stables was it meant for easy booking but I'm not a glasses company. Both of these pudgy mullet lads look like British comedians from the 70s. Both of them pretend to go through mat submissions with no rhyme or reason as that must have been the 'thing' this season for wrestlers not good enough for AJPW. Samson (who the crowd can't even bother booing) starts landing strikes while yelling to nothing but silence and the occasional laugh. Kitahara has enough and starts throwing kicks which the crowd appreciates. Samson teases a TKO but Kitahara continues to throw big kicks at him before Samson sends him into the guard-rail. This carries on and on with the crowd at least reacting now, before Samson converts a backdrop off the top into Kitahara landing on top of him before…Samson rolls him off for the victory. What? Kitahara's kicks were nice but I wasn't feeling this one.
Minoru Suzuki (PWFG) vs. Apollo Sugawara (SWS)
SWS can at least brag about having two matches turn into full-blown shoots on one show, an achievement thankfully not matched by any other company (that I know of). God only knows why they even booked this match. I get the idea of having Minoru debut and demonstrate his shoot-style on someone who isn't going to lose anything by losing, but whereas Masakatsu Funaki had the very-talented Naoki Sano at the previous show, someone in the back thought Apollo Sugawara was the best choice to wrestle this style for the first time? I wouldn't trust Apollo to make a bowl of cornflakes, let alone wrestle Suzuki in an unknown manner.
The match was mercifully cut from the TV airing but exists in handheld form. It's a hard one to type up in detail but to summarise: "Minoru attempts to wrestle shoot-style with a wrestler who has no idea how to wrestle that style before Apollo has enough and sods off."
Minoru Suzuki made three appearances for SWS and only this one was recorded. Luckily we have plenty of Apollo matches to keep us warm at night.
Yoshiaki Fujiwara (PWFG) vs. Fumihiro Niikura
Fujiwara is one of the many PWFG coming in for cross-promotion. Niikura apparently isn't good enough to be in a group and is simply representing SWS, which gives you an idea how this is going to go. And sure enough, Fuj immediately headbutts Niikura twice to nearly get a TKO early. They stand back up with the Fujiwara Armbar applied and forcing a rope break as Fuj is being a complete bastard from the get go. Niik grabs Fuj's leg but he effortlessly reverses with the greatest of ease then nearly rips off Niik's ankle on the mat. Fuj continues to give him nothing and smiles when Niik gives him a few shots to the chest. Big John McCarthy would have stopped this one by now. Niik gets a wild volley and Fujiwara pretends he's perturbed by the shots and collapses in the corner…only to stand up by the time the ref gets to three as if nothing has happened. Niikura foolishly attempts a suplex, which Fujiwara snaps into the self-titled armbar for a big pop and somehow that's not the finish. Niik's arm is hanging limply by his side but he somehow manages to take The Fuj down with an Achilles tendon hold and he responds by calmly posing before locking in the same hold himself.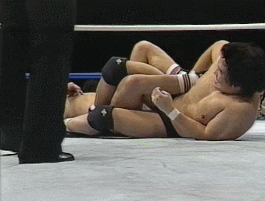 Fuj instructs Niikura to grab the ropes to release the hold so he can lock a standing hamerlock takedown (with gruesome screaming) to finally end it. I'm sure David Parker Ray's victims didn't suffer as much as Niikura did in this match. At 09:42 it was a long, long squash but at the same time it was brutally entertaining.
Naoki Sano (Palaestra) vs. Masakatsu Funaki (PWFG)
More PWFG crossover action, this time against someone who is good enough to be affiliated with one of the main stables. Both men come out swinging out the gates with their low kicks. I'm guessing Fujiwara was stood in the Gorilla Position smoking a cigar and grinning maniacally as both men seemed extremely motivated to hurt one another, culminating in Funaki smashing Sano with a palm strike. Sano isn't able to take Funaki down with a double-arm but he holds on to keep his opponent at bay. That doesn't get him the advantage but a suspiciously low kick helps. Funaki responds with slaps, before both men take a little rest before taking a journey to strike city together. Then with the crowd going wild, Sano falls for the exact same finish as last time, tapping out of a cross armbreaker after a German Suplex. Having it end the same way as last time is a minor complaint, having the PWFG style done properly is a lot of fun if you're into this but on this show these matches have been a Godsend compared to the rest of the card.
What would these shows have looked like without the PWFG guys? There's a scary thought.
Takashi Ishikawa & The Great Kabuki vs. Ishinriki & Kendo Nagasaki
Let's see if Ishinriki can keep his star power going after last week's hot showing. The world's smallest sumo wastes no time taking down Ishikawa, which is madness considering his size and legacy. No-one told the tiny terror you're probably not supposed to do that as he dropkicks the purple terror out of a test of strength. Kabuki comes in for a few shots before Kendo tags in and I'm glad they're keeping it short and sweet with the Golden Girls. Ishinriki delivers a sumo stomp to Kabuki's leg before applying a Muta Lock (crowd: "OOOOAHHH"). Ishinriki wails away on Ishinriki like he did the Aurelian Walls before Youthkishi lands a springboard dive to the outside onto Ishikawa as the crowd goes nuts but back inside Ishikawa simply locks in a backslide pin to end it to a "ehh?" crowd reaction. Ishinriki continues to impress.
John Tenta (WWF) vs. Koji Kitao (Revolution)
Here we go, Kitao's Wrestlemania X7.
From the numerous different versions of events I've read I think it boils down to both men getting worked up by their respective locker rooms. In Bret Hart's autobiography he mentions how the WWF lads were hyping up Tenta before the match about each man's respective sumo history, with The Great Kabuki being blamed for doing something similar with Kitao. Also, I've no idea who was putting this bloody show together but why was Kitao doing two consecutive losses for Tenta in the first place? Kitao is being pushed as second only to Tenryu so I understand this decision as much as Kitao did. Couple that with the locker rooms treating this like it's West Side Story and suddenly we're sitting on an ex-sumo powder keg.
Match starts off with Kitao going for a test of strength with Tenta immediately turning it into a side takedown attempt. Kitao gives an "OK then" look before they settle for a test of strength properly with both men working. Tenta gets a takedown before mounting Kitao with a submission despite Kitao being half-way out the ring, causing Kitao to roll outside and throw a table at the ring ropes to generous boos. Tenta's wrestling a lot less WWF-style than he was last match and I think these two moments were enough for Kitao. They lock in another test of strength and everything seems fine until Kitao attempts to lock in a standing armbar which Tenta escapes out with a bearclaw.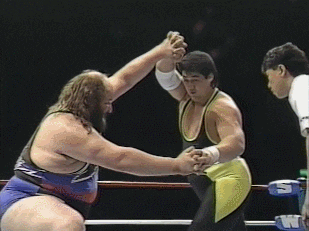 Whether or not the armbar was legit or not is hard to tell given how quickly Tenta got out of it. The only thing that's certain is that the match has passed the point of no return. Both men circle one another for a while with legit shots being thrown and missed. Kitao gets Tenta in the corner and starts grabbing him by the throat which the ref has to separate because this is still technically a wrestling match. Both men are hesitant to lock up until Kitao makes a scissor motion with one hand and grabs Tenta's other arm as Earthquake realises he's trying to go for his eyes and narrowly misses.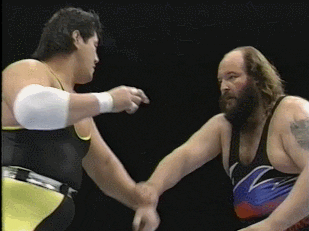 Tenta starts cursing at Kitao, who keeps his eye-poking stance. Tenta motions for one too, with the crowd chanting Tenta's name. Kitao gets a kick to Quake's thigh which Tenta has to shake off. After more circling, Kitao puts his hands on his hips and simply stares at Tenta. Tenta yells something like "this is pro wrestling!" which is a bit much. The ref attempts to tell Kitao to do something, who responds by kicking him which is enough for the referee to ring the bell to end the match on a DQ, which I'm sure people in the back were thankful for.
The TV version ends there. As soon as the bell rang, Kitao jumped outside to grab the house mic to tell Tenta (words to the effect of) "You're just a monkey in the circus of fake wrestling" before adding that he'd never lose to him again, until his corner dragged Kitao away before he could fuck himself and the sport of pro wrestling some more.
Despite the relative inaction in terms of strikes or grappling, this more than makes up for in regards to tension. Even though it's a shame to see matches fall apart like this, I'm not going to pretend the sight of both men getting progressively madder as they circle one another with the crowd cheering them one isn't a cool one.
But regardless: the moment garnered such mainstream media attention (with Weekly Pro Wrestling probably helping) that SWS had to hold a press conference the following Thursday with President Hachiro Tanaka announcing Kitao had been fired. The "fake" comment reportedly drew more ire from the wrestlers than anything that happened in the match, with Tenryu initially offering his resignation for vouching for Kitao (before bringing him back for WAR a few years later).
It's almost a shame to see this happen just as Kitao was making progress in the ring, but maybe it was always bound to happen at some point given his volatile nature. I'm sure Riki Choshu wasn't shedding any tears. It's easily the most talked about moment of Kitao's career and probably the most known thing about SWS so there's no shortage of wrestling people discussing it:
Bret Hart (WWF) vs. George Takano (Palaestra)
You'd think this would be great, right? Bret bragged about being the greatest technical wrestler in the world on the last show, so he shows off his technical prowess by launching George over the top rope and into the guard-rail. Bret gets sent into the turnbuckles (which he takes Bret-style chest first!) before a Tombstone piledriver and an enziguri keeps Bret on the defensive. George has lost a lot of momentum since Kitao and the PWFG guys have showed up. He pinned Tenryu a few months ago in the main event and now he's trading moves with no rhyme or reason with a tag guy while the crowd occasionally laughs at something. Bret holds onto an armbar attempt and escapes by kicking out of it which isn't doing his technical wrestler attitude any wonders. An atomic drop gets a generous reaction from the crowd, as does an eye rake across the ropes. Bret gets a Boston Crab but George escapes with the power of push-ups!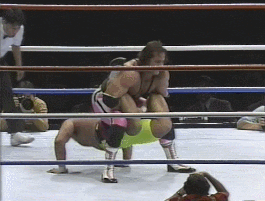 That was sweet. Bret continues the Five Moves Of Doom before missing an elbow from Bret's Rope. Crowd are again laughing at random things, they're getting distracted as much as the wrestlers. Bret gets a very close call off an O'Connor Roll before George lands a top rope splash for the pin. The moves were executed fine but there was little reason or strategy for any of them. One of those Morecambe and Wise "playing the right notes but not necessarily in the right order" situations.
'Macho Man' Randy Savage (WWF) vs. Genichiro Tenryu (Revolution)
Tenryu beat Savage at last year's AJPW extravaganza so let's see if we get motivated Macho Man or Motiveless Man. In fairness he's technically retired after losing to The Warrior a week ago, which doesn't count for Japan (following the Wanderlei Silva rule). Savage is full of energy before the action starts, making sure to taunt Tenryu before running away at every opportunity and hiding behind Earl Hebner. Tenryu doesn't fall for Savage's get-thrown-outside-then-attack-when-coming-in trick and gets inside before Savage does and takes him down with a lariat. This is already better than last week. Savage heads outside one more time to get yelled at by suit-wearing business men in the crowd. Savage comes back with a top rope Axe Handle smash to the outside with Tenryu actually bothers to sell. Yeah, take that George Takano from last week! Savage lands a Top Rope Elbow but wastes time taunting so it only gets two. This enables Tenryu to come back with an amazingly soft powerbomb for two, before landing two Blind Dumb Elbows for…the kick-out! Crowd ooOOAAAHhhhs politely for that. They mess up a spot in the corner that I can't figure out, so they do it again and everyone notices and murmurs impolite things. Savage imitates Tenryu and lands two Top Rope Elbows of his own for Tenryu to kick out of. This starts to meander slightly as Savage lands another Top Rope Axe Handle and messes up a snake-eyes only for Tenryu to land an even worse powerbomb than before for the win as the crowd laughs.
Even with it falling apart near the end, this was still probably the best Savage singles match in Japan so far, but whether or not that's compliment is debatable.
WWF World Heavyweight Title Match: Hulk Hogan (WWF) vs. Yoshiaki Yatsu (Dojo Geki)
Crowd seem very happy to see Hogan but he can't say the same about them, he heads to the ring like like he's got a taxi waiting for him outside. I think this match was eating up his two week vacation post-Wrestlemania so he wastes little time taking apart Yatsu like he was Gawker's lawyers. Hogan exchanges holds with Yoshi and gets an unexpectedly rolling armbar one out of nowhere:
You'd think it was 1998 the way Hogan is upstaging Bret. Both men continue doing the same as the rest of the non-PWFG crew this card and go through holds, except crowd is really into submission master Hogan who escapes a head-scissors by converting it into a Boston Crab. Big pop for that. Yatsu gets headbutts (complete with crowd yelling "YAAH") to bust open The Immortal One who continues to take a beating while he bleeds everywhere. Crowd only gets louder with each shot as Yatsu cuts off Hogan's comeback while Hulk thinks about where he's eating after this show. Yatsu ducks the AXE BOMBAAA to the crowd's shock but goes for a Missile Dropkick that I think Hulk was trying to avoid but he still gets smashed in the face. Pretty sure Hogan decides that's enough and connects with an AXE BOMBAAA to end it right there and then. Crowd is subdued by the sudden finish and that's the show folks, no refunds, buy glasses! Match was a decent example of how good Hogan was at changing his style to get the Japanese equivalent of the minimum of effort to get the maximum response.
Overall: Oh man, I thought last week's show was a mixed bag of matches. The PWFG matches were tremendous if you enjoy that style of wrestling, Hogan got great reactions for a match he forgot he was booked on an hour before the show started and Macho Man did-oh who are we kidding, this is the Kitao show and that spectacle overshadows everything on this weird befuddling company that is struggling to find an audience and identity. Can't wait to watch more next time!