Hamamatsu, Shizuoka, Japan
Hamamatsu Arena
Attendance: 5,120
Masaharu Funaki and Minoru Suzuki are on their way to SWS from UWF, which ended up being the final blow for the once-popular promotion. Akira Maeda was very unhappy about his Uber Real Fighting guys signing for a crappy fake pro wrestling company but UWF President Shinji Jin was much more open to negation (due to wanting to get rid of their debt to the same glasses company that sponsors SWS). The split would get uglier and uglier as Maeda was suspended for a few months, Jin was accused of embezzling hundreds of thousands of dollars and the Tokyo Dome December 29th show would be announced and quickly cancelled. As a reminder, they had 60,000 for their Tokyo Dome show a year ago and just drew 16,000 at the Yokohama Arena a month ago…and two weeks after this SWS show they'd be dead.
JJ Dillon and Akio Sato were in Japan on behalf of the WWF last month, apparently deciding between starting a relationship between NJPW and SWS. NJPW still wanted to keep their NWA relationship for the Starrcade 1990 tag tournament which put an end to that conversation. Meltzer also suggested that Vince offering The Bushwhackers as an idea of talent exchange for NJPW was another issue. Hey if The Nasty Boys can make it there then so can The bloody Sheepherders.
This TV taping would mark the last show before the WWF partnership and it features another bloody tournament. There weren't this many in early UFC. Show starts with Tenryu introducing the three different groups divided by flavour and also a nice shot of new signing, Koji Kitao.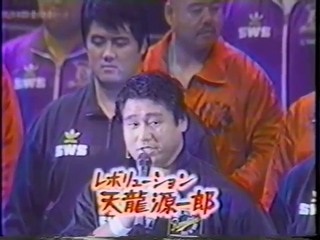 Ah. Let's talk about Kitao.
If you want a thorough examination of his career up to this point, I recommend this article. If you can't be bothered, here's a rough summary: Kitao was a disgraced Sumo wrestler who had the sumo authorities openly admitting it was a mistake to give him the title of Yokozuna. Post-sumo Kitao expressed desire to become a pro wrestler and after some training from Lou Thesz (!!?), the man made his debut at NJPW's Super Fight In Tokyo Dome. Bam Bam Bigelow did an even better job of carrying his opponent than he did at Wrestlemania XI as Koji didn't look especially good or anything but Bammers made him appear at least trained.
This wouldn't last.
Kitao was thrown in the deep end with matches against other heavy-hitters like Vader, Steve Williams and future Undertaker 'Punisher' Dice Morgan. I guess they were hoping iron would sharpen iron but he looked woefully out of place in many of these situations: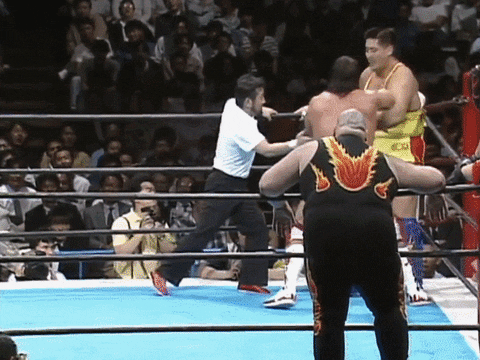 Worse than his in-ring skills was his out-of-ring attitude. Given his mainstream popularity because of the Dumo scandal, Kitao was described as having something of an ego which didn't fit his position in wrestling because he was messier than dog toffee in the ring.
And then one day Kitao got into an argument with Riki Choshu, called him an ethnic slur and he was gone from the promotion. At which point Tenryu went "wahoo!" and signed him possibly because of their shared Sumo history. Or the fact they both wore black and yellow. I dunno. Anyway, he'd end up being part of the most infamous and probably most well-known moment in SWS history but that's later on.
Semi Final Match: Naoki Sano & Shunji Takano (Palaestra) vs. Takashi Ishikawa & The Great Kabuki (Revolution)
Ishikawa hadn't wrestled in nearly two years before SWS and reviews suggest he's OK at plodding along to the strength of his opponents. He's getting on a bit but's he's veal compared to Kabuki. Sano was kicking arse with his feud with Liger before Money Puroresu came calling so you'd think he'd be able to batter Ishikawa but that's not how puro works, with Ishikawa firing wooden shots at Sano until both men can tag out.
Takano remembers the war he had with Kabuki last time
and takes him down and straps in a Boston crab before Kabuki can do the same to him. Ishikawa saves him but can't lock in a Sharpshooter so Takano and Sano team up to land Le Bomb De Rougeau for deux. Ishikawa surprises me with an impressive flying dropkick before Sano tries putting him away with a second rope Superplex. Takano tries a second rope knee-drop but that can't put half-man half-tree away either. Kabuki saves his old friend with a side suplex but Takano doesn't like Kabuki and piledrivers him immediately afterwards. It breaks down with Ishikawa exchanging pin-falls before Sano gets a sweet looking Mexican Surfboard on Kabuki as the bell rings…to signify the match has gone to a fifteen minute time limit draw but the panel have decided Palasetra are the winners. Huh. Meh ending aside, everyone played their roles here fine and Ishikawa plodded along just fine.
Semi Final Match: Genichiro Tenryu & Koji Kitao (Revolution) vs. Goro Tsurumi & Kendo Nagasaki (Dojo Geki)
OK here we go, how can two ex-Sumos who have no chance of going back to their original employers any time soon co-exist? Tenryu and super-brawler Kendo start off in the match "the wrestling fans have been waiting for today!!" yells our favourite commentator. Kendo immediately chops Tenryu out the ring and over the guardrail because he's stronger on the outside. Goro tags in and gets taken down immediately so Tenryu can tag in Kitao who gets a weird pop. The whole crowd sounds far more quiet than the previous show. Tin-foil hat me wonders if they deliberately didn't mic them well to cover most crowd's negative reaction to Kitao. Or maybe no-one turned up, SWS didn't have the best rep at filling arenas. Kitao gets into it with both Dojo members and doesn't look bad. His selling is still poor but he manages a nice Northern Lights Suplex out of a front headlock to a "oooo" reaction which is promising. He then accidentally kicks Tenryu so disregard everything I just typed. We skip ahead to Kitao selling (kinda) so Tenryu can tag in and trade delicious chops with Kendo.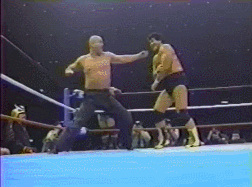 Kendo gets the advantage by simply pushing Tenryu as he's running the ropes so he loses his balance and plummets into the side of the ring. That's a nice simple move that Tenryu takes well. Kitao doesn't understand and kicks Kendo in the head in response, who ignores it to tag out Goro. Goro tags in quickly wishes he didn't as Kitao just murders him with a backdrop suplex.
Goro is so out of it that Kitao can't even get him into position for a pinfall attempt. That afro did not save any of that impact like the bad guy from Mr. Nanny falling into the empty pool. Goro locks in a calf stretch on Kitao so Tenryu runs to assist and runs directly into a superkick from Kendo…which Tenryu shrugs off because he's had enough of this bloody match and wants it over. Kitao tries a suplex and the editing team cut away to a couple at ringside so it must have been perfectly executed, and that gets the finish. Ooof. As you would have expected, this was hard-hitting and lovely with Tenryu and Kendo but rougher than a badger's arse when it was Kitao.
Yoshiaki Yatsu vs. George Takano
Yatu's career has been interesting so far. Having been denied entry in the 1988 Summer Olympics for being a professional athlete, followed by leaving NJPW to join AJPW to win tag titles with Riki Chosu and Jumbo Tsuruta. I don't see his name being brought up in the same sentences as those guys often but in fairness, those are some legendary names to be hanging around with. A quick look at Other People's Opinions seem to say he was past his prime at this point. We'll see. Takano wastes no time kicking him down and stretching Yatsu's ankle. Also the ref is now a mulleted American for some reason. Where did he come from? Takano makes Yatsu fight out of that hold and he does so with headbutts. A beautiful piledriver sets up a missed top-rope elbow from Yatsu, so Takano tries a tope-rope splash but meets knees. Takano can't get his own piledriver so Yatsu gets a release German Suplex instead as the crowd start laughing at random things. What's their problem? This has been a nice little match so far. Maybe they forgot to wash the ring of all the Kitao fail-sweat. Takano gets a tombstone for two and no reaction. Both men fight over a DDT with Yatsu dropping Takano on his damn head with a Northern Lights. Never seen that before. Takano very unhappily crossfaces Yatsu in response. Takano keeps the crossface in and the ref announces Yatsu submitted with nothing to indicate that he in fact submitted. Crowd's like "are you sure??" and the production team moves on quicker than when someone wins a title in AEW. What's up with this crowd and these finishes tonight? Edited down to just the cool moves, this was fine but didn't answer any major questions about if Yatsu can still go.
Final Match: Genichiro Tenryu & Koji Kitao (Revolution) vs. Naoki Sano & Shunji Takano (Dojo Geki)
So what would have happened if both Revolution teams had won the semis? Just wondering. Kitao starts off with Takano who is smart enough to keep it simple and treats Kitao like he's Terrible Ted. Sano does the opposite and starts kicking him full-force until Kitao responds with the same. Tenryu tags in and nearly gets pinned after a very snug German Suplex from Sano. I like Tenryu because he's more open to playing with his food before he eats it than most in his position. Takano and Kitao continue to practice a match, not realising they're in front of a crowd right now. I'm sure the Shawn Michaels and Logan Paul practice sessions looked better than Kitao vs. Takano. Tenryu can't put away Takano with his Backwards Elbow (so-called because it's backwards to not look at your opponent when jumping off the top) so Sano tags in and gets all his cool moves in. Kitao sadly tags in and sticks to running and striking, giving an idea of what Ken Patera vs. the police may have looked like. Tenryu tags in to take a giant Missile Dropkick as he plays Miserable Bastard In Peril. Sano locks in the Mexican Surfboard as Tenryu seems to have made it his pet project to get this match and Kitao over and is therefore prepared to do anything to make it work. Kitao tags in and lands a Running Powerslam before applying a sharpshooter. Sano has to turn himself over before Kitao does in order for it to work but still. Kitao suplexes Sano and has no concept of ring awareness as he drops Sano's legs in the ropes on the way down. Tenryu tags in and attempts to screw Sano's leg off but Takano saves with a knee drop. Crowd are finally making noise. Tenryu chops away on Takano but misjudges how badly hurt he is and runs right into a brutal lariat.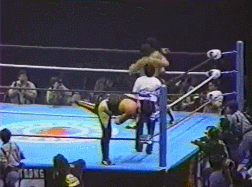 Takano goes up top and Tenryu tries to throw him off like Flair, but Takano rolls with it and turns it into a small package for a close two and the crowd is finally alive. Tenryu's struggling powerbomb gets halted by Sano so Kitao takes him out, allowing Tenryu to deliver another and score the pin. A worthy, credible main event despite Kitao's best efforts to drive it into the side of the wall.
Overall: Tenryu was working hard here but there was only so much you could do with Kitao hanging around. He's like IBS without the pills. The production was way worse than last time and the crowd was only into Tenryu so if you want to watch SWS pre-WWF, watch the previous weekend double header instead (Ah who am I kidding, you're only reading for the drama. And so am I).
Next time we'll be looking at the first show with WWF involvement. And also Roadblock!