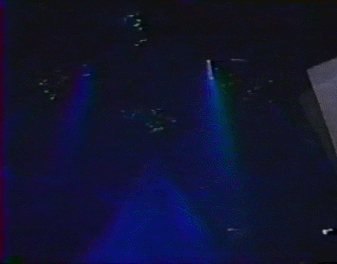 When we previously left SWS, their first show ended with Isao Takagi getting his head kicked into pâté so it was probably just as well it was unofficial. This week we're looking at their first proper show and VHS release: Commencement of War '90.
Yokohama Arena
Attendance: 14,800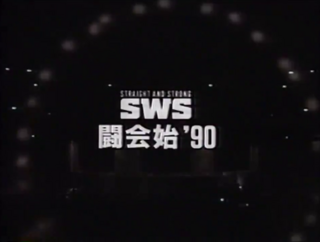 And what a Commencement it is! The Yokohama Arena looks big-time with lazers, smoke machines and a village fair tent surrounding the ring to demonstrate SWS isn't just spending money on other company's wrestlers.
The tent rises like a waiter revealing the contents of a silver cloche to reveal the roster, divided into three stables:
Revolution
Genichiro Tenryu
The Great Kabuki
Takashi Ishikawa
Samson Fuyuki
Tatsumi Kitahara
Hikaru Kawabata
Masao Orihara
Nobukazu Hirai
Toshiyuki Nakahara
Dojo Geki
Yoshiaki Yatsu
KY Wakamatsu
Kendo Nagasaki
Goro Tsurumi
Ishinriki
Isao Takagi
Shinichi Nakano
Hiroshi Hatanaka
Tetsuya Yamanaka
Palaestra
George Takano
Naoki Sano
Shunji Takano
Kenichi Oya
Don Arakawa
Akira Katayama
Revolution was composed of ex-AJPW guys, Palaestra is the ex-NJPW stable and Doko Geki was somewhere in the middle. If One Piece has taught us anything, it's that big powerful groups can't exist alongside each other without something violence occurring. Apparently the decision to group the roster into who they were recently employed by wasn't just to making matches easier, the differing philosophies of NJPW/AJPW meant this was done as much to keep the peace as it was to give the crowds easy-to-understand feuds. Given all the backstage whining drama of WWF vs. The Alliance, it makes sense SWS would do their best to alleviate a serious issue…before they made Kabuki the booker who worked under consultation from Tenryu and letting everyone know the company was pro-Revolution/ex-AJPW bias from the very start. This would all boil over later on but for now let's focus on the most important new SWS signing: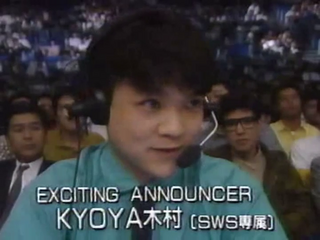 Yes, we finally have a face to the voice! Fully agree with his job title too. Also some guy called Koji Kitao has just signed and is commentating next to him (presumably with a note that says "don't call it fake.") More on him next week.
Masao Orihara (Revolution) vs. Hiroshi Hatanaka (Dojo Geki)
We're JIP with Hatanaka kicking the life out of Orihara before ending with a single-leg Boston Crab.
Jeff Wheeler vs. Kenichi Oya (Palaestra)
Wheeler's a Canadian jobber who would be out the business in a few years so this is thankfully JIP with future FMW great Oya landing a missile dropkick before Wheeler mangles a rough Atomic Drop to confused crowd noises. "It's rock n roll fight!" Eh, it's more easy listening right now mate. Wheeler pins Oya following a Northern Lights Suplex and no, I don't know why he was booked.
Shogun KY Wakamatsu (Dojo Geki) vs. Fumihiro Niikura
JIP once more with Shogun getting his legs trimmed courtesy of some low kicks. KY comes back with some brutal slaps but Niikura responds with a few of his own before the ref separates them. KY then slaps him around some more as I wonder what the hell happened between these two before the match. KY attempts a lariat but Niikura converts it into a Fujiwara Armbar to the crowd's joy. KY shrugs off real pain to lock in an Octopus Stretch and we get a confusing end as Shogun celebrates without Niikura signalling he submitted. Crowd is pissed at the finish and KY is bleeding from the mouth as we quickly cut away and WHAT THE HELL WAS THIS. Weird minute and a half of some deliciously stiff offence and a screwy finish or as well it nowadays the AEW Women's Division.
The Great Samoans vs. Dino Ventura and Jerry Morrow
OK it's Samu and The Samoan Savage teaming up which I think makes them the Samoan Headshrinker Team. Dino & Jerry are more Canadian jobbers, they must have been on offer. JIP with Dino making the hot tag to Jerry who tries to noggin knocker The Samoans who look at Morrow and wonder if he's ever watched wrestling before as they ignore it, double headbutt him and splash him daft for the victory.
Naoki Sano (Palaestra) vs. Snake Williams
Snake resembles one of those first round UFC guys Tank Abbott would have finished easily. We JIP right into Sano slapping the life out of him repeatedly before countering an Irish Whip into the corner by backflipping over Snake and connecting with a dropkick. Sano sends him to the outside and sails through the ropes with a middle-rope dive and finishes with a piledriver. Beautiful showcase for Sano.
Goro Tsurumi, Kendo Nagasaki & Shinichi Nakano (Dojo Geki) vs. Samson Fuyuki, Takashi Ishikawa & Tatsumi Kitahara (Revolution)
JIP with Ishikawa of the don't-rightly-knows slapping the hell out of Nakano in the corner because I think this was during the heyday of Shooto and the like so everyone's really laying in the slaps to the face. All three men charge Nakano in the corner which garners a "chain reaction!!" yell from our favourite commentator. Goro interferes to stop a Sharpshooter attempt and it all breaks down into a brawl on the outside with Fuyuki getting booed for some reason. I thought people liked him in 1990? We cut to Goro's superplex getting turned into a crossbody from Kitahara like Davey Boy/HBK from SNME. Goro recovers and dumps him with a Razor's Edge style powerbomb to win in anticlimactic fashion. Whatever.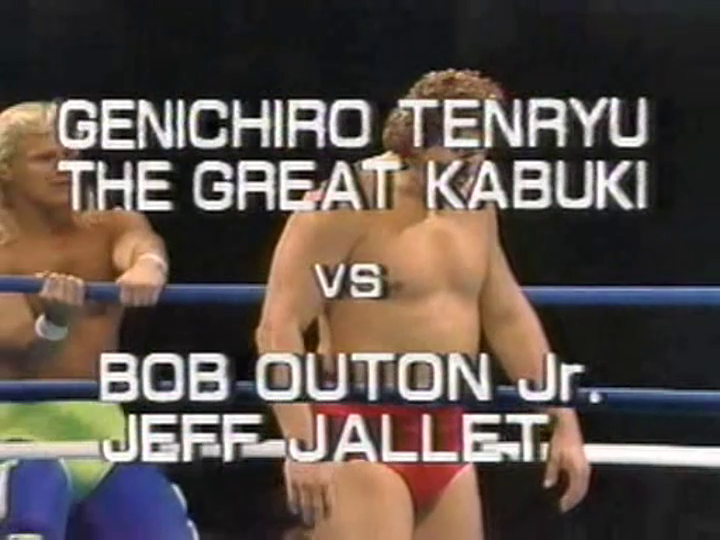 Genichiro Tenryu & Great Kabuki (Revolution) vs. Bob Orton Jr. & Jeff Jarrett
We have a four-man tag tournament on the first day to follow the first show's eight man tournament, confirming Tony Khan tape-traded this back in the day. Bob just poohouses Kabuki by picking him up with one arm before dropping him with a backbreaker. Orton gives Kabuki was much respect as Bruce Prichard did when he saw him in 1994 before Tenryu gets the hot tag to paint Bob's chest red. A lariat that creates a sweat cloud from the impact sets up that daft backwards elbow Tenryu loved before young Jeff tags in. Single J looks nervous and skinny but still manages a sweet dropkick and an unexpected headscissors on one of the greatest Japanese wrestlers in history before Tenryu drops the four-year pro with a powerbomb to end it. Jeff managed to not mess anything up so well done kid, get yourself a Mars bar on the way out the arena.
Yoshiaki Yatsu & Isao Takagi (Dojo Geki) vs. Takano Brothers (Palaestra)
After having the best match at the last show, George Takano further endures himself into my heart with his Roman headgear and upswing Jazz entrance.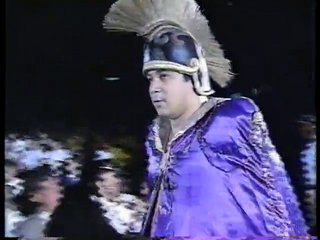 Crowd either remembers Takagi's brush with death last show or have decided he's crap as they do the "ooooOOOOO ahhHHHH" noise you'd associate with Hack Myers. George locks in a Bow & Arrow Deathlock as The Best Commentator decides it's "Jailhouse Rock!" Shunji aids his brother by dropping a big knee on the back of Takagi's head and as we know from last time his big weakness is being struck repeatedly in the head. He recovers but The Takanos realise he's knackered and take out Yatsu on the outside to finish with a Rocket Launcher assisted splash to end a match only memorable for the crowd's reactions to hollow-head.
Genichiro Tenryu & Great Kabuki (Revolution) vs. Takano Brothers (Palaestra)
The Takanos are still sweating from the last match but Kabuki does that whenever he's eating so it's a fair fight. Kabuki & Tenryu take turns firing away on George and like earlier, the shots in the corner have a lot of oomph in case people think this isn't as hard as UWF. Kabuki applies a leglock so Tenryu can tag in and give him a few Johnny Wilkos to the back. This goes on for a while as Shunji's step-up enziguri has no effect on Tenryu. More beautiful-sounding chops in the corner keep this one going as the production values of SWS are really shining through on this show. George gets a quick Fujiwara Armbar to stop the pain but he's still in the wrong corner so Kabuki takes him down and repeats the process with the crowd not really behind poor ol' George. Tenryu tries the Backwards Elbow but Shunji rightfully batters him as he turns his stupid back on his opponent before taking a giant missile dropkick like iran from an angry Shunji.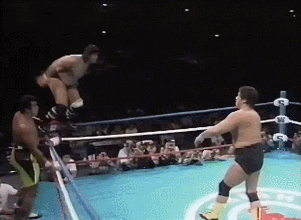 Tenryu took that straight to the chin so he resumes the submission/leg stretch takedown beatdown on Shunji as the crowd reacts with "oh come on lads." They're getting less complimentary towards Tenryu and George gets a healthy pop as he tags in and lands E.Honda style hundred hand chops on both Revvers. George stops a double-team by dropkicking Kabuki in the back of the frigging head and Shunji lariats Tenryu out of nowhere for a close two-count as the crowd is officially Into This.
Shunji connects with a top-rope "Bazooka Knee-Drop!!" but it gets instantly broken up by a paggered Kabuki (to big boos from the crowd). George gets a top rope splash and Kabuki barely has the energy to break that up. Tenryu is forced to make his own comeback due his partner being old & spent but Shunji cuts it off with another lariat and Tenryu heads right into a huge Bridging German Suplex for the shock win to blow the roof off of Yokohama.
Winners: Palaestra (The finishing sequence made the match with the Takanos being a better team who were able to tire out Kabuki to prevent Revolution's leg/strike combos to enable them to get the win by double-teaming the star of the company. Lots of nice shots of people in the crowd jumping up and down at the clean win but in fairness, Tenryu had to put over someone here because there's sod-all at the top of the card who's at his level).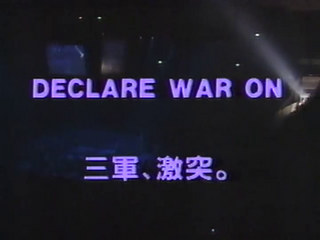 Yokohama Arena
Attendance: 14,850
Hiroshi Hatanaka (Dojo Geki) vs. Kenichi Oya (Palaestra)
Yeahhh more digest matches, alright rock n roll. Hatanaka gets kicked a lot as Oya takes out his frustration in having to lose to a nobody yesterday. Kick kick backdrop pin.
Masao Orihara vs. Dino Ventura
Dino appears to have smuggled in the drugs for the boys by hiding them directly in his veins. Half-man half-fridge impressively catches Masao as he flies off the top rope for a lovely slam to the delight of the crowd before a top-rope clothesline ends it.
Fumihiro Niikura vs. Jeff Wheeler
Wheeler's Northern Lights Suplex is cruelly kicked out of by Niikura who lands a sweet high-angle belly-to-belly suplex to win via some sort of armbar. I couldn't tell what it was over Wheeler's screaming and promising never to come back to Japan.
The Samoans vs. Samson Fuyuki & Tatsumi Kitahara (Revolution)
We cut straight to Kitahara pretending he moved out of the way of a Savage Pump Splash and ignores the fact everyone saw him connect and instead makes the hot tag to Fuyuki who cleans house with offence he'd improve on later on. Again the crowd boos him. Maybe he should yell more? He tries to bang the Samoan's heads together but just like last time THERE'S RACISM IN JAPAN TOO and they no-sell it double headbutt Samson. Crowd loves that spot. Kitahara gets a quick small package immediately after that to end it and the crowd does not love that spot.
Shinichi Nakano vs. Snake Williams
Get in, more Snake Williams aka the first guy in ever Arnie film who yells "you ain't so tough!" This is a "snakey fight, rock n roll!" but I dunno about that as Snake doesn't get well when he's doing anything but bouncing around so Nakano ends this quickly with a German Suplex.
Naoki Sano vs. Jeff Jarrett
Sano has Jarrett in an armbar but lets it go to land some piercing kicks on the young un. Jarrett's punches look like waving by comparison and Sano lands on his feet after a backdrop to send the Four Horsemen member to the outside so he can knock him down with a swanton off the top rope. Jarrett's crossbody off the top gets rolled into a pin attempt but even though he's wrestling like he's got all the cheats on, Jarrett inexplicably crucifixes Sano to get the pin. I know the concept of Jarrett going to a company he doesn't work for and stealing the spotlight may be a foreign concept in 2022 but bear with me.
Great Kabuki & Takashi Ishikawa (Revolution) vs. Kendo Nagasaki & Goro Tsurumi (Dojo Geki)
We cut sixteen minutes (!) into this match because the producers were worried about aging quickly simply by watching Kabuki. Goro gets worked over but then Ishikawa gets worked over. "I don't know what's going on, I don't know what to say!!" admits The Best Commentator. Nagasaki and Kabuki tease going after each other and when they finally do not much happens. Huh. Goro gets his ankle worked over and then Ishikawa submits him while Kabuki & Nagasaki continue to stare. Whatever this was, I'm glad they reduced it to nothing.
Yoshiaki Yatsu & Isao Takagi (Dojo Geki) vs. Bob Orton Jr. & Gerry Morrow
We're only thirteen minutes in this time with Orton taking an enziguri but coming back with his sweet punching.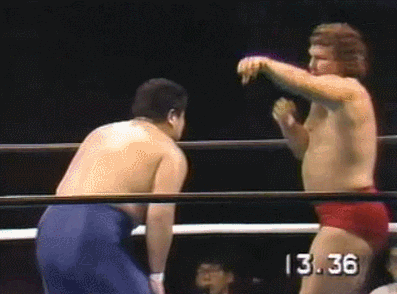 Orton sends Takagi outside as The Best Announcer yells "Power vs. Power!!" Orton gets nowhere with his opponent so he tags in Gerry who runs right into a bodyslam with a follow up backdrop ending it. Orton looked great, crowd still jeered Takagi.
Genichiro Tenryu (Revolution) vs. George Takano (Palaestra)
George naturally getting a singles match against Tenryu after pinning him in a tag yesterday. They measure one another out tremendously with plenty of escaping holds quickly and heading out the ring to avoid more close contact. Tenryu's default facial expression is "bored anger" which works well when he's shrugging off George's offence and causes Takano to unleash the Honda slaps again so Tenryu can take him seriously. Which he does by slapping Takano daft in response. George stops the assault with an armbar before dunking Tenryu outside and follows with a basement dropkick to set up a flying…nothing as Tenryu side-steps it as Takano splats to the outside. It's crazy that Takano's more known for being a Light Heavyweight guy as Cobra because HE'S MASSIVE. Like Zac Efron as a Von Erich big. But he's doing dives to the outside with no problems (other than landing). Back inside, Tenners plays with his food too long as Takano recovers to fly successfully off the top rope with a splash before attempting a Frankensteiner…which gets dunked into a powerbomb instead. Tenryu's lightning bolt chops send Takano to the outside so then Tenryu decides to show him how it's done and connects with a Tope Suicida just because. Crowd is loudly supporting Takano though and his increasingly more successful offence, including finally diving to the outside properly with a top rope crossbody. Crowd start making noises that sound like "wow could he beat Tenryu two nights in a row???" Tenryu's bored angry face absorbs more blows before waiting for the right moment to land a flying enziguri to Takano's face. However Tenryu has the exact thing happen to him moments later and the crowd are really eating these pin attempts from Takano. Sadly he goes for a German Suplex which is how he won yesterday and absolutely fudges it which lets the air out somewhat. They get the crowd back with Takano countering a Tenryu powerbomb into a rollup, with Tenryu holding on and nailing it anyway before giving him another enziguri and another powerbomb to end it. This did a tremendous job of establishing Takano as a force to be reckoned with, with the crowd eating out of the palms of their hand near the end (bad German suplex aside) and give the impression that it's not going to just be Tenryu winning every match going forward. Cough.
Overall: Well it looked and sounded like a big deal in a big arena with a big commentator, with Tenryu bringing the match quality and guys like Sano standings out. But the mixed reaction for some wrestlers (Fuyuki, Takagi) and the mixed quality of the Canadian lads suggest they need some sort of reliable hook-up of solid American wrestlers soon.
Next week we'll look at their next show featuring another bloody tournament and the debut of a man who would become synonymous with SWS…Koji Kitao.
I've been Maffew and I am neither STRAIGHT or STRONG and you can follow me on twitter.