SWS Echizen Fighting Party Beginning Charity Preview Event 09/29/90
By Maffew Gregg on 30th October 2022
Prologue To The Prologue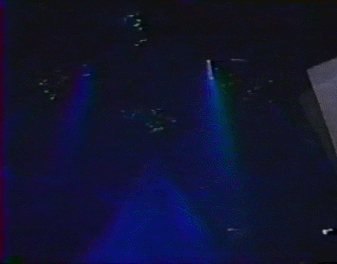 In 2020 I was faced with the triple threat of lockdown, COVID and WWE's Thunderdome so I decided I needed to sink my teeth into a big sanity-sandwich and started looking at the history of the fascinatingly big little Japanese wrestling company Super World Sports. These were going to lead to a series of articles for WrestleJoy because at the time I needed some positivity in my life and I wanted to think a company with JOY in it's title would be a good way to get it. Sadly, I got two articles in before the owners of the site completely derailed their reputation by supporting former AEW Shenna wrestler's tweets declaring all Muslims should be banned from France. This caused several of their writers to immediately quit and made the owner of the site have a boo-hoo-why-me-why-me meltdown on twitter rather than apologise or admit fault like a normal person. Once I realised their brand was simply a graft to get AEW press passes, I left them to wallow in their self-made pool of misery and stayed positive by playing hours of Hades instead.
The Blog Of Doom is generally more genuine (at least whenever Scott's not posting the e-mails he gets) so I might as well carry it on over here so Manjiimortal can correct me on the parts I've copy-pasted from the Observer Archive.

Prologue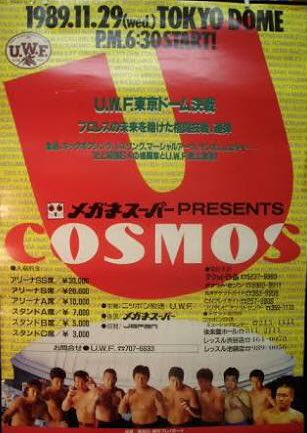 OL let's set the scene: UWF's U-Cosmos November 29th 1989 Tokyo Dome show sends shockwaves through the wrestling industry by not only selling out such an enormous venue in record time but also making a record $3.2 million at the gate. NJPW panicked because they have their own Tokyo Dome show booked for February 1990 and they couldn't lose face to a much smaller company, especially one ran by previous star-and-dick Akira Maeda. What if ECW sold out Madison Square Garden in 1997? Or if Cody Rhodes sold out MGM Garden Arena in 2019? So NJPW went the all-out and announced AWA Champion Larry Zbyszko, IWGP Champion Big Van Vader and NWA Champion Ric Flair for their upcoming show.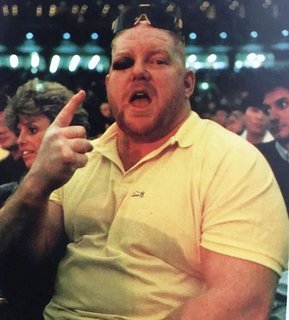 Unfortunately Flair ending up pulling out of the show after he was announced which is an enormous no-no at the best of times in Japan (unless you're Karl Anderson I guess), but to do so on a show that NJPW were already treating as a face-saving operation was even worse. So to save even more face, NJPW agreed to co-promote with rivals AJPW to prove that neither company were gotten to by teeny tiny UWF, oh no. NJPW Super Fight In Tokyo Dome mega-event would end up not only breaking UWF's record & gate but also Vader's orbital bone during his legendary brutal match with Stan Hansen.
Meanwhile, AJPW were already promoting a Tokyo Dome Show in April with a lot of WWF co-promotion but because they helped NJPW in January they received NJPW's co-co-promotion here also. Which is just as well seeing as Terry Gordy changed his mind about losing to Hulk Hogan in the main event after Hogan lost his WWF Heavyweight Title to Ultimate Warrior between the match announcement and Wrestlemania VI. With 'only' 41,000 in attendance and $2.1 million at the gate, AJPW Wrestling Summit couldn't match NJPW or UWF's levels of financial success but it gave fans a sweet main event involving Stan Hansen vs. Mel Phillips.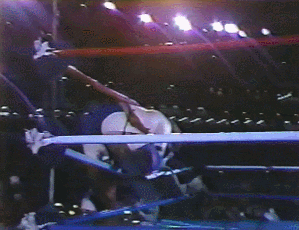 And that all hopefully sets the scene.
A week after the Summit, Genichiro Tenryu left AJPW (the company he had been a part of since 1976) to form his own promotion funded by Megane Super, one of the leading optical companies in Japan and the original sponsors of the UWF Dome Show that flicked this stack of dominoes. Megane Super had originally approached Maeda about investing in UWF but he declined (which they probably regretted given their Google Stadia-esque fall in a few months). Being unable to entice Keiji Muto (ha) or purchase NJPW (haaaaa), Megane Super moved to the idea of simply starting their own promotion once they'd signed a big enough star, which ended up being the respected-but-aggrieved Tenryu. According to reports from Dave Meltzer and Jonathan Foye, AJPW owner Giant Baba had suspected Tenryu might leave due to not being made The Ace of the company over Jumbo Tsuruta. Baba was understanding of the situation but not understanding enough to not ban Tenryu from AJPW forever.
Tenryu announced the debut of Super World Sports in June with Megane Super claiming they were pumping $40 million into this new investment and proved this by signing every AJPW & NJPW mid-level talent they can get their hands on (more on those later on). In one of those great poohousery moments you only get in wrestling, one of those talents was The Great Kabuki who Giant Baba had put the AJPW Tag Titles on to entice him into staying. Kabuki got the win, the titles and then left anyway.
The talent signings created such bad blood that when Tenryu opened up the SWS Gym in July, none of the newly signed NJPW or AJPW wrestlers dared appear due to the potential for litigation. The wrestling press did not take kindly to this style of wrestling promotion creation and SWS was dubbed "Money Puroresu." With Tenryu making $652,000 per annum, I'm sure he was crying all the way to the bank.
SWS Echizen Fighting Party Beginning Charity Preview Event
Fukui City Gymnasium
Attendance: 4,072
Given that SWS had no real identity other than gathering wrestlers like they're bottle caps in Fallout, the company decided to hold an unofficial debut/preview event filled with a heavily papered audience for a one-night tournament. WON reported that the sponsors put up a legit $35,000 purse for the winner. I'm sure they did.
Quarter Finals: Shunji Takano vs. Kendo Nagasaki
Kendo is fresh off that awesome Texas Death Match in FMW and was always good for a sweet brawl or two. Takano is a former All Asian Tag Champ whose back was described as "wrecked" at this point which is apparently why Baba wasn't fussed about him leaving.
Before the match, we're treated to clips of Shunji shrugging off a GANSO BOMB from Fumihiro Niikura in the Qualifiers to land a badger's arse ugly Spinning Heel Kick to advance. Kendo meanwhile either dodges an enziguri from Shinichi Nakano or sells it by falling on his backside, either way the crowd laughs at him being awkward as he lands a Jumping Piledriver to advance. Not sure why they showed that last part.
They immediately go to the outside which is exactly where I want to see Kendo in 1990. Kendo bashes an un-folded chair across Shunji's back until it becomes folded and then sends Shunji into the front row a few times. Kendo brings the chair into the ring to continue this destruction and the ref is unable to stop him from choking Shunji in the ropes and DQs him. Ignoring the ref, Kendo piledrives Shunji before sulking off.
Winner: Shunji Takano (Wasn't much here but I like tournaments with an over-arching story. Then again, it's Japan so it's probably an excuse for a non-finish later on.)
At this point it's worth mentioning the commentator (either Kyoya Kimura or Ichimasa Wakamatsu according to cagematch) is peppering the show with English expressions so you'll hear things like "Is the story over now?" and "Violent, non-stop fighting!!" amongst the Japanese audio, sounding like the Capcom vs. SNK 2 announcer.
Quarter Finals: Naoki Sano vs. Ricky Fuyuki
Sano was rumoured to have been in hiding during this time due to the possibility of litigation from NJPW because he left his Canadian excursion with them to join SWS. Fuyuki is someone I appreciate a lot more now I've had the chance to watch his WAR work and know him more than just "the fat dude who killed FMW."
Fuyuki was able to defeat Great Kabuki via DQ after he misted him mid-crossbody. Sano went fifteen minutes with future WAR Six Man Tag Champ Koki Kitahara but won via Judge's Decision because in a foreshadowing to the WWF alliance later on, they're using The Wrestling Classic booking sheet.
We cut to Ricky powering out of a leg hold and getting two from a Fisherman's Suplex. "Don't look back! Straight And Strong! Simple Is Best!!" yells the commentator, sounding like more Franky from One Piece as the show progresses. Some roughness follows with Sano not knowing what Fuyuki's doing but manages a two-count off a Tombstone. Sano unleashes high kicks all over Fuyuki's face with Fuyuki refusing to go down even after a Rolling Kick. Sano then slaps him around and flies with one last big kick to send his opponent slowly downwards like the Saddam Statue and the match ends via KO.
Winner: Naoki Sano (The finish made Fuyuki looked better in defeat than Sano did in victory.)
Semi-Finals: George Takano vs. Shunji Takano
There's a lot of heat and shoving to start off as apparently this would end up being the last-ever singles match between the two brothers. Shunji's the larger of the two but George is the more successful and better dressed, wrestling with lime-green knee-length shorts.
As the two start going at it, the SWS team decide now is the best time to cut to George putting away Goro Tsunami in the Qualifiers by turning a top rope backdrop into a crossbody à la Michaels vs. Bulldog. I appreciate the trendy editing style but cutting away as they're starting is too much like WWE's picture-in-picture so I'm surprised when I see wrestling instead of Little Caesar's crappy pizza.
George has a Single Crab synched in so well he falls over with all the effort he's putting into it, allowing Shunji to escape and attempt to kick George while laying on the mat. Alright that was cool. A dramatic comeback by George with an angry yelling back senton but the crowd heat appears to have evaporated. George lands a bridging German Suplex but the ref takes forever to get into position for the slowest non-Lucha count I've ever seen and the crowd starts heckling in response. Ahhh I knew they'd get the crowd back somehow. George connects with a dropkick off the top and synchs in a Boston Crab for the submission victory.
Winner: George Takano (George looked impressive but the crowd wasn't into it. Maybe they knew Shunji wasn't winning, I dunno.)
Finals: George Takano vs. Naoki Sano
We skip right to the action with Sano landing a DDT and holding on to turn it into a front facelock. "Wow it's like two animals weaving!!" yells The Best Commentator as we get shots of the crowd to prove there is one because they're so quiet. George resurrects them with a kneeling powerbomb and a high-speed brainbuster. Sano takes George to the mat to prevent him from getting the advantage and locks in the Romero Special.
Watching SWS and I'm loving the commentator punctuating the action with English expressions. pic.twitter.com/b8PgYIhPmm

— forever botchamania (@Maffewgregg) October 23, 2020
All that Rock 'n' Roll (man) wakes up the crowd and Sano is able to move out the way when he sees George escaping and gets a side-hold to keep him at bay. That looked great. Both guys are doing a fine job of making things look like a struggle, which is a dead art. George still gets vertical and follows with a "Super fighting is GOING ON" bridging German Suplex for two. Sano recovers and delivers a Powerbomb for a two of his own and both men are selling the fatigue of wrestling three matches in one night. Sano decides to simply kick Takano like he did with Fuyuki but goes for the pin instead of the KO, which George escapes from and takes advantage of Sano tiring himself out from all those kicks to stick him in the abdominal stretch pin from WWF Wrestlemania 2000 for the N64.
So now Sano has to escape the hold and the pinning position! Which he does easily. He follows by resting his bodyweight on Takano to keep him down but both men are melting at this point and they resort to striking one another instead, with the sweat visible even in this fourth generation tape.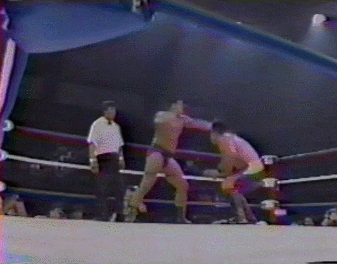 Sano delivers another flurry of strikes to send Takano to the canvas and hopes for the KO but George gets up with a triumphant "no!!!" Sano's too sweaty to get much of a backdrop, as is George when he tries an O'Connor Roll so Sano rolls out with ease. While George is on the floor recovering, Sano covers him with a reverse bridge of his own to the roar of the crowd but George is angry and plants Sano with a Dragon Suplex for two. Crowd's definitely lively now, just in time to cheer as Takano lands a Tombstone and top-rope splash for the tournament and the $35,000.
Tournament Winner: George Takano (Easily the best match of the tournament with both men trying to out-strike and out-grapple one another with their diminishing strength. Some fantastic little counters and out-manoeuvring here.)
Revolution (Genichiro Tenyru & Takashi Ishikawa) vs. Dojo Geki (Yoshiaki Yatsu & Isao Takagi)
Haven't seen much of Takagi or Takashi's work but what I have seen I wasn't thrilled by. Doesn't matter though, Tenryu's here and he can put lipstick on a pig.
And we start with a BANG as Yatsu blasts an entire row of chairs over Tenryu and he's bleeding before we even get to the ring. Takagi takes over but Tenryu's not having that and immediately Powerbombs him to a booming reaction. It's one of those dirty Powerbombs too with the recipient fighting it the whole time.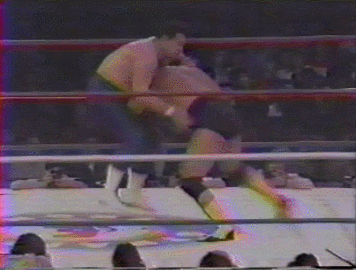 "Powerbomb Rock 'n' Roll now!" YEAH TELL 'EM ANNOUNCER. Tatsu prevents Tenryu from tagging out but a rough splash only gets two. Then Takagi tags in and headbutts Tenryu all the way to his own corner like a dumb-dumb so Ishikawa tags in and slaps him daft. Tatsu has to run in to prevent Ishikawa from locking in the Scorpion Deathlock. Tatsu and Takagi work Ishikawa over (with Takagi only coming in when Tatsu is sure he can't mess anything up) before Tatsu gets cocky with a big bulldog across the ring, allowing Ishikawa to simply shove him off at the end of the move and tag in Tenryu.
Oh and he's MAD, dropping Tatsu with a lariat and connecting with the blind elbow off the top but Takagi ruins things again by dropping him with a German Suplex to prevent further damage to the guy who cleans his cage at night. Once Tenryu recovers he quickly wipes his feet all over Takagi's face, causing the commentator to yell "Machine gun kick, Holy Toledo!!"
Tenryu gets bored of splitting Takagi's nose open so Ishikawa comes in for more of the same as his opponent lays there bleeding. Tenryu looms over him, daring him to get up and when he does he kicks him down again. Tatsu tries to buy his partner some time by rushing the ring but it does nothing. Ishikawa rides Takagi's face down to the mat off the top rope with that weird move that always looks naff before tagging in Tenryu for EVEN MORE face destruction.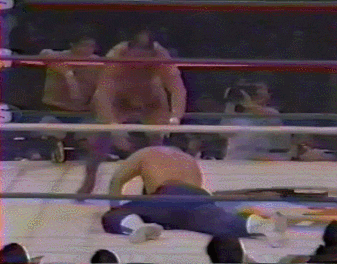 He collapses from the pain but Tenryu keeps on kicking and kicking and if you'd just joined the match you'd think Revolution were the bad guys. It goes on for so long that Tatsu gets a big pop for bum-rushing Tenryu out the ring and slamming another row of chairs onto him. Takagi proves he's not dead by baseball sliding Tenryu on the outside. However now he's proven he still has a pulse, Tenryu blocks a charge with a knee and resumes removing Takagi's brain cells with yet more head kicks. Eventually the ref has to intervene as it gets uncomfortable again and the crowd start chanting for Takagi. It doesn't matter as Tenryu strikes him a few more times and Takagi can't answer the count and it's finally declared a KO.
Winners: Revolution (I'm going to assume it took a while for everyone to realise Takagi was in genuine pain from all those head kicks because not to sound like Dutch Mantel watching a AEW black female wrestler do anything, but this was uncomfortable to watch. It's never a good sign when someone's 'selling' by lying completely still and motionless on the mat.)
Soon as the bell rings, Tenryu & Ishikawa exit the ring as the crowd react angrily to the finish that saw the supposed good guys kick a guy to death and then rush to the finish. Great booking guys, no-one's using "Money Puroresu" as a criticism of SWS now!
Overall: I guess this worked as an amuse-bouche to let people know who was under contract but the reports were generally negative towards the DQ/time limit finishes in the tournament and no amount of Tenryu-love could save that main event finish. But I love that one commentator's enthusiasm.
Just as well it was an "unofficial" debut show unlike their first home video release we'll be looking at next time, highlighting two nights at the Yokohama Arena and the debuts of the American talent that everyone's excited about!
By which I mean Jeff Jarrett & Bob Orton Jr. because the WWF hasn't hooked up with them yet.
I've been Maffew and I am neither STRAIGHT or STRONG and you can follow me on twitter.