Herb Abrams' UWF Blackjack Brawl 09/23/94
By Maffew Gregg on 23rd October 2022
Live from Las Vegas, NV
Airdate: September 23, 1994
Attendance: 600 (228 paid)
Hosted by Carlo Gianelli & the "Golden Greek" John Tolos

Herb enjoyed the lack of success Rampage 1993 brought him by trying to start an insane rumour he was attempting to book free-agent Hulk Hogan. When this went nowhere, he then tore apart a hotel room in The Inn in Aspen in a coke-filled rage while looking for hidden cameras.
Following an attempt to tour the Pacific Rim (where UWF were allegedly enjoying a very small amount of love on boot-legged tapes), Herb got divorced and attempted to gain custody of his wife's breasts because he paid for them "and in divorce you get half the assets."
After this, Zoogz Rift booked the card for the show we're about to look at before sodding off as he too was sick of the lying, only to then discover Herb changed the whole card around anyway. The original main event was Steve Williams vs. Terry Funk but Herb apparently thought Funk's asking price was too much. Well he wasn't going to pay him anyway so I'm not sure why Herb cared.
Herb by way of being Herb somehow managed to convince people that despite not having aired shows in two years, the UWF was Not Dead and that he was going to run a TV Special in order to gain interest/remind people that the UWF was Not Dead. A lot of people assumed it was Actually Dead which is partly why only certain SportsChannel America areas aired it and why it received nothing in terms of advertising.
Amazingly (or not, as nothing really amazes me anymore with UWF) Steve Williams managed to make an appearance to hype up the UWF show on none other than The Tonight Show (while not managing to get the name or location of said show out, but still):
This didn't help things as former personality Mr. Red was sending in letters to the MGM Grand to explain Herb was a convicted felon with a cocaine problem. MGM Grand explained he was paying everybody so it was OK. MGM Grand didn't think anything of Herb getting a loan from them to cover the costs for the wrestler who for some reason insisted on being paid in advance. Steve Ray reckons the amount was at least $100,000 which Herb then promptly used to not get the best production and technical people in to help the show.
And on top of all that, the live broadcast was joined in progress as the Islanders and the Devils game went long so people watching this the first time around jumped in to see:
UWF Americas Title Match
Dan Spivey vs. Johnny Ace (w/Missy Hyatt)
Spivey getting chinlocked by Ace as the camera pans back to reveal the sea of darkness that is the crowd here tonight. It's like looking at a Command & Conquer map at the start of a game. Both men are taking a break in between tours of AJPW. For reference, AEW Double Or Nothing 2019 packed 11,000 into the same arena.
Ace made his last appearance at the just-as-legendary Beach Brawl so God knows why he returned. Spivey was one of the earliest stars of the first few tapings and has been in the intro for years because Herb was too tight to replace him. Spivey DDTs Ace and lands a Boss Man Slam (that the production nearly misses because they're too busy focusing on Missy Hyatt) but after one of the worst abominable stretches you'll ever see, Missy throws in the towel to apparently double-cross Ace and give Spivey the belt. Herb then decides that's not going to happen and tries to get the belt from Spivey so Spivey grabs him and Herb's little face yells for Blackjack to come save him so Blackjack Mulligan appears and Spivey takes his cue while Ace asks what's happening. The action was nothing but the post-match angle was so poorly done and received such little response from the non-existent crowd that I had to pause to absorb it all. I guess no-one wanted to lose on TV but who would have known if they had?
Missy explained years later that she was wearing a latex dress with nothing underneath, which ripped very easily. After the match finished, she grabbed Ace's jacket to wrap around her waist to hide the fact her arse was out.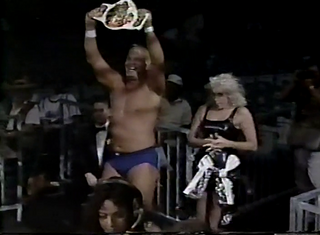 Tolos: "You can't trust women!"
The chyron reveals there's supposed to be an interview with Curt Hennig. I think Herb realised that showing an interview with a guy who is 100% under a WWF contract on TV may be a bad idea after all the issues with Honky Tonk Man and Greg Valentine a few years ago. Plus they spelled it HENNING so maybe it was some unrelated guy.
UWF Junior Heavyweight Title Match
Mando Guerrero vs. Wildman Jack Armstrong
Or as the announcer calls them Mondo vs Wildcat. Armstrong is accompanied by a suit-wearing Joshua Ben-Gurion who isn't identified and thankfully doesn't wrestle. Wildman teamed with Cactus Jack one time in UWF and no-one knew who he was but the comments section on this fine site speculated he was a source of some of the drugs. Witnessing him years later I can guess he was storing them in his nose. Mando has bullets around his body and makes his entrance to Taco Grande by Weird Al so I already love him. Mando gets a lovely spinning head-scissors from the mat before being forced to brawl outside with cokey. Mando kicks him away and gets a lovely Asai Moonsault.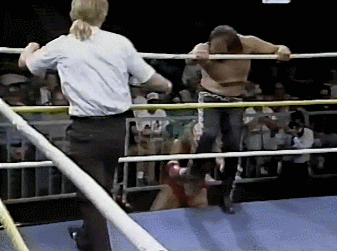 Wildcat is bust open from that somehow, moves out of the way of a moonsault in-ring before landing three standing elbows to…end it. Huh.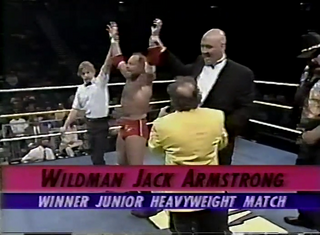 Herb then enters and says he's glad Wildman got busted up because Herb's just going to be a dick to whoever because he has Blackjack with him and he can live out his power fantasies about having friends on TV. This was Wildman's last match.
UWF SportsChannel Television Title Match
Sunny Beach vs. Dr. Feelgood (w/Missy Hyatt)
Dr. Feelgood is Al Burke who was Mr. Outrageous last year. I guess Herb just looked at his mega mullet and cock-duster and thought "this man could play anything!" Missy is covering her bits with a doctor's robe which at least makes sense and gives Tolos an excuse to say he wants to play doctor with her. Neither of these UWF veterans lasted long in the business after Herb stopped not paying them. Beach has blown up in the previous year, he's Sunny Coast now. Feelgood's entrance music keeps starting and stopping as the production is like the crowd, not here. I should talk about the action but it's all basic stuff with Beach looking like he's lost a step or two while eating. Beach starts throwing suplexes around and actually shows promise before Feelgood gets a medicine kit. I'm surprised there's anything left in it around a crew like this. Feelgood tries to use what I guess is ether on Beach, but he counters and throws it into Feelgood's face instead to get the pin for a ref who couldn't care less.
Post-match Blackjack Mulligan says everyone's sick of Missy and Dr. Feelgood even though it's their first appearance. He's learning from Herb.
Also here's more Missy fun:
Herb Abrams fact; I got stiffed on black jack brawl 1994 and sold the actual bounced check in 2010 for the exact amount of the check. Only took 16 years to recoup the $$$

— Missy Hyatt (@missyhyatt) May 20, 2022
UWF Southern States Title Match
Bob Orton Jr. (c) vs. Finland Hellraiser Thor
The ring announcer is stand-up comedian and professional old person Steve Rossi who continues to make this show sound worse and worse by asking the crowd if they're ready for more from "All Star Wrestling." The former Ludvig Borga's name is actually announced as Finland Hellraiser Thor but the chyron agrees with him, which is just an insane name for anyone. GIVE IT UP FOR AMERICA PHANTASM SPIDER-MAN. Borga was spending his time in Japan for RINGS but I guess the allure of an easy match and a tough pay-day was too much for him. Orton's previous UWF title (a replica WWF IC Title belt) isn't mentioned as he gets absolutely pummelled by the Finnisher. Orton has enough of that and throws water onto Thor from the outside and batters Hellraiser with the title belt until the ref calls it off. Both men brawl as Orton is somehow busted open but it's around the eye and he doesn't seem happy about it as he's not his usual happy self.
This was all Orton selling for Thor.
Blackjack tries to interview Bob afterwards but the mic's not working very well so no-one can hear either of them.
UWF Midget World Title Match
Little Tokyo vs. The Karate Kid
Little Tokyo has been going since the 1970s but Karate Kid is a youngster by comparison. The wrestlers take it seriously as Tolos predictably can barely get his jokes out quick enough. We get a criss-cross spot that ends with Kid hiding behind the ref and Tokyo continuing to bounce until he realises. Tolos yells "he called him a goofy Jap!!" to further date this show. They get a test of strength going which causes Tokyo to get mad with the ref and make fun of him which actually gets a "TOK-YO" crowd chant, proof that there are people watching this. Tokyo gets dropped off the top rope before taking some headscissors and countering with a throat chop to end it clean to one of the biggest pops of the night. A good showing from two men who had probably done this routine a thousand times.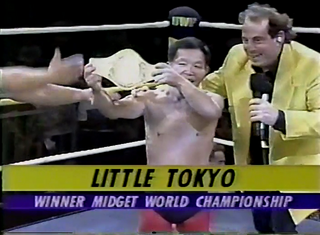 Herb interviews Little Tokyo which became infamous thanks to Mick Foley mentioning it in his first autobiography:
Herb: You drink saké tonight? Saké?
Tokyo: Huh? Yes, drink saké.
Herb: You say…kampai?
Tokyo: Kampai…yes…how you know kampai?
Herb: I used to be married to a Japanese uhhhh CONGRATULATIONS LITTLE TOKYO
We then hear from Sid. Or not as the audio refuses to cooperate but he looks cool.
UWF Women's World Title Match
Tina Moretti vs. Candi Devine
For God knows what reason, Steve Rossi pronounces "Devine" as "devy-ian" rather than "divine." Carlo covers for him saying he was just kidding. Tina's the future Ivory who was one of the highlights of 2022's Royal Rumble (which isn't saying much I know) and Candi's currently dead. Candy scoop slams Tina on the outside but she shrugs it off to batter Candi in the ring and squeeze out a crucifix pin. Candi's strikes are horrible but she chokes Tina and slams her out of the corner to win a very quick match. Barely worth screen-shotting.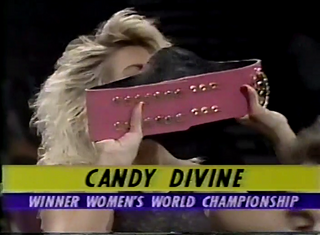 We get a reply interview from Steve Williams and in the interest of fairness we can barely hear him either. Steve praises Sid because at least he showed up unlike Hulk Hogan. I'm sorry what?
UWF World Tag Team Title Match
The Killer Bees (B. Brian Blair & Jim Brunzell) vs. The New Powers Of Pain (Power Warrior & The Warlord)
Power Warrior? Kensuke Sasaki of Loud Sex In Korea fame? Sadly no, it's one of the Power Twins. I'd bother to find out which one but it doesn't matter. Idiot ring announcer says this is a Battle Royal. How would that…you know, never mind. Killer Bees continue their streak of solid but unspectacular matches by doing the exact same series of double teams and quick tags that they always do. Warlord slams Blair into the ring-post so Power Warrior can do stuff and I'm sorry but there's way too many matches on this show as it is without having to struggle to type something interesting about The Bees. Eventually the Power Warriors switch brothers to get the advantage but then something happens and the cameras miss it and The Killer Bees win.
Jimmy Snuka says "ALOHA BROTHER OOO OOO OOO" to get us hyped for the following:
Lumberjack Match
Cactus Jack vs. Jimmy Snuka
This match is "for the Lumberjack match" because this ring announcer is even worse than Debra on that WWF PPV. Cactus is making his return to the company he couldn't stay mad at. Snuka's makes his entrance to the theme from Hawaii Five-0 because I guess that's the closest they could get to Fiji. Tolos runs throw the bits of body that have fallen off of Cactus over the years (teeth, ear) and adds that John Wayne Bobbit had a similar issue. Cactus tries to headbutt a Fijin because he's crazy, this gets him sent outside and then sent inside. Snuka gets sent outside courtesy of a Cactus Clothesline and he takes out the monitor and a few production monkeys. Snuka tries to get away from the Lumberjacks so Cactus grabs a table and charges it at him as everyone starts brawling around ringside. Cactus locks in a long chinlock inside before men immediately head outside willingly and punch punch punch in the middle of the lumberjacks. Both men end up over the guard-rail and brawl up the stairs in the pitch black to end it via double count out in a lumberjack match. Wasn't much as a match but the sheer nerve of it all was funny.
Cactus takes a suplex in one of the thousands of empty seats before both men disappear as I imagine they did this finish to get out of talking to Herb.
UWF World Heavyweight Title Match
Steve Williams (c) vs. Sid Vicious
For the title so prestigious that Steve left immediately after winning it. Oh wait no that was the SportsChannel America belt, which is one of the few belts not on the line tonight for a show that aired on SportsChannel America. Sid comes out to Sirius while Williams has I'll Do Anything For Love because why not? Steve bounces off the ropes in an attempt to build up steam but Sid simply big boots him to stop it like he's boxing Bald Bull. Match slows way down after that as Williams takes Sid to the mat with Sid having the ability to get out of that situation quickly. Both men slug it out for a while and unlike the Sid of later years, he knows to bring it against a big bastard like Williams. Steve tries to make a comeback but Sid cuts him off with a scoop slam. Williams keeps on coming though and gets another scoop slam but Sid immediately pops up so Williams won't stop slamming him. This match got good quick. Sid pushes a mid-air Williams out the way with ease but Williams halts him and we get of all things, a second rope Northern Lights Suplex. Dr. Death lands the Doctor Bomb and the ref counts three but then pretends he doesn't as here's Dan Spivey to allegedly block the pin and end it via DQ. The commentators call it a double cross and declare The Skyscrapers have re-united and they Double Powerbomb Williams before Ace chases them off like they're female wrestlers. The finish was horrible but at least makes a little sense if they wanted this to get interest in more TV shows but well uh yeah.
Post-match Herb The Human Puppet asks Williams if he wants Sid and Spivey in a Steel Cage and Williams's like "yeah sure."
Sid and Spivey talk trash as only they can to Blacjack Mulligan and the whole thing sounds pretty decent so of course Herb has to try and get the last laugh like he always did by holding the title belt in the air to no reaction.
Herb gets the last words on the broadcast by trying to interview Blackjack Mulligan and tells the world to check their local listing for Blackjack Brawl II. Al Burke claimed Herb did have an agreement to produce II and III with MGM just so he could get the advance for both shows.
To the shock of no-one, Herb wouldn't pay the wrestlers, production people and also the creators of the belts used for the show. Several of the wrestlers sent their cheques to the MGM Grand and got paid out of the grant put up for the event.
Overall: The event was 200% UWF: matches between ex-WWF guys for no reason, horrible finishes, rotten production and Herb himself making as many appearances as possible. Williams and Sid working hard and Cactus having a laugh with Snuka are highlights spread thinly across a horribly produced evening.
And that would be the last UWF show. Zoogz and Herb re-united then split up soon afterwards following a slew of announced events that wouldn't happen. UWF got on ESPN in 1995 and Herb would have more run-ins with the law before dying how he lived: covered in baby oil while higher than a giraffe's arse.
Abrams' was a bad joke for years who managed to still get mentioned and talked about by people decades later largely thanks to the raw nerve of a man more wrestling than wrestling itself. He was a complete idiot who had no qualifications to be doing what he was doing and produced nothing but the absolute worst wrestling shows imaginable…but I'll be damned if there's days when I don't wake up and wish I could have an ounce of Herb's delusion.
Brian Blair ends Jonathan Plombon's book with a beautiful line that I'm going to borrow:
Herb was a kid who got to own Disneyland for a few years.