Welcome back to more Dream Matches! And I have more of the very stuff that made me come up with this column- horrible, horrible bouts that embarrass the very business! That's right- it's 1992 Andre and the most low-rent thing that maybe ever happened in a WWF ring- Ninja Turtle cosplayers!
So yep- we start off with one of those bizarre lucha Trios matches, this one involving Andre the Giant (at his most unhealthy-looking and bedraggled) and Bam Bam Bigelow of all people, teaming up with legend Dr. Wagner Jr. against three big-time stars in Canek, Villano III and FISHMAN! Yes, FISHMAN!
Then I watch a notorious one-off appearance of the "Toxic Turtles" (of course it's the Executioners under the masks), as two guys in low-rent TMNT Halloween costumes face off against two jobbers in a squash so bad the crowd goes from "Wait… this is dumb" to "I am personally aggrieved to be subjected to this and want you people DEAD!" in record time!
The remainder is a mix: I wanted to check out more Kurasawa, so here he is being fed to The Giant in in-1996. And then there's Eddie Guerrero vs. Psychosis from a Nitro around the same time!
ANDRE THE GIANT, BAM BAM BIGELOW & DR. WAGNER JR. vs. EL CANEK, VILLANO III & FISHMAN:
(Mexico, April 24th 1992)
* Haha, YES! Another "hit random on Fire Pro" Mexico match with a fading Andre the Giant, decked out in a red singlet that looks like it was cut out of a couch. And he's teaming up with Bam Bam of all people, as well as Dr. Wagner Jr., one of those big stars & great workers who just never went abroad as much as his peers. Poor Andre is holding himself up via Doc, and can barely hoist himself up into the ring. The opponents are all big-name lucha guys- Canek is a major superstar, Villano III is the superior to his bros IV & V, and Fishman is apparently a huge '70s star is now one of those "old slow dudes" by the '90s. Canek's in black, Fishman green & Villano in red- Fishman is REALLY bulky, with a ton of muscle mass and a bit of a gut. Canek is BROAD- a real powerhouse dude. VIII is a bit top-heavy, slender at the waist and delicately built aside from his chest/shoulder area.
PRIMERA CAIDA: Andre does a hilariously casual chop to Fishman from the apron, leaving him floundering in the ring. He & Doc circle the ring like boobs for minutes at a time, but Andre accidentally whacks Doc this time. Bam Bam/Canek draws a big reaction for the hero- Bam Bam beats on him, but Canek falls on him during a press slam- Bam Bam does the same from a backdrop suplex. Villano gets beaten on by the heels, Andre repeatedly interfering and humorously denying it to the refs- Canek gets sick of this and interferes, but gets his ass kicked and is squashed between the giants. Andre "works" over Canek, who has to bounce off his immobile opponent- a clothesline that would shame Zeus knocks Canek down, and Villano runs in and gets stepped on. Andre one-handed chokes him and Fishman tries to sunset flip in over him like an idiot, and Andre just makes pate of him for the pin (8:52). A replay shows Bigelow pinning Canek simultaneously with a rolling senton, and so that's the fall.
SEGUNDA CAIDA: They beat on Canek for a while, working the leg and then tossing him into Andre's boot- Andre gets his mask off entirely (Canek is just holding it against his face) and tears into him (ie. leaning on him)- Canek slides out of the ring at last and Fishman's stuff is no-sold, leading to Andre's big wind-up headbutt. Andre just "hits" him to send him sprawling, and Villano runs the ropes over and over and body-checks him- Villano flat-backs off that but Andre is aggrieved enough to tag out. Fishman dodge Doc's splash and Canek press-slams him, and Bam Bam misses an avalanche and bounces around selling for the hero, and gets slammed. Canek sells the back and get beaten on again by Doc/BBB, and then Villano uses speed to send Doc flying around in that "no touch" lucha way, and finally Andre makes bait of Fishman, full nelsoning him in the ropes and Bam Bam slams him (while having a long chat with Andre)… but then he just rolls all the way across the ring to tag in Canek, who calls out Andre again. Andre refuses, but attempts to interfere and chops Wagner by mistake- he gets knocked into Andre Position by the luchadores, who go to work on him, but Bam Bam punches Canek in the balls yet wraps his own legs around Canek's foot and makes like HE received a ballshot, causing the heel ref to Disqualify the babyface team at (9:53), giving the heels an unfair victory. At least I'm pretty sure that's what happened.
Very weird match, made almost entirely of stalling for the first fall, but the second was more energetic (yes, even with Andre in there). Andre still had timing, but he was a physical wreck, holding himself up and getting by on simply ignoring the offense of others (to be fair, they're all half his size) and throwing big, dramatic shots that are sold like atomic bombs to the face. Some were embarrassingly bad, too. Canek was the star of the babyface side, having good physical charisma and a lot of flourish with every move. Bigelow kind of had to center everything, repeatedly coming in and having chats with Andre to set stuff up. The finish was pretty weak, with the two giant monster heels having to fight dirty and then act like they were fouled to get the win.
Rating: 1/2* (some guys did okay, but threading a match around "1992 Andre" for 19 minutes is a disaster)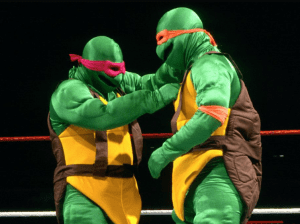 Someone said "if WCW had won the war this would be Vince McMahon's Ding-Dongs moment"… though to be fair, this didn't make a TV show anyone watched.
THE TOXIC TURTLES (Tom & Terry) vs. TOMMY STEVENSON & RON PRESTON:
(WWF Taped House Show, March 1993)
* Yes, the TOXIC TURTLES. A pair of doofuses in Teenage Mutant Ninja Turtles cosplay and a theme that sounds vaguely like the opening song to the recently-released movie (actually Max Moon's theme). They actually get a micro-pop to start, perhaps from people who think the actual TMNT have arrived to wrestle, but quickly it turns to stunned silence as this is revealed to be literally the worst cosplay ever, with baggy, overly-padded costumes, with masks featuring mouth-holes designed just like the "frowning face" in the Eastman & Laird style and the toys. Well the front row seems to be into it, desperately wanting their hands slapped. One has a red bandana & armbands, while the other has purple. Hilariously, both have on white wrestling boots.
So the story here, via WrestleCrap, is that Duane Gill & Barry Hardy, elite jobbers, brought a pair of turtle costumes to WWF TV tapings, hoping at working multiple times per night and getting more pay out of it. Hell, they weren't even the first guys to do this- Brian Hildebrand had been Cowabunga the Wrestling Turtle in Memphis. Vince McMahon was reportedly so impressed with Gill breakdancing in the costume backstage that he put them in a match on the spot, which… reads perfectly considering everything I've read about him.
The fans IMMEDIATELY shit all over this, with a few "Boo!"s heard as the red one (let's say that's "Tom", apparently Gill) starts us off, Terry on the apron stomping to get the fans into it. It does not work, even after Tom shouts "I love being a turtle!" to the bewildered fans. Literally his first move is a headlock and he immediately tags in Terry for a double-dropkick for two and… oh jesus, Terry can't get up off his back when the jobber kicks out. See, because he's a TURTLE. Tom has to turn him over after this unconvincing display, and they score an armbar and a double-elbow. The crowd starts to get actively hostile as Tom throws a leg lariat. A back elbow seems to at least bore them enough to settle them down, and Terry has to literally feel around to figure out how to bodyslam the jobber. Then he immediately tags Tom and slingshots him in for a somersault senton, scoring the pin at (2:04). The chubbier jobber never even got in!
Just a complete disaster, as the crowd goes from "… wait, this actually sucks" to "I am SO OFFENDED that you're making me watch this garbage that I want you and your family dead" in about forty seconds, completely turning on the match and probably causing everyone to go home early. Neither guy had any charisma, couldn't emote with the full face masks, and Hardy in particular actually seemed to be blind in his outfit, fiddling with the mask like Rey Mysterio at WrestleMania. Now the important question: did that other jobber end up getting paid for not doing anything?
Rating: DUD (possibly the worst jobber squash of all time- clumsy, awkward movements and only one guy got in the ring on the losing team!)
THE GIANT (w/ Jimmy Hart & Hugh Morrus) vs. KURASAWA:
(WCW Main Event, Aug. 31st, 1996)
* Man, Kurasawa (Manabu Nakanishi) stuck around until mid-1996- I'll be damned. He cut his amazing mullet down to a Bruce Lee cut at this point, and no longer has Col. Parker as his manager- and he's about to be fed to The Giant, shortly before he joined the nWo.
Kurasawa immediately has his chops & kicks no-sold, leading to failing a bodyslam and getting pounded down and slammed himself. He comes back with some chops that are actually sold, but takes a Jackie Gayda-level delayed bump off a big boot, and the Chokeslam finishes easily at (1:31). Hugh Morrus adds No Laughing Matter (moonsault) for the hell of it, and laughs. By this point they were obviously about to send Kurasawa back to New Japan.
Rating: DUD (just a two-move match)
EDDIE GUERRERO vs. PSYCHOSIS:
(WCW Nitro, 07.08.1996)
* It's the Nitro debut of Psychosis, as he's wearing weird silver armor over his black & white gear, going up against white & red-clad babyface Eddie Guerrero on Nitro in one of those "have an impressive throwaway match" things they always did.
Eddie & Psychosis chain-wrestle as Rey Mysterio does an inset promo explaining his disappointment on who the third nWo man was, then goes into Spanish. Eddie actually moves Psychosis into a "seatbelt" move like Wheeler Yuta does now, getting two as Tony declares the "Day of Infamy" of Hulk Hogan turning on WCW. Both guys land on their feet from stuff to impress the fans, and Psychosis bails after crotching himself. Eddie works a headlock, pulling hair as he's adding some heel stuff to his babyface game. Psychosis ultimately launches him to the floor and follows with a corkscrew senton to the floor! Eddie sells the arm, so Psychosis works it over, hitting a cross-armbreaker and other moves to yank on the limb- Eddie counters a whip with a hurricanrana for two- the arm is too bad to hold him. Psychosis presses the advantage again, but comes off the top into an inverted atomic drop. But Eddie charges him and hits the shoulder into the post, letting Psychosis hit a Super Frankensteiner for two! Eddie tries to counter a flying move with a super electric chair drop, but Psychosis spins around and hits a sunset flip powerbomb- again only two. Psychosis climbs one last time, and THAT's what gets him, as it's the old "Superplex into the Frog Splash" for the pin at (7:49).
Another of those "come from behind" matches, and an interesting bout- Eddie has to get the new guy over while also winning, and so wrestles from underneath the whole thing, Psychosis getting the match's most outstanding move (the corkscew dive to the floor). Psychosis worked the arm well- for a lucha high flier he was really good at focused limb work, shaking it up and never doing the same move twice. And he showed a weakness in repeatedly trying to fly- he was good enough to catch Eddie repeatedly, but eventually Eddie finally got him, after kicking out of several moves that'd end nearly any other match, especially in 1996.
Rating: ***1/4 (very good for a TV match with that match time- solid come from behind win after selling most of the match)