Hey all! Welcome to a different kind of Dream Matches column, as I work something our own Darryl Stewart suggested- matches between the same wrestlers, but over the years in different companies! Woo! Kick cancer's ass, Darryl!
I'll see what I can find on free to watch sites, as I don't have the WWE Network. Thankfully a bunch seems to be up and posted.
WCW CRUISERWEIGHT TITLE:
REY MYSTERIO JR. vs. ULTIMATE DRAGON (w/ Sonny Onoo):
(WCW Nitro, Aug. 8th 1996)
* We come to WCW Nitro in 1996, shortly after the "Lawn Dart" incident (mentioned on commentary by Bischoff & Heenan), with Rey defending the Cruiserweight Title against a then-unproven "Ultimate" Dragon, who has a full face mask and sprays red mist in the pre-match. They'd apparently fought at Hog Wild only 2 days earlier, which is unmentioned here. Rey's in blue & white while Dragon's in aquamarine with a lot less detail than I'm used to. It's weird seeing Rey in his pre-roided phase at this point.
Bischoff immediately starts in with his stupid karate names for Dragon's kicks as he lights Rey up, and a spinning torture rack drop gets two as Heenan marks out. Cartwheel handspring back elbow in the corner and a Running Ligerbomb just MURDERS Rey, who bounces onto his belly. Dragon takes forever and chats with Sonny, thus eating feet on a flying nothing- Rey gets caught up on the ropes trying a rollover but Dragon helps him out while looking like he's fighting him, and Rey hits the Springboard Rana, tossing Dragon to the ropes. Tope Con Hilo to the floor! Dragon dropkicks Rey coming off the top rope back in the ring, then does a tiger feint into a kick, skin-the-cat & tope suicida as they just aren't slowing down. Dragon lands on his feet from a backdrop and tiger suplexes Rey for two, then hits a moonsault for the same. Asai Moonsault hits, but Dragon again takes too long and tries a powerbomb, Rey flipping over with a Manami Toyota Roll for three (4:33)! Rey pulls one out!
Okay, this is classic WCW- the Cruiserweights had almost no TV time at all, so just whipped out EVERYTHING in quick succession- no weardown holds, no match-flow, no nothing, and just hit a ridiculous series of moves all in a row. As both guys were young and uninjured they could do this all smooth as silk and with no wasted movements, making it incredible to watch. Yet I sit here in tears cuz it's like 4.5 minutes of action with a banana peel finish, haha. The Cruiser style at the time was very based around quick reversals scoring the pin, so guys could trade belts pretty quickly. Dragon doing his usual "10 finishers in a row" style suits these kinds of bouts, and at least Rey's sudden victory makes sense rather than him just fighting back from all that stuff. Dragon gets the J-Crown around this time and would bring it to WCW, defeating Dean Malenko, becoming the Cruiserweight Champion.
Rating: **3/4 (I mean who does THAT WELL with a match so short except in situations like this?)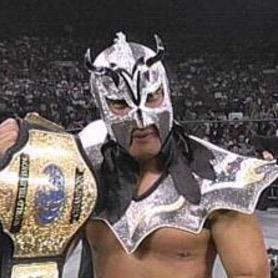 J-CROWN CHAMPIONSHIP (IWGP, WAR, NWA Welterweight, British Commonwealth, WWF, WWA, NWA Junior, UWA Junior/Light Heavyweight Titles):
ULTIMATE DRAGON (w/ Sonny Onoo) vs. REY MYSTERIO JR.:
(WCW World War 3, Nov. 24th 1996)
* A couple months later and Ultimo is now the J-Crown champion, bringing all those belts to WCW to defend it. This leads to a big push for him (before he'd mostly just been losing to Rey), and he gets another fight against Rey. All I can find of this is a joined in progress bout on YouTube, but Daily Motion has the full one!- Rey's in blue with a red Spider-Man mask, and Ultimo's in bright pink- a great look for him.
Dragon dominates Rey with arm stuff, then do one of their "flip into standing positions & miss moves" applause-gaining sequences. Ultimo scores his kick series and a slingshot dropkick, and Sonny boots Rey. Ultimo scores a German Suplex and the Eddie Bump. A spinning torture rack, stretching, powerbomb to overthrow powerbomb guillotine, giant swing, fishermans' buster and brainbuster continue the murder on Rey, who can only get a small package. Dragon works the leg and he tombstones Rey for two. Big tombstone but he delayed on the pin. Tiger feint/kick/skin-the-cat happens again, but Dragon just leaps to the floor this time and tosses Rey into the guardrail and tombstones him ON THE FLOOR and immediately hits a pescado splash!! Okay he obviously doesn't know the tombstone is a huge move in the West cuz he's just tossing those out like setup moves, lol.
Dragon sells that as much as Rey, but hits the Super Frankensteiner in the ring for two. Running Ligerbomb again! But still two! Rey manages a wheel kick out of the corner and hits Sabu's Triple-Jump Moonsault (the springboard/flip off the ropes one) for two- Tony points out it doesn't connect great. Rey does the flip-over-the-ropes thing from last match but now it's a springboard dropkick into a charging flip from the corner to the floor. Springboard sunset flip gets two, Dragon reverses for two, and Rey then hits a cartwheel flip onto the shoulders to hit a spinning rana for two! Rey misses a punch and eats the Dragon Suplex for two as the poor announcers are thinking EVERYTHING is supposed to be the end, and Rey gets the Manami Roll out of a powerbomb again for two. Rey goes for the Springboard Frankensteiner to finish, but BAM! Dragon catches him and hits the Slingshot Ligerbomb for the huge win (13:48)!
God this stuff was INSANE. Coming into WCW in late 1996 and seeing these flippy guys do the impossible was a real trip, especially if you were too young to be a tape trader (I was about 15 here). Just remarkable flips and dives, with athleticism that'd astound people even today, as much as it was a total spotfest. This was every bit the "you hit your spots; then I'll hit mine" match, as Dragon scores a ludicrous ton of moves, then takes one shot and Rey's now okay enough to fly around too, hitting a ton more until Ultimo finally catches him with a super-death move (you did not see Slingshot Ligerbombs very much back then- now in AEW it's Dax Harwood's "Aw, just about!" late-match kickout move). Not much of a story beyond "two crazy guys throw out everything to beat each other" but awesome for what it was.
Rating: **** (just an amazing spotfest, if one-sided for Dragon until the end)
J-CROWN CHAMPIONSHIP (IWGP, WAR, NWA Welterweight, British Commonwealth, WWF, WWA, NWA Junior, UWA Junior/Light Heavyweight Titles):
ULTIMO DRAGON vs. REY MYSTERIO JR.:
(Wrestle Association R, Dec. 13th 1996)
* It's an interpromotional match, as was the craze at the time- all the various companies with a focus on Juniors started mixing and matching their guys in a variety of dream matches, and now WCW's Rey Mysterio Jr. heads to WAR to take on the J-Crown Champion! Of course both were under WCW contract as well. Rey's in his blue/red Spider-Man gear again, while Ultimo's in an ugly orange combo.
They start off with a "pause for applause" routine, but Rey takes the Eddie Bump and La Majistral nearly catches him- Rey eats the kick series but manages the Springboard Rana, but Ultimo nails him with a German for two. Rey splats him and hits a standing moonsault (don't remember him using THAT) for two, but tries it again and gets beaten up- spinning torture rack drop by Dragon sets up the Super Frankensteiner, but he doesn't cover and hits a powerbomb, then lifts Rey into an overthrow version into the ropes for two. Charging clothesline sets up the Running Ligerbomb, Rey ending up on his belly again- Ultimo milks the count to seven and hits a brainbuster for two.
Ultimo seems to stall out (Rey even runs HIMSELF into the corner) but Rey hits the same "boot-boot-wheel kick" reversal as before and the Triple-Jump Moonsault gets two. Ultimo looks more surprised than hurt despite the huge impact the flip got, and catches Rey trying an Asai Moonsault into a jumping tombstone for two! Dragon knocks him to the floor and the same tiger feint routine as WW3 sees him hit a clothesline on the floor, which he also seems to sell. Ligerbomb in the ring gets two, but Rey now does his WW3 flip to the apron routine, with the missile kick & corner flip to the floor. Rey gets the fans to chant for him and they do the springboard sunset flip to reversal to Rey doing the cartwheel rana for two. Rey does a standing Frankensteiner for two, then catches Ultimo on the second rope with a hop-up rana for the same, but tries the Springboard again… and there's the Slingshot Ligerbomb for three (10:20).
Haha, this was more or less like the World War 3 match minus a few minutes, right down to the exact same routines being copied- Ultimo's skin the cat, Rey's flip to the apron (with an identical flip to the outside after)- even the FINISH is copied! It's funny watching them one after the other and I wonder if tape traders of the day recognized them having seem them at different times instead of a couple weeks apart. I guess they liked the WW3 routine and just wanted to do the same thing in Dragon's home country. There was a slower start and then Ultimo just starts hitting finisher-tier moves right away, always with his bored, half-assed covers, which always looks weird (I'm used to the more manic joshi style at this point, I guess). The match flowed a tad better thanks to Rey having more offense in the middle, but the match itself was shorter. Weird construction with running Ligerbombs and Super Frankensteiners being in the opening third, though.
It's tough to rate, though- deja vu is a heck of a thing watching them in a row, and the sequences weren't quite as tight this time around- moves mostly weren't as flush, and there were more odd delays between them. Though the Triple-Jump Moonsault looked way better this time.
Rating: ***1/2 (another really slickly-paced, All Finishers mass of moves)
Rey in his "WCW/nWo Revenge" gear.
REY MYSTERIO JR. vs. ULTIMO DRAGON:
(WCW Worldwide Sept 19th, 1998)
* Yes, these two actually had to do the D-show in 1998. WCW, folks! Both guys are in weird outfits here, Dragon in a bicolored gold/black version of his gear, while Rey's in Mexican flag colors, mostly white with a green mask. Rey is looking much more toned at this point, but not as roided as he'd end up.
Ultimo takes him down and works the arm with some good stuff for early-match work, then they reverse on each other to show off (Rey's tiger feint into Dragon landing on his feet from a backdrop- well, almost- then a missed wheel kick & missed dropkick). Rey works a cross-armbreaker, Ultimo threading into a half-crab & leg grapevine as Zbyszko calls them out for being "almost OVER-cautious- afraid to make a mistake" which is commentator code for "LOL it's a D-show and this is just lazy". Ultimo even hits a chinlock, but takes a tilt-a-whirl headscissors to the floor after getting a snap suplex, and Rey… oh, he just waits him out and then punches him when he gets in, haha. Dragon whips him to the corner and hits a backdrop suplex for two, but then suddenly it's bang-bang-bang finish, as Ultimo gets rana'd out of a Running Ligerbomb, gets put up for the Super Frankensteiner, but rolls through on the landing for the three (6:13)!
OMG, these Worldwide matches. Two top-tier workers and they're like "Yeah, NAHHHHH…" and just work holds cuz why bother? I mean their technical stuff is fine and Rey can sell it pretty well but then he's just up and jumping around after all that knee work anyways. And then they make the "go home" signal and hit their 2-3 cool moves and then the shocker win as Ultimo steals one (Rey was getting pushed a fair bit more by '98, I recall).
Rating: *1/2 (just two guys half-assing it until the cool finish)
Fast Forward to the 2000s, and Rey has FINALLY healed up enough to make WWE… and shocks everyone by actually getting a huge push. I mean, at the time we were all in the "Vince hates small guys" thing (and I mean, he DOES, but…), yet he gets a very big push right away. The mask sales to fans probably help, too. Rey comes in heavily roided and with smashed-up knees, but he's still fast as hell and now bulky enough to believably move around the big WWE dudes. He's also become a smarter worker instead of the "just the flips" guy, using his great selling and now improved timing to make up for what he's lost in speed and agility.
He was popular enough, and a good merch-mover, so Ultimo Dragon was eventually brought in as a counterpart. I've heard tell that Vince was quite disappointed at what he got here, as Ultimo was his usual "antiseptic" self, as Scott Keith once said. And like Rey, was quite a bit older and more beaten up (he'd actually retired for ages after a botched arm surgery).
REY MYSTERIO vs. ULTIMO DRAGON:
(WWF SmackDown!, 2003?)
* Rey is already established by this point, and comes down in purple/aquamarine baggy pants and his mask, while Ultimo's in some shiny purple gear, getting a big entrance of his own with the double dragon blowtorches pyro at the entranceway. Cruiserweight Champion Tajiri is doing commentary.
They do a simple rolling routine to start, Ultimo getting a kick but taking a slingshot cross-body for two. Ultimo's kick series gets two, but he runs into boots and takes a spinning headscissors. Rey dropkicks the knee and hits a wheelbarrow bulldog for two, but Ultimo avoids the 619 and then kicks him out of his West Coast Pop attempt. Ultimo goes for some kind of running stunner, but hits the ref by mistake- Tajiri then jumps on the apron, head-kicks Rey, and Ultimo gets the pin at (3:36). YUP.
A very "2000s WWE" match, as it's a lot of the "Run 'n' Gun" style stuff (though these guys are obviously already familiar with the "most moves are off of Irish whips" style), and WWE-style pacing, with the "hit an impact move, then do some running into another impact move". Then they barely get started before the screwjob finish.
Rating: * (just so basic and not even that much effort shown in those few minutes)