September 9th, 1991
Taped July 20th, 1991
War Memorial Auditorium
Ft. Lauderdale, Florida
Commentators: Craig DeGeorge & Bruno Sammartino

The taping with two matches and lots of commercials!
Wild Thing Steve Ray vs. Muhammed the Butcher (w/ Abudadein)
We're at the dregs of these set of tapings so let's bring a really crap Abdullah rip-off to get the cat excited. Steve actually gets a pop, probably from throwing all those tables during the crazy, short brawl last time we were here. Bruno spots Lou coming in for guest commentary and yells SPEAKING OF FAT MEN HERE'S LOU! Bruno sounds so happy listening to Lou rag on The Butcher with his fat jokes. Ray makes Butcher jiggle with kicks to the head before chasing Abudadein out the ring. Bruno asks Lou about Muhammed's training regiment just so Lou can say "oh yeah he clearly works out five days a week." I didn't realise how good a Lou/Bruno team could be. Bruno tries to defend Butcher and Lou laughs "yeah he moves around the ring really well, especially when he dropkicks! Last one he threw, he broke the other guy's ankles!" Everyone loves it on that one. Ray's getting nowhere with his punches so he gets a fire extinguisher and uses it on Butcher and the ref counts the pin despite the enormous white cloud in the ring. "Well the referee said it was fair!" yells a care-free Bruno. Ray then launches Abudadein on top of Butcher and Bruno yells "that can't hurt much, it's like landing on a trampoline." A must-skip match with must-listen commentary.
B. Brian Blair vs. Sonny West
Sonny West gets laughed at by the crowd as he makes his way to the ring and he looks god-awful. I don't know what he's doing right now but if drugs didn't get him then diabetes did. So we're at the point of a B. Brian Blair squash to fill the time as God knows what Herb was thinking for these last tapings. Blair throws the pudgy old guy off the top rope then ends with a sleeper. I bet you're glad you clicked this review.
Ask The Wrestlers
Blair is asked if he'll wrestle Steve Williams. Blair says yes but cagematch says NO making him a filthy liar.
We get a replay of the Mr. Red/Lou segment which we only just replayed LAST episode along with the terrible Pondo/Ninja match from last week to fill this show up like cheap mayo in a Meal Deal sarnie.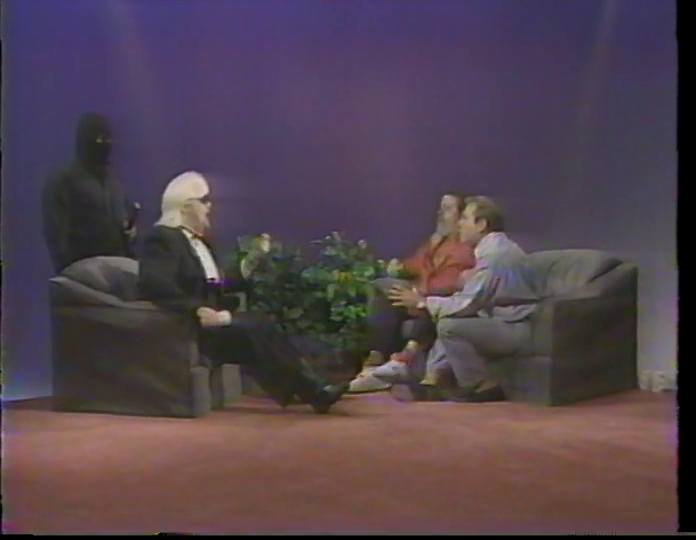 Oh and we go to Herb and Lou on a couch talking to Mr. Red and Super Ninja in a studio somewhere. Everyone yells at each other until Red reveals he bought Lou's Corner. This is awful to start as literally all they do is yell over one another. Red explains he hates Herb because he didn't want his Russians or "his kind" in the company so he wants to own all the UWF in revenge. The Bruno segment a few weeks ago was watchable but this goes on forever with just yelling and bad insults for ten minutes. And then for fifteen minutes. And that's it. Only watch this if you're a fan of tramps fighting at bus stops. Herb was trying to sell this to networks as a spin-off?
There's so little stuff to shove onto this show that we get even more commercials and end with a pretty decent Blackharts promo, with Luna once again wrapped in a snake. "God is indeed an astronaut and we will win the UWF Tag Team Titles!"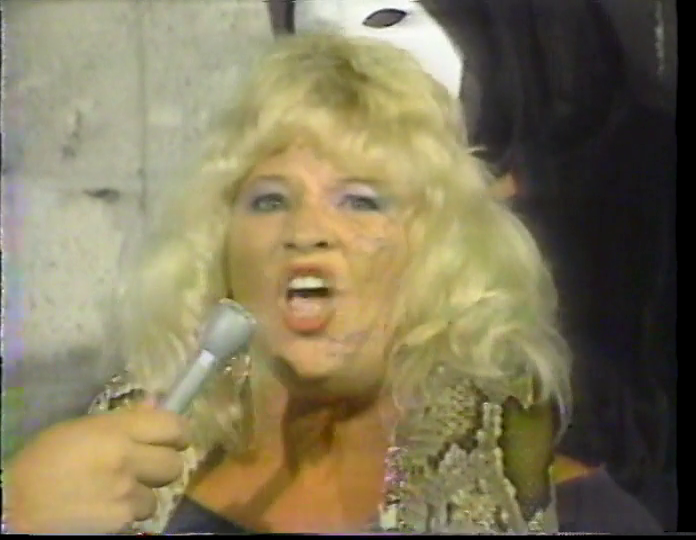 Luna's crazy, what tag titles?
And then we get a replay of every single commercial UWF has as I laugh at the idea of some intern trying to explain to Herb there's no more content and Herb simply telling him to play more commercials with the whole thing looking like Hitler's breakdown in Downfall. And to make it even funnier, there's another episode to go WITH NOTHING LEFT TO SHOW.
Here's more Meltzer to pad these reviews like Herb padding these tapings:
The Bradenton Herald last Sunday reported in a front page article in the Local section that wrestling promoter Herb Abrams left town after the 6/9 PPV show from the Manatee Civic Center in Palmetto, FL without paying his bills. Civic Center manager Walter Golby said this past week that Abrams skipped town owing the building $6,895.22. "I found they went out the back door to their limousine," Golby said about Abrams and his companions after the PPV show. The contract between the Civic Center and Abrams called for settlement of bills "directly at the close of the event." In addition, Abrams hasn't paid Jacor Broadcasting "several thousand dollars" for advertising on radio stations WFLA-AM and WFLZ-FM in Tampa said Jacor business manager Russell Link.

Most of the Civic Center tab came from advertising in four area newspapers. The Civic Center paid those bills and expected reimbursement from the Universal Wrestling Federation. Golby filed a criminal complaint with Palmetto police within hours after Abrams skipped town without paying in June, fired off a letter and sent a bill to Abrams two days later, but as of Sunday, the bill remained unpaid. Golby and Cliff Waters, the Civic Center attorney said they are exploring an option to seize recording equipment (if the group tries a television taping) and/or box office income if the group returns to Florida. The newspaper attempted to contact Abrams by calling their phone number in Marina Del Rey, Calif. The telephone answering service said Abrams is out of the country for more than a month (in reality, Abrams was in New York planning for a house show in New York City this coming Saturday night headlined by Steve Williams vs. Steve Ray).

This past week, in an editorial in Matwatch by editor Steve Beverly, he talked of Abrams and said, "Many of us, myself included, had a field day with Herb Abrams last year. My intelligence was insulted when Abrams said publicly he would employ a dead man and another who was in jail. But, in retrospect, I wish I'd have put Herb into perspective as a man with a small cash and small TV base and left him alone." I strongly disagree. Over the past year, Herb Abrams has built up quite a track record in this business. He started by making more than the standard exaggerated claims and lies in regards to talent he claimed to have under exclusive contract. He claimed publicly to have been negotiating with several names that told me personally that had never even spoken with him. Then he stiffed several wrestlers on pay-offs, as reported here months back and at least two or three, including Honkytonk Man, sent letters to the New York State Athletic Commission, which claimed to me that nobody had ever sent them letters of complaint even though I had received copies of those same letters and canceled checks. The Ramada in New York insisted on doing all business with John Arezzi at his recent convention on a cash-only basis because of a policy with all wrestling people because of past experience in dealing with Abrams and the Penta Hotel is also said to have had similar problems. If Abrams was simply a guy trying to start a wrestling company without a lot of money, then he should be judged by those standards. The more promoters there are in wrestling, the better it is for everyone involved with the business. But the wrestling business does not need people like Herb Abrams. When people like Abrams get involved, newsletters such as this one should make them accountable for what they say in public and for their actions in regard to their business.
Seinfeld was a show about nothing, UWF was a show with nothing.
I've been Maffew.