August 26th, 1991
Taped July 20th, 1991
War Memorial Auditorium
Ft. Lauderdale, Florida
Commentators: Craig DeGeorge & Bruno Sammartino

Jim the Animal (w/Paul Samson) vs David Perry
We saw Jim The Animal (which sounds way too close to Jim The Anvil for my liking) last week as a harmless "man as animal" type, ready to eat stuff off the floor and jump wildly whenever someone walks within ten yards of the ring. The ref checks Animal for foreign objects so the Animal checks the ref for the same. The ref tells him "I'm working with Herb, I don't even have loose change" but Animal doesn't understand. Crowd are appreciative of both the idiot and the jobber. UWF absolutely did not deserve a crowd this receptive. Animal gets knocked around but then makes a comeback with some rough punches. Nothing much to talk about until Animal counters a backdrop into a swinging neckbreaker into Big Show's Final Cut. Perry tries a comeback but Samson grabs Perry's foot and he falls victim to a leg-drop. Wait The Animal was supposed to be a heel gimmick? We're supposed to boo 2001 Perry Saturn circa? Eh actually don't answer that.
Herb tries to interview The Animal and is given the wrong mic twice. Obviously they leave this in the TV program because why wouldn't they? The idea is Animal can only respond to questions with "ANIMAL" but this sadly means he's still smarter than Herb who runs away in fear after two confused answers which gets no reaction because only Herb could fudge a segment where a guy says one word.
I've spotlighted the Oatmeal Cookies before but I wanted to highlight the amazing camerawork filming the cookie packet the Blair Witch.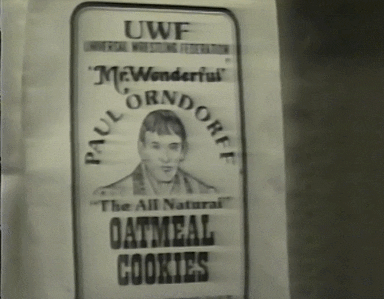 And again to point out they've used a picture of Ian Beale for Mr. Wonderful.
Capt. Lou's Corner w/Joshua Ben-Guirdon
Oh wonderful, the crap wall returns to help spotlight the crap wrestler Joshua Ben-Guirdon. He says nothing and then Lou Albano wishes us all a Happy Hanukah (episode recorded in July).
Israli Heavyweight Champion Joshua Ben-Guiron vs Muhammad the Butcher (w/Abuda Dean)
Muhammad is a brutally cheap Abdullah knock-off who gets the crowd chanting "USA" at the mere sight of him while Joshua hands out Israeli flags to excited kids. Craig tells us they don't sell popcorn at Joshua's matches in Israel, they sell sesame seed buns. Craig realises he doesn't know anything about Joshua so he moves onto marvelling at how out of shape Butcher is. Lou joins us to mock Butcher's body further and even Bruno can't help but comment on the folds on his back. I might as well type about the commentary because Joshua moves around like this limbs are made of breadsticks and Butcher is beyond useless. Dean trips Joshua and Butcher very slowly attacks Joshua with a rolled-up chain. Craig calls Muhammad "Abdullah" as Joshua throws Butcher into the ropes with a towel as the ref calls it a DQ. This made the Hindenburg look like the finish to AEW Revolution 2021.
Joshua would move onto bigger success by appearing as "that big guy" in films and would thankfully leave wrestling the hell alone.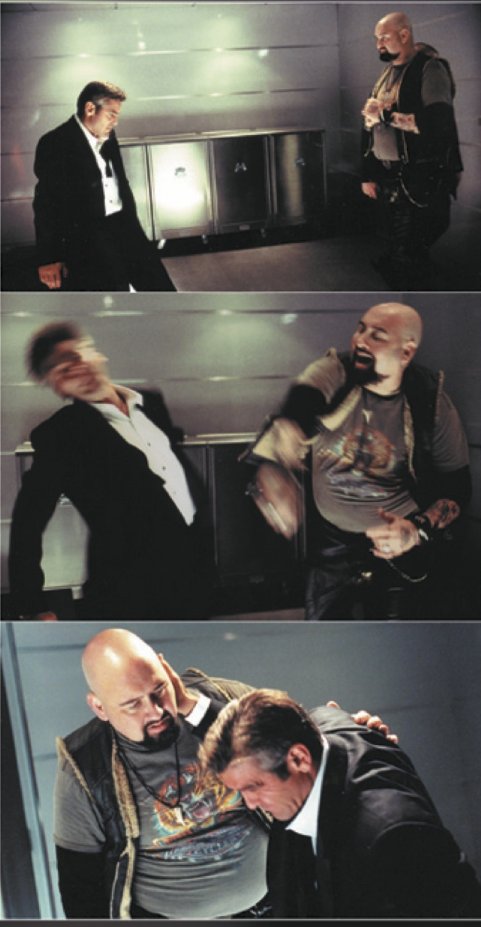 The Cuban Assassin (w/Mr. Red) vs Joe DeFuria
I thought The Cuban Assassin may be one of those public domain wrestling gimmicks like Doink or Mr. X but apparently it's the real Fidel Sierra so that's something. DeGeorge makes Bruno guess who The Assassin's hero is and Bruno gets cheeky: "Oh let me guess, somebody by the name of Fidel Castro?" Cuban blocks a Sunset Flip and lands a high knee to turn the tide while Mr. Red chokes Joe on the outside. Joe gets some punches so bad Bruno has to comment about their softness, followed by a dropkick that was 0.7 on the Erik Watts scale.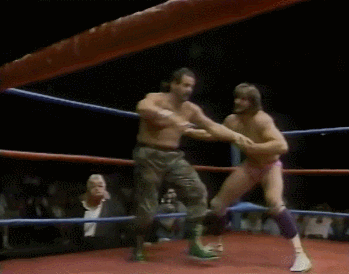 "Oh my, that was not good" Bruno moans as Cuban pretends it didn't happen to piledrive Joe and send this one home quickly. The crowd must have smoked an exploding cigar during this match because they sounded like they died watching this misery.
Coming to cinemas soon, Child's Play 3! Yeah we don't like talking about that one in the UK.
Paul Orndorff vs Dave Johnson
Bruno chastises Craig for not being able to say Orndorff's name as DeGeorge must be drinking the Lou juice two tapings deep. Dave Johnson tries to sneak attack Paul which didn't work for Vader and won't work for him as Paul's in no mood and ends it very quickly with a piledriver.
And I think that's the last time we'll see Paul in these reviews (because I messed up the order, sorry) but he was by far and away the MVP of the company. His presence and apparent loyalty being associated with UWF brought Herb the most respect he'd ever have.
BREAKING NEWS
Herb Abrams ran a television taping 7/20 in Ft. Lauderdale drawing 300 fans (180 paid) with Brian Blair, Black Hearts, Orndorff, Steve Ray and Bob Orton as the top names. Orndorff and Orton walked out in the middle of the show when they still had TV matches scheduled. Manager Mr. Red attacked both Abrams and his booker Lenny Duke who both bled from the mouth. Johnny Ace, Danny Spivey, Cactus Jack and Sonny Beach all no-showed and are said to be heading to work for Joe Pedicino.
OK if your most loyal star is sodding off mid-way through the show like he's Brock on Smackdown, it's time to reconsider getting out of the cocaine wrestling business.
B. Brian Blair vs Death Row 3260 (w/Gorgeous John)
Bruno wonders how a manager as David Patrick Kelly-looking would dare give himself the name "Gorgeous" and Craig redeems himself by wondering if Death Row gave him that name. That's how it works in Oz. Blair gets tripped straight away by the ringside prag which results in Death Row attempting to leapfrog Blair, but turns it into a high knee instead. Bearhug kills a few minutes as well as the crowd's attention as they start making "aaahhh" noises in synch with Blair's moans of pain. Blair escapes and somehow nails the ref during a leapfrog which somehow results in Gorgeous accidentally hitting Death Row enabling Blair to somehow small package him for the victory. Like most of Blair's singles matches, this was beenign.
This is Death Row's last UWF appearance and he showed some potential due to his willingness to throw himself about for a man his size, but he'd be done by 1996 leaving this match as his legacy:
Luna Vachon (w/The Black Harts) vs Allison Royale
It's 1991 so this is a SPECIAL LADIES MATCH. Everyone reading this must know the greatness of Luna but sadly the same can't be said for Allison as they both stumble over a terrible clothesline. Luna makes sure to keep her grounded as she realises she's no good on her feet. Lou Albano shows up to somehow do a better job of explaining the wrestler's backgrounds than the actual commentators by informing us The Great Malenko trained Allison. That makes sense as she's walking like she's wearing clown shoes. Lou tells both men they're doing a great job and will be getting a $10,000 a week raise, which Craig responds with "Great, that means I'm on $10,008 a week!" Allison lands a nice X-Pac style swinging kick to wake the crowd up. They continue to fumble over some sequences but like the crowd I've lost interest in this show. Kat shows up to attack the Blackharts at ringside which results in one of them running in to give a monster DDT to Allison which allows Luna to win via top-rope splash. Some occasional moments of real wrestling spread over unreal wrestling.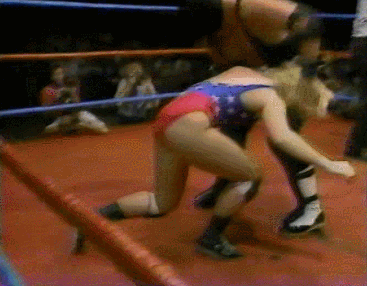 Overall: God this show felt long, just back-to-back rubbish and naff characters like the glory days of NXT 2.0. We're near the end but even the vultures are checking their watches.
Meltzer has the most entertaining bit of the week though:
Both Herb Abrams and Joel Goodhart have told people they've got Ric Flair signed for future dates. Goodhart was talking in Baltimore that he's got Flair vs. Terry Funk in Philadelphia in September. I think it would be premature to say any of this is etched in stone, but what do I know.
I've been Maffew.