July 13th, 1992
Taped June 19th, 1992
Memorial Auditorium
Spartanburg, South Carolina
Commentators: Craig DeGeorge & John Tolos
Third set of tapings from this tiny little sweatbox. We still don't know if these happened in 1991 or 1992 but we know for certain that no-one gives a damn.
Wet N' Wild (Sunny Beach & Steve Ray) vs. The Marauder & The Viper II
The Viper, like the majority of the roster, would have a run in AJPW because Baba loved Herb's guys. He must have loved their energy, which passed into them like photosynthesis. Viper inexplicably has victories over Mighty Inoue & Yoshinari Ogawa, Marauder had a lengthy run in Mexico and both of them look like they've come to do landscaping rather than wrestle. US indies in the 90s were such a crazy mix of people on the way down wrestling people on the way up. Sunny Beach stretches Marauder until Viper interferes which draws Ray's anger as he chases him out the ring. Tolos talks about the wrinkly women he had sex with when he was starting off in wrestling so you know they've been recording a lot of hours of wrestling. He sounds like Excalibur and Taz after ten minutes. Beach holds Viper in a Reverse Powerbomb position so he can show the crowd the massive tear in his tights. That's a new one. Beach splashes Marauder off the top rope and the ref counts to two, pauses because he isn't sure if it's the finish then counts to three because he realises it is the finish. "Massive victory here!!" yells Tolos. It was a massive something, alright.
Paul Orndorff vs. Stone Cold
Orndorff keeps it simple as he's got Bob Orton next week/later that night, so he doesn't do anything outside of armbars for a few minutes before giving his opponent a piledriver before he turns stoney cold.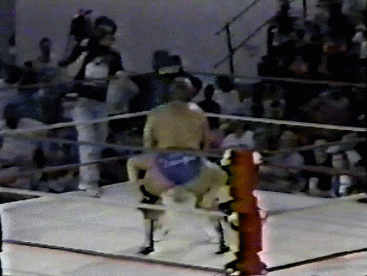 Red's Corner: Jimmy Valiant
OK so last week The Colonel was told by Herb he had to interview The Boogie Woogie Man on his corner or he'd be fired. Red still doesn't want to do it so Herb appears and reminds him of the stuff I just typed up which allows the old woman from the bathtub in The Shining Jimmy Valiant to sneak up on Colonel Red before Ivan Koloff makes the save. The rest of the locker room come out to break them up but they weren't actually doing anything before they showed up and then everyone shuffles away while Tolos comments on the great action.
The Nightstalker vs. Jake Steele
Steele is the future Big Daddy Hammer, who would wrestle once a year until 2011 presumably because he loved the business so much. He's got hair like the theatre guy who gets Marge ready for Oh, Streetcar! so there can't be many things in life for him to love. Nightstalker is Big Bryan Clark who should have beaten Mabel at In Your House but didn't. Stalker can't do much apart from flying clotheslines but he looks so good doing them that it's hard to blame him for sticking with them. One armed chokeslam ends a 200% squash for Clark who nearly forgets his axe on the way out.
UWF Southern States Championship: Bob Orton, Jr. vs. Helmut Hessler
Helmut's the weird pretend-German from last week. Ich bin neine Berliner. Bob's a newly-turned babyface and also the Southern State Champion as a result of Steve Williams not being available/not being arsed about defending his UWF Heavyweight Title. Luckily Orton's a respected enough name for the crowd to cheer and no-one bought Beach Brawl anyway. Orton also sticks to armbars for the first few minutes but is able to make them more interesting than Orndorff as he lets Helmut escape and choke him in the corner. Helmut tries to distract the ref so his manager can hit him with his nine-iron but the crowd are SO LOUD yelling for the ref to notice that he can't get any shots in. Now that's some solid old-fashioned RASSLIN. Orton nearly gets distracted by the manager but again the crowd cheer so loud to let Bob know that Helmut's sneaking up on him that he's able to bump Helmut into him and deliver a back suplex for the victory. Nothing much as a match but you could have fried an egg on the heat Orton was generating.
Jimmy Valiant gets another promo where he reminds us DADDEH that him and Ivan go far back a long time BABBEH before singing the lyrics to The Boogie Woogie song DADDEH BABBEH.
Grudge Match: Jimmy Valiant vs. Ivan Koloff
Jimmy dances his pretzel stick body all the way into the bleachers waving the stars and stripes to ensure maximum crowd support. Valiant uses Red's cane on Ivan before the match starts and they brawl around the ringside area. Ivan gets plastered from pillar to post and gets absolutely no offence in while Valiant chokes him with a camera cable. Considering they've wrestled each other before colour was invented, you'd think Ivan would have some idea how to deal with him by now. Red has to jump in and save his guy from getting demolished by the hairy walnut which allows Koloff to get his breath back and start busting out the big moves like the eye-poke and the back-rake. Crowd are loving the intensity and getting a chance to chant "USA" even when Valiant is on offence. Valiant locks in a sleeper hold but Red simply hits Valiant with his cane which enables Koloff to barely drag his arm over to get the victory.
Herb runs in and calls the decision a disgrace but before he can reverse it, Red twats him out the ring with his cane and does a number on him on the outside. Paramedics apply a neck brace to Herb as he bleeds profusely. Crowd doesn't know what to make of it as no-one cares about Herb as an on-screen character so the only reaction we get as he's stretchered away is Tolos yelling "Bye Herb, have a nice life!"
Overall: These are tapings that exist just to exist but at the very least there's some wonderful milking of the crowd by wrestlers who were used to doing a lot with a little. But apart from that, there's no absolutely no reason to track any of this down, unless Herb bounced you a cheque and you want to see him bleeding.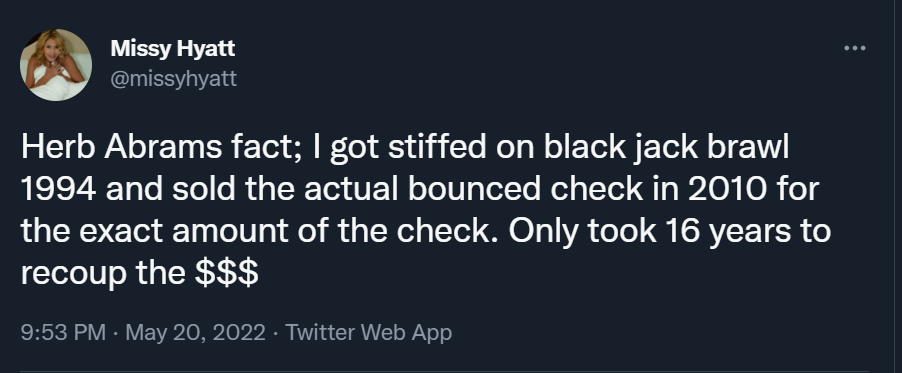 I've been Maffew.