August 12th, 1991
Taped July 20th, 1991
War Memorial Auditorium
Ft. Lauderdale, Florida
Commentators: Craig DeGeorge & Bruno Sammartino

"Somehow…Herb returned."
It's the first set of recordings after Beach Brawl (edit: no it isn't) which surprised many who assumed the company was kaput after the non-existent buy-rate and departure of Cactus Jack and others.
Lou does a backstage interview in front of a crappy looking wall and explains there's no bright lights here, this is real wrestling "for the homeless" and then throws to Firecat. If you thought Cat's wrestling was sloppy you should watch him trip over his words. Lou then points out how average-sized Firecat is but it doesn't matter because of how talented he is. Yeah cheers Lou, great job of putting over the new venue and crew.
The Firecat vs Death Row 3260 (w/Gorgeous John)
Death Row's first appearance for Herb, he's most known for his bowling shoe ugly match with Mike Rotunda that apparently ended with them fighting and biting backstage afterwards.
The match still isn't as ugly as the dimly-lit blue-and-red ring of death that's present for these tapings, looking about as welcome as Buffalo Bill's well. Craig says that Death Row informed him he didn't do anything to deserve being in prison so now he's out he's going to take it out on society. Nice idea for a gimmick but Patera already did it with his crappy matches. Kat looks better against a big lug than a regular sized lug because all he has to do is sell and parry like he's fighting an Elden Ring boss. Death Row gets frustrated with Kat's inability to come towards him and flattens him with a sit-out dropkick to pop the crowd. Then Firecat reverses a backdrop into a Cat's Cradle to get the victory to some boos because Death Row looked more impressive in this brief match. Cat always managed to land on his face.
Capt. Lou's Corner w/Herb Abrams & Mr. Red
The production values (which weren't what you'd call "high" to begin with) have plummeted as we don't get an introductory graphic or voiceover, we just jump right into this shot of Lou meandering his way into the ring. Red insists he has nothing against Lou despite his pants getting de-gloved at Beach Brawl. Crowd don't believe him but he follows through (not like that) and shakes hands…until Mr. Red reveals he somehow has a legal document that gives him ownership of The Captain's Corner. Lou's too fat to care so he smashes Red daft until some un-named jobbers make the save. Very simple segment but the crowd sound a hundred times louder than they did at previous tapings and they loved Lou.
To demonstrate the drop in quality, here's the graphic to hype up the next taping: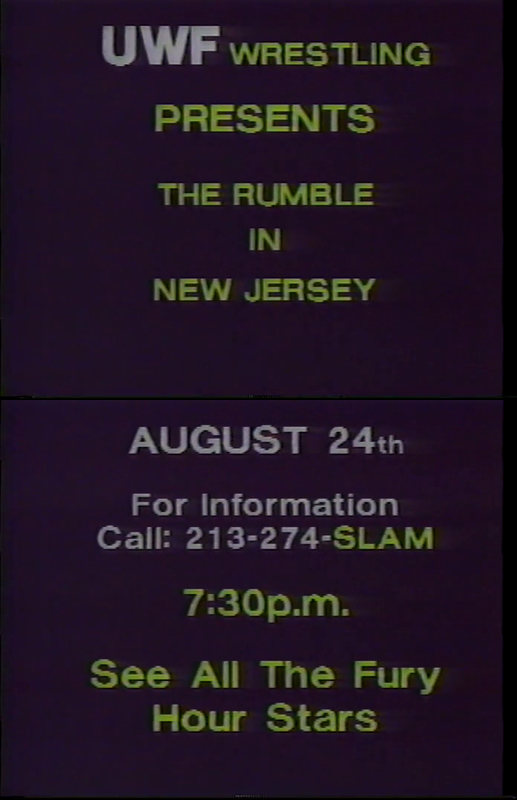 Herb is too busy bouncing cheques with whores to do the voiceover, so someone who sounds like one of the Anything Muppets lets us know the usual crew will be there along with Junkyard Dog, Dan Spivey and Superstar Billy Graham. Not sure if they were booked but the show wouldn't end up happening anyway.
The Black Harts (w/Luna Vachon) vs Joe DeFuria & Dave Johnson
Luna is interviewed in the grim locker-room. She again has a live snake wrapped around her while she rants about God being an astronaut. DeFuria would be a Florida regular until 2011 and Johnson is currently dead. The Harts bum-rush the half-alive duo and land their usual rolling double clothesline before following with a crossbody off the top to the outside. Crowd are impressed. The production monkeys may have given up on the graphics but they've mic'd up this building beautifully. The referee doesn't allow the Harts to attempt a pinfall with both members in at the same time, thus making him Jim Ross' favourite referee. Apocalypse misses a top rope something and nearly has to take offence but he sods off outside and into the crowd but the jobbers follow so Devastation has to make the save with a chair. DeFuria makes the mistake of missing the Patera Charge in the corner and Apocalypse delivers a brutal looking German Suplex.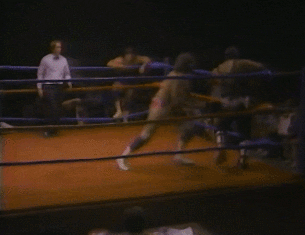 DeFuria amazingly recovers enough to tag out to Johnson and carry on the match. Bruno thought DeFuria's neck was broken so he's very impressed. And it's hard to impress him because he hates his son. The Black Harts land a double backdrop off the top that looked a bit rough but everything else in this match has been the same so why change? Devastation lands a DDT on the concrete because they're convinced they're in AJPW before finishing with the Veg-O-Matic. About as smooth as chunky peanut butter but I appreciated the tons of effort and risky bumps on display here.
Oh but never mind that shit, here's UWF's All Natural Oatmeal Cookies! You can currently buy Wild Thing Steve Ray, Dr. Death and Paul Orndorff flavours (probably best you don't put the Steve Ray cookies next to the Dr. Death ones) but soon we'll be seeing Bruno, Lou Albano and Herbie Cookies. You can buy them at your local supermarkets "or at local UWF arenas." Look at the state of the Peter Beardsley Oatmeal Cookies: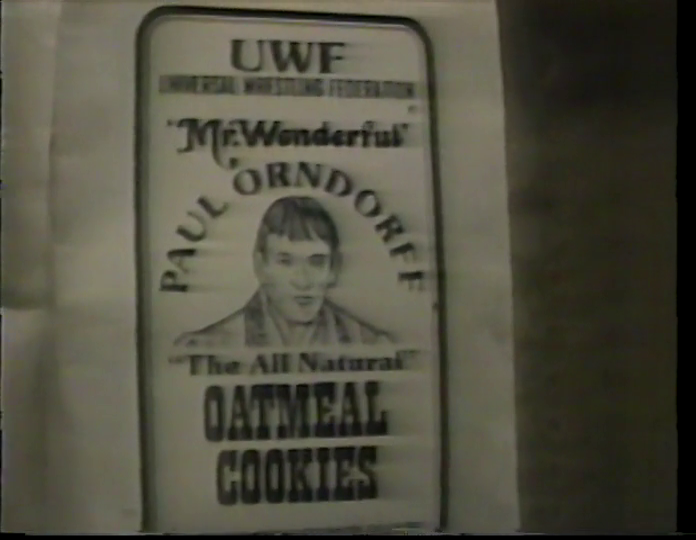 Paul Orndorff vs Bob Orton
I guess this is our main event. I didn't think I'd get to the point of missing Herb screaming the names of wrestlers coming up next but here we are. Orton Pearl Harbours Paul as he's strutting to the ring which enables him to pound away at Mr. Wonderful for a few minutes. Paul's been eating his all-natural cookies though and he recovers enough to make Bob bust out his shaky-leg selling. Bob manages to get a Hammerlock sunk in and they milk that like it's re-releases of GTA V as Orton stays in it for minutes with the crowd encouraging Paul. Orndorff powers out before sending Bob to the outside. Sadly for him this is where Orton is at his best as he sends Paul onto (not through) Herb's ringside table before battering him with some non-folding chairs. That spot existed just to fuck with Herb. Sorry Scott Keith's Family Auto-Filter I meant "mess" with Herb. Orndorff manages to get into the ring because the crowd are mashing their collective pads. The Cowboy locks in a sat-down Hammerlock that would make Don Muraco proud for the lack of effort. Crowd has been loving this whole thing and I've been appreciating the masterclass in crowd manipulation. And when I'm about to end this review with a glowing compliment, we get advised we don't have enough time to show the whole thing so we'll see the rest next week FUCK'S SAKE.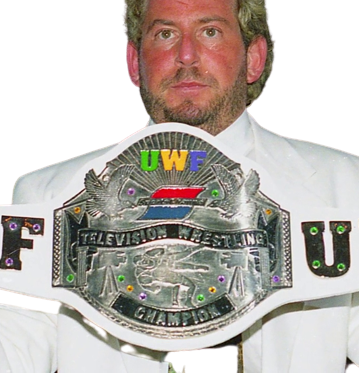 Overall: UWF may have taken off all the stat boosts it had for production and display but it put them into match and audio quality so this wasn't that bad of a show all things considered. God knows how long it's going to last as according to This Week In Dave, Johnny Ace, Danny Spivey, Cactus Jack and Sonny Beach all no-showed and are said to be heading to work for Joe Pedicino, and both Orndorff and Orton walked out in the middle of the show when they still had TV matches scheduled.
On that optimistic note, I've been Maffew and this has been an Abrams Aproductions.