June 10th, 1991
Taped May 10th, 1991
Hotel Pennsylvania
New York, New York
Commentators: Craig DeGeorge & Bruno Sammartino
This is the post-Beach Brawl PPV show, airing the day afterwards so hopefully we'll have some Raw After Wrestlemania energy.
Joshua Ben-Gurion vs Hog Calhoun
Oh never mind it's the third set of tapings from Hotel Pennsylvania and the seats are half-empty so any remaining energy is on Herb's mirror. Joshua hands out mini-Flags Of Israel to the fans in attendance which is something. Hog does basic fat farmer stuff and doesn't look terrible. He misses a Patera charge in the corner, letting Josh land a woeful clothesline and kind of connects with the Israeli Bomber off the second rope.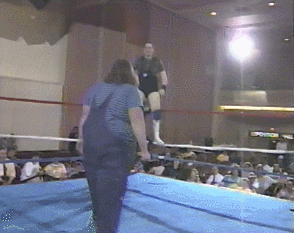 Joshua wrestled like someone whose skeleton was disagreeing with his choice of profession so I'm happy he moved onto moderate success in films. Here's him alongside George Clooney in Ocean's Eleven.
We then get an important announcement that affects the next few weeks of tapings and will save me some work: Highlights of the Beach Brawl will be shown over the next few weeks, and by "highlights" I mean "whole matches from the show to the point where the whole PPV is shown across the next month."
Cpl. Chris Michaels & Tom Brandi vs Captain Badd & The Beast
DeGeorge tries to hype up Michaels' American Flag but Bruno's like "I'm Italian and I don't care." Brandi is still early in his career so he hasn't had the chance to steal anybody's gimmick yet. Badd & Beast lead the whole thing by cheating nefariously and getting double-teams in but it goes on forever considering it's between two jobber teams. I imagine this was to fill up the time left by Cactus & Orndorff leaving prematurely for TWA. Brandi & Michaels eventually win after a cool-looking top-rope dropkick version of a Hart Attack.
Ask the Wrestlers feat. Col. DeBeers
DeBeers is asked why he wears an eye-patch? DeBeers says it's because he got something in his eye from a stripper at a dirty club it's because he's blind in that eye so it doesn't matter if he wears an eye-patch or not. Cheers pal.
Wet N' Wild vs Brian Donahue & The Messenger
Bruno mentions long-time wrestling fan Frank Diaz in attendance with his camera. I don't know who that is or if there's any significance so let me know in the comments if he's a Vladimir type. This doesn't end up like the Steve Williams match so Steve Ray has no need to shoot on The Messenger. That joke is sadly better than Messenger's wrestling ability as smashes his head on the ropes by just running. Wet 'n' Wild take the losers apart and get a healthy response from the crowd so can reasonably be called "good" now.
Like the last few weeks, Bruno's post-match comments are interrupted by the transition into the next segment and I spit my water out every time they do it. "Well that was a good display from the team of Wet 'n' Wi-UP NEXT CAPTAIN LOU ALBANO!!!"
Capt. Lou's Corner w/Bam Bam Bigelow
Bigelow ain't happy about losing to Steve Williams but sadly his attempt to sound angry makes him sound like Yosemite Sam. "Ooooooh that Williams."
UWF Golden Oldie: Paul Orndoff vs Steve Williams in a Lumberjack Match (from 3/11/91)
Yeah we're doing repeats already because Herb simply didn't have anything to show this week due to the mix-up with talent and the hotel wanting the wrestlers out earlier than he expected. You can read my exciting thoughts about this here.
The Power Twins (w/John Tolos) vs Cash Johnson & Soul Train Philips
The commentators are joined by Curtis Sliwa of the Guardian Angels. He was a radio guy at this point which I only know because of his brief feud with Opie & Anthony. Sliwa talks about the Guardians working hard to stop crack from being sold to kids. Well this show will help as the wrestlers will want it for themselves. At least Sliwa's a fan of wrestling and puts over the Power Twins. Sadly he does so as they're talking on the mic. This is Tolos' last appearance having left after Beach Brawl. A shame they didn't have much for him to do outside of "be annoying and never shut up."
UWF Golden Oldie: B. Brian Blair (w/Honey) vs Mike Williams (from 1/14/91)
I'd have a happier time watching Threads then a repeat of a Blair singles match so knock yourself out.
Oh and that's the end of the episode but make sure you buy the Beach Brawl VHS.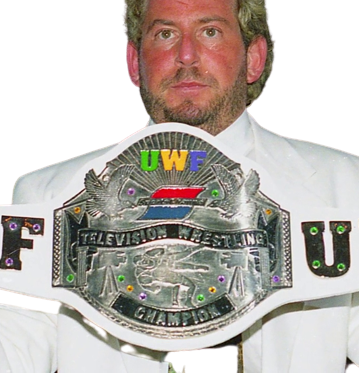 Herb Abram's UWF Fury Hour #32 06/17/91
We hit a real filler period as there won't be a new taping until July but Herb still has a few weeks of TV to fill, so we get the whole PPV shown over the next few weeks. This won't read very interestingly but I'll do my best:
The Black Harts (w/Luna Vachon) vs Jim Cooper & The Firecat
There's new interviews after every match but they're like every other bloody interview in this company where the wrestlers talk about things aimlessly because no-one knows what's happening long-term. Luna Vachon at least makes the most of it and does a full promo with a snake around her neck as The Black Harts say nothing.
Mass Confusion vs The Power Twins
The Power Twins mouth off at DeGeorge and deny losing at the PPV, it was a damn camera trick. And the commentators are smart so they can figure out which one of them is which all by themselves. I like the Power Twins.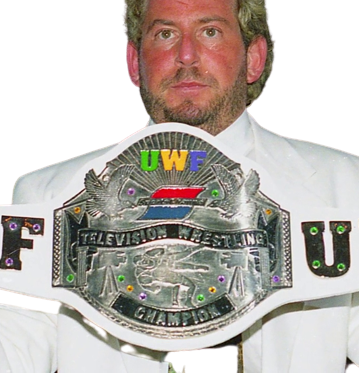 Herb Abram's UWF Fury Hour #33 06/24/91
Rockin' Robin vs. Candi Divine
Rockin' is happy to have won the title so at least one person was positive about that awful match. Robin is asked a bunch of things but they're not worth typing. Candi then declares she will become the undisputed Ladies Champion "which she already is" and I'm skipping this.
Wet N' Wild vs. Bob Orton & Cactus Jack (w/John Tolos)
Owen Wilson joins Sunny Beach in reminiscing about getting getting rid of Tolos forever by thinking about the women he had in his apartment the previous night to give him strength.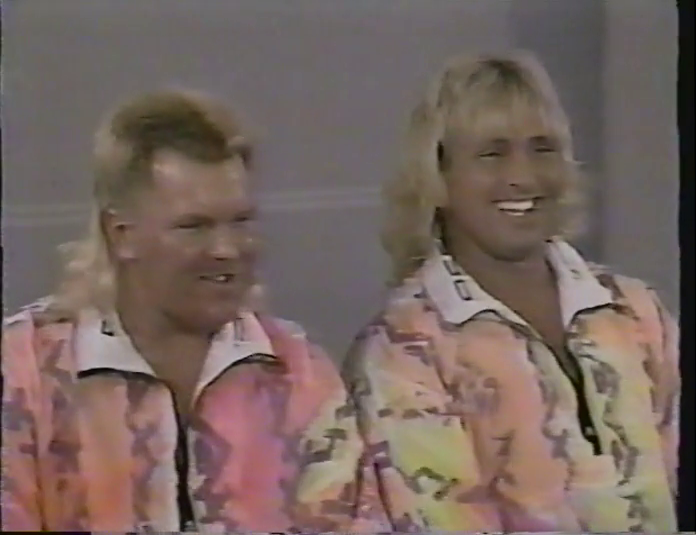 Orton calls Cactus an unpredictable goof and Bob's decided he can only team up with great wrestlers like himself from now on.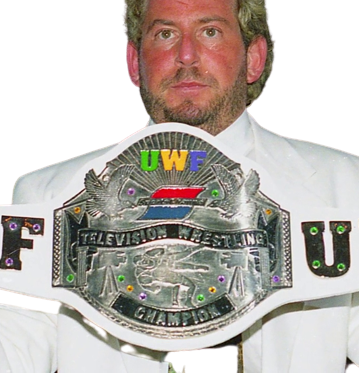 Herb Abram's UWF Fury Hour #34 07/01/91
Boris Zhukov (w/Mr. Red) vs. Paul Samson
Oh here's something, the dark match that took place before the PPV started. Given the lighting, surely all the matches were da—ah forget it. Red mouths off at the crowd and we get the usual terrible rendition of the National anthem. Samson doesn't have a cagematch profile so he doesn't exist but he resembles a tiny Sylvester Turkay. Samson gets more offence than Boris which makes the dynamic all weird but it's only Zhukov so who cares. Samson's idea of offence is weak arm-bars so the first few minutes aren't worth typing about. Zhukov gets on offence but the crowd are almost as dead as evil Russian gimmicks in July 1991 so Zhukov gets the win after a clothesline to the back of the head to give Samson Ex-CCP CTE.
Mr. Red shines in his interview segment as his yelling is a decent way to kill time. YOU SHUT UP YOU SHUT UP I'M TALKING GIMME 20 DOLLARS TO ASK ME A QUESTION. Red promises his Russians will be Number 1. Well this is Boris' last appearance so maybe not.
Johnny Ace vs Terry Gordy in a Street Fight
Bob Backlund vs. Ivan Koloff (w/Mr. Red)
We don't get an interview with Ace or Gordy or Backlund or Koloff so that means MORE YELLING from Red. THE REFEREES ARE PREJUDICE AGAINST RUSSIANS COS THEY'RE PURELY BRED. I'M BREEDING MORE RUSSIANS SO THE ENTIRE COMPANY IS FILLED WITH EM. Red is furious with Lou de-panting him so he promises to take away Captain's Corner, making him the best thing on the show by a country mile.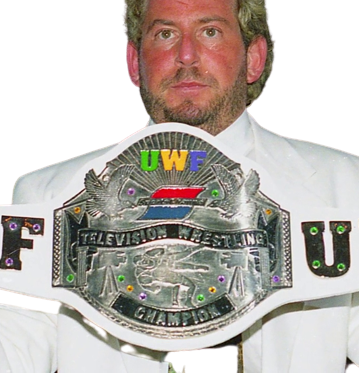 Herb Abram's UWF Fury Hour #35 07/08/91
Paul Orndorff vs. Col. DeBeers in a Strap Match
Mr. Wonderful tells us racism is bad. DeBeers disagrees and says he's one of two proper justice-givers in USA, the other one being Daryl Gates of the LAPD. Woooof. DeBeers brings up Mr. Black, who appeared one time in a Virgil-like role and then was never seen again. DeBeers says he was always lazy and complaining about money, Col. is furious his tax will now pay for his welfare. He really was the Bubba Ray of his day. This was DeBeers last appearance and he may have had the mobility of a 80s Hasbro action figure but you couldn't fault his lack of balls.
Capt. Lou's Corner w/The Black Harts & Luna Vachon
The Bees vs. Hog Calhoun & Cash Johnson (from 6/3)
No new interviews here so let's move on to next week.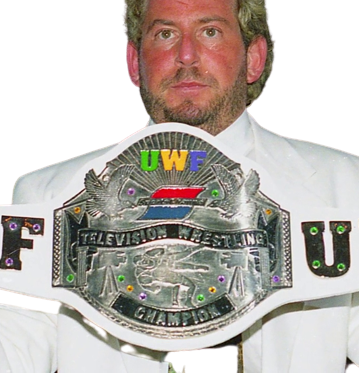 Herb Abram's UWF Fury Hour #36 07/15/91
So airing the whole PPV wasn't enough to make up the air-time so we get an even more special filler episode as it's all about the Orndorff vs. Williams feud, which makes this easily the best UWF episode in terms of match quality and probably worth checking out separately by itself if you're that way inclined.
Paul Orndorff vs. Steve Williams by disqualification in a Lumberjack Match (Fury Hour – 3/11)
Paul Orndorff vs. Steve Williams by disqualification in a Steel Cage match (Fury Hour – 4/15)
UWF SportsChannel Television Title Tournament Finals: Steve Williams vs. Bam Bam Bigelow to become the first UWF SportsChannel Television Champion (Beach Brawl – 6/9)
Before we get to the Observer bit, the next few episodes get confusing as the next shows are from July 20th Fort Lauderdale tapings but the first one is listed as episode #41, with the ones listed as #37 airing in June 1992. Hopefully by next week I'll have found a reason for this other than LOL HERB.
Both Herb Abrams and Joel Goodhart have told people they've got Ric Flair signed for future dates. Goodhart was talking in Baltimore that he's got Flair vs. Terry Funk in Philadelphia in September. I think it would be premature to say any of this is etched in stone, but what do I know.
LOL HERB.
Overall: It's a bleak time for the company as you'd think with the lack of tapings, non-existent buy-rate and the likes of Col. DeBeers, Cactus Jack, John Tolos, Terry Gordy etc. leaving that this would be the end of it. But as we'll see next week, God loves a tryer.
I've been Maffew and this has been an Abrams Aproduction.