June 3rd, 1991
Taped May 10th, 1991
Hotel Pennsylvania
New York, New York
Commentators: Craig DeGeorge & Bruno Sammartino
Here we go, the penultimate show before The Beach Brawl. So far we have two announced matches (with only one of them actually happening) and absolutely no undercard so here goes.
Herb starts the show from the same cupboard he was stuck in last week, doubling as somewhere for him to hide when wrestlers want paying.
Ivan Koloff (w/Mr. Red) vs Cpl. Chris Michaels
Uncle Ivan returns to UWF and inexplicably has the James Bond theme as his entrance music. I'm guessing Herb asked production for "the theme From Russia With Love" and something got lost in translation. Mr. Red also makes his debut here, insulting the "hillbillies" in attendance and getting nothing but a confused reaction because we're in New York City. Red then threatens Bruno who simply laughs which is always a good sign. Michaels gets a lovely armbar escape sequence to start until Koloff slowly wears him down in much the same way Perestroika was wearing down his career. Koloff distracts the referee so Mr. Red can do something to Michaels but by the time Red realises, Koloff has to do something underhanded while red distracts the ref. Mr. Green more like. Koloff stomps all over Michaels before finishing with a Cobra Clutch. Mr. Red remembers to distract the ref after the bell so Koloff can use his chain on Michaels, which is enough to cause Bob Backlund in a suit to appear to make the save for his first match in two years. Meltzer said there was a nice reaction to Backlund live but you can't hear anything due to the crowd volume being so muted, but I think this was the production crew's way of getting us ready for the Beach Brawl atmosphere.
We get another advert for Terry Gordy vs. Don Muraco, which does not happen.
Capt. Lou's Corner w/Terry Gordy
Gordy talks about the Muraco match that doesn't happen.
In a spare hotel room, all the commentators come together to discuss who's going to win the Tournament final but they're using one mic like a 2010 podcast so Bruno starts talking and his soft voice sounds like cotton being rubbed together. Then again, no-one else says anything interesting either so let's move on.
Oh we finally get some more matches quickly announced:
Power Twins vs. Mass Confusion (this is happening because of one segment last week).
Terry Gordy vs. Don Muraco
Col. DeBeers vs. Paul Orndorff (no reason for this)
Rockin' Robin vs. Candy Devine (no mention of this until now)
Bob Orton & Cactus Jack vs. Wet 'n' Wild (wait why)
Ivan Koloff vs. Bob Backlund (happening because of something that happened ten minutes ago).
Wet N' Wild vs The Power Twins (w/John Tolos)
Aren't Wet 'n' Wild feuding with The Black Harts? Why aren't they getting a match on the PPV? These are also the two most protected teams in the company so this could have happened at Beach Brawl too and ahhhh fuck it let's move on. Beach takes down both big lads with a headlock/headscissors takedown. Sunny then lands a frigging gutwrench suplex on one of the bigguns as I guess he was envious of the sweet Ray/Williams match from last week and wanted to bust-a-move too. Power Twins have enough and double back body drop Ray "all the way onto queer street" and then Tolos drags Ray out the ring to give him a 1950s hiding. Ray accidentally runs into one of the Twins' heads to get the hot tag to Beach who lands a running bulldog (called a "powerbomb" by DeGeorge) before the Twins try to use the surfboard on Sunny for the double DQ because of course. Both teams brawl to the back with Tolos using his shoe to knock down Beach. This was decent and the muted crowd could be hear cheering for Wet 'n' Wild so fair enough.
We get a very brief clip of Bigelow saying he doesn't like Williams at a press conference. Williams doesn't get a chance to say anything. OK. More on this later.
Orndorff then quickly tells us it's going to be a strap match between him and DeBeers. Yeah but…why?
Capt. Lou's Corner w/Power Twins
Two in one show? OK, given the chaos behind this taping having only one taping to shoot everything and also have half the important wrestlers sod off to make the TWA show that same night I'll be nice. Anyway Tolos will be locked in a cage at Beach Brawl to prevent interference, because if you forget to book a reason for a match, you can add a gimmick instead.
Mass Confusion (B. Brian Blair & "Jumpin'" Jim Brunzell) vs Hog Calhoun & Cash Jackson
Hog Calhoun is an amazing wrestling name. He'd stick around NY indies for years. Sadly so would Blair. Hog gets a decent reaction by haming it up, up until both Mass Confusion members tag in to slam him together. Cash tags in and Confusion take him apart with technically effective but dull wrestling. I don't know why they're Mass Confusion when they're not wearing masks, but they're not wearing striped bee gear either so eh. Crowd were moderate for this at the start but Brunzell & Blair's amazing display of abdominal stretches saw to that in a hurry. Hog uses his front bum to squash Blair, who declines to sell and instead Brunzell pops the crowd by JFK-ing Cash with a dropkick for the win.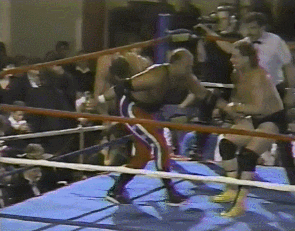 Mass Confusion is better than just Blair as a singles match but still aren't a nest on fire. The ring announcer announces them as "The Bees" before we cut to both men hyping up "The Bees"' tag match against The Power Twins at the PPV because Herb apparently forgot what their name was.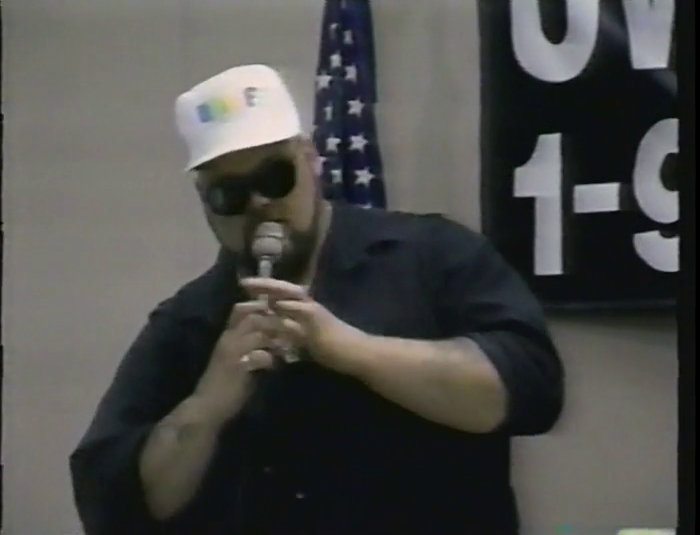 More clips of Bigelow talking at a non-existent press conference in front of no reporters. Weirdly we only hear from Bigelow and then cut to chroma key reply from Williams so I wonder if Herb had as many wrestlers as possible talk about potentially wrestling for the title at Beach Brawl in case something happened, which would be amazing preparation.
Ask the Wrestlers feat. Don Muraco
Hey Don, who were your toughest opponents? Don says Ivan Koloff and Jimmy Snuka. And that's all for Don as I'm guessing his beer money cheque bounced and he went and did something else.
Nikolai Volkoff vs The Beast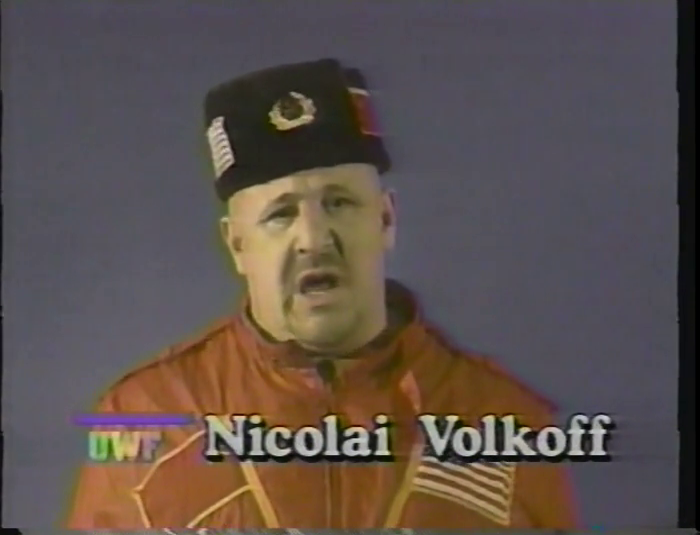 Volkoff's only appearance. You'd think he'd be on this little PPV that's happening in six days time but his name is spelled wrong and he makes his entrance to the same Korobeiniki/Theme as Joshua Ben-Gurion last week so maybe even Herb's love of 80s WWF guys had it's limits. Volkoff's been reading the newspapers and is now waving a giant Stars & Stripes but NYC is the wrong place to be trying that as they're Haters Sans Frontière. The Beast Cuban-Missile-Crisises the poor American from behind but Volkoff comes back with a butterfly suplex for two. Beast punches him right in the groin to a big pop. Volkoff lands a woeful spinning kick ("He was like a ballet dancer!" smiles Bruno) before a clothesline to the back of Beast's head ends it in under two minutes. Yeah I can't figure out why he wasn't on the PPV either.
And after that, it's a quick reminder that Beach Brawl can be ordered on PPV for just $14.95.
Overall: I feel like we've reached the three quarter mark of the Fyre Festival Netflix documentary and we're about to have the first plane load of rich kids show up to a barely finished camp to eat cheese slices.
Here's some more Dave to build the tension.
Herb Abrams announced the complete line-up for his UWF pay-per-view show on 6/9 at the Manatee Civic Center in Palmetto, FL. At the press conference, (oh they really did hold a press conference? And aired ten seconds of it on TV?) Abrams called the WWF and WCW "a bunch of carbon copy cartoon promotions" and called Flair and Hogan "paper champions." When asked by a reporter about the purse for the Steve Williams vs. Bam Bam Bigelow main event, Abrams said, "You could safely assume the winner will make in excess of $1 million in the next year." Too bad he didn't say that money would be earned playing Monopoly. (Ooof)

Herb Abrams seems to be having serious problems as far as distribution is concerned for the 6/9 UWF "Beach Brawl" pay-per-view. Abrams show isn't available on most cable companies with PPV capability and its total available universe is said to be around two million homes (as compared with WCW and WWF shows with a universe of in excess of 13 million homes). Many of the bigger companies aren't carrying it, as there is thoughts within the industry that there are already too many PPV wrestling events and everyone is expecting this one to do a disastrous buy rate. I'd like to hear from anyone who is ordering this show ahead of time so that I can arrange to get a tape of the card after the show. We will also be doing a thumbs up/thumbs down poll on the show for those whose company is making it available.

What will certainly be the least-viewed pay-per-view wrestling event ever takes place on Sunday night from Palmetto, FL. Herb Abrams' "Beach Brawl" from the Manatee Civic Center was an idea that had no chance of success to begin with, simply because Sports Channel America alone doesn't reach enough homes and provide enough exposure to get an event of this magnitude over. But an even bigger problem came when it was time to clear homes, and out of the current PPV universe of about 14 million homes, only about two million homes are cleared. And some of those two million homes are from companies that don't pick up Sports Channel, so viewership for the event there should be non-existent. Those close to Abrams have claimed that the reason so few homes have been cleared is because of pressure from the WWF, which made an implied threat that they wouldn't offer Summer Slam and future WWF PPV events to companies that picked up this show. While this is possible, and the WWF did do a similar pressure tactic to try and keep the NWA off pay per view in 1987-88 (When the WWF initiated the Survivor Series, which initially was done simply to keep the NWA from getting into the PPV business with Starrcade '87 and the WWF told companies that they wouldn't allow them to offer Wrestlemania in 1988 if they picked up the NWA's show, although of the five companies out of 250+ that did pick up the NWA show, all five were allowed to offer Wrestlemania anyway), there is also talk that many companies turned down the show simply because it was felt not to be viable and that there already were enough pro wrestling events on pay-per-view.

In addition, the company that is syndicated the show has asked cable companies to guarantee a certain buy rate (what the companies themselves averaged for what they called "secondary wrestling PPV shows" like Thunder & Mud, Womens wrestling in 3-D, etc. which would mean about an 0.2 buy rate) against revenues and many companies balked at that arrangement. The latest version of the line-up for the show is Steve Williams vs. Bam Bam Bigelow to create a UWF television champ, Don Muraco vs. Terry Gordy in a street fight, Paul Orndorff vs. Col. DeBeers in a strap match, Bob Backlund vs. Ivan Koloff, Rockin Robin vs. Candi Divine to create a UWF womens title, Bob Orton & Cactus Jack vs. Steve Ray & Sonny Beach with John Tolos (who will make a final appearance for the group) in a cage above the ring, Johnny Ace vs. Boris Zhukov, Black Hearts vs. S.D. Jones & Tyree Pride and Power Twins vs. Brian Blair & Jim Brunzell. The live advance is said to be almost non-existent despite lots of local advertising (but Sports Channel doesn't air in the area which made the live site idea doomed to begin with) so expect a heavily papered crowd.
So to summarise: there's very little in the way of heat or build for many of the matches, the undercard was only announced the week of the show and SPORTSCHANNEL DOESN'T AIR IN THE AREA THE PPV IS TAKING PLACE.
I've been Maffew and this has been an Abrams Aproduction.