Herb Abram's UWF Fury Hour #29 05/27/91
By Maffew Gregg on 20th March 2022
May 27th, 1991
Taped May 10th, 1991
Hotel Pennsylvania
New York, New York
Commentators: Craig DeGeorge & Bruno Sammartino (yayy)
Here we go, the last two tapings before the Beach Brawl PPV. Number of matches currently announced: Zero.
Herb only recorded two shows instead of the usual three because the building insisted he be out by 11 p.m., so he had to not pay people earlier than usual.
UWF SportsChannel Television Title Tournament Quarter-final Match: Don Muraco vs Terry Gordy
Both men qualified for this match by winning imaginary matches so there's a lot at stake. Gordy talks shit to Don who storms the ring to batter Terry. After thirty six seconds of slobber-knocking, both wrestlers shove the ref as he's trying to interject and that's enough for the Double DQ. You know it was going short when Don was running.
Col. DeBeers (w/Mr. Black) vs Soul Train Philips
The Colonel has recovered from getting his eye scratched by a stripper to return with a black manager called Mr. Black. DeBeers lets us know he offered the role to Jesse Jackson because he doesn't have a job but he turned it down. "Imagine that?" DeBeers makes Mr. Black shine his shoes before the match starts and the crowd still don't give a shit because that's still not as racist as NYC in 1991. Soul Train dropkicks DeBeers out the ring so the Colonel drags him outside and slams an unfolding hotel chair onto him in revenge. This is recorded by one camera and the quality (or lack therefore) is really noticeable. Soul Train hits DeBeers in the gut and he's nice enough to run across the ring before dropping down. Soul Train lands a leg drop and this annoys DeBeers enough to attack the referee in disgust. While he's down, DeBeers chokes Soul Train with his belt before delivering a DDT on the outside before scurrying in as the bell rings. Bruno assumes it's a count out but the referee says it's a Disqualification victory for Soul Train and Bruno's like "…alright." I've missed Bruno's disappointment at these horrible finishes.
UWF SportsChannel Television Title Tournament Quarter-final Match: Steve Ray vs Steve Williams
Oh shit, it's this match. Both men start off with some decent amateur wrestling on the mat, with Ray looking more credible taking down a BAMF like Williams than any other part of his brief career so far. Ray delivers some big ol' boots in the corner with Williams having to hide behind the guard before taking Ray down with force. Williams avoids a dropkick by hanging onto the ropes but Ray ignores it and clotheslines him out anyway. So far you'd think Herb bribed RAY to fuck up WILLIAMS. Ray flies off the top rope to the outside but Williams converts it into a wonderful spinebuster before splatting him against the ring post.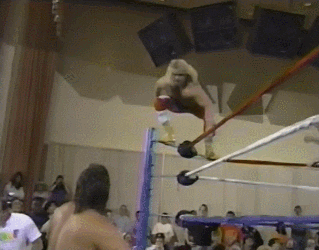 Williams batters Ray around the outside before heading back inside to catch Ray on another crossbody attempt but folds his head like origami with something resembling a backdrop. Williams' pounds away on Ray some more with his shots looking pretty snug before ending it with a Oklahoma Stampede. Ray's got a bloodied nose and Herb (knowing a lot about bloodied noses) checks on him, but Ray responds by missing a swing on him which should have let people know it was a work straight away. Anyway despite the ga-ga around the match, it's worth noting this was a sweet brawl when compared to the other crap at these tapings, but it's funny that "work everyone into thinking it's a shoot" translates as "wrestle like AJPW."
In this link to prowrestlingstories.com, Steve Ray insists the match was only supposed to look like a shoot and I tend to agree with him.
Dave Meltzer (former UWF superstar) wrote down:"Steve Williams beat Steve Ray in a match that was worked as a shoot and became more and more a shoot as it went on and it wound up with Williams throwing Ray into the ringside steps and busting up his face. Ray was so upset he took a swing at Abrams in the ring."
Zoogz Rift (who became UWF vice president in 1995) also had this to say: "Steve Ray allegedly screwed Herb in a drug deal and Herb had the impression that Steve was fooling around with Herb's wife (he wasn't), so Herb paid Steve an extra $100 to break Steve Ray's nose during the match. Wrestling knows no morals, sadly. I liked both Steves on a personal level, so I hated to see that kind of s*** happen. With me in charge, I would have never allowed that to happen."
Herb was unavailable for comment due to being currently dead, so here's the match for you to make your own mind up:
https://youtu.be/ZSwcjkUGcTU
B. Brian Blair vs Larry Power (w/John Tolos & Dave Power)
This is absolutely a comedown match. As in "why don't you come down to the fridge and read the side of the milk cartons instead?" The Power Twins are identical so it's Twin Power vs. Masked Confusion. Oh fuck do we have that match to look forward to later? (Googles: fuck, we do). Blair powers out of a test of strength so the Powers switch up behind the ref's back. After a test of strength? Jesus mate. They really ham up the switch, complete with the new Power guy who is completely fresh, unlike his brother who is half-dead after a test of bastard strength, the #3 leading cause of wrestler deaths in 1991. Blair knocks the second Twin out the ring leading the first Twin to run directly into a Scorpion, so second Twin has enough and assaults Blair with a foreign object for the DQ. And then Jim Brunzell makes his debut by running in but he's wearing long tights instead of buzz buzz gear so there's literally no audible reaction because the crowd noise is set so low and the fake crowd loop is so high. Urgh.
Also after a match is finished, the commentators don't wrap up anything so the editing team just star-wipe afterwards and they have so far cut off every commentator mid-thought.
Capt. Lou's Corner w/Don Muraco
Don (while wearing a Ribera jacket) threatens Terry Gordy and hopes he gets a shot at him at some point in the future. This naturally sets up a singles contest at Beach Brawl.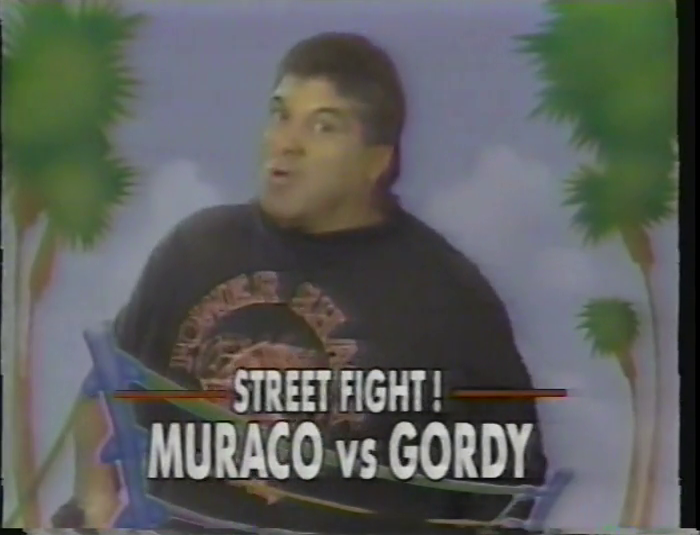 YEAH RIGHT. Don was done with the promotion after this match and wouldn't wrestle again in America until ECW started up the following year. And yes he is advertised for Beach Brawl anyway.
Joshua Ben-Gurion vs The Beast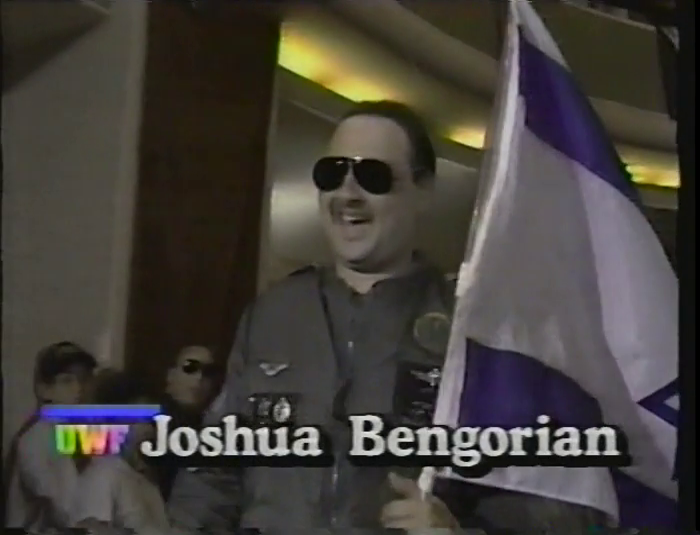 Oh wow. Joshua makes his entrance to Korobeiniki/Theme from Game Boy Tetris while waving the Flag Of Israel. He's six foot eight but The Beast wears him down easily enough. Joshua makes his comeback but you can see the problem straight away as he's not wrestling like a giant and is instead trying to be a normal wrestler. But isn't any good. It's like watching Keanu Reeves in Dracula. The Beast has to resort to eye gouges to keep the match together before over-selling an Irish Whip to remind Joshua of how wrestling works. Joshua lands a flying clothesline for two but gets hit in the dick to stun him temporarily. A woeful backdrop sets up a clothesline off the second rope (called the "flying Israeli Bomber" by DeGeorge) to get the victory to unimpressed boos. Apparently Joshua had been wrestling for twelve years at this point. Six foot eight? I didn't know they stacked shit that high.
Joshua would retire from wrestling a year after this and have a prolific career as a Hollywood stuntman. Here he is complaining about his legs in Spider-Man (2002).
UWF SportsChannel Television Title Tournament Semi-final Match: Bam Bam Bigelow vs Cactus Jack
As if this show didn't have enough drama. From Dave:
Apparently Cactus Jack, Paul Orndorff and Bam Bam Bigelow all had informed Abrams before the show that they were already booked that night for Joel Goodhart in Philadelphia and Abrams said he was starting the show at 7 p.m. and would put them on early so they could make their Philly date. The show didn't start until nearly 8 and Orndorff and Jack both left and had words with Abrams and right now their future with UWF is in some doubt. Bigelow stayed and worked early in the card against Terry Gordy and went 1:10 to a double DQ. Also they held "semifinals" of the UWF television tournament. The other semi was supposed to be Bigelow vs. Cactus but Cactus was en route to Philly and they announced Cactus no-showed and gave it to Bigelow on a forfeit.
So Herb talks from a production cupboard (with three TVs in the background displaying the UWF logo so you know they work) and explains that Bigelow vs. Cactus was supposed to happen but Jack didn't show up. Bigelow then flew into a rage as he "considered this a Dr. Death ploy." Herb then explains Bigelow slapped Williams and we cut to footage of Dr. Death being held back by "about fifteen guys" as Bigelow dares him to fuck on him. The pull-apart brawl looked credible and Bigelow vs. Williams should at least be good…but this entire tournament has been fucking hilarious from start to finish.
Note that this and the Williams vs. Ray match were billed as Semi-Finals despite last week Herb announced the eight remaining men involved in the tournament, so we've just skipped a few matches and wrestlers which I guess you can do when you don't announce brackets. With three quarters of the scheduled matches turning up, no wonder Herb was fantasy booking instead of reality booking.
Matches announced for Beach Brawl in two weeks time: Two.
Matches announced for Beach Brawl in two weeks time that actually happen: One.
Overall: UWF should have won the war.
I've been Maffew and this has been an Abrams Aproduction.