Brock Lesnar & Ron Waterman vs. Randy Orton & Rico Constantino (and other Dream Matches!)
By Jabroniville on 16th March 2022
Randy Orton in 2002- ready for his Crazy Town cover band.
Welcome back to more Dream Matches! This time, I have a fascinating dark match from RAW where four of OVW's seemingly most promising guys perform… while also proving just WHY Brock Lesnar & Randy Orton made it, and why their partners, Ron "H20" Waterman & Rico Constantino did not.
And also I have some requests- Wildo & Ingus Jynx vs. The Grimm Twins! This is the only TV appearance of Wildo & Ingus Jynx and one of two appearances of the Grimm Twins! The Jynxes, of course, Matt & Jeff Hardy in weirdo one-off look, against the Harris Brothers in the second of their three WWF gimmicks. Also let's take a look at Jake "The Snake" Roberts in 1987, taking on Moondog Spot, whom I'm seeing for the very first time! Also the wildest squash ever, as f*cking VINCENT of the nWo gets to look like a shooter against poor Tokyo Magnum! Plus a main event in any gymnasium in the country- VAN HAMMER vs. MIKE ENOS! And finally, the "Dream Matches" debut of Sick Boy, as he faces The Renegade!
As always, all these matches are available on YouTube.
BROCK LESNAR & RON "H20" WATERMAN vs. RANDY ORTON & RICO CONSTANTINO:
(RAW Dark Match, Feb. 4th 2002)
* oh SNAP! Some of the Pillars of OVW, back during their "touring RAW in Dark Matches" days. Nobody was really known to the fans yet, but Brock had been mostly teaming with Shelton Benjamin in OVW, and Rico was a very pushed guy over there (I remember Scott giving one bout of his a **** review and being excited to see him). Ron was a failed MMA fighter and has a great look, but never even made WWF TV. Brock & Ron are in black trunks, Ron just walking down stoically while Brock is actively flexing and talking smack- jeez, no wonder only one got called up. Randy… my god I forgot how young he was back then. He's just a BABY. Oddly lacking today's muscle-tone. The blue shorts are a weird look given how long he's been in tiny trunks. Rico's in long black tights and is just a normal guy, not the fabulous hairdresser yet.
Ron immediately shoves Rico into the corner and pounds on him, but Rico comes back with a kick series into the "step onto the rope and jump-kick them" move, then headscissors out of a tilt-a-whirl slam. Double-elbow gets two on Ron, but Orton gets punched and Brock's in- Brock cackles at him with that high-pitched voice of his instead of acting like a stoic monster, but gets caught with a knee & slide-kick and is just flailing around selling for a guy, which is a thing they'd train him not to do QUICK. Rico comes off the top onto his arm, but Brock just punches him… only to be hit with a BIG superkick, landing on his ass and eating a running kick. He easily catches Rico off the second rope and slams him, then biels him, but Rico stops some slow brawling with a roundhouse kick. Orton's actually good enough to get the fans into the hot tag from the apron, and wipes out both guys- it's a donnybrook and Orton sends Brock FLYING out of the ring with that high dropkick of his. He & Rico slam Ron onto the mat, then Rico pescados Lesnar while Orton hits the Mandatory Young Lion Finishing Move, the flying cross-body, for the pin at (4:03).
Actually not bad for a Dark Match! Brock & Orton clearly had "it" from the very beginning and I'm not surprised watching this that they were given a look. Ron might as well have been any other guy- Rico did cool stuff but with no character or impulse to him. I did notice a little extra "spring" in everything Orton did, however. I remember around this time Chris Benoit did a talk in Edmonton about the business, and he brought up specifically a young Orton as a guy with tons of potential… and wrestlers have been cooing over his in-ring stuff ever since, despite most online fans never being that taken with him. But stuff like this, actually looking at it- I can kinda see why they were impressed. Like when getting punched he'd flail BOTH his legs back as he jumps backwards, or how he & Rico hit the double-elbow, but only Randy geared up for it AND did a little spin after hitting it. Like the pros probably see that and are like "aw yeah, this kid is GREAT" while the rest of us are just counting chinlocks, lol. Brock was a weird one here, though- this monstrous, muscular dude and he's bouncing around and taking bumps off of regular punches.
Rating: ** (basic fine wrestling match)
THE GRIMM TWINS (Jared & Jason Grimm) vs. INGUS & WILDO JYNX:
(WWF Superstars, Oct. 6th 1996)
* Okay WHAT? I… okay, I remember hearing about the Grimm Twins, but don't remember seeing them on TV, and then there's Matt & Jeff Hardy as these inexplicable weirdos? OH MY GOD what are they wearing?!? Like… someone who got the Super J-Cup '95 tape and wanted to be Liger or Hayabusa, but had neither the budget nor skill, and also was working from memory. One is in red pants with a red wig, and the other green with a green wig. The Grimm Twins are actually the SECOND WWF form of the Harris twins- they were Eli & Jacob Blu the previous year, but were for some reason repackaged as guys with short black hair and generic black singlets. 'Twas the following June they were repackaged as DOA. Cagematch lists only two TV appearances for these guys, making things even stranger.
The Red Jynx starts with Grimm A (god I can't recap this- the commentators don't know who is who and neither do I!) and the Jynxes do a double-dropkick, but Green dances and gets nailed by the other one (Ron, judging by the position of his hastily-scribbled-over SS tattoo), who hits a tilt-a-whirl slam, then Don comes in for a belly-to-belly. Jim Ross actually uses the term "title opportunity" in 1996, which I don't recall hearing before. Some slow work sets up Ron charging into the corner, but catches Green Jynx coming off the top with a powerslam, and a Double Spinebuster ends it at (2:24). Pretty quick, inoffensive squash- humorously, the Jynxes were given just enough to show they could fly okay, but were entirely crash test dummies in there and took some decent power stuff. This is bizarrely the last time we'd ever see either duo, as the Hardys were just regular dudes after this.
Rating: 1/4* (okay, short tag squash- mostly the Jynxes and bump machines)
Moondog Spot! Of whom I know nothing!
JAKE "THE SNAKE" ROBERTS vs. MOONDOG SPOT:
(WWF TV, March 28th 1987)
* … haha, okay. So despite me having read about the Moondogs for YEARS, it occurs to me I've literally never seen them. Turns out it's a hillbilly gimmick! Spot here is a squat, beer-bellied but still kinda muscular and tough-looking dude with a big blonde beard and shredded jean shorts, looking like a villain from a Bugs Bunny cartoon. Jake has turned babyface and is wildly popular, but looks REALLY funny in his tight red tights, as they show off how skinny his legs are.
Jake gets a hiptoss & kneelift right away, but runs into a boot and Spot slugs away, then hits a fistdrop of the second rope for two. Jesse Ventura thinks this might be an upset in the making, but Jake just punches away to come back, hits his jab-combo, then "leapfrogs" (ie. just steps over) Spot and hits the kick into the DDT for the win at (1:50). Well THAT was fast. For some reason, Spot gets dragged out of the ring by the referee, robbing fans of the "draping Damien over the fallen jobber" spot. What's THAT about? Seems like they needlessly disappointed the crowd. I guess maybe because Spot wasn't supposed to be THAT low a jobber?
Rating: 1/4* (just some punches and then the win)
VINCENT vs. TOKYO MAGNUM:
(WCW Saturday Night, Nov. 28th 1998)
* Yes, Tokyo's jobber spree in WCW extends to fighting VINCENT of all people. Vincent was only rarely wrestling on TV at this point, usually just being used as an nWo goon. Magnum hilariously has to come down to the super-stereotypical "traditional chopsticks Japanese music" when he's decked out in his stripper gear with the open shirt.
OMG- Vincent just pounds Magnum down with ease, hits a chop, then takes him down with an armbreaker, segueing it into a vicious-looking Fujiwara Armbar… and THAT'S IT! Magnum taps out in (0:28)! hhahaha jesus, what a waste of TV time! Never mind that you give VINCENT a squash so short even Goldberg would think it's weird. Poor Magnum, lol.
Rating: DUD (what even was this!?!)
VAN HAMMER vs. MIKE ENOS:
(WCW Saturday Night, July 31st 1999)
* More of Mike Enos in his lil' bike shorts, and now he's up against the always-awful Van Hammer, making his "Dream Matches" column debut (unless I did one and forgot). He's such a weird mismatch of stuff- basically an '80s rock star gimmick but with just enough grunge music accoutrements he comes off like a total fraud, and now he's in a purple singlet with "Peace" crossed out as a logo, but he's still got a ballcap and straw-like rock & roll hair.
They stalemate with matching shoulderblocks to start, then Enos knees Hammer out of a test of strength and hits a fireman's carry & powerslam for two. Enos hits a side backbreaker and then a camel clutch for a full minute, but repeats jumping on the back too many times and goes crotch-first onto Hammer's knees. Inverted atomic drop & big boot get two, then he catches Enos with a spinebuster and the Cobra Clutch Slam finishes at (3:42). Poor Enos- dusted off in mere moments against a guy this bad. And after all the effort he usually puts into his matches!.
Rating: 1/4* (really nothing to the bout- half of it was either in the test of strength or the camel clutch!)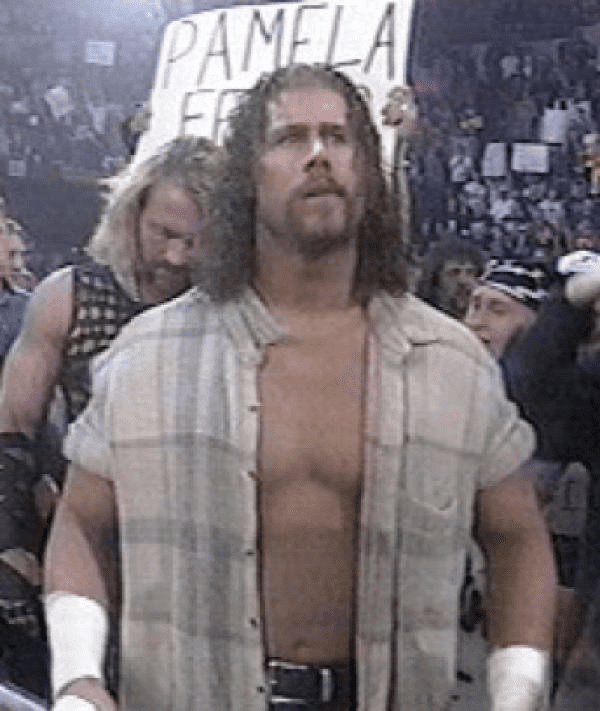 SICK BOY (w/ Lodi) vs. THE RENEGADE:
(WCW Saturday Night, Feb. 14th 1998)
* Oh goodie! I keep forgetting about Sick Boy, and how he was oddly popular among smarks for being a rookie who showed some promise, and how he was generally assumed to be a big part of the "Katie Vick" angle (his real name is Scott Vick). Just never happened for the guy. And here's him squashing Renegade! Who was a dozen times worse but got a dozen times the push! Because WCW! Renegade is in black trunks and has Tenay talking about how he has a "rougher edge" to try and recapture the momentum from when he was TV Champion. Scott Hudson mentions Sick Boy as being named after the "Trainspotting" character, mentioning how it was a good movie but he doesn't know about someone naming themselves after that guy. Sick Boy is fully mimicking Raven with the Grunge sweater around the waist and the jorts, and he looks to be in great shape here.
Sick Boy misses a charge when Renegade's distracted by Lodi, and gets backdropped and back-body dropped, then eats a pescado. But then he chases Lodi around and tears up his sign (!), allowing Sick Boy to sneak up on him with a belly-to-belly, locked under the arm and around the neck. Full-nelson slam hits, and then Renegade gets distracted by Lodi twice more, blasting him with a forearm but missing a back elbow and eating a slingshot back elbow from Sick Boy for two. But then Renegade reverses a whip and hits a powerslam and the Warrior Splash… for two! But he misses his handspring back elbow in the corner and Sick Boy hits the single worst finisher I've ever seen in my life- a Thesz press into… just putting his hands behind Renegade's neck and pulling on it, for the win at (2:42). Haha, Jesus.
Sick Boy would quickly add a Springboard move to his repertoire for good reason- that move was said to be a "reverse camel clutch" but was really just pulling on a guy's head. Renegade mostly dominated but looked like a doofus for repeatedly going after Lodi and getting killed for it. Most of Sick Boy's stuff looked good.
Rating: 1/2* (pretty standard-issue quick match, albeit mostly dominated by the loser- kind of typical of "rising rookie" matches that aren't quite squashes yet are over fast)