April 29th, 1991
Taped April 7th, 1991
Universal Studios Florida
Orlando, Florida
Commentators: Craig DeGeorge & Capt. Lou Albano
We've escaped the Penta Hotel and are in sunny Universal Studios. Pre-taping wrestling at Universal Studios? Ahhh that'll never work. Also speaking of things that will never work, Lou's commentating.
B. Brian Blair vs. Rico Federico
Ah, I recognise the set-up from the post-Bash At The Beach 1996 Nitro except it's in the daytime and has 1/8th of the crowd. Lou explains Bruno is away this week attempting to put together the Sportschannel TV Title match tournament. That's already taking place. Anyway Blair keeps it basic and the crowd eats it all up so they deserve what they get. Blair makes Rico submit with the Scorpion but I was too busy looking at the giant Nickelodeon building in the background to type play-by-play.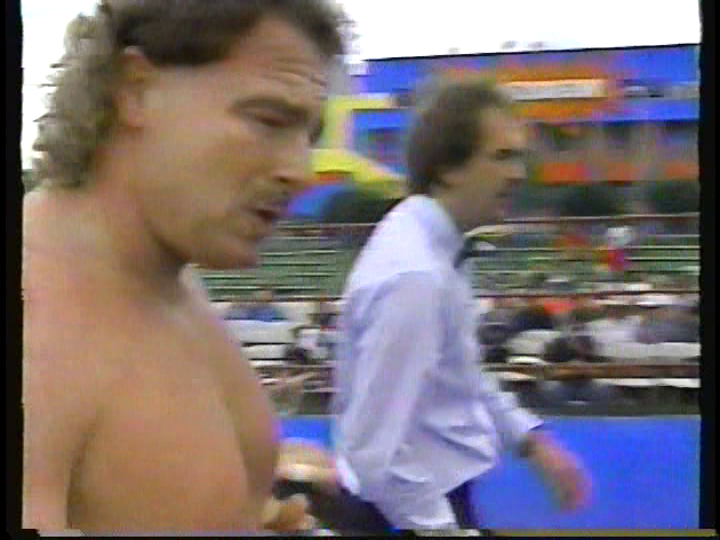 Ask the Wrestlers feat. Paul Orndorff
Orndorff is asked if he and Steve Williams will ever stop fighting and become friends.
"Uh no."
Thanks Paul.
Malia Hosaka vs. Penelope Paradise (w/Luna Vachon)
Here's our first introduction to the Ladies Professional Wrestling Association that would help Herb fill up the UWF's undercard. I don't know much about the company other than they ran even less shows than the UWF during this time but somehow put out just as many VHS releases. This is Penelope's third recorded match with her previous one being thirteen months ago. Malia is still wrestling at places like IWA-MS to this day. Penelope takes her down but Malia holds on and kips up to the crowd's approval. She blocks a hip toss before using Penelope's head to backflip out of it. Luna is her usual awesome self at ringside yelling SHADDAP at unsuspecting kids. Penelope works Malia over and slingshots her into the ring ropes and follows up with another that takes her halfway across the ring. They're working hard and the crowd's responding positively, wow it's like watching a real match. Penelope charges into the corner but Malia takes her out with an X-Pac kick before landing a running Frankensteiner for the pin. Hey this wasn't half bad!
Brian Ricco the UWF News Reporter (what?) discusses the ongoing TV tournament set up by "Doctor Herb Abrams" (what??) letting us know that Cactus Jack beat Sunny Beach, and Blair beat Orton (what???). There's no record of these matches actually happening on CageMatch, but as soon as he said there was a decisive finish to Blair vs. Orton I knew it was bullshit.
Bam Bam Bigelow vs. Rusty Brooks
Rusty Brooks is a chubby enhancement dude with an amazing receding hair line. "Rusty has lost over 12,000 lb in his life, of course he gained it back." My copy of this show glitches out and I miss most of this but Bigelow wins with an enziguri so let's move on.
The Black Harts (w/Luna Vachon) vs. Dusty Wolfe & Big Bobby
The Black Harts (Gangrel and Tom Nash) make their debut by coming out to Perfect Strangers, which is weird to hear in a wrestling setting without Shane Douglas yelling "CUT THE FUCKIN MUSIC" half-way through. They burn some smoke as part of their entrance and have a decent look for this period, even if you can't tell them apart but they don't do a masked confusion thing. They dismantle Wolfe with a double rolling clothesline which you don't see very often.
Dusty gets some offence in so Luna can distract the ref to show their baddies, even though they're hitting cool shit like Axe Handle Slams from the top rope to the grass. Big Bobby makes a hot tag (and it actually is hot for a change as this crowd is cheering for everything) and gets shit-canned immediately haha. After bouncing Big Bobby around, the Black Harts finish with an attempted elevated leg-drop veg-o-matic on the human fridge to end it. The Black Harts were feeling it here and continue to kick and do flips onto Bobby afterwards, clearly acting like they were in AJPW.
Capt. Lou's Corner w/Bam Bam Bigelow
Bigelow is happy to be here even if he's been starving himself so he's hungry for competition. Like the rest of the show, both men hype up the existence of the Beach Blast PPV but aside from the (imaginary) tournament finals, there's nothing to actually talk about.
Boris Zhukov vs. Big V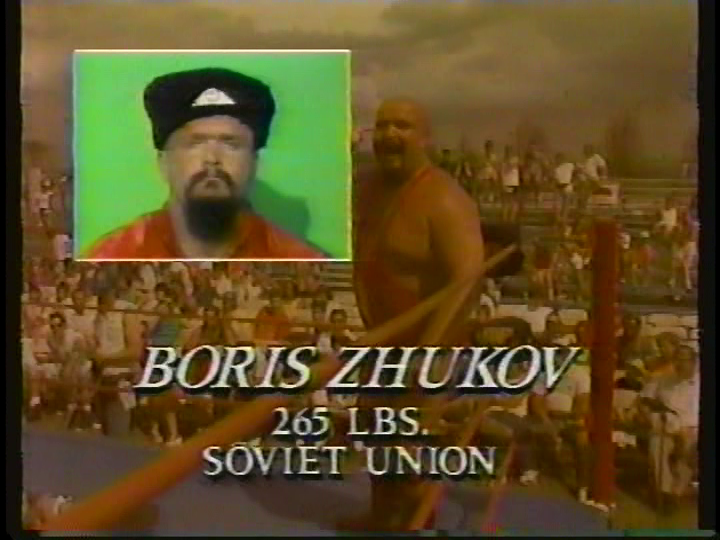 I've watched dozens of Bolshevik tag matches but the only thing I remember was Steve Allen taking the piss out of them. Anyway Boris is an evil Soviet wrestler, only a few months away from the real thing dissolving. To show how nice (and small) the show is, the ring announcer lets us know there's a special ringside referee for this match, a paying fan named Sherri and it's her birthday today! Crowd chants "Sherri" out of respect as she stands up and hangs out around the ring not doing anything. Boris plods along with his dull stomping while Lou mocks Herb who is attempting to commentate but can't be heard. "He adjusted his head-set to minus one." Zhukov applies an armbar on a downed opponent which is my current favourite "80s wrestler on a 90s indie show who can't be bothered" move of choice. Zhukov gets a few headlocks and stomps and his move-set makes Brian Blair look like Ultimo Dragon. Big V makes a gradual comeback but Boris lands a clothesline to the back and that's somehow enough. Urgh. Sherri showed promise.
Overall: The loud & little crowd was a nice change of pace and the match quality jumped up this week, but you had to put up with Lou & Herb yelling about the date of Beach Blast because that was the only thing they had booked. JUNE 9TH JUNE 9TH GIVE US YOUR MONEY JUNE 9TH.
Here's a bit of Meltzer related news that doesn't involve him losing to Cornette on twitter:
A group is taping television on 5/3 in Knoxville, TN using Johnny & Davey Rich, Mongolian Stomper and Pez Whatley. According to someone who talked with Bob Backlund this past week, he was contacted by Herb Abrams about making an appearance on the proposed PPV show in June. Although it has been advertised already of a Backlund-Ivan Koloff match, Backlund hasn't agreed to appear not supposedly has he even been asked to wrestle, only to make an appearance.
On that thrilling note, I've been Maffew.