April 8th, 1991
Taped March 10th, 1991
Hotel Pennsylvania
New York, New York
Commentators: Craig DeGeorge & Bruno Sammartino
A brand new set of tapings, a debut and something about a PPV?
Mark your calendars and hide your pets because on June 9th, Herb is unleashing THE BEACH BRAWL.
Speaking of PPV, Herb Abrams announced this past week that his UWF will do a PPV show on 6/9. While no site has been announced, the top two matches are tentatively scheduled to be Rick Rude vs. Paul Orndorff and a tag team match with Steve Williams & Terry Gordy as a team. The bouts will be for the UWF's singles and tag team titles. They are also supposedly going to do a tournament next month in Florida for the TV title. Abrams ran his latest show on 3/10 at the Penta Hotel in New York. The show scheduled for a 2 p.m. beginning, lasted until nearly 7 p.m. because the new TV crew didn't arrive until 3:15 p.m. The crew that had been doing the telecasts pulled out. This rookie crew actually was inside the ring doing close-ups during some of the matches.
Terry Gordy vs Captain Badd
Bamm Bamm's debut! Dr. Death must have recommended the opportunity to make some easy blow money in between AJPW tours. Hotel Pennsylvania doesn't sound very well mic'd because they're already silent and it's the first bloody match. Also Meltzer says these are from the Penta Hotel but my notes say "Hotel Pennsylvania" so who knows, maybe you can never leave. Gordy takes it nice and slowly, keeping Badd in a long headlock which is fine… until Badd attempts to dislodge himself from it and Gordy disagrees with this strategy. After several attempts to put Gordy into the turnbuckle and presumably force a rope break, Gordy has enough delivers several full-on kicks into Badd's face before a brutal clothesline in the corner sets up the match-ending kneeling Powerbomb to end this debut on a positive note.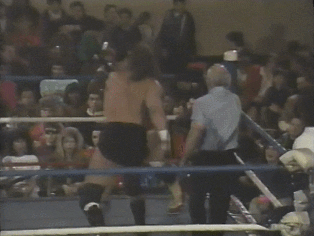 B. Brian Blair vs Brian Donahue
Crowd is silent for BBB so maybe I was wrong and the crowd is mic'd up properly. Some technically efficient but dull wrestling happens while the commentators plug the upcoming matches and Blair finishes with the Scorpion. Anyone seen that Sparks documentary last year? Probably my film of the year for 2021. That or Another Drink, but I enjoyed Kong vs. Godzilla at the cinema and Blair is rubbish.
John Tolos hypes the Beach Blast PPV but no matches have been announced so it's just him yelling "I've wrestled on many shows and this PPV will be one of them" for a few minutes.
Capt. Lou's Corner w/Terry Gordy
Gordy tells us he's never said he's the best wrestler in the world and he's not won as many titles as others, but no-one can wrap a chair around someone's head like him. This wonderfully understated promo is then drowned out by Lou yelling the exact same thing Terry just said but louder and with more "baybay".
Herb reminds us that even though Desert Storm was wrapped up weeks ago, you can still buy the official UWF Desert Storm t-shirt to support the troops doing clean-up duty!
Don Muraco vs Afa (w/Samu)
Oh that's nice of Afa to show up to support Samu during his…oh wait AFA's wrestling? He's only 49 at this point so he's practically veal by Herb's standards. The Samoans get a double-team clothesline before the bell rings and Afa starts dropping headbutts on a downed Don. Samu misses a charge in the corner which allows Don to choke him with his shirt. Samu doesn't appreciate that and The Samoans attack Don on the outside until the ref calls the match off. Afa outclassed Don here but then again even Adrian Lewis could do that.
Ask the Wrestlers feat. Bob Orton
Someone asks Bob why he uses Tolos' interference when he's a good wrestler by himself and Bob tells him Tolos gives him advice, and here's some of his own: seize the day! Even Bob can't carry these.
Paul Orndorff vs Carmine Albano
Tolos shows up to ramble some more on the commentary booth because in between his promos and paid advertising for the limo service every commercial break, there just wasn't enough of him on this episode. Paul takes some offence from the Artie Lange-lookalike before dumping him the Piledriver. Paul's clearly realised there's no point spending all your energy in the set of tapings.
Wet N' Wild vs Bob Orton & Cactus Jack (w/John Tolos)
A rematch from the previous episode's non-finish. Wet N' Wild are supposed to be babyfaces so of course the production crew zooms in on some anti-Sunny Beach signs.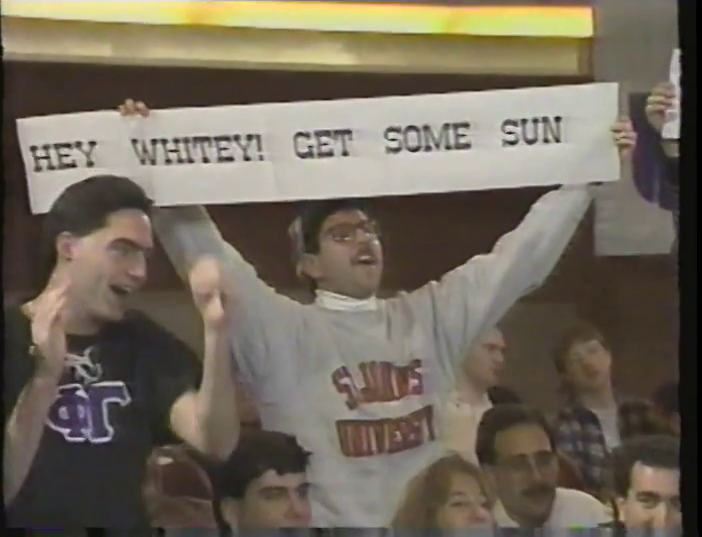 Cactus takes a pasting from the pasty ones before Orton tags in and sorts out Sunny's inability to wrestle. Ray continues to pound on Foley as the crowd chants for Cactus Jack and not even a trio of top-rope cross-bodies from Wild Thing can change their mind. Beach locks in a Figure Four on Cactus, which is the absolute worst thing for him to do as the crowd treats it like a heat segment and gets behind Cactus some more, climaxing with Cactus landing the spinning clothesline to a big pop. Orton gets the hot tag and goes punch-for-punch with Ray until he gets whipped into the referee. Crowd gets excited at the idea of both teams going at it with no ref but a second one comes in to end this match with another non-finish double DQ. Orton and Cactus thankfully ignore him and smash a surfboard over Sunny Beach's pasty face (to more cheers). Well this failed at everything they were attempting but it wasn't that bad.
Overall: A mildly interesting episode but we're building towards the biggest bomb since You're In The Picture so there's that to keep us going. Here's some more Dave thoughts to close us out.
UWF drew 400 for the Penta Hotel show on 3/10. Told it was a very hardcore and unruly crowd in that there were frequent chants of "UWF Sux" and the like. Told that with the exception of Cactus Jack, the card itself was pretty bad, which is what people have said in the past. Fans apparently got more and more upset with every screw-job finish, which took place in every match with name stars. Among the names put over included Steve Williams, Brian Blair, The Power Twins, Afa the Samoan (who looked bad), Orndorff, Terry Gordy (making his debut), Bam Bam Bigelow (also debuting), Cheetah Kid and the tag team of Wet And Wild (Sonny Beach & Steve Ray). Top matches saw Bob Orton double count out with Bigelow, Muraco beat Afa via DQ when Samu interfered, Cactus & Orton DDQ Ray & Beach (best match on card), Orndorff DDQ Williams in a cage match when Gordy and Cactus attacked Orndorff getting into the cage and Muraco made the save (fans were real mad after months of DDQ's with these two to have another in the cage match), Bigelow beat Afa via DQ and Muraco beat Gordy via DQ when Williams did a run-in. The group returns on 5/10 to the Penta Hotel but has a 4/6 date in Ft. Lauderdale with Muraco vs. Bigelow as the main event, Norman (Mike Shaw) vs. Orton and Blair vs. Cactus (Cactus won't be there as he's in Japan) and also a 4/7 show in Orlando. . .

The Universal Wrestling Federation (as in Herb Abrams) announced a PPV show scheduled for 6/9 from the Manatee Civic Center in Palmetto, FL. Rumors of various different line-ups have circulated and been announced. The company's press release only lists a TV title tournament. On television recently they've announced Bob Backlund vs. Ivan Koloff and Cactus Jack & Bob Orton vs. Steve Ray & Sonny Beach with heel manager John Tolos suspended in a cage above the ring. Supposedly, even though he's been announced, Backlund hasn't agreed to do the show yet and many question if he ever will, since he hasn't appeared on a U.S. style card in many years. Rick Rude vs. Paul Orndorff had been bandied about as a main event match, and Rude has appeared on at least one indie show over the last month and I believe his WWF contract actually will be expired by June. There has been talk of a face-to-face confrontation between Buddy Rogers and Bruno Sammartino, but those close to Rogers say that not only has he not been contacted, but there is no way he is going to do it if he were. Billy Graham's name was mentioned as a manager of Ray & Beach. On the surface, this group, with as yet no syndicated television, cable exposure on a station that isn't cleared in many homes and with no record of being able to draw paying customers to house shows,trying to expand into PPV sounds simply like a recipe for burning money. Since our last issue, at least one other wrestler has specifically detailed in a letter to the New York commission about Abrams' stop payment on a check.
I've been Maffew, stay tuned for more UWF with even less pay-offs outside the ring than in it!