March 18th, 1991
Taped February 15th, 1991
Penta Hotel
New York, New York
Commentators: Craig DeGeorge & Bruno Sammartino
You know how last week they were airing pre-taped segments in the wrong order? Well this episode has a note attached that says "This show was originally scheduled for February 9" so we've reached the point where entire episodes are being aired out-of-order. I love UWF.
Chris Michaels vs. Captain Badd
Well Chris got annihilated in a squash match last week so of course we're getting an out-of-synch competitive match this week. That's standard WWE booking in 2022. Michael's got a mullet, a cap, army fatigues and a giant flag and he STILL can't get a pop. Captain Badd schools him to start and then gets a near-fall from a scoop slam and I start to wonder if Herb genuinely booked a Captain Badd squash because he ran out of wrestlers. However, Michaels flies off with a missile dropkick after reversing an Irish Whip into the corner for an unflattering win. Michaels throws a million clichés at the wall in his post-match promo and neither of them stick.
Ask the Wrestlers feat. Steve Ray
Beverly Schmidt asks how Steve got started in wrestling and also if he's married? He got started by Sonny Myers "after he was blackballed out of the business." Woah what's that story about? Also he's not married. Woah what's that story about?
The Power Twins (w/Rick Golden) vs. Brian Donahue & Carmine Albano
"Well they're undefeated!" says the commentators, except they're not as this episode is being shown after their DQ loss to Wet N' Wild. Is Brian Donahue supposed to be a pun on Brian Dennehy? Did he write a scathing review of UWF too? "Exciting" and "fast-paced" are two words I wouldn't use for this match as neither jobber seems wanting to bump until Big Bri takes a double back bodydrop half-way across the ring and they end with the standing elbow/torture rack thing. Eh. Just a Monday morning shift of a match.
Capt. Lou's Corner w/The Power Twins
Captain admits he knows nothing about The Power Twins (or how to interview anyone). The Twins keep on switching their names to confuse Lou but they could have done that with a set of car keys.
Don Muraco vs. Dusty Wolfe
Oh good Don's here, this'll crank up the work-rate. Dusty begs off and then Don takes him down with some armbars, not even being arsed to leave his standing position. He just holds it on while Dusty walks around, looking like the big hand on the clock wrestling the little hand. Don takes a few shots in the corner before landing the lazy Tombstone to end it. I continue to be amazed with how little effort Don is putting into these matches. Dusty would end up wrestling as Doink on the indie circuit in the 2000s which has to be the wrestling equivalent to doing hospital radio.
Oh wait, Steve Williams attacks Don because Muraco interfered in the Lumberjack Match last week, which causes Orndorff to make the save with a 2×4. Wow, some constructive bookinG! Bruno puts over the action by stating that it's a 1×6 "and I should know, I used to be a carpenter."
Steve tells Herb he's going to shred him like meat in the cage match. Michael Cole: "Yeah but watch your fingers!"
Wet N' Wild vs. Bob Orton Jr. & Cactus Jack (w/John Tolos)
Cactus allows Steve Ray to out-wrestle him before Orton gets in and gives him a beating to set up the dynamic for the match. Ray gets waffled behind the referee's back as I realise this is the exact same set-up as the previous Wet N' Wild match…filmed earlier this night and shown a few weeks ago. No wonder the crowd is silent for the exact same match they saw a few hours earlier. Sunny Beach gets the tag to bonk his surfboard over Cactus' head and Foley even blades for the bloody big rubber thing.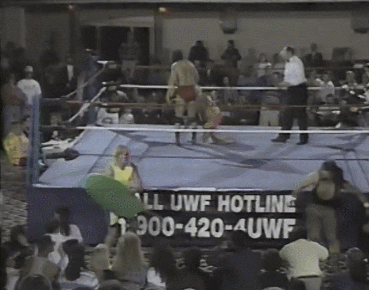 What a pro. Cactus returns the favour and twats Sunny with a chair which the referee spots and DQs to end the match to prove nothing. Perfectly executed dullness.
I've got nothing to type that's better than "episode shown out of synch" so let's hope Meltzer can provide some positivity:
I've now received three either cancelled or bounced ("insufficient funds") checks photostated relating to the UWF first New York tour. There are several interesting contradictions regarding this and relating to a conversation I had with Emma Elizondo of the New York State Athletic Commission. It's interesting also because there is talk that New York Governor Mario Cuomo is thinking of removing pro wrestling for commission jurisdiction. Cuomo has proposed increasing the tax on pro wrestling events from the 5.5 percent athletic tax no in effect to an 8.5 percent entertainment tax. But in classifying it as entertainment, it would be deregulated. I've heard no word on Titan Sports' stance on this issue, since Titan has long lobbied against commission regulation, however in this case losing the commission will cost the company three percent of the gate at every house show, a trade-off that I can't believe they would find desirable. Rather than get into the lengthy debate on whether or not pro wrestling should be regulated by athletic commissions, or at all, my only question is that if it is regulated and if promoters have to be licensed and bonded, shouldn't that mean that promoters who bounce checks and don't pay as promised should at least be forced to make good before they are allowed to run subsequent shows. Because if the idea is that the commission will let them run no matter what, since after all, the commission does have its 5.5 percent of the gate, no matter how small the gate may be, to collect, and if that is the sole priority and maybe only priority, than it is one hell of an argument that commissions are useless as they pertain to pro wrestling.

When I spoke with Elizondo, an assistant with the commission that I'd been informed by various wrestlers that they were going to the commission because of problems with checks being made good, and also that I've got in my possession photostats of several bad checks from Abrams, I was told that the commission had heard of the complaints but was under the impression that Abrams had made good on all the bad checks and everything was cleared up. When I informed her that several parties involved had told me differently, she said that while the commission had received complaints by phone, none were in writing. Not one letter came into the commission so our hands are tied" was her response. Well, on January 30th, one Roy Wayne Farris (Honky Tonk Man) sent a letter to the commission that stated: "Enclosed you will find a copy of a check that was issued to me by Herb Abrams of the Universal Wrestling Federation. This check failed to clear the bank due to insufficient funds. The check was for wrestling services that I performed for his organization in New York on January 9th through January 12th, 1991. I have since been unable to get in touch with Mr. Abrams about this. I would greatly appreciate any help or advice you could give me on this matter." The wrestler who wrote the letter in the Observer a few weeks back and said he was going to the commission was contacted this past week and told me that he had not complained to the commission hoping that Abrams would make good on the money owed, which he hasn't, before he would take that step. My conversation with Ms. Elizondo was on March 7th, or five weeks after Farris had sent his letter. On 2/11, Abrams responded to Farris saying that he was informed by his attorney that he couldn't pay him at this time due to the legal problems between Abrams and the WWF concerning the character of Honky Tonk Man. Both the WWF and Honky have a difference of opinion right now on who owns the rights to the name and the likeness. Honky's attornies believe the WWF can't own the rights to the likeness because the character is an Elvis impersonator, of which there are millions in the entertainment world and if anyone were to have a claim on that character, it would be the Presley heirs and not Vince McMahon. But WWF did give him the Honky Tonk Man name, but the name was originally taken from a song of many years back and not thought up out of the blue. In addition, Farris had wrestled under the name Honky Tonk Wayne in many promotions before going to the WWF. Abrams said in his letter back that when the legal problems are settled, he could expect payment immediately. Of the other two wrestlers, Abrams claimed that he didn't pay them because they told him they were going to the Statue of Liberty one day in New York when, in fact, they instead went to Connecticut to the offices of Titan Sports. The wrestlers claimed they went to the Statue one day and to the Titan offices the next, and since it was their day off, they had the right to visit the Titan offices. At least one other person has contacted me about bad checks, but that person was an office employee, not a wrestler, thus it is out of the realm of the athletic commission and the two had at least a minor falling out. That person complained to the commission but was told the commission can only take action if it was a wrestler, manager or referee and not an office employee. In the case of Honky Tonk Man, Abrams on 2/11 asked Honky Tonk Man to contact the commission to rectify things because they wouldn't allow his 2/15 card to take place. Elizondo told me there was absolutely nothing to this story. Another source said the 2/15 card was moved specifically because Paul Orndorff, who Abrams wanted in the main event, had a commitment elsewhere on that day and he moved the entire card in order to have Orndorff work the show.
I've been Maffew and I will definitely be sticking with this.