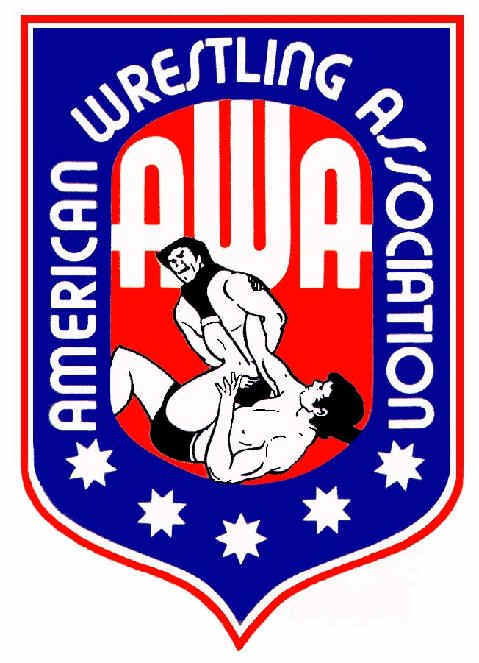 Live from Minneapolis, MN
Airdate: December 25, 1987
Attendance: 1,800
Hosted by Rod Trongard & Mick Karch
Can Greg defeat Curt and become World champion? Will the Midnight Rockers regain the gold against the Original Midnight Express? How will Nord the Barbarian fare against a member of the Sheik's army? Be careful around the Christmas tree, gather around, and enjoy the festivities.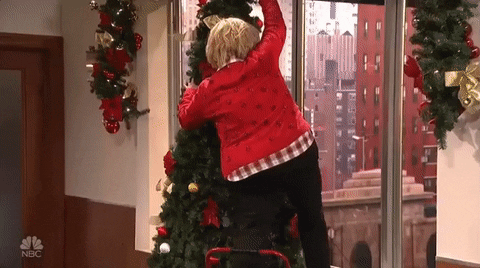 Match 1: "Jammin'" Mitch Snow versus "Slick" Nick Kiniski
Highlights:
Kiniski attempted a haymaker, Snow ducked, so Kiniski flew over the top rope down to the concrete floor.
Where'd the lights go?
Ah, a clip occurred, and they turned down the house lights to diminish the embarrassment of 1800 fans in a 10,000-seat arena.
When Kiniski gave Snow a cross corner whip, he came up empty on his follow-through.
He dealt Snow a knee lift and leg drop for 2.
As Karch mentioned the match had reached the fifteen-minute mark, Kiniski gave Snow a cross corner whip but ate a clothesline.
Snow backdropped Kiniski but missed a dropkick.
After Snow hooked an O'Connor roll, Kiniski escaped, hooked the tights, and pinned him at 7:06 shown.
Rating: DUD
Summary: Nothing impressive whatsoever. It's 1987, if you can't get fans to boo you, you're not a good heel, Nick. Canada's greatest athlete, eh?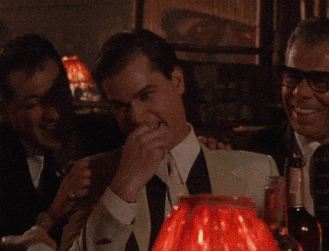 After the match, Snow backdrops the crafty Kiniski who seeks refuge outside the ring.
Match 2: "Mr. Magnificent" Kevin Kelly versus Alan West (w/ Madusa Miceli)
Highlights:
According to Trongard, West was substituting for the injured D.J. Peterson.
At the Thanksgiving show, Peterson won the services of Miceli for thirty days, so West earned a quite reluctant valet for this match.
Normally, she'd be managing Kelly.
Also, for the Christmas holiday, she's dressed like an elf.
For those unaware, West was one-half of the Beach Patrol alongside Mitch Snow.
Kelly gave West a HARD cross corner whip injuring the neck.
As Kelly spilled West to the concrete floor, Miceli applauded her protégé's efforts.
Kelly joined and rammed West face -first into the apron.
Back in the ring, Kelly fed West a back elbow followed by a slam.
He dealt West a backbreaker and another slam but missed an elbow drop.
When he clotheslined West, Kelly uncorked slam #3.
He successfully delivered an elbow drop this time and got 2.
After West rebounded with a dropkick, he followed with a back elbow.
He backdropped Kelly for 2.
While he powerslammed Kelly, West got another 2.
He hit his own backbreaker but couldn't get 3 due to Kelly's foot on the bottom rope.
As West picked up Kelly again, Miceli tripped him. How dastardly!
1-2-3.
Kelly won at 10:56.
Rating: ½*
Summary: Though predictable, Miceli's costing West the match keeps the heat on Kelly no matter how boring and limited he is.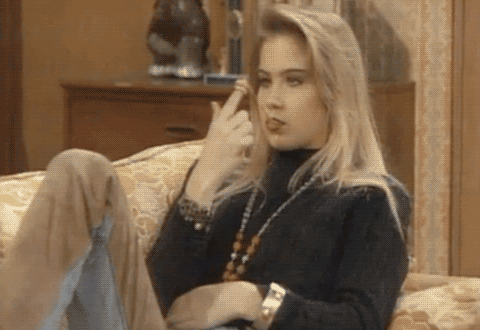 Match 3: Soldat Ustinov (w/ Sheik Adnan Al-Kaissie) versus Nord the Barbarian
Highlights:
For those unaware, Ustinov was ½ of the World tag team champions until Boris Zhukov fled the AWA to join the WWF. Partnered with "Pretty Boy" Doug Somers, Ustinov lost the tag team titles to Jerry "The King" Lawler and "Superstar" Bill Dundee on 10/10.
Should Nord be victorious, he would get five minutes with Al-Kaissie.
The match began with an immediate clip where both wrestlers brawled on the concrete floor.
When they brawled all the way to St. Paul, they quickly transported back to the ring where Nord scored with a big boot for 2.
He slammed and made Ustinov eat boot for 2 after another clip.
As Nord landed a flying shoulder block, he got another 2.
Ustinov rebounded with a slam, and Karch compared Ustinov's arms to a sequoia. Now THAT'S hyperbole.
After the feed went south, Nord slammed Ustinov, supplied Al-Kaissie the mysterious flavors not recognized in Dr. Pepper, mounted the second turnbuckle, and missed a flying leg drop.
Ustinov mounted the adjacent second turnbuckle and missed a flying shoulder block. Jeez, these guys couldn't hit water if they fell out of a boat.
While Nord made the cover, he pinned Ustinov much to the delight of his hometown faithful.
Rating: *
Summary: The match was clipped to almost nothing, but since Nord was the hometown hero, he got the spoils. I'll bet Ustinov's mother was in attendance secretly rooting for her boy. Why? Because Ustinov was a Minneapolis guy named Jim Lanning.
Match 4: Nord the Barbarian versus Sheik Adnan Al-Kaissie
Highlights:
Nord chased Al-Kaissie around the ring until Ustinov nailed him from behind.
As Ustinov tried to ram him, Nord made him HIT THE POLE.
Nord clotheslined Al-Kaissie and applied a standing choke.
When Ustinov walloped him from behind, referee Marty Miller threw the match out.
Rating: DUD
Summary: Nord got some revenge against his former manager.
This match was sponsored by Schmidt beer out of St. Paul. Have you tasted it? Let me know.
Match 5 for the AWA World tag team titles: Original Midnight Express (champions w/ Paul E. Dangerously) versus the Midnight Rockers
Highlights:
Wait a minute! I mentioned earlier that Lawler and Dundee held the tag titles. However, on 10/30, the Original Midnight Express defeated Lawler and Dundee in Whitewater, WI.
For those unaware, the Midnight Rockers went to the WWF in June but were fired. They spent the next six months in Continental, and this was their AWA return.
Sorry, Chester.
The Rockers attacked the Express before the bell and rammed them into one another off cross corner whips.
When the tape fast-forwarded, Michaels blasted Condrey who took exception and left ringside.
The Rockers grabbed the belts, so the Express returned without haste.
As Condrey gave Michaels a cross corner whip, Jannetty softened the blow for his partner.
Condrey reversed a cross corner whip, and Michaels kicked Rose who had intended to protect his partner.
After Rose tagged in, Michaels reversed a cross corner whip and monkey-flipped him.
Following a clip, Condrey tagged in, but Michaels battered the Express from pillar to post.
Michaels gave Condrey a cross corner whip into his corner, and Jannetty plowed Condrey down with a clothesline.
While tags were exchanged on both sides, Jannetty scored with a cross body block for 1.
Michaels tagged in, but Rose maneuvered him to the heel corner.
When he tried to splatter Michaels' brains, Rose inadvertently creamed Condrey. I wonder if that's what the Minneapolis faithful had with their Christmas ham.
Jannetty tagged in, Michaels hip-tossed Rose, and Jannetty followed with a dropkick for 1.
As another pair of clips reared their ugly heads, Trongard must've felt the effects of his egg nog because he confused 10 minutes in with 10 minutes remaining.
With Dangerously on the apron, Rose low-bridged Michaels sending him down to the concrete floor.
Jannetty distracted referee Scott LeDoux, so Condrey rammed Michaels face-first into the timekeeper's table. SNEAKY!
After Rose tagged in, he gave Michaels a cross corner whip resulting in a Michaels flip.
Rose baited Jannetty into the ring so that Condrey could guillotine Michaels with the top rope. Nefarious!
While Rose dealt him a gutbuster, he suplexed Michaels for 2.
Clip #5 exploded before our eyes, and Rose clotheslined Michaels.
When Condrey tagged in, he trapped Michaels in an abdominal stretch.
Annoying clip #6 interrupted that action, and it's HOT TAG Jannetty time.
As Jannetty landed a back elbow to Condrey, he only got 2 thanks to a save by Rose.
Jannetty scored with a sunset flip but ate a knuckle sandwich instead. Who could eat after Christmas dinner with all the trimmings?
Nevertheless, two minutes remained, and Rose tagged in only to be backdropped by Jannetty.
Trongard's egg nog influence acted up again as he believed this was a 60-minute match.
After Jannetty got 2, he fed Rose another back elbow for a second 2-count.
Rose reversed an Irish whip, but Jannetty trapped him with an inside cradle.
Do we have new champions?
1-2-NO!
Condrey tagged in with one minute left, yet Jannetty backdropped him.
With 30 seconds remaining, Michaels tagged in, and the Rockers locked the Express in a rowboat.
The time limit was approaching, the Rockers attempted a double pin, but time ran out.
As a result, the Express retained at 18:10 shown.
Rating: ***
Summary: Despite the infuriating clips, this is an exciting match that begs for a rematch. Although some would say that the Midnight Rockers should have won here, building a rivalry that could infuse house show attendance is the better business move.
Match 6: "Chief" Wahoo McDaniel versus "Adorable" Adrian Adonis (w/ Paul E. Dangerously)
Highlights:
Joining the "fired from the WWF" club was Adonis who nabbed fellow New Yorker Dangerously as his manager.
Adonis tried a full nelson, but McDaniel immediately broke it and chopped Adonis into diced tomatoes.
As he backed McDaniel into the corner, Adonis used his girth to SQUISH him.
McDaniel reversed a cross corner whip sending Adonis into the corner to destroy referee Gary DeRusha.
When Dangerously handed him the cellular phone, Adonis CLOCKED McDaniel with it. Sinister!
Adonis blasted him again with the cellular phone before returning it to Dangerously.
After Adonis slammed him, he splashed McDaniel for 2.
Adonis believed he won and distracted DeRusha.
Meanwhile, McDaniel grabbed Dangerously and robbed him of the cellular phone.
McDaniel fought fire with fire with a cellular phone shot to Adonis and shoved down DeRusha out of frustration.
Therefore, Adonis won by DQ at 5:47.
Rating: DUD
Summary: Unless you needed to see two overweight guys fighting over a cellular phone, this was the popcorn match.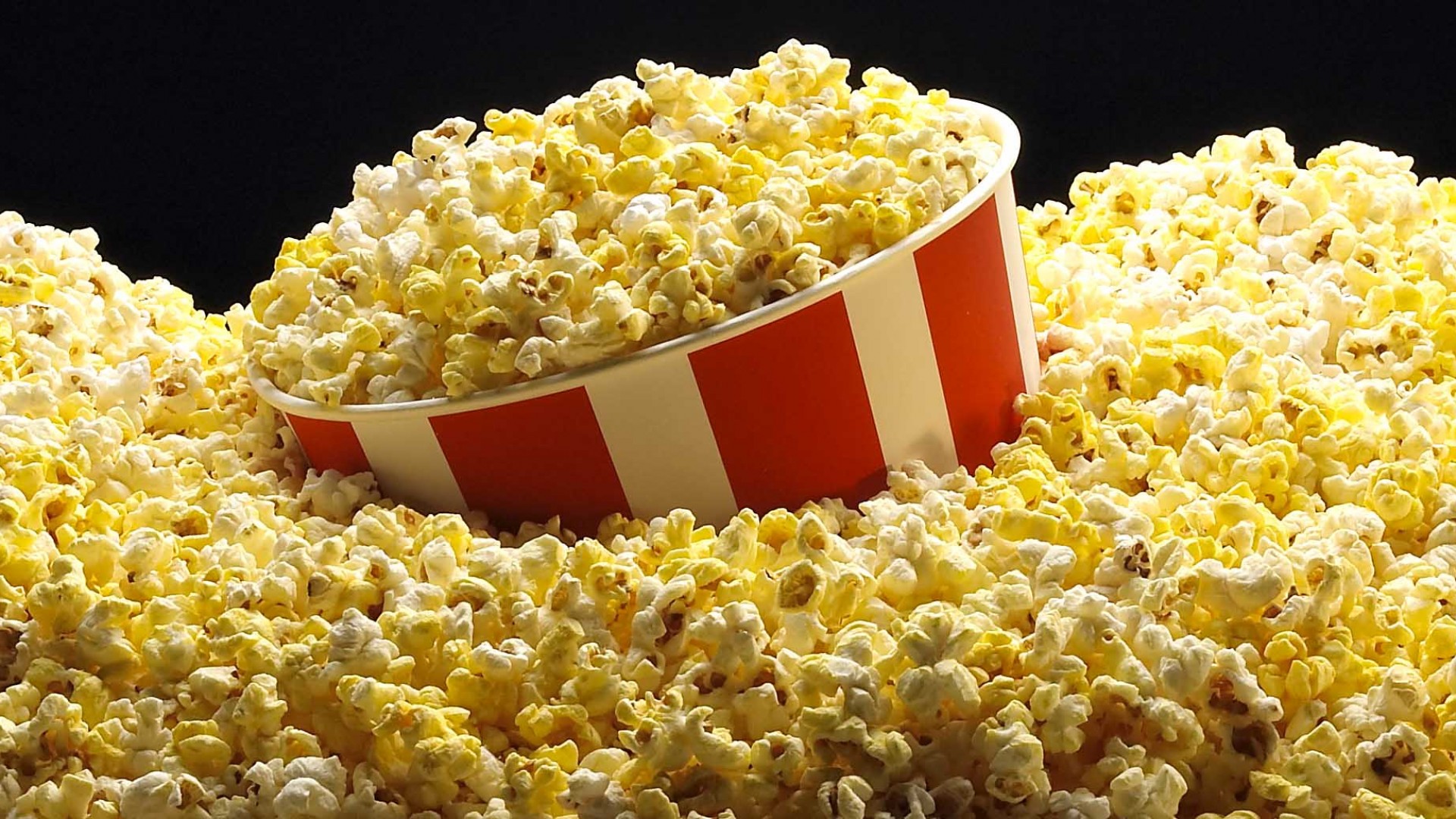 After the match, Adonis and McDaniel brawl on the concrete floor until McDaniel obliterates both the cellular phone and DeRusha in one shot. That's one pissed-off Native American, folks.
Match 7 for the AWA World title: Curt Hennig (champion w/ Larry "the Axe" Hennig) versus Greg Gagne (w/ Verne Gagne)
Highlights:
Verne and Larry will be strapped together. Nothing screwy can happen, right?
When Greg nailed Curt, Larry tried to jump on the apron, but Verne pulled him down.
Curt scored with a sunset flip and got 2.
As a standing switch battle ended in a stalemate, Curt scrapped the hair tie to show Greg he meant business.
Curt escaped a slam and hooked an O'Connor roll for 2.
After Greg monkey-flipped him, he hooked a flying headscissors.
He made a second attempt, but Curt evaded him. That sent Greg flailing into the ropes. OUCH!
While Curt secured a figure-four leg lock, Greg countered the hold before Curt grabbed the bottom rope.
Curt grabbed the leg again, but Greg countered with an enziguri.
When Curt gave Greg a cross corner whip, he came up empty on his follow-through.
In fact, Curt injured his shoulder as he HIT THE POLE.
Greg rammed Curt's shoulder into the top turnbuckle twice and fed him an Anderson slam.
As Curt dealt him a knee crusher, he chopped Greg down for 2.
A mid-ring collision occurred, and Greg won a battle of fisticuffs.
After Greg delivered a knee lift, he mounted the second turnbuckle and launched a flying knee drop for 2.
He hit a backbreaker and got another 2.
While Greg missed a dropkick, Curt trapped him in a somersault rollup for 2.
He belted Greg sending him between the ropes down to the concrete floor.
With Greg on the concrete floor, Verne and Larry almost threw down.
Greg got up on the apron, but Curt guillotined him with the top rope.
When Greg returned to the apron, Curt shoulder-blocked him back down.
Greg returned with a vengeance, slammed Curt, and followed with a back drop.
As Greg reversed a cross corner whip, he applied a sleeper.
In the meantime, Larry got up on the apron until Verne pounded him.
Larry returned fire, jumped back on the apron, and leveled Greg.
After Larry beat up Verne at ringside, Curt crowned Greg with the title belt breaking it.
Although Greg won by DQ at 18:18, Curt retained the World title.
Rating: ***
Summary: I had much higher expectations for this match; however, it became more of a father versus father and son versus son neighborhood match than a World title match.
Afterward, Verne jumps into the ring to protect his son, but Larry precludes him from doing so. Referee Marty Miller tries to intervene, but Curt slaughters him. As the Midnight Rockers storm the ring to calm things down, Curt helps his father battle a beleaguered Verne. More wrestlers spill into the ring to break up the melee, and Larry blasts Greg. While order is restored, Greg is BUSTED OPEN.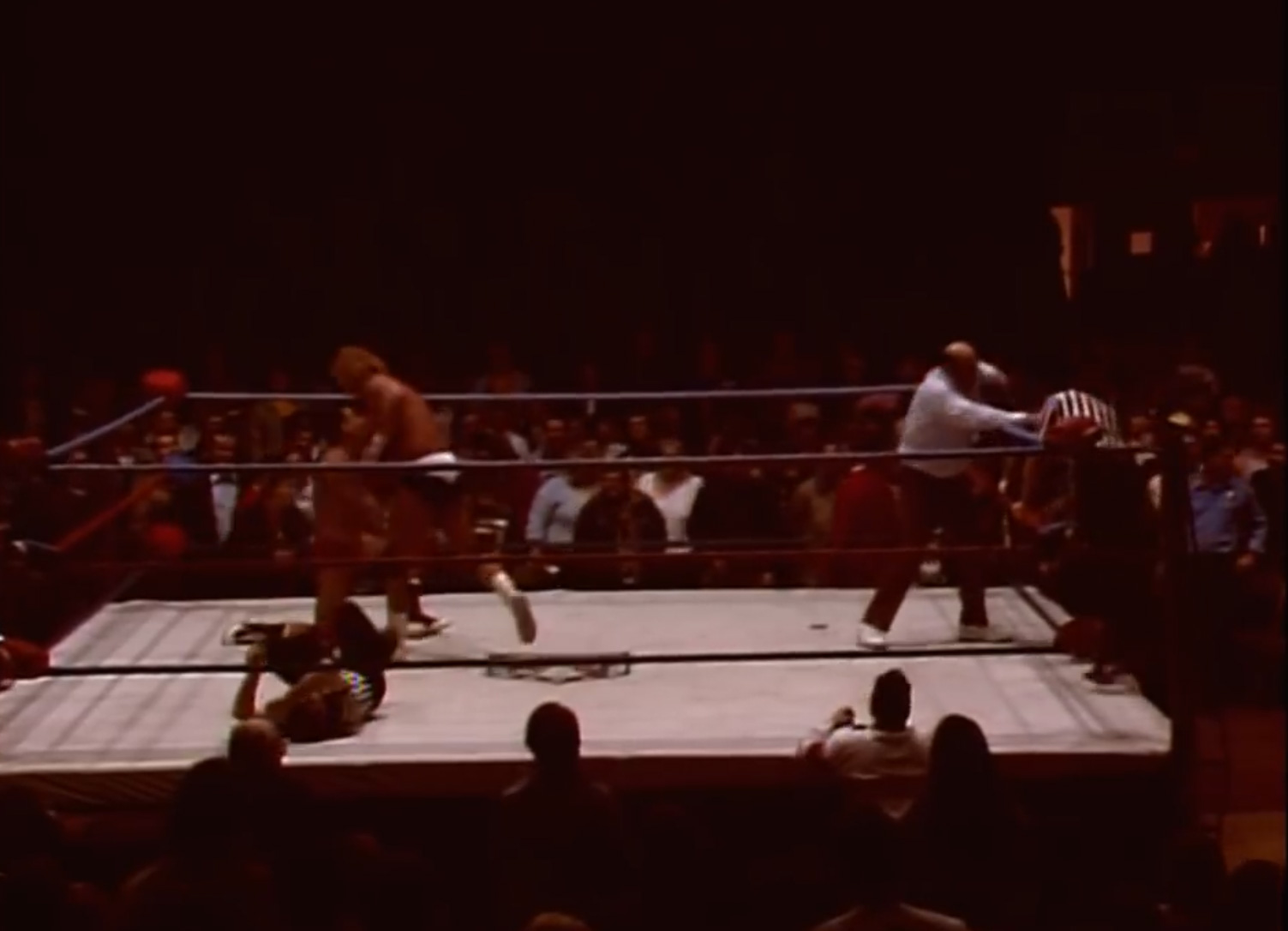 Following the show, Larry Nelson interviews the Midnight Rockers. Jannetty claims shenanigans with the thirty-minute time limit. When Michaels puts over the Midnight Express, he and Jannetty vow to regain the titles.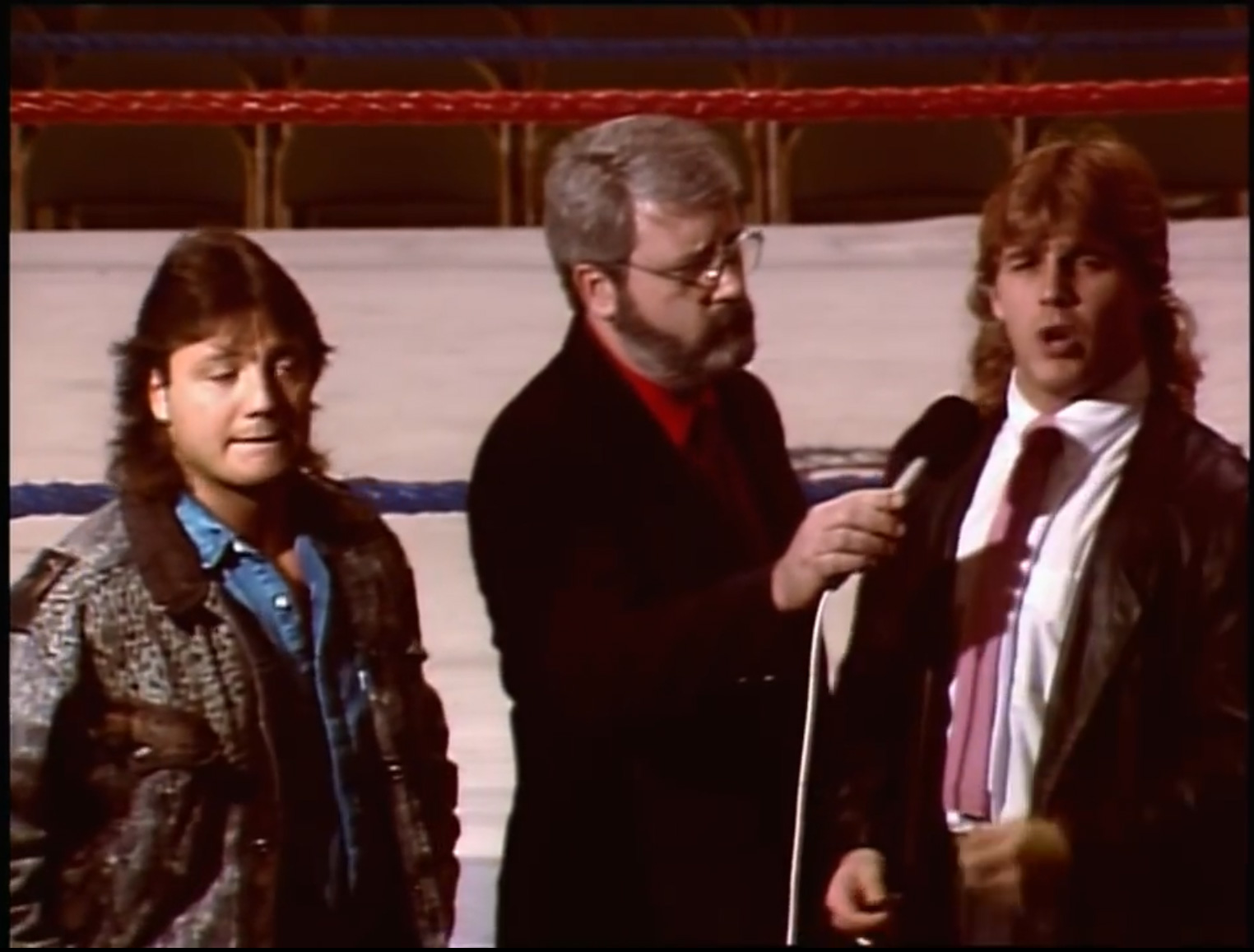 Next, Nelson interviews Dangerously with the Midnight Express. As Dangerously dismisses the Midnight Rockers who couldn't get the job done, Nelson disagrees.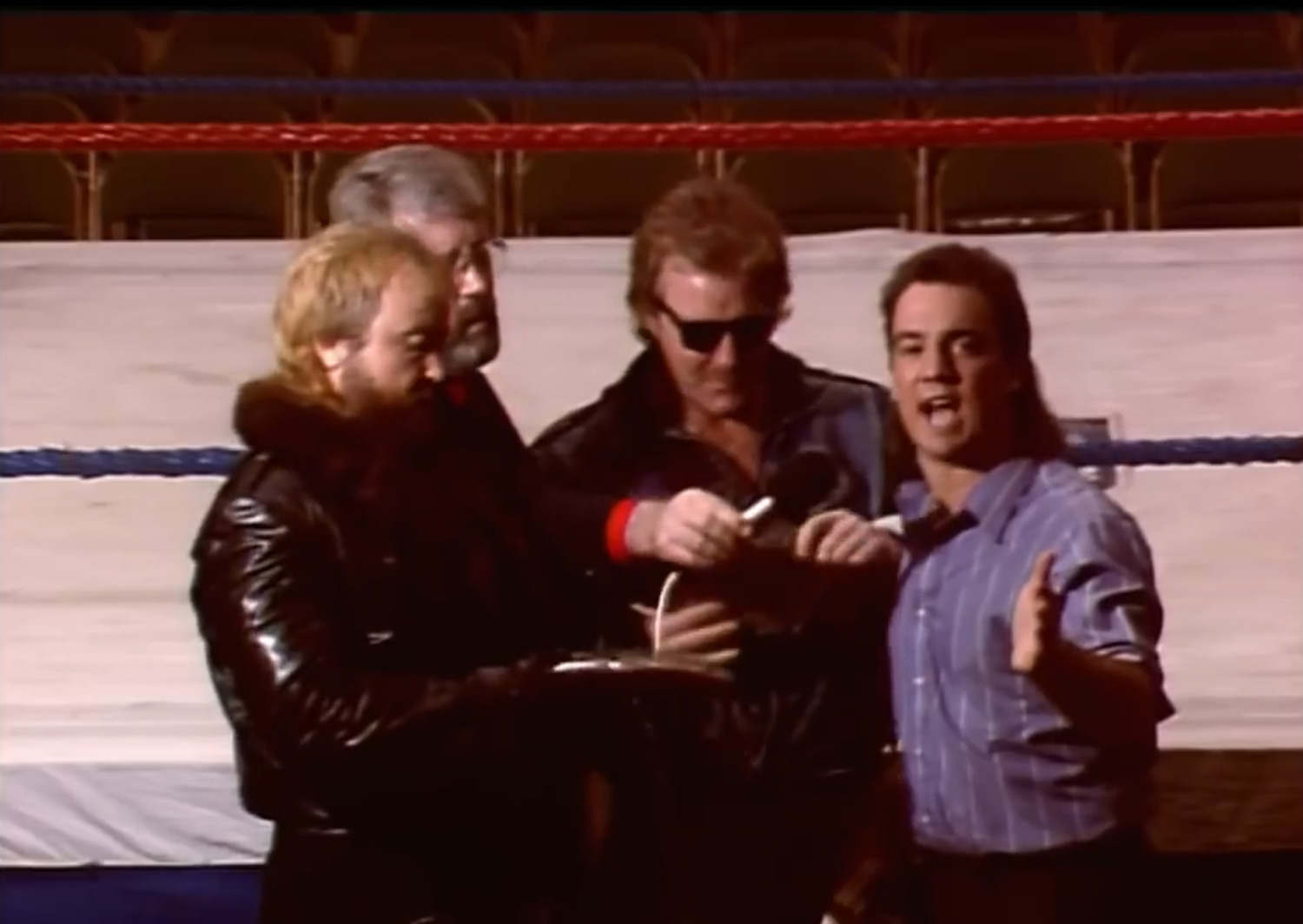 Nelson interviews Greg who wears a bandage on his forehead due to the belt shot. While Greg gripes about Larry's interference, he wants to settle things once and for all with Curt.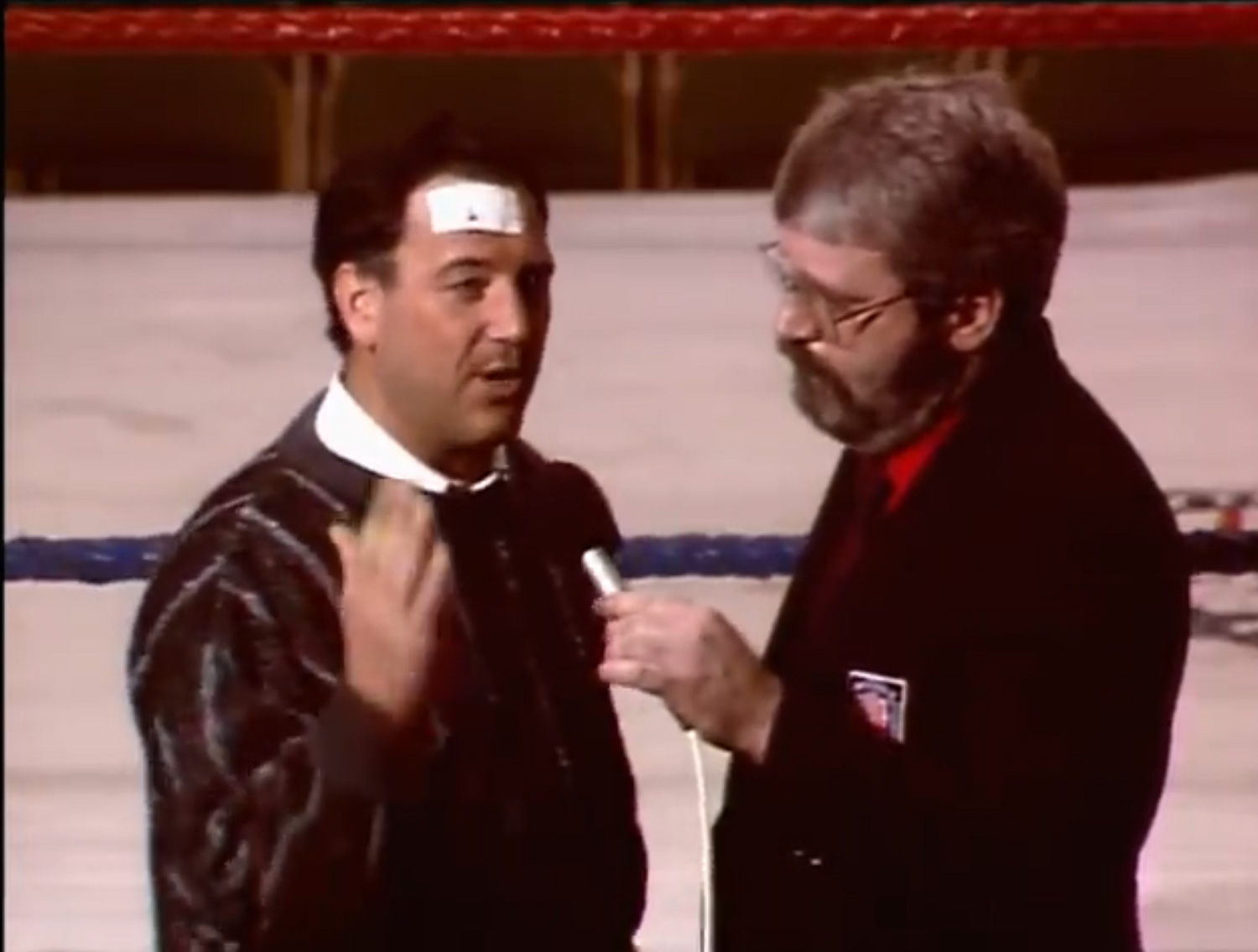 Following that, Nelson interviews a disheveled Verne who contemplates coming out of retirement to deal with the feud between the Gagnes and Hennigs.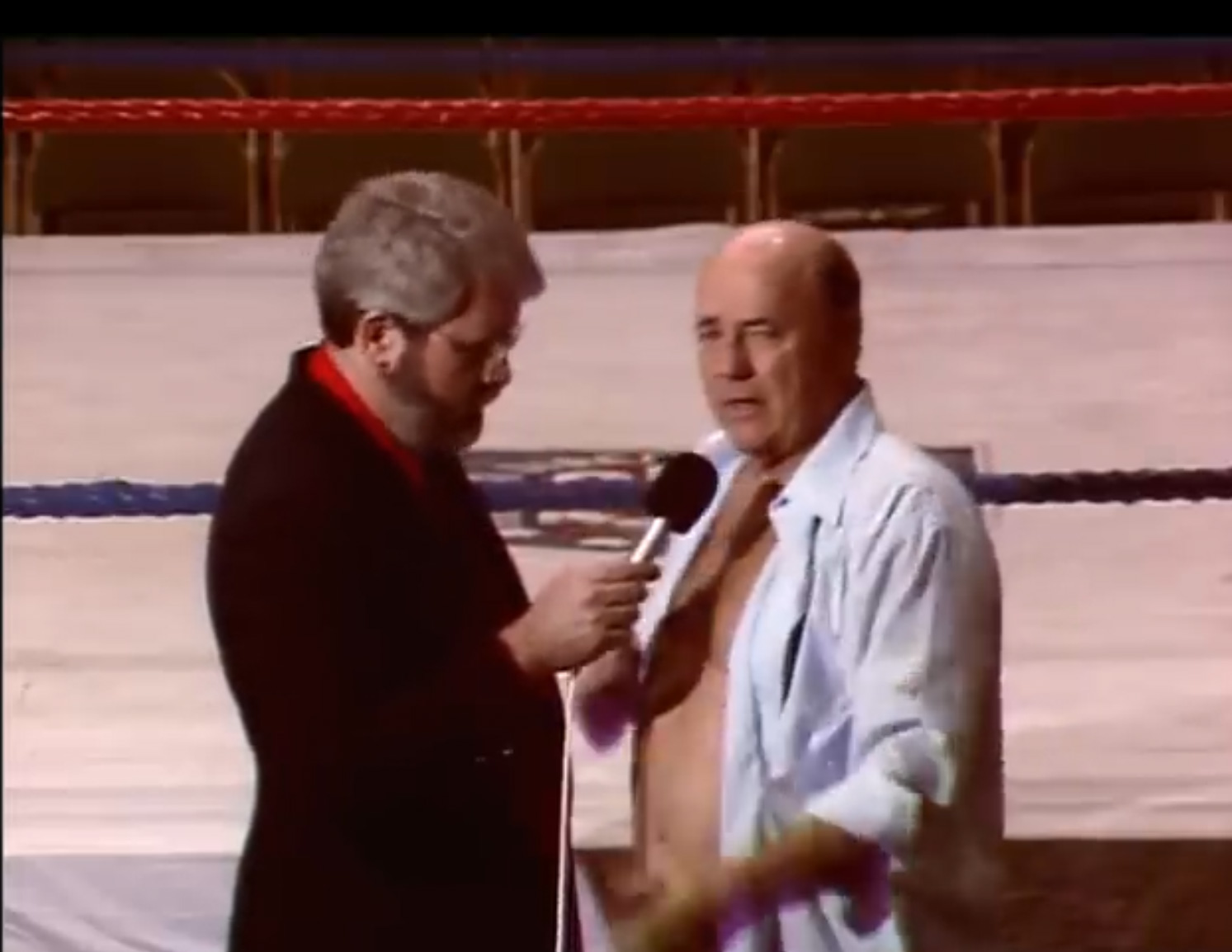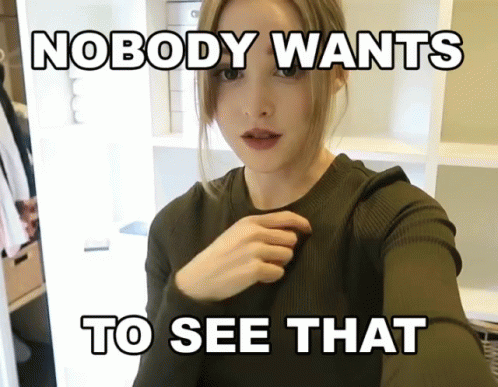 Nelson interviews the Hennigs. As Larry questions the Gagnes' intelligence, Curt, holding a broken title belt, compares the Gagne sleeper to a "choke hold." The notion that Greg gets another shot at the title has Larry laughing, and Curt threatens to sic his little sister on Greg. HA! Any match, anytime.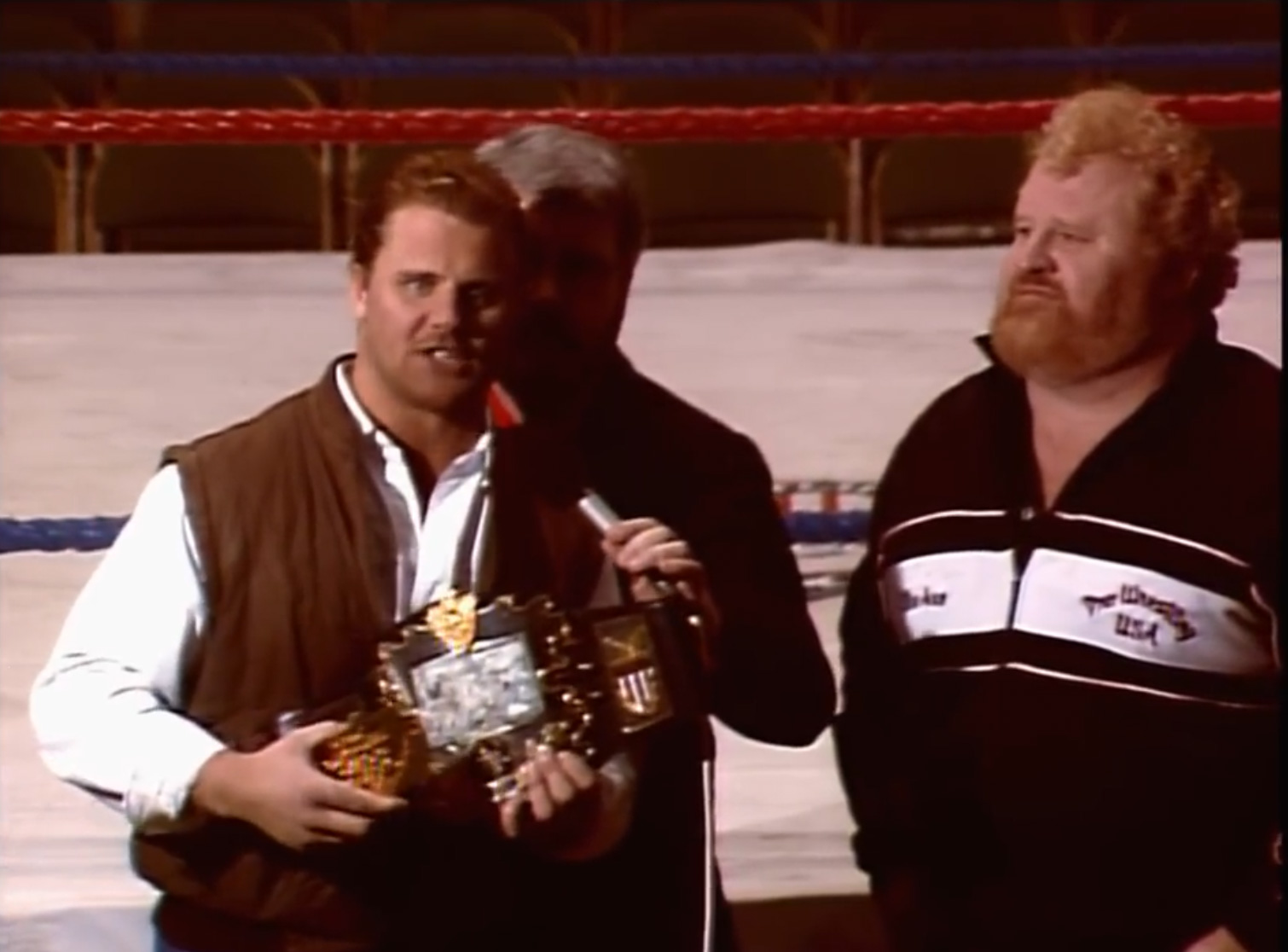 In the final interview, Nelson speaks to Adonis with Dangerously. Adonis runs down Tommy Rich, Roddy Piper, and McDaniel. A second take is shown, and Adonis buries McDaniel.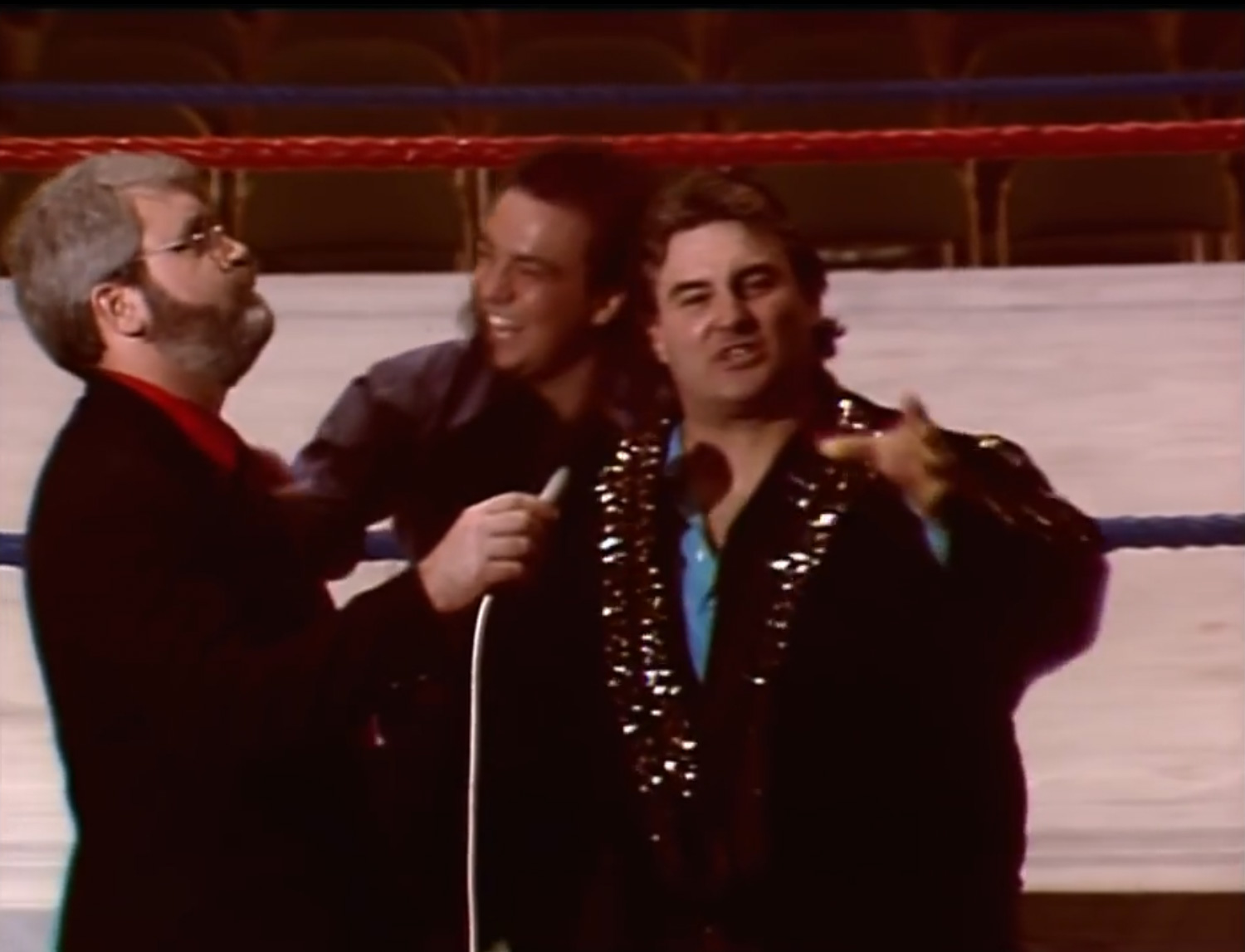 Conclusion: Production-wise, this show was AWFUL. The dimly lit arena combined with poor production values truly made this show look bush-league. In addition, the family feud between the Gagnes and Hennigs should have been completed on this supershow. Instead, Curt and Greg will continue to host diminishing crowds.
On the other hand, the returning Midnight Rockers are a breath of fresh air to a promotion in dire need of one. Hopefully, we see more and more of them in the coming episodes. As far as the Adonis-McDaniel match goes, if I wanted to see two old fat guys get into it, I'd go down to the local tavern. Nord as a babyface is intriguing; however, it's instant heat against the vile Al-Kaissie and his army. The less said about Kiniski and Kelly the better.
Unfortunately, I cannot recommend this show as the quality of wrestlers in the AWA is truly lacking. Fingers crossed, the new year's episode can wash the bad taste this show left behind.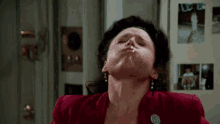 TV Rating: NONE
Stay tuned for AWA on ESPN 12-31-1987!
Comments? Suggestions? Send them to me at [email protected] and follow me on Twitter (@rockstargary202). Also, please check out all of my reflections at rockstargary.com including the Monday Night War and Herb Abrams' UWF!