February 25th, 1991
Taped February 15th, 1991
Penta Hotel
New York, New York
Commentators: Craig DeGeorge & Bruno Sammartino
And we're somehow back at the Penta Hotel in New York City for another mammoth taping session with all the talent Herb could afford to pay. It can't be worse than last week.
Steve Ray vs. Carmine Albano
Steve's so desperate for cheers that he brings an American Flag with him. Even the New York fans can't boo that (at least not for a few hours). Carmine is apparently Lou's nephew. He spends the whole match yelling and being annoying so it was a giveaway. Carmine flubs something so bad even mild-mannered Bruno has to exclaim "what happened there?" Carmine is very green and Ray realises this and takes over, even though he couldn't lead a school of ducks across a busy road. Nothing happens before Steve lands a crossbody off the top. Steve puts over the fans afterwards to suck up even more.
I forgot it was February 1991 so we cut to Don Muraco hyping the UWF Support The Troop T-Shirt. "Proceeds go to the men and women fighting in the gulf" Yeah I'm sure.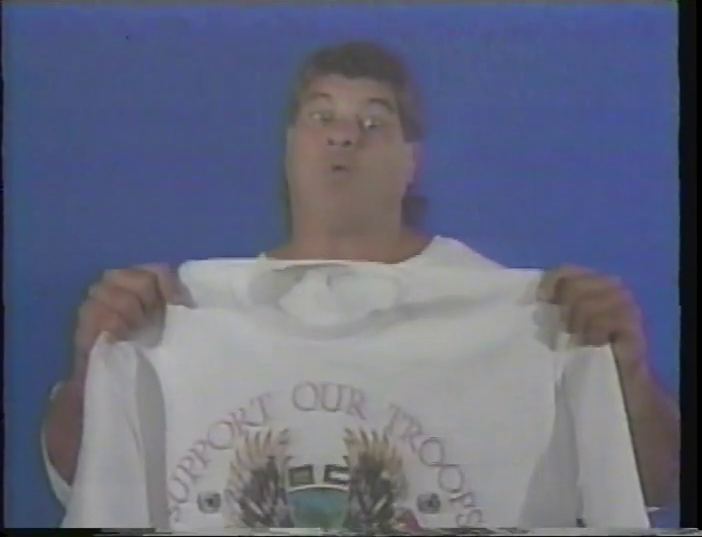 Paul Orndorff vs. The Beast
The commentators don't know anything about The Beast other than he has horns. Thanks guys. Beast growls at the crowd ("grrr!") before Paul puts him away with his beautiful piledriver to save energy for his Dr. Death rematch later tonight/in a few weeks.
Capt. Lou's Corner w/Don Muraco
Oh Lou's got some pepper in his arse this week as he asks Don what he thinks about certain other promotions capitalising on the war. Don says right now we don't need mockery, anyone masquerading as an Iraqi or pretending to be a turncoat cos THE TROOPS NEED OUR SUPPORT DAMMIT. Hey come on Don, those 100,000 tickets won't sell themselves. The past few Observer issues from this time period were full of angry letters from fans regarding both WWF & NWA exploiting the war.
Sunny Beach vs. Bob Orton Jr. (w/John Tolos)
Orton stalls while Tolos starts fights with everyone in the front row. Beach gets a spurt of energy and knocks Orton down, causing him to beg off. Beach then powers up and sends Bob into the corner post. The crowd is full like last time but they're nowhere near as loud so Orton busting his arse for Sunners goes underappreciated. Orton tries to get a Boston Crab near the ropes but Beach resists so Orton snaps his neck under the ropes instead and the crowd pops for that. Orton then drapes Beach over the apron and elbows him to the floor and suddenly the crowd loves Orton. Bob keeps Beach in the air forever before slamming him before pulling Beach off his own pin attempt, which is enough to cause Steve Ray to run-in and start attacking Bob. And the crowd loves that. Cactus Jack runs in to even the odds and the crowd loves that too. They just love violence, they don't care where it comes from. Ray & Beach send the two of them out the ring with dropkicks but Orton wins via DQ to end this melee. Tolos explains to Herb that he's signed Cactus to his stable so you'd better watch out. Ray hears this and attacks during the interview which kick-starts another brawl between all five guys with Ray chasing them away with one of those stiff, unfolding chairs. Lack of crowd reaction for Beach aside, this was a decent angle to set up future matches and we're apparently done with Orton vs. Blair so thumbs up.
Don Muraco vs. Cactus Jack
These two had a stinker a few months ago so here's hoping Muraco is motivated. Don blocks a suplex and charges Cactus into the corner, but it's Cactus so he ignores it. Cactus brawls outside the ring and bounces a bin right off Don's head to the crowd's delight. Foley lands the Cactus Elbow on the apron but Don no-sells it to dump the bin over Cactus' head and slam him into the ring post.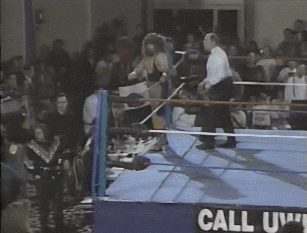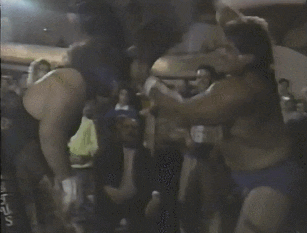 Don dunks Cactus head-first into the timekeeper's table but Cactus no-sells that and chokes Don instead. That was a hot minute. Cactus lands a Russian leg sweep while Bruno wonders what Cactus smells like now. Tolos shows up at ringside to lend some moral support and choking. Don blocks some corner punches with a Manhattan Drop but after a Mongolian Chop, the bell rings to signal the ten minute draw at 07:39. Huh. Well lame finish aside, that was a hell of an improvement over last time.
But never mind the slight direction and hope from this episode, let's check with Meltzer's thoughts on Penta II: Penta Harder:
Herb Abrams' UWF ran a four-hour television taping on 2/15 at the Penta Hotel in New York before 500 fans. All of the advertised names were there except a mystery star, who never appeared. The talent roster has depleted since the last taping due to all the financial problems. In fact, Honkeytonk Man was on John Arezzi's radio show on 2/17 and said that it wasn't any legal problems that kept him from working the show, it was "insufficient funds reasons" which I guess means a bounced check. The only fly-ins were Brian Blair, Bob Orton, Paul Orndorff, Steve Williams, Steve Ray, John Tolos (as a manager) and Don Muraco. Cactus Jack, who was managed by Talcs, basically stole the show once again. Williams beat Orndorff via DQ when Cactus interfered. Steve Ray & Sonny Beach formed a tag team called "Wet and Wild." They pushed a Cactus vs. Sonny Beach feud. Best match on the show was Cactus vs. Don Muraco which was a great brawl all over the building. Also put over was Chris Michaels (jobber on previous taping) and The Power Twins. . . Apparently they spent most of the afternoon taping interviews and somebody stole the tape. At the beginning of the show they introduced Abrams and he got more heel heat than any wrestler on the show since the vast majority of the fans. who attend these cards are hardcores, however Abrams did win them over by throwing out T-shirts to the audience. Next UWF card set for 3/10 in the same building with Orndorff vs. Williams in a cage match. .
I've been Maffew.