January 21st, 1991
Taped January 9th, 1991
Penta Hotel
New York, NY
Commentators: Craig DeGeorge & Bruno SammartinoWe're still in the Penta Hotel for the second set of tapings from The Big Apple.
Bob Orton Jr. (w/John Tolos) vs Sonny Blaze
Bob dismantles this poor shmuck until he gets bored and sends him outside for Tolos to have a bash, with the crowd cheering on (over the sound of Bruno crying). Crowd is subdued so Tolos blows his whistle to annoy them. Orton kicks himself out of his own pin before delivering a powerslam to Blaze and then moving Blaze's own foot onto the rope to break his pin, so he's simply FORCED to continue beating him up. Crowd's "oh you" reaction to Orton's grin made this worthwhile. Orton stops smiling and finishes with a beautiful Superplex, transitioning to a pin and almost making it a Jackhammer. Post-match he hurls the poor bastard through the ropes and onto the commentator's table, scaring Bruno into displaying emotion for the first time since he choked Savage.
Paul Orndorff vs Chris Michaels
Crowd loves Paul. Michaels the super-seller from the Don Muraco match doesn't, immediately getting sent outside and getting stomped like he's on fire. Paul is full of egg whites and drops The Heartache Kid with a dropkick before ending this 200% squash with a jumping piledriver.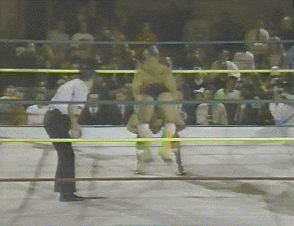 Bruno hypes his book and says he appreciates UWF because of the lack of face-paint and animals.
Steve Williams vs Mike Durham
Crowd is ecstatic to see Steve, cheering like the Roman Emperors watching a lion eat a pile of Christians. Williams immediately clotheslines the soul out of Durham and just pounds the dough out of this chubby frigger. Williams press slams the big guy around the ring in a very impressive display of supermanliness. Durham dares to counter an Irish whip into the corner, so Steve no-sells it and removes Durham's neck before finishing with the Oklahoma Stampede. Fun fact: That chubby frigger would grow up to be Johnny Grunge.
Capt. Lou's Corner w/Iceman King Parsons
Yeah we've had too many sweet squash matches, let's slow it right down with human drum solo, Lou. Iceman repeats the exact same things he's said in the previous episodes but he says it so well that I'll allow it. "Remember: Blood is thicker than mud!"
Ask the Wrestlers feat. Paul Orndorff
These segments are usually filler but I have to include this one: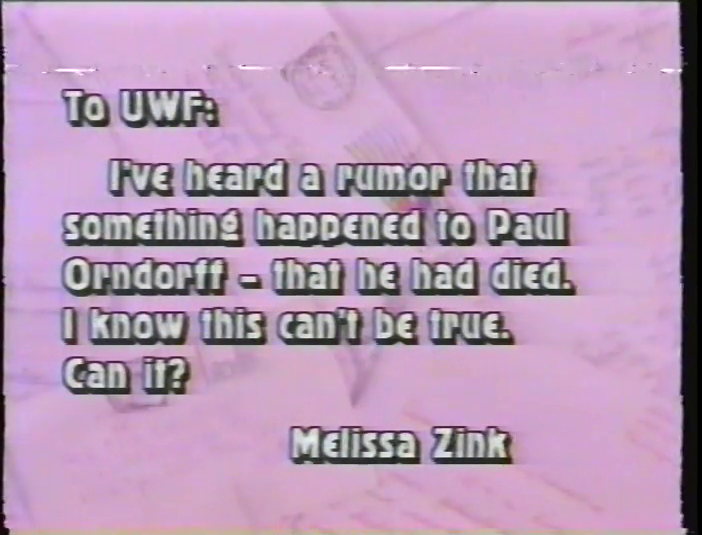 And they have Paul respond with "Uhhh no I am not dead" Well thanks for clearing that up.
Cactus Jack vs Mike Williams
Cactus' introduction gets the biggest pop of the night, which considering the star power on these shows and Cactus' relative inexperience is amazing. No wonder Foley refuses to badmouth Herb. Cactus is on offence and the crowd goes nuts even though he's best on defence. Williams plays Cactus really well though, taking everything he can throw at him. Even Bruno gets in on the love, saying "how would you react if your sister brought a man home and it was Cactus?" Mike is so eager that he bumps air when he gets confused on a spot but Cactus is so over the crowd doesn't give a shit. Cactus Clothesline and a quick backbreaker sets up a Cactus Elbow off the apron for the count-out victory, which sadly sounded better than the cameras made it look. We do get another look at Williams' taking the Cactus Clothesline and seeing why most people face the other way when they take it, mostly to avoid eating shit on the ropes or bashing the back of your head on the apron.
Iceman King Parsons vs Col. DeBeers
Iceman wants revenge for DeBeers attacking his cousin, referee Sampson. DeBeers attacked Sampson about fifteen times so he must be a distant cousin. Bruno wonders where DeBeers' eye-patch has gone, something that hasn't been mentioned or brought up. It's all plodding awkwardness to start with, DeBeers' best strength. Col. escapes the ring and re-enters to get the advantage before shoving Iceman into the ropes. The thing is, no-one likes DeBeers but that doesn't mean the crowd automatically like Parsons. Crowd is dead for this main event because it turns out you do need more than just "apartheid guy vs. black guy" as a storyline. After a long chinlock, Parsons finally gets a reaction by slapping a racist in the chest. DeBeers ignores it so Parsons charges up his chop with DANCING to send Col. half-way across the ring…to silence. Ooof. Several headbutts stagger DeBeers with a flying hip attack sending DeBeers into the ropes like Andre. The ref nearly ends it because Parsons won't stop attacking DeBeers but Iceman somehow ends up outside instead as this drudges on and on. "Boring" chants fill some time before Iceman counters a suplex into a small package for the thankful victory. DeBeers instantly gets his heat back by whipping Parsons and then attempting to choke him with a belt. And by "heat back" I mean "the crowd booed because they were still doing stuff."
Overall: Some sweet squashes and booming reaction for a young Cactus make this a decent episode. They should come to NYC and not pay their wrestlers more often.
Here's the lengthy segment from the Jan 21st edition of the Observer:
"Herb Abrams group made its New York debut with a pair of shows and a cancellation this past week. They did a TV taping on 1/9 at the Penta Hotel (across the street from Madison Square Garden) drawing 900 fans (650 paid) putting over Greg Valentine (who not only showed up but committed to work next month's taping as well), Iceman King Parsons, Don Muraco, Brian Blair, David Sammartino, Ivan Koloff, Bob Orton, Paul Orndorff, Steve Williams, Cactus Jack, Steve "Wild Thing" Ray, Sonny Beach and The Power Twins in squash matches.
The main complaint was the three hours of television taping took too long. At one point, the ring broke when Williams stampeded someone through it. A jobber named Chris Michaels impressed people with his bumps. Honkeytonk Man and Rick Rude were both there as well. Rude got a huge reaction, mostly positive and during the show issued challenges to both Orndorff (mainly) and also to Williams for future matches. Honkey appeared in a Captain's Corner with Lou Albano and later in the show, hit Valentine several times with a guitar (not a gimmicked one) to set up a match for next month.
In "competitive" matches, Koloff beat Ray, Parsons beat Col. DeBeers and Williams and Orndorff went to a double count out in the main event which lasted 1:43 but they had a pull-apart brawl which went another five minutes. afterward. They announced Valentine vs. Muraco match never took place although both were there. . . The 2/9 card, another TV taping in the same building, has Orndorff vs. Williams in a lumberjack match, Nikolai Volkoff & Nikita Koloff vs. Boris Zhukov & Ivan Koloff and Valentine vs. Honkeytonk Man plus they said Rude will wrestle. They also have a 3/10 date in the same building and supposedly a 4/2 date for a television taping in Orlando, FL at Disney World. . .
There are lots of legal problems between Abrams and Vince McMahon, some of which I'm not fully aware of and others stemming from the usage of what McMahon claims are his trademarked names (B. Brian Blair, Andre the Giant, Honkeytonk Man and Ravishing Rick Rude) on television and especially for using Rude and Honkeytonk Man, who McMahon still had a valid contract for both, even though they both had walked out. The results of this legal action is going to be very important if a judicial ruling is made. If McMahon fails to win, that basically will invalidate his contracts (that don't guarantee money) which would mean guys could leave when they wanted to. But you can be sure Titan isn't going to take legal action if it thought it was going to lose. . . Ironically, when it was announced at the Penta about Honkey vs. Valentine, a feud right off Titan television, there was very little pop from the crowd. . On Titan's television that aired Saturday, during the promos for the next Madison Square Garden card, they specifically made a point to say Honkey wouldn't be there for his match with Valentine and would be replaced by Dino Bravo, so WWF is being more honest than in the past about these sort of matters.
The 1/10 show in Queens was cancelled because the owners of the building forgot to turn on the heat or set up the concession stands. Although the show would have probably only drawn 300-400, it wouldn't have been cancelled since Abrams had already paid for everyone to be in town. . . The other UWF show was 1/12 in West Islip, NY drawing 800 as Ray pinned Spicoli *, Sonny Blaze pinned Michaels *, Cactus Jack beat Sandy Beach *** (Cactus over like crazy as a babyface, lots of good brawling all over the place), Parsons pinned DeBeers. **1/2 (lots of action), David Sammartino pinned Ivan Koloff DUD, Blair beat Orton via DQ when John Tolos interfered, Williams pinned Muraco clean in the.middle **1/2 and Orndorff pinned Valentine (even though Valentine was the heel, he had more crowd support). Honkeytonk Man was there and didn't wrestle, but did do an interview. . . At least thus far when it comes to the legal case, one thing is that Rude and Honkey have yet to actually wrestle a match for this group. . . Honkey claims that he has the legal right to use that name (his wrestling name prior to WWF was Honkeytonk Wayne both in Canada and in the South) and feels the WWF has no right to trademark the gimmick because there are Elvis impersonators in every city in the country and if anyone has the right to trademark it, it would be the owners of Presley's estate and nobody else. Abrams claims he's asked Titan for proof of trademark for all those names and has received none. . . Overall this tour ran heavily in the red, but Abrams treated all the wrestlers very good and maintained good relations with them but others weren't as complimentary."
Some interesting bits there with the state of WWF contracts in 1990/1991. There was no mention of Rick Rude or Greg Valentine or Honk(e)y Tonk Man (who hadn't been announced or hyped on TV yet) on this episode but there's always next week.
Oh also the Rumble was a few days ago and UWF's very own Greg Valentine was there!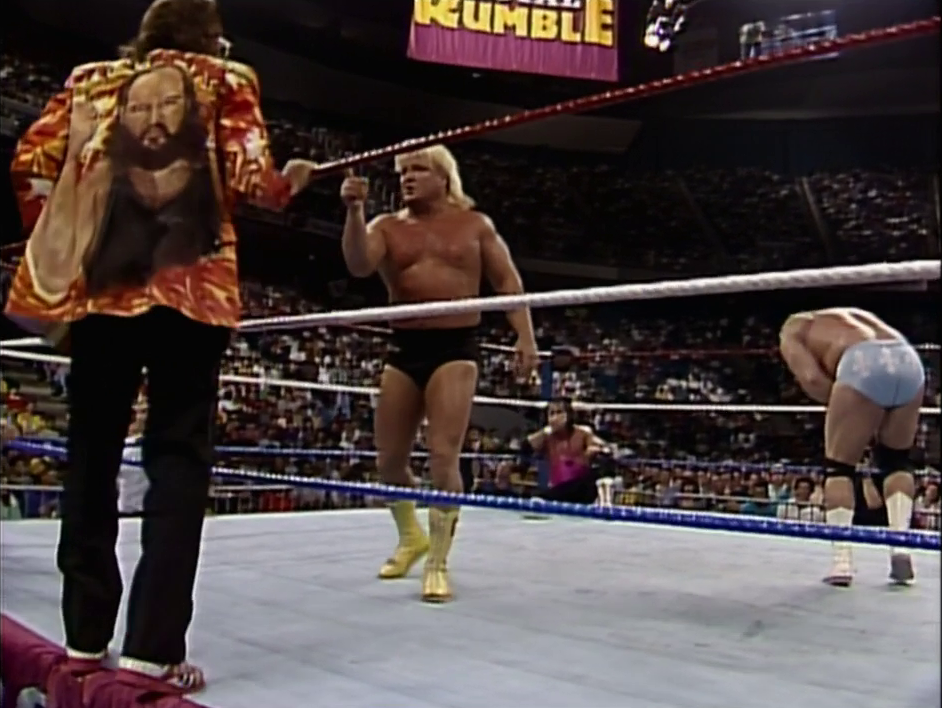 Very nice of Herb to allow a contracted performer to appear on WWF TV, opening the Forbidden Door all the way back in 1991! Oh wait, Greg's left UWF already. Whether or not Greg was actually out of his WWF contract when he worked for UWF is a matter of debate but Meltzer clarifies things in his Rumble report:
"Then came Greg Valentine (who had signed an exclusive full-time contract with WWF just prior to the event so he's out of any future indie dates including those he's agreed to previously) "
But then again, we also get one of the most Dave things I've ever Daved:
"Valentine went out at 46:00–which means he was in the ring for 44 minutes. As the story goes, this was his punishment for working the Herb Abrams dates in New York. The company, since Valentine wasn't under contract, couldn't stop him from working indies, but they weren't too happy he worked for McMahon's enemy Mr. Abrams."
Booked to work 46 minutes because MCMAHON'S ENEMY MR ABRAMS. Yes, yes I'm sure that was it.
I've been Maffew.