December 10th, 1990
Taped November 8th, 1990
Reseda Country Club
Reseda, California
Commentators: Herb Abrams & Bruno Sammartino
Herb recaps the events of last week's main event, hoping that highlighting Cactus Jack's cheating will get the crowd to finally boo him. Yeah good luck with that. Herb then explains the previously advertised Bob Orton vs. Brian Blair match isn't happening and blames John Tolos (hahahaha) so tonight's bag of Revels is headlined by Cactus Jack vs. Chief Strongbow (Jr.).
Blair cuts a promo with his wife wanting revenge from Orton but the match isn't signed so uhhh it won't be happening yet. What an absolute wet blanket. Bob Orton then mocks Blair beautifully, replying "oh you want a Street Fight instead? Well you've got me shaking to death, I'm like a chihuahua!" I'm glad Orton sticks around for a while, he's able to cover for Blair forgetting to request a Street Fight and his complete lack of charisma.
AWA World Heavyweight Champion Larry Zbyszko vs Kevin Benjamin
Non-title because even the AWA had standards (until two months later when Larry would vacate it). Larry lands some slams before finishing quickly with the abdominal stretch. Larry locks it in with both hands while yelling at David Sammartino at ringside, which would climax with…nothing because that was Larry's last UWF appearance as he signed with NWA. I love this company, it's like a master class in the dangers of pre-taping.
Louie Spicolli gives a wonderfully cheesy promo about heading to New York soon and in First Class, baby. Louie's a jobber but he's already getting promo time because he's so hammy.
Col. DeBeers vs. The Bulldozer
Herb shows a video with Larry Sampson, who refuses to bar Col. DeBeers from wrestling for 180 days after he attacked him, instead wanting to referee a DeBeers match instead. Are all the good guys on this show losers? It takes a lot to look unsympathetic against an apartheid gimmick. Bulldozer is a big lump who doesn't seem to know what he's doing but takes a great slam. DeBeers wears Bulldozer down but The Dozer gets a comeback and the crowd go wild for the portable fridge. Sadly DeBeers lands his State Of Emergency elevated DDT to continue his babyface streak.
"The Wild Thing" Steve Ray vs Louie Spicolli
Despite no-one knowing who Steve Ray is, he's so full of energy during his entrance that the crowd go BANANA for him as he's jumping and yelling and high-fiving kids. He throws his shirt to the crowd and kids are fighting over it with the winner yelling YEAH I GOT IT WOOO. Then as soon as his entrance ends, the die-hards start yelling for Louie and the audience is split. Louie tries taunting so Ray gives him a German Suplex off the second rope. Cutie Pie gets arm-dragged out the ring so he can ham it up at ringside. Spicolli tries for a handshake mid-match which amuses Bruno to no end as the camera zooms in on his crossed fingers. Steve sees it coming and turns it into a Manhattan Drop. The split reactions are some of the loudest things to happen on UWF TV so far. Steve gets his dive off the top rope to the outside before pulling Louie up on a two-count to finish with a top rope splash.
Winner: Steve Ray (Louie was animated enough to cover for his opponent's new-ness and Steve had enough energy to keep the lights on for a month.)
Commercials for the next set of tapings on 12/06 which promise Greg Valentine and Steve Williams. Neither would be there. Greg gets a mild pass because he was fired from WWF and then they changed their mind a week later and un-fired him and sent him to SWS for a cup of coffee, but Steve's busy in AJPW winning the Real World Tag League. Herb would have known that but it wouldn't be an episode of UWF if there wasn't a side order of bullshit.
Capt. Lou's Corner w/"The Rock" Don Muraco
The Rock's debut. He's been bouncing around indies ever since leaving WWF so he may as well bounce a few cheques here.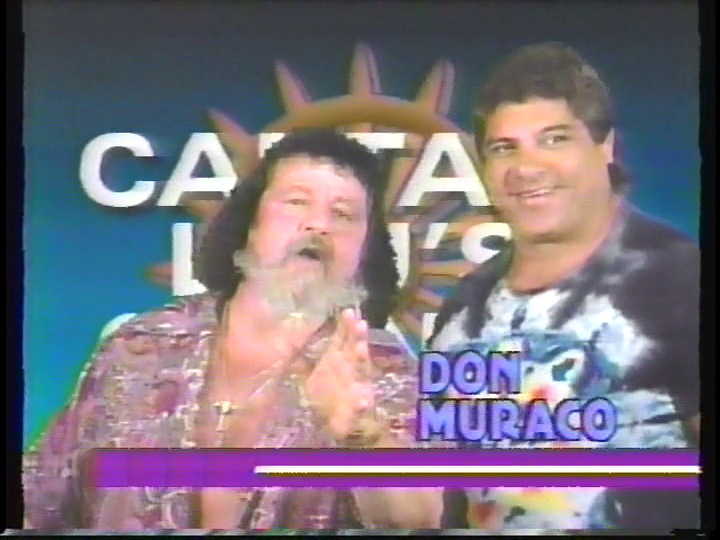 Standard UWF "yeah I've still got it, honest" promo with Lou sounding like a sink draining.
The Box Office w/Herb Abrams & Bruno Sammartino
Herb and Bruno talk about coming to New York in January at the Penta Hotel for The Rumble In The Big Apple. I can't find any other shows happening at that location so maybe the embarrassment of that name deterred anyone else from running.
Ask the Wrestlers feat. Bruno Sammartino
Bruno's getting a work-out this week. He answers the questions "who was your toughest opponent?" and answers that Killer Kowalski, Ivan Koloff and Don Leo Jonathan are all tied for toughest. Coincidentally Herb was advertising all of them for New York.
The Viking vs Robbie Allen
Tony Halme's last appearance before heading to NJPW. Here's some Cage Match reviews of his run over there:
Before "Inokism" NJPW desperately tried to replicate the success of AJPW with big foreign workers by pushing folks like Tony Halme. Of course there's a tiny issue: AJPW foreigners were great in-ring workers, they were charismatic and Baba knew how to handle them. By contrast Tony Halme had the same wrestling skills as a slab of stone, somehow even less charisma and NJPW pushed him way too hard merely on account of the fact that, well, he was big and strong. – ElPolloLoco

Tony Halme was absolutely terrible. He got a push in New Japan because of his look. but it didn't last too long because Halme's work was of such a low standard that the fans rejected his push. – RatingsMachine

Shit sandwich. – You Can't Print That.
Anyway, Ludvig has the exact same match he's had for weeks but manages to hit all his moves without falling over this time so well done.
Chief Jay Strongbow Jr. vs Cactus Jack (Taped 12/6)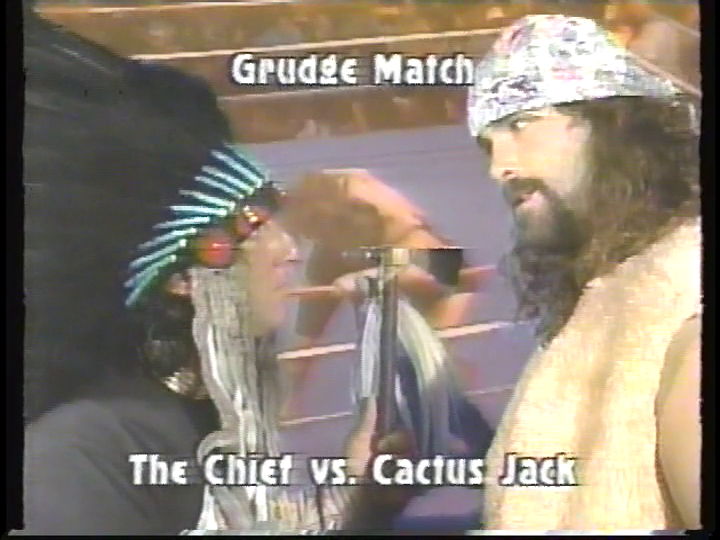 Chief yells at the commentators about Cactus using a weapon while carrying a Tomahawk. Crowd boos him so he attacks Cactus at the bell and locks in a sleeper hold. Cactus sends them both to the outside to escape the hold but The Chief is feeling it this week so he continues to attack until he's sent into the guard-rail. Cactus tries for the leg-drop to the mid-section but Jay blocks it and delivers a suplex. The hell is up with The Chief this week, he's crazy motivated compared to his previous matches. Cactus strikes him with the foreign object as the commentators do their best name-calling to criticise Cactus. Crowd don't care and cheer him regardless. Strongbow revs up his injun and crotches Cactus on the ring post. Jay takes the object from Cactus but the ref sees him and tries to remove it from The Chief so Strongbow smacks the ref to carry on his attack. The bell rings and Cactus is announced as the winner as the crowd goes nuts, so Cactus starts lobbing chairs into the ring.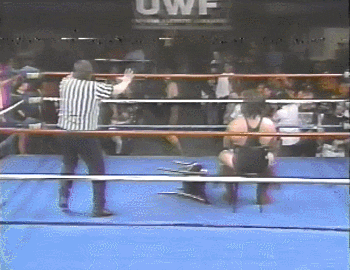 Chief sits down on one as Cactus continues launching them his way until Strongbow drags Cactus all the way to the concession stand in the front. Chief apologies to the ref and then lets the commentators know what a cheat Cactus is while the crowd yell AH SHADDUP. Strongbow challenges Cactus to an Indian Strap Match but like many things (Andre The Giant, Greg Valentine, wrestlers getting paid) it didn't happen.
Winner via DQ: Cactus Jack (Junior was on the goods stuff this week, showing more effort than all his previous matches combined. Cactus was his usual crazy self.)
Overall: There's enough positives to cover the negatives which is a relief because there's a lot of negatives. Early Cactus and Spiccoli are worth a watch but if you're into the show because of drama then you'll bloody love the New York tour we're about to go on.
I've been Maffew.