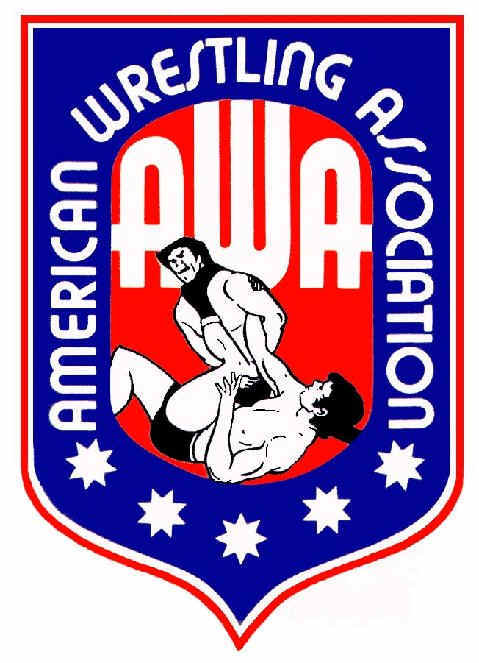 Taped from Atlantic, City, NJ
Airdate: December 24, 1985 (taped 12/11)
Attendance: unknown
Hosted by Larry Nelson, Dick McLeod, & Verne Gagne
Can Devine retain the Women's title or will Sherri have a say in the matter? What are on the minds of the Road Warriors? Long Riders? Zbyszko? Also, Bockwinkel defends the World title against Al-Kaissie. Get all this!
Opening montage.
Order Beach Boys Forever NOW!
Get Everready rechargeable batteries today!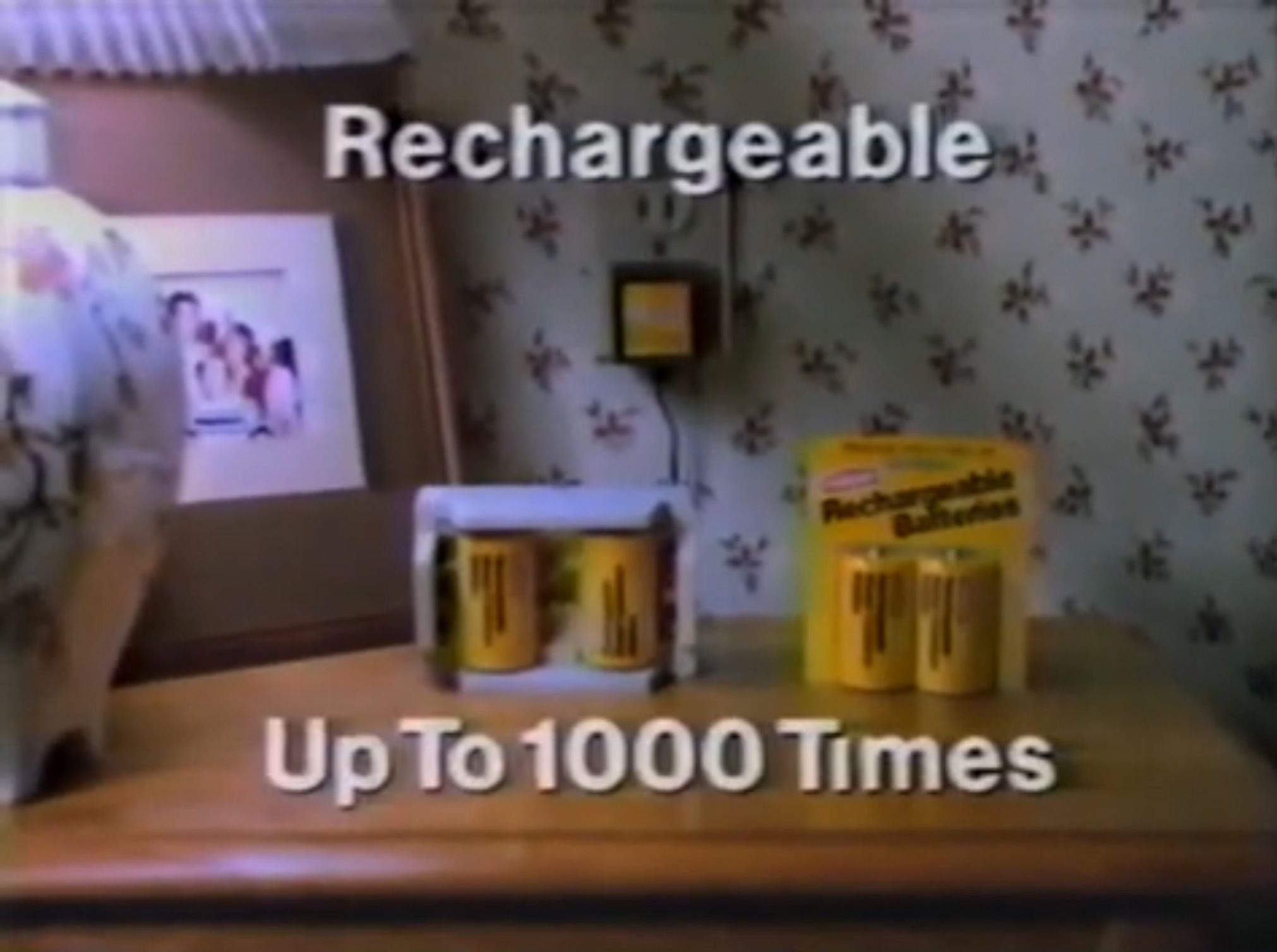 Purchase Gillette disposable razors, or you'll end up looking like Scott Irwin.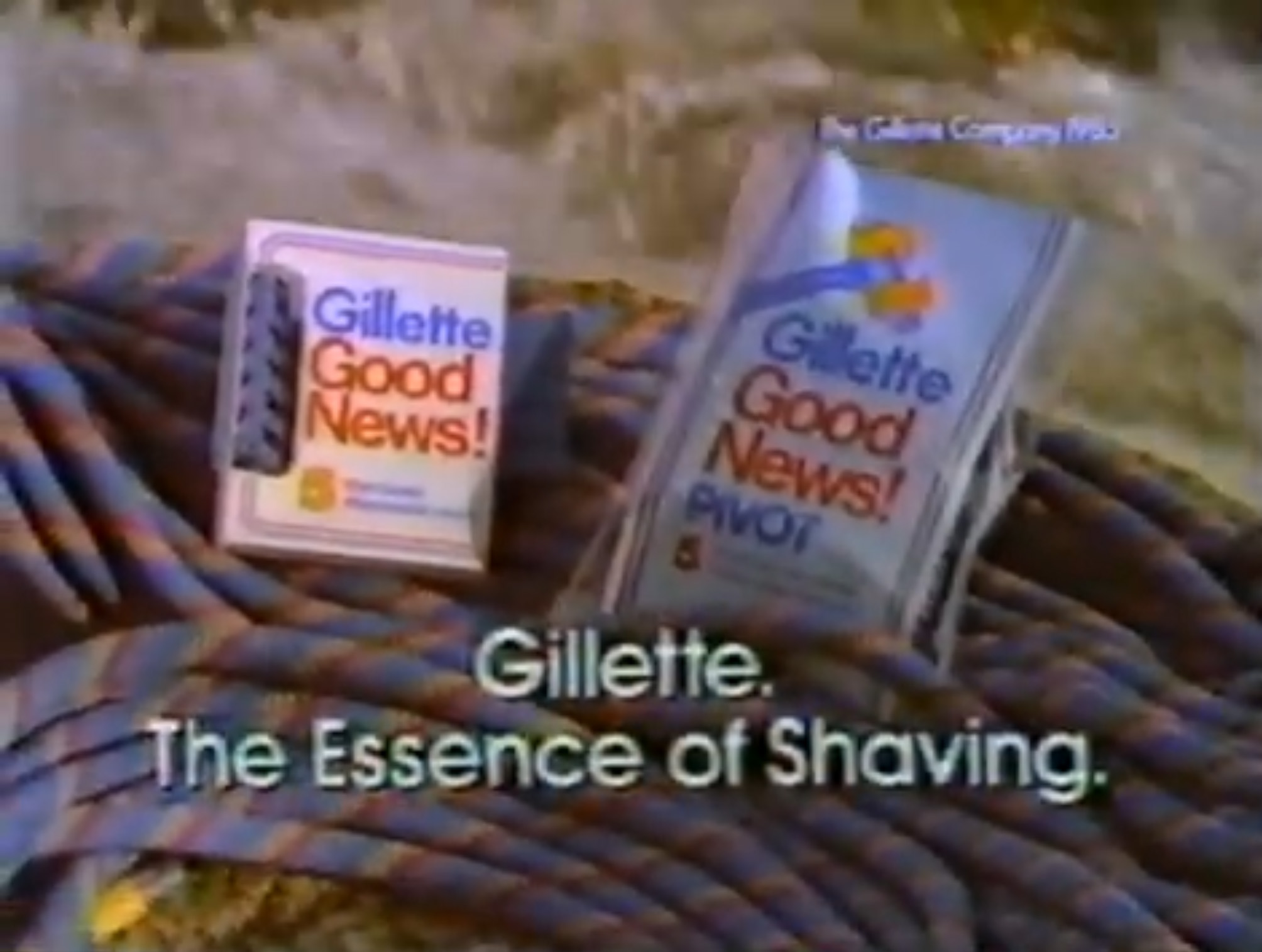 Match 1: The Long Riders versus Jim Londos & Larry Winters
Highlights:
Scott leapfrogged Winters and attempted a slam.
When Winters rolled through, he got 2.
Scott gave him a cross corner whip, but Winters followed with a sunset flip for another 2.
As Bill tagged in, he dealt Winters a back elbow.
He guillotined Winters with the top rope, but Londos tagged in.
After Bill slammed Londos, Scott tagged in and fed him an elbow drop for 2.
Scott backdropped Londos and tagged in Bill.
While Bill delivered a gutwrench suplex, he got another 2.
Londos rebounded with a dropkick and rang Bill's bell.
When Winters tagged in, Verne mentioned that Rheingans got "severely injured" during the filming of Bad Guys.
Tags were exchanged on both sides, and Scott slammed Londos.
As Bill tagged in, he hit an extremely vocal sidewalk slam.
Scott tagged in, hoisted Londos upon the top turnbuckle, and uncorked a superplex.
1-2-3.
The Long Riders won at 6:50.
Rating: *
Summary: Showcase match for the Long Riders.
You know you want a Nissan 300ZX:
Catch all the skiing this Saturday on ESPN!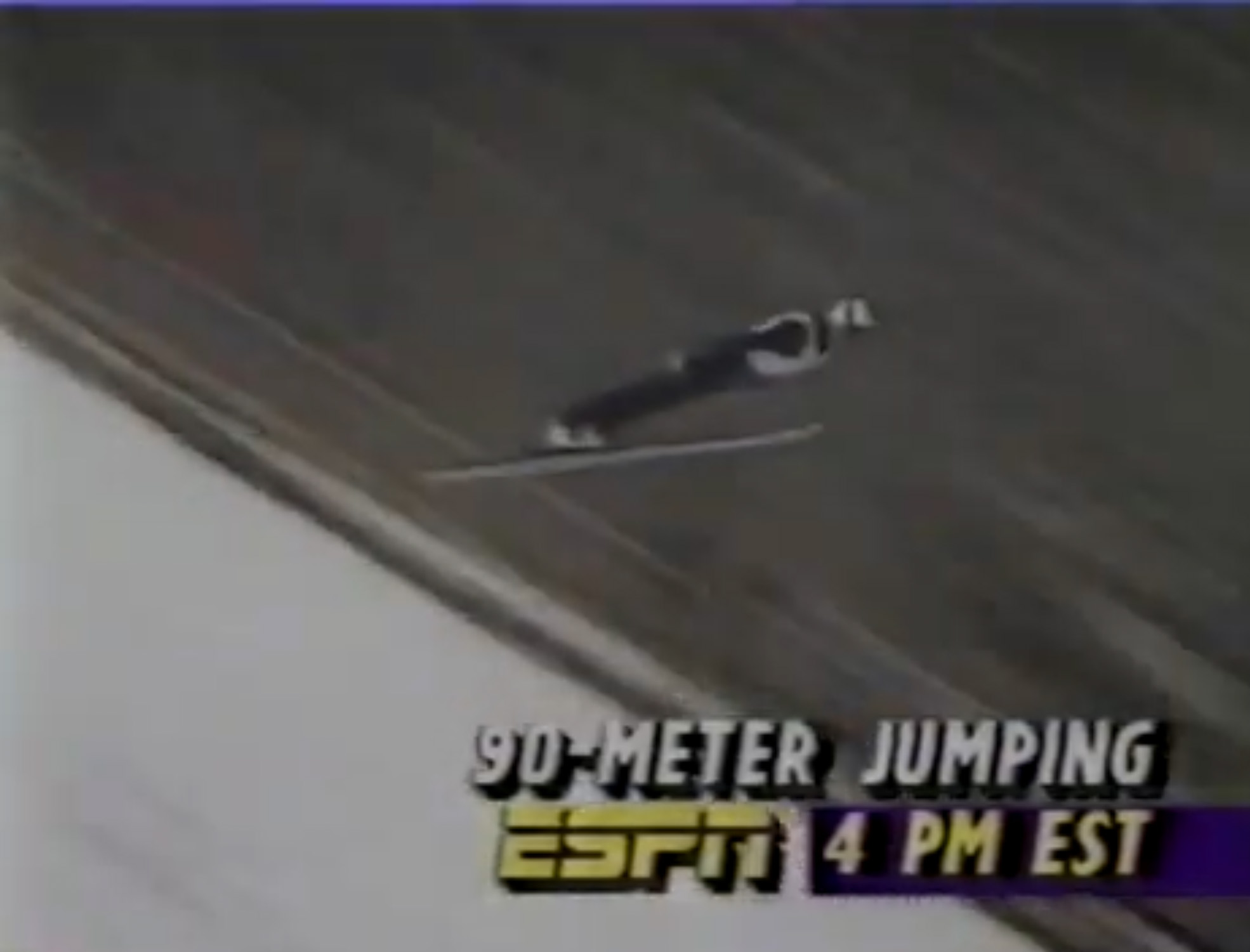 In the ring, Nelson interviews the Long Riders who showcase the flat soles of their boots.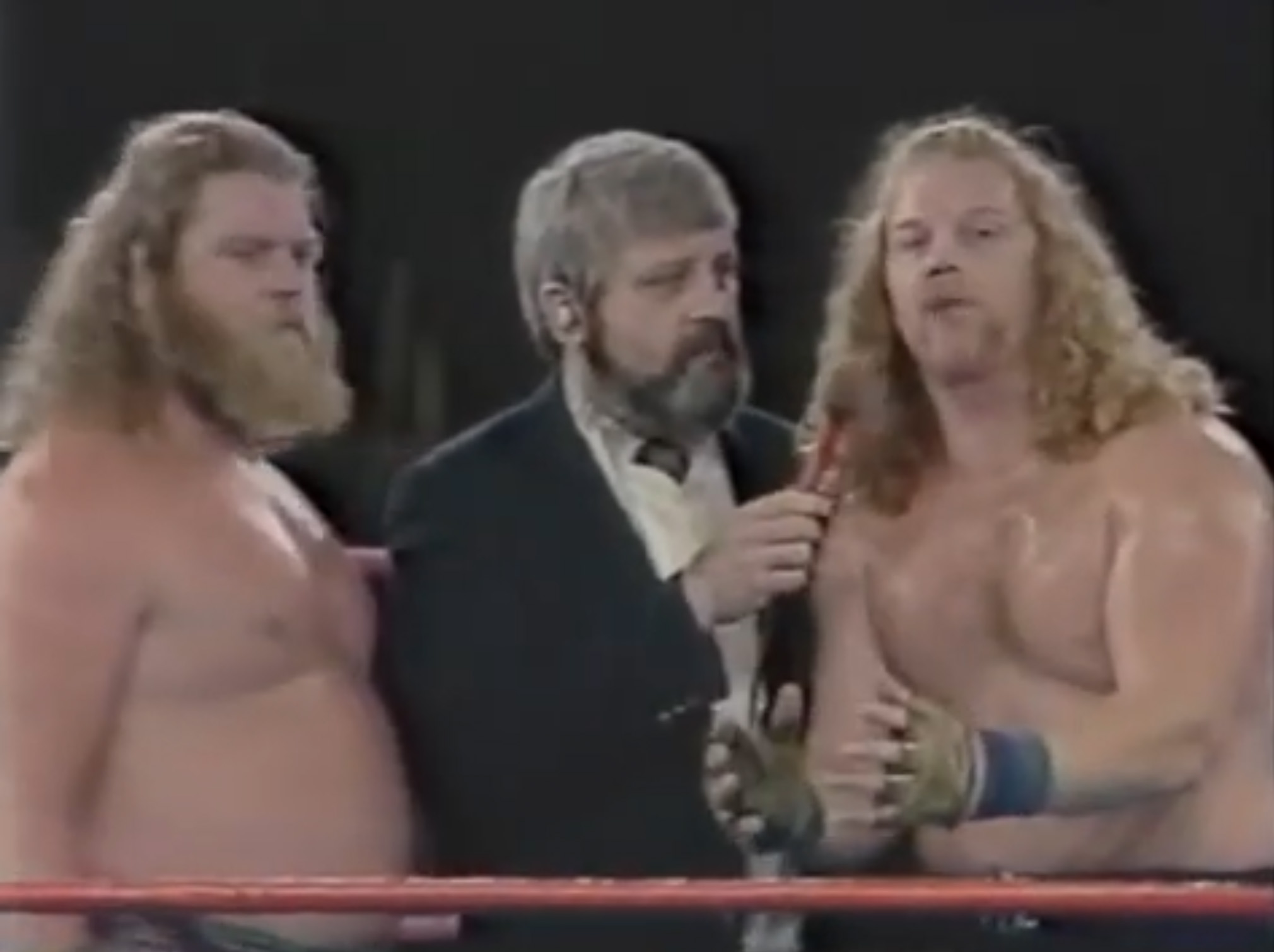 Head to Ekstrom's so you don't become a tool.
Come to Lodi Honda in Lodi and get a vehicle for only $2,995! I dare you to try that nowadays.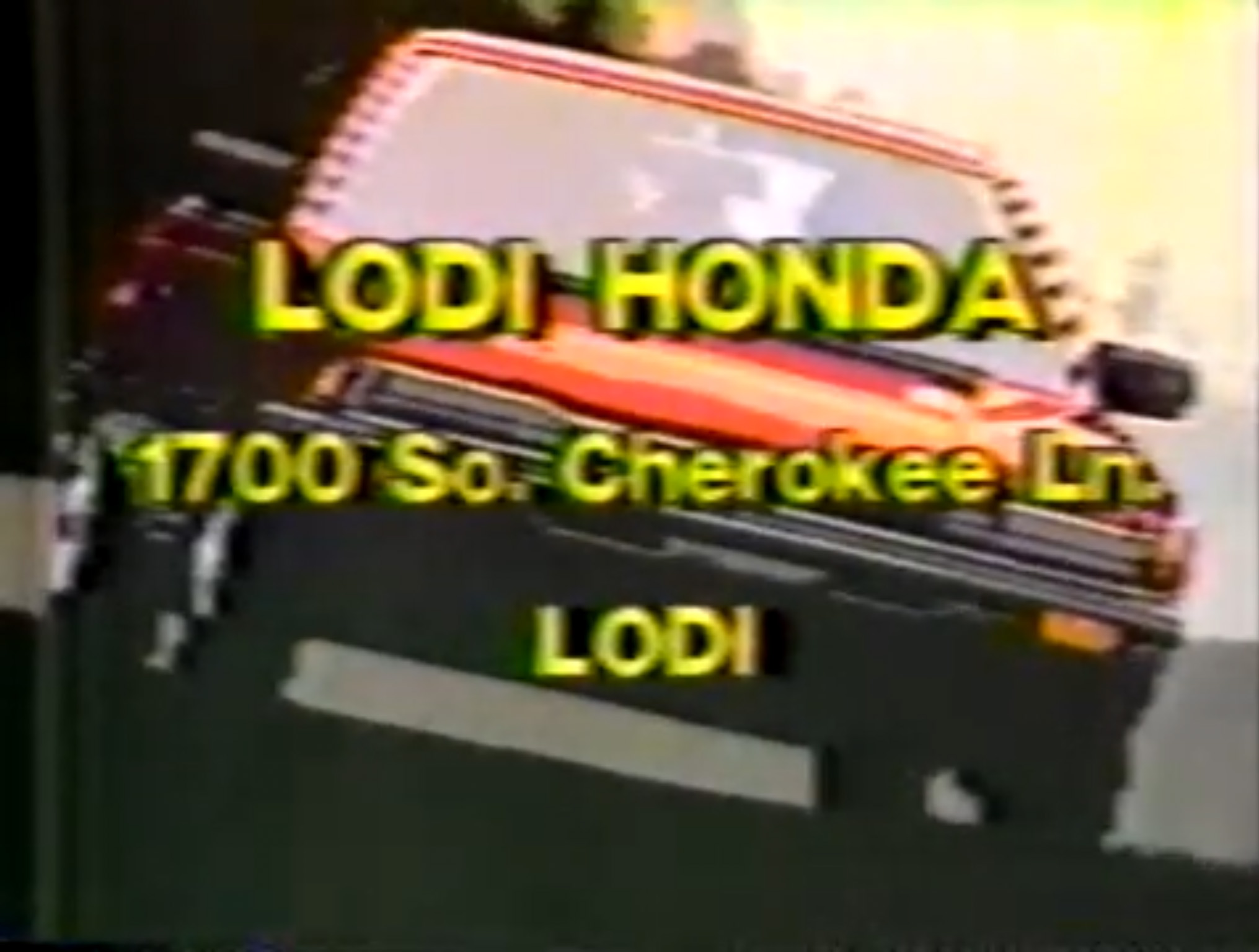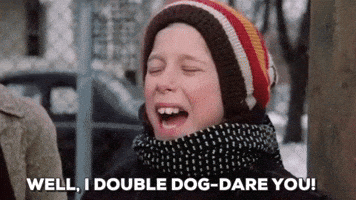 Match 2: Larry Zbyszko versus Mike Gola
Highlights:
Zbyszko slammed Gola and followed with a vertical suplex for 2.
As he delivered a backbreaker, Zbyszko got 2.
He placed a knee into Gola's midsection and hooked an abdominal stretch.
When he released the hold, Zbyszko piledrove Gola and picked him up at 2.
He dealt Gola a second piledriver and picked him up again at 2.
After he not only told a ringside fan to go to hell but also gave directions, Zbyszko piledrove Gola a third time.
1-2-3.
Zbyszko won at 6:57.
Rating: ½*
Summary: Showcase match for Zbyszko.
Order Honey Hits today! Seriously, between the Beach Boys and this ham'n'egger we need better music choices.
Pick up Chloraseptic to alleviate your sore throat.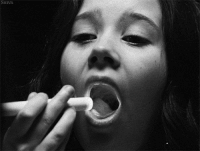 Catch NHL action this Sunday when the New York Islanders visit the Buffalo Sabres. Foligno scored the hat trick for the Sabres en route to defeat the Islanders 4-3.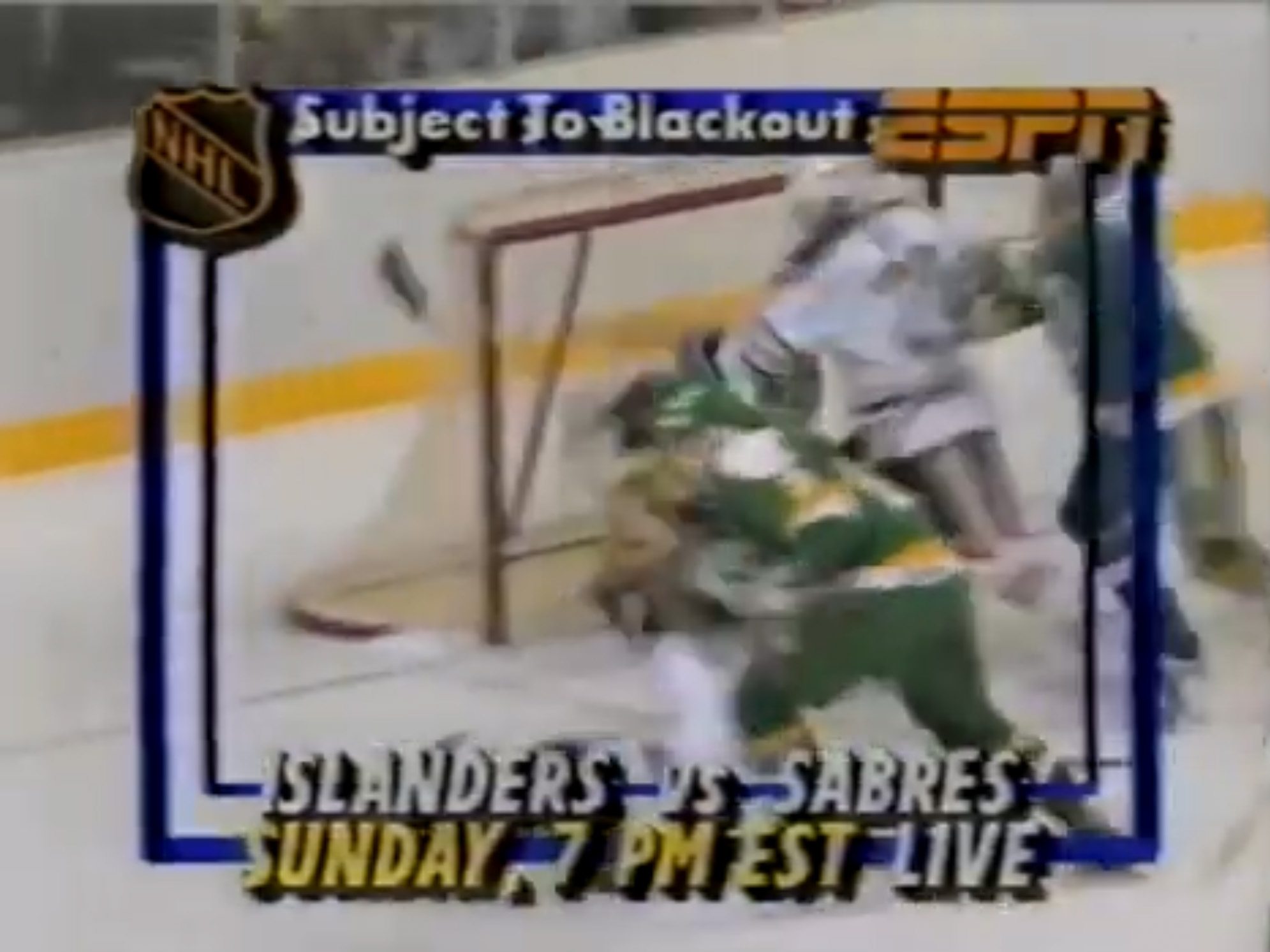 In the ring, Nelson interviews Zbyszko who complains about Bruno's "punky kid" here in the AWA.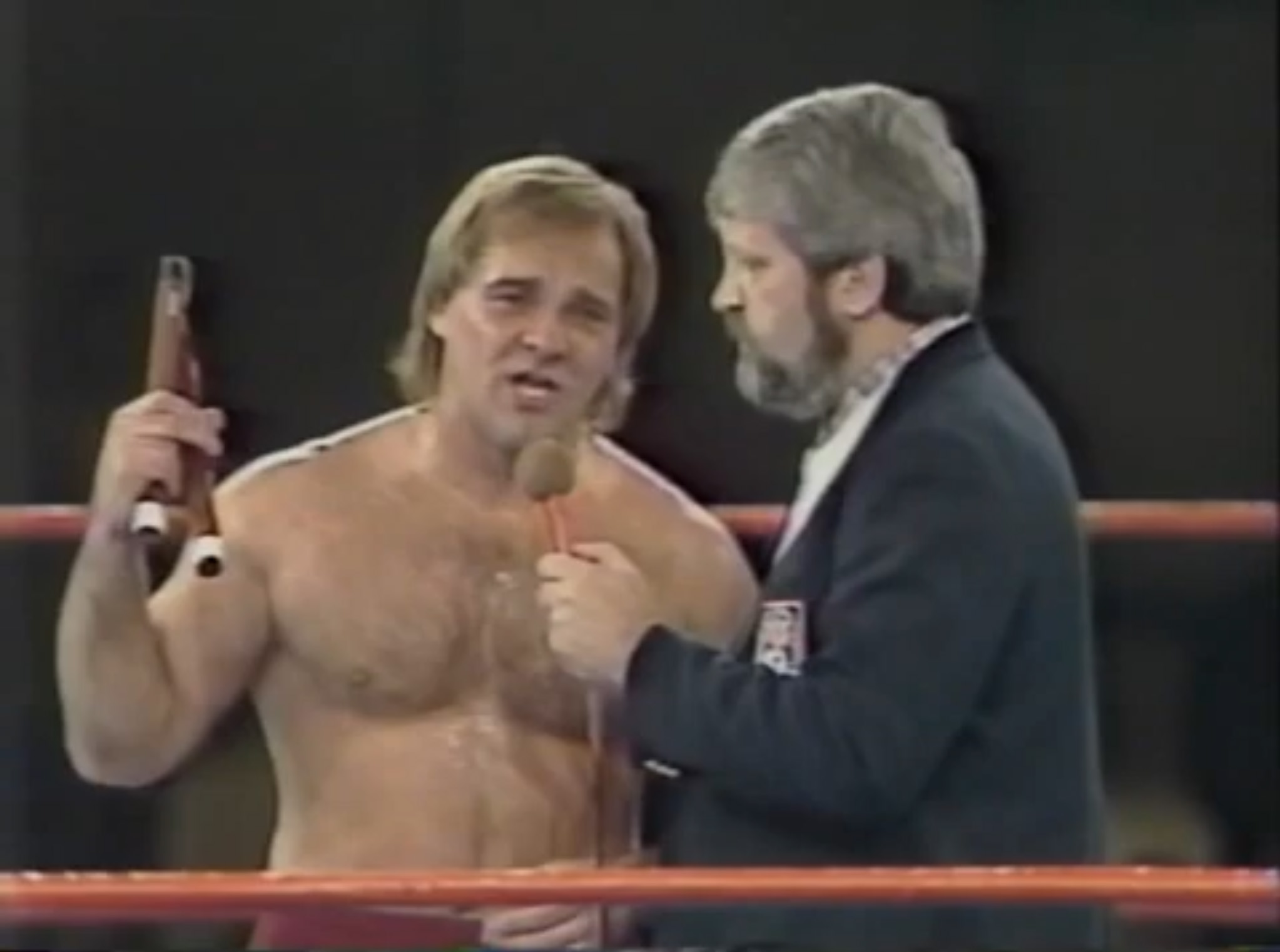 Buy the Casio Pocket TV for only $99.95! I wonder if you can get cable on that.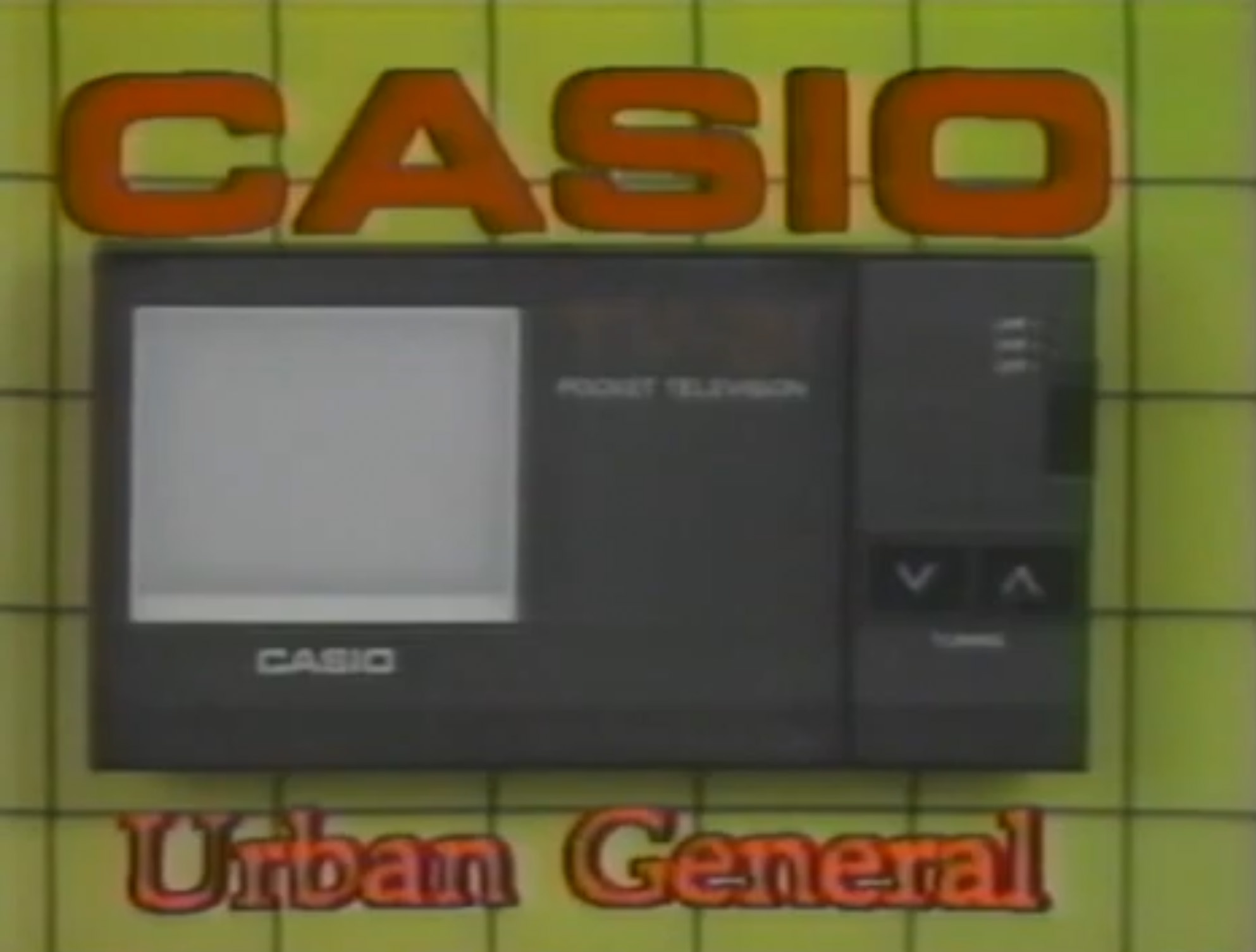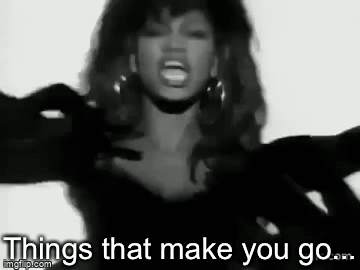 Subscribe to
Muscle & Fitness
today and you can look like Schwarzenegger too!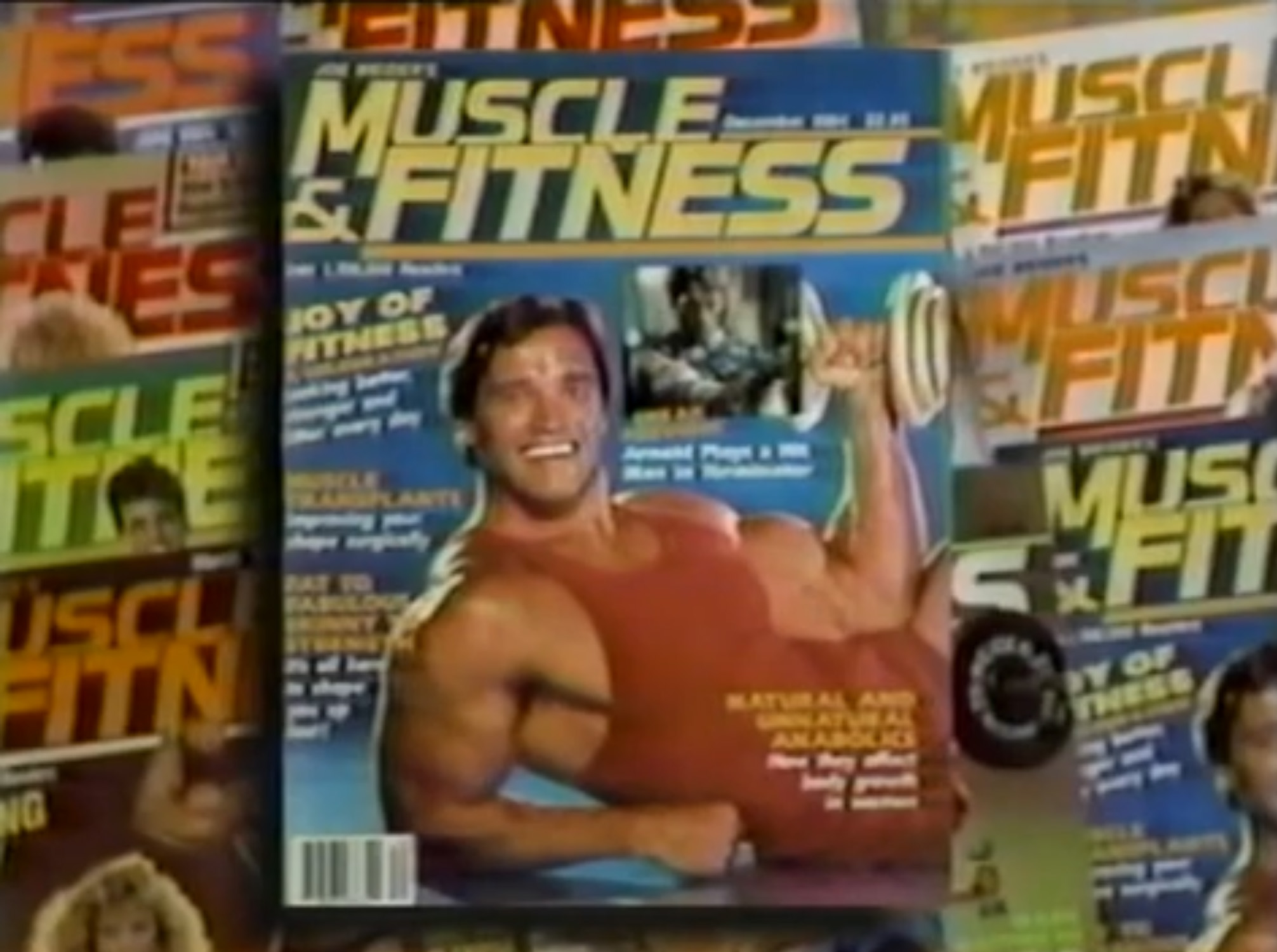 Get your tickets now for Night of Champions 2 LIVE in East Rutherford, NJ!
Subscribe to The Sporting News and get all the stats every sports fan could ever need.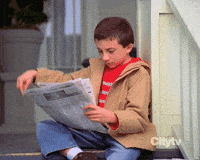 Match 3: The Road Warriors (w/ "Precious" Paul Ellering) versus Mike Moore & Kahlua
Highlights:
For all you metalheads, the Road Warriors stormed the ring to Black Sabbath's "Iron Man"
Animal plowed Moore down with a flying shoulder block while the Atlantic City faithful went nuts. You couldn't even hear Gary Michael Cappetta.
When Animal almost decapitated Moore with a clothesline, Hawk tagged in and dropkicked Moore. If Animal had injured Moore, it would have saved the world from the Motor City Madman. If only…
Kahlua tagged in but ate a big boot from Hawk.
As Animal tagged in, the Road Warriors fed Kahlua a double back elbow.
Animal followed with an elbow drop and tagged in Hawk.
After Hawk mounted the second turnbuckle, he launched a flying shoulder block at Kahlua.
He dealt Kahlua a fist drop and picked him up at 2.
While Hawk delivered a knee lift, Animal tagged in and powerslammed Kahlua.
The Road Warriors demolished Kahlua faster than the Dude with a Doomsday Device at 2:50.
Rating: **
Summary: Total annihilation by the Road Warriors.
Subscribe to Sports Illustrated or Lyle Alzado will show up to your house.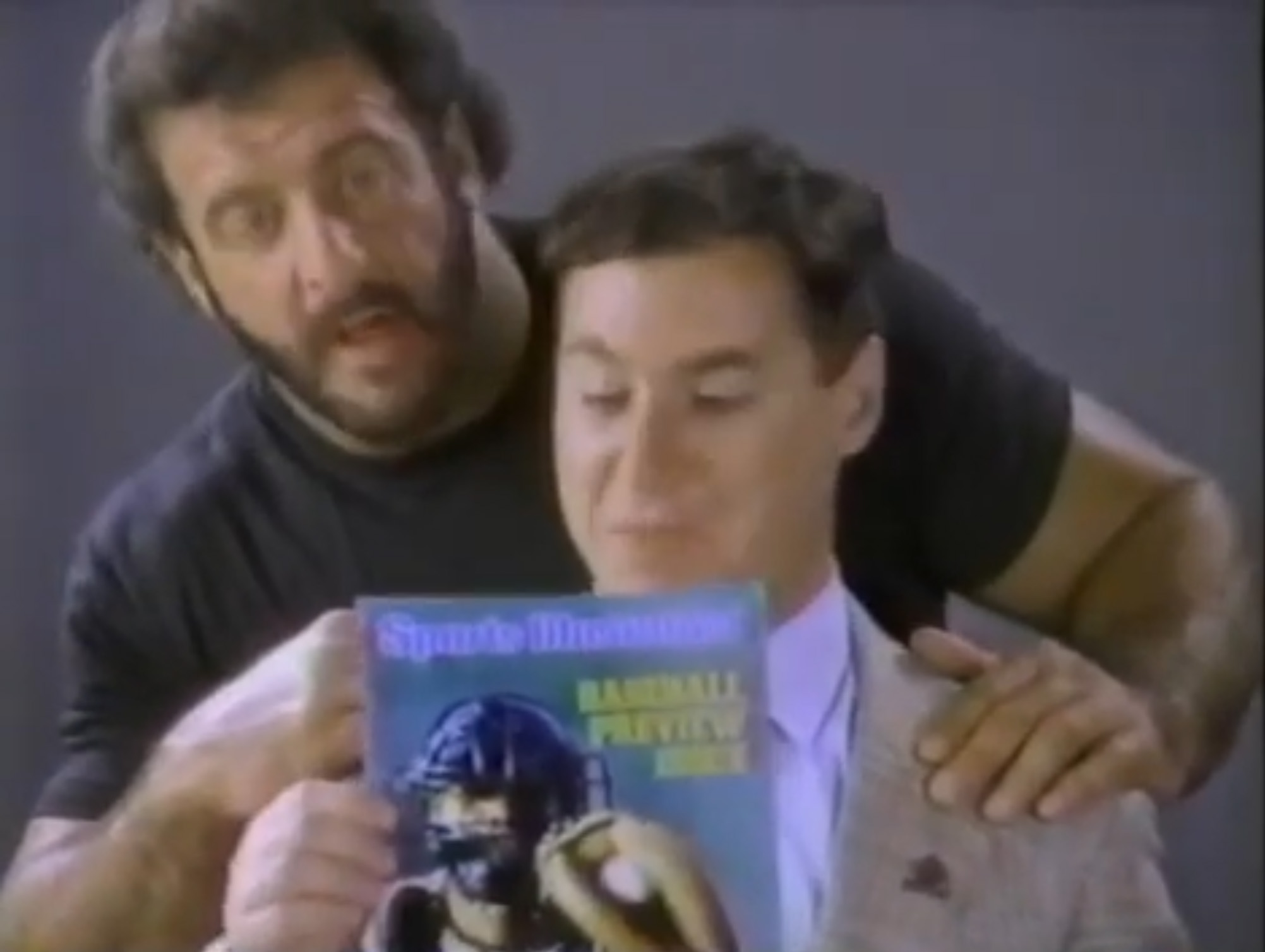 Buy Gillette Atra Plus.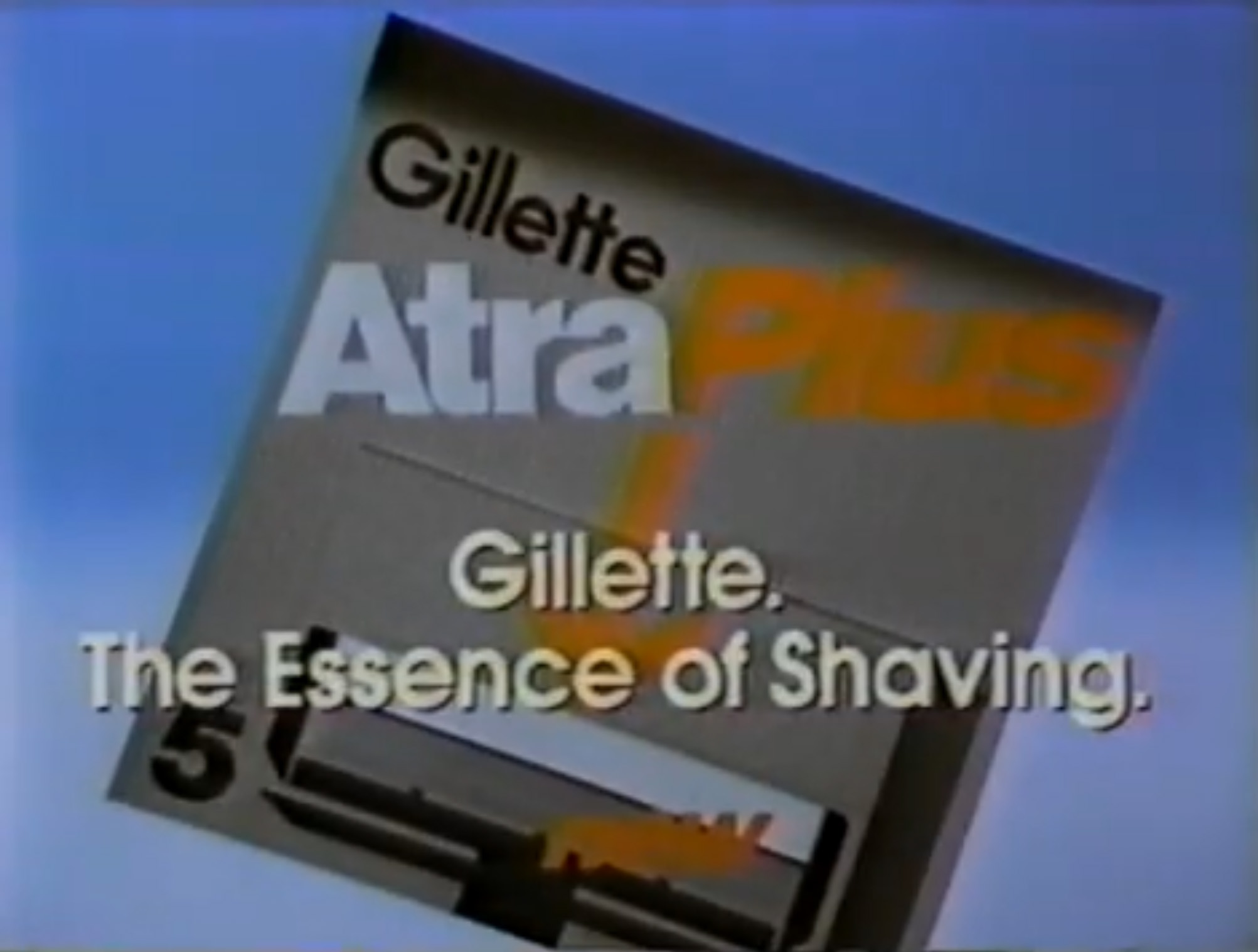 When you go off-roading, you need a Nissan truck. These days you'd get a Pathfinder.
Ad #2 airs for Chloraseptic.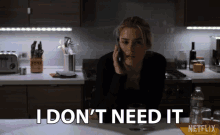 In the ring, Nelson interviews the Road Warriors with Ellering. Animal complains about the Koloffs injuring Ellering's neck. Next, he gripes about the Freebirds before declaring they'll get the belts back. Hawk calls Garvin and Regal "a couple of low-life weasel scumbags." HA! He finishes the interview with "there are two kinds of people on Earth…weasels and weasel-slappers. We're weasel-slappers." God bless the Road Warriors!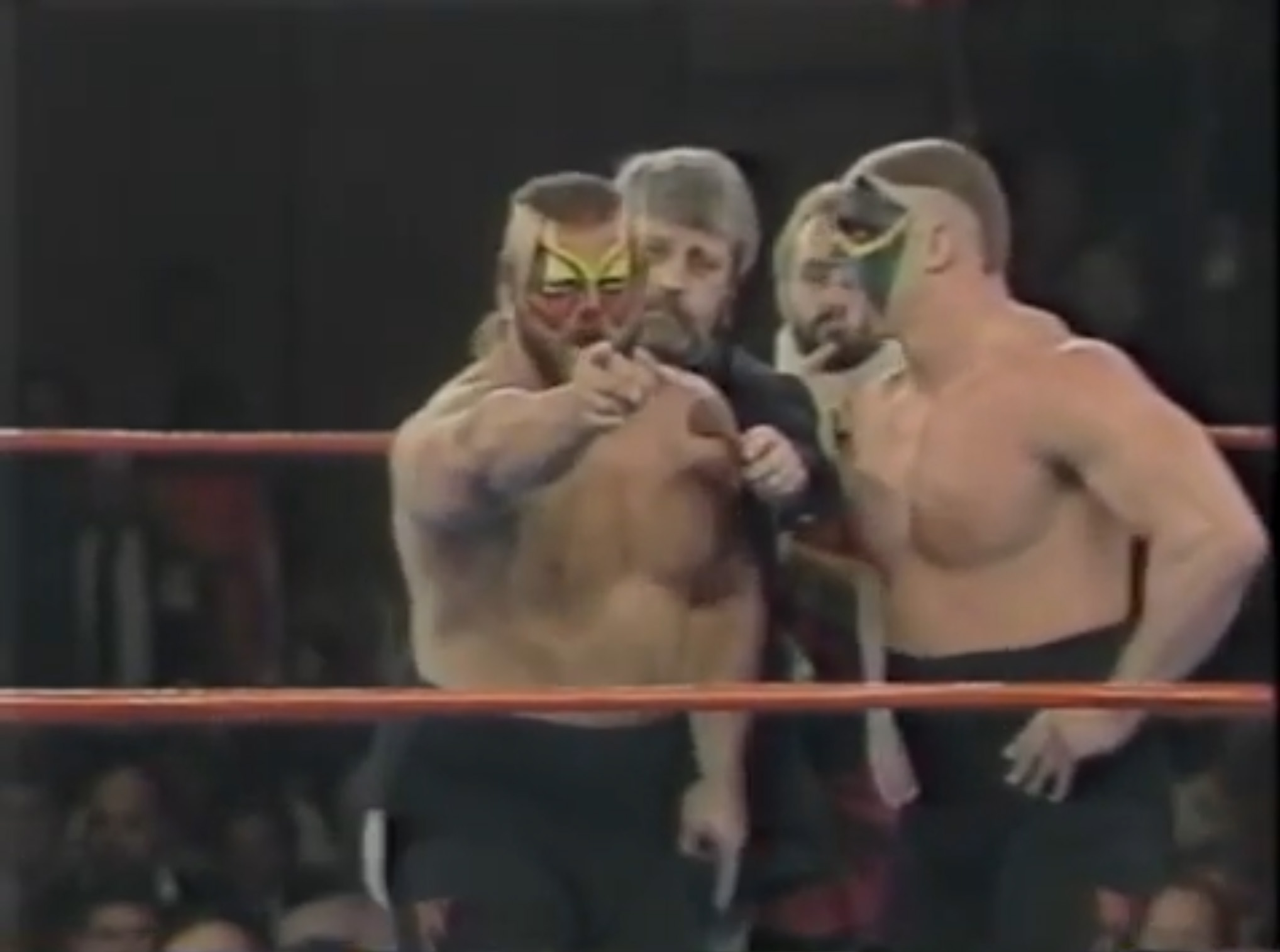 Ad #2 airs for the Beach Boys.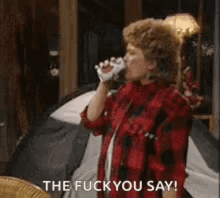 Watch Monday Night Matchup, Seiko Skate America, and Roller Derby this Monday on ESPN.
Catch the AWA on tour!
12/25 in St. Paul, MN
12/26 in Rochester, MN
12/27 in Denver, CO
12/28 in Sheboygan, WI
12/29 in Milwaukee, WI
12/29 in East Rutherford, NJ
12/30 in Baltimore MD
IN THIS CORNER: Upon completion of a video featuring him, Scott Hall joins Nelson and Zbyszko. Before the interview starts, the show heads straight to commercial. Hopefully, Hall hadn't celebrated any Christmas cheer beforehand.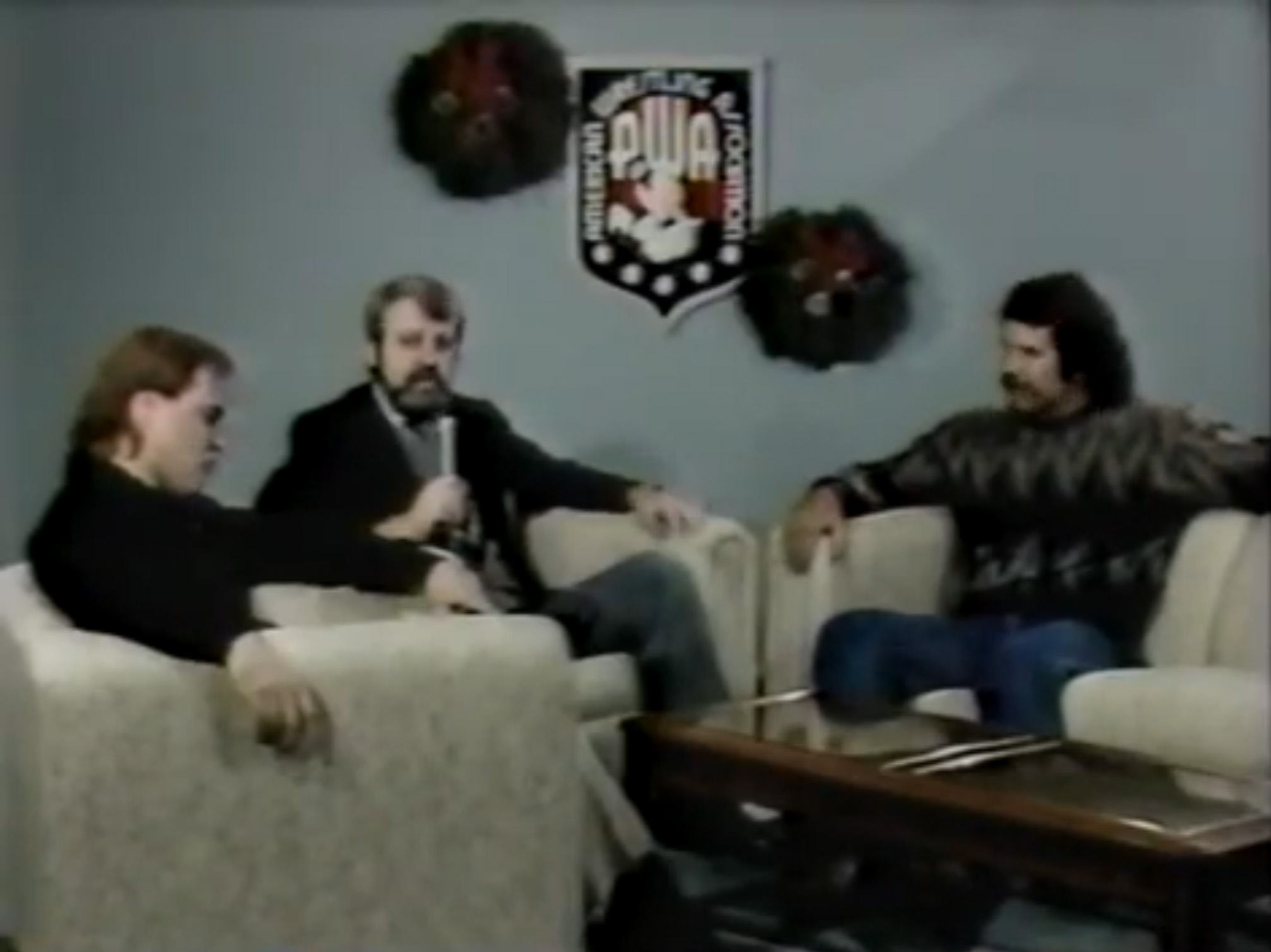 Ad #2 airs for Lodi Honda.
Bounce back with the Church of Jesus Christ of Latter-Day Saints.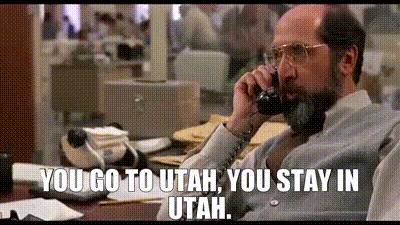 MAT CLASSIC for the AWA World title: Nick Bockwinkel (champion w/o Bobby "The Brain" Heenan) versus Adnan Al-Kaissie
Highlights:
This match occurred on August 9,1981 in Minneapolis, MN.
As Al-Kaissie generated nasty heat with some heel shenanigans, Bockwinkel rebounded with a few of his own.
He hit a backbreaker for 2.
When he dealt Al-Kaissie a knee lift, Bockwinkel got another 2.
He gave Al-Kaissie a cross corner whip but came up empty on his follow-through.
After Al-Kaissie rammed him several times into the top turnbuckle, Bockwinkel faded down to the concrete floor.
The Minneapolis faithful chanted "sheik's a freak," but their nemesis brought a BUSTED OPEN Bockwinkel back into the ring the hard way.
While Al-Kaissie slammed him twice, he got 2.
Bockwinkel attempted a dropkick, but Al-Kaissie held onto the top rope.
As Al-Kaissie applied an abdominal stretch, Bockwinkel made the ropes to escape.
Bockwinkel rallied and fed Al-Kaissie a ten-top-turnbuckle count-along.
When the match segued to the concrete floor, Bockwinkel rammed Al-Kaissie face-first into the timekeeper's table.
He SMASHED Al-Kaissie in the head with a steel chair much to the delight of the Minneapolis faithful.
After referee Marty Miller called for the bell, Al-Kaissie won by disqualification.
Bockwinkel retained.
Rating: **
Summary: Bloody brawl with a bogus finish.
Following the match, the locker room empties to restrain Bockwinkel, but he breaks free and rams the bloodied Al-Kaissie face-first into the apron.
Ad #2 airs for Honey Hits.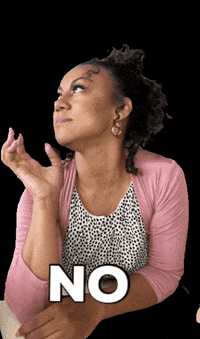 We head to Super Clash '85 for the main event. From my reflection:
Match 2 for the AWA Women's title: Candy Devine (champion) versus Sherri Martel
Highlights:
Sherri rang Devine's bell and tossed her down to the grass.
Using subterfuge, she dropkicked Sherri over the top rope to the grass.
Devine returned Sherri to the ring the hard way and catapulted her across the ring twice.
As Devine hooked a Boston crab, Sherri countered it for 2.
Devine countered with a sunset flip for 2.
As Sherri delivered a leg drop, she botched an inside cradle which Devine escapes out of sheer disgust.
Sherri slammed Devine for 2.
After Sherri tossed her out to the pitcher's mound, Devine caught her by the leg and rammed It into the apron.
She whacked Sherri's leg against the ring post and slammed Sherri on the infield grass. Let's hope Sherri doesn't encounter any worm burners.
Back in the ring, Sherri botched a back drop.
Why? Because Sherri repeated the spot, and Devine countered with a sunset flip for 2.
Sherri clotheslined and fed Devine a vertical suplex.
While Sherri mounted the top turnbuckle, she connected with a splash albeit sloppily.
1-2-3.
WE HAVE A NEW CHAMPION!
Sherri won at 11:24.
Rating: *
Summary: Consider this a foundation match for today's female wrestling. I'm just glad there weren't any hare-mares.
Finally, we get to celebrate an AWA episode with cold, crisp, clean Budweiser.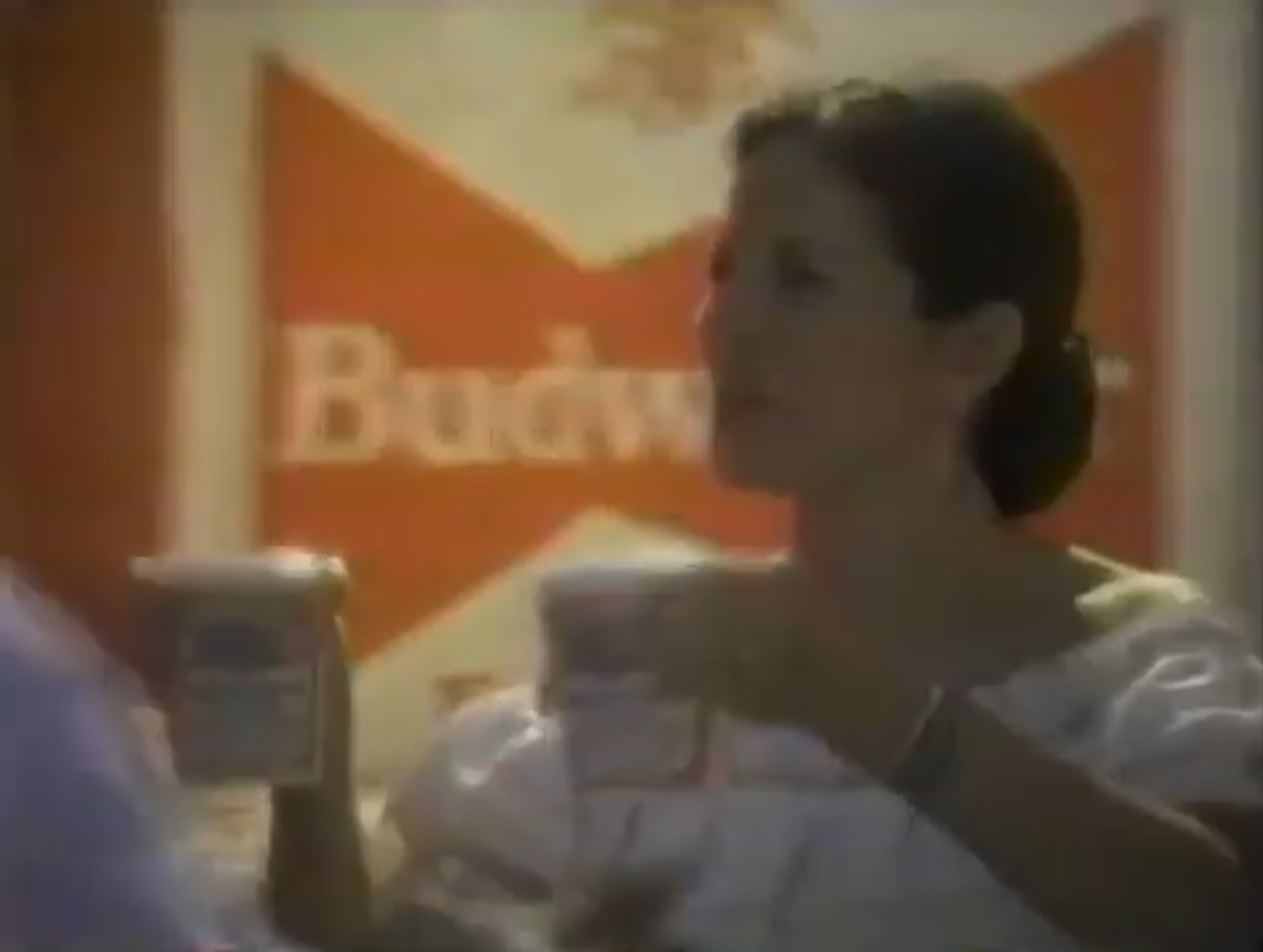 Promo #2 airs for Islanders-Sabres.
Nelson interviews Sherri at ringside, and Sherri cuts a promo like a scorned woman—evil and crazy.
Get a Commodore Plus 4 for only $99.95!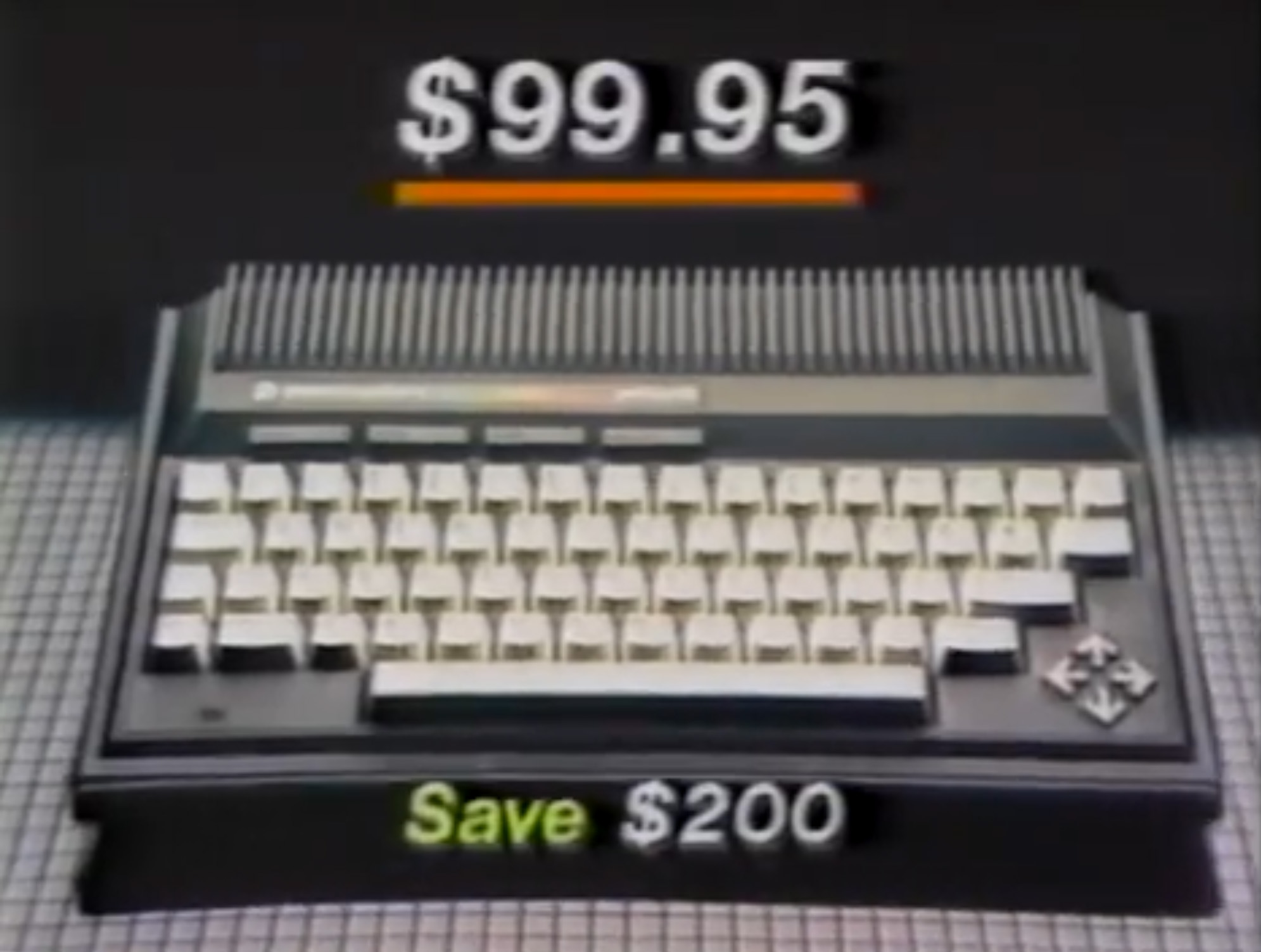 Conclusion: Perhaps Verne thought that since it was Christmas Eve that hardly anyone would watch; thus, he compiled a poor program. Thank goodness the Road Warriors lit up their opponents like a Christmas tree; otherwise, this show would have ruined Christmas.
TV Rating: NONE
Stay tuned for AWA Night of Champions 2!
Here is the card:
Ron Bass versus JJ Dillon
Cowboy Lang versus Little Tokyo
Sherri Martel versus Debbie Combs
Carlos Colon versus the Barbarian
"Precious" Paul Ellering versus Buddy "Jack" Roberts
The Long Riders versus the Rock'n'Roll Express
Sergeant Slaughter versus Boris Zhukov & Chris Markoff (handicap)
For the NWA US title: Magnum T.A. versus Tully Blanchard
The Road Warriors versus Ivan Koloff & Krusher Khrushchev
For the NWA World title: "Nature Boy" Ric Flair versus the "American Dream" Dusty Rhodes
For the AWA World title: Rick Martel versus Stan "The Lariat" Hansen
Comments? Suggestions? Send them to me at [email protected] and follow me on Twitter (@rockstargary202). Also, please check out all of my reflections at rockstargary.com including the Monday Night War and Herb Abrams' UWF!