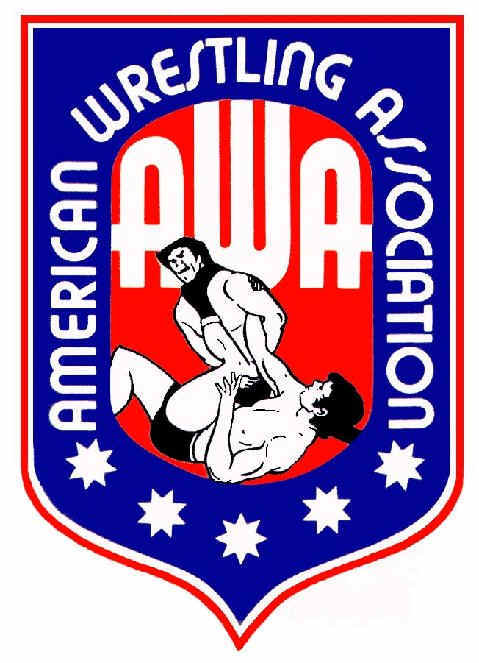 Taped from Atlantic, City, NJ
Airdate: October 22, 1985 (taped 10/16)
Attendance: unknown
Hosted by Larry Nelson, Doug McLeod, & Nick Bockwinkel
Can Curt defeat Garvin, or will Garvin's entourage play a part in Curt's demise? Also, the Freebirds return. Hansen will wrestle, but will his opponent survive? In addition, I included a BONUS MATCH. Let's carve into and see what's inside this week's episode.
Unfortunately, the 10-15 episode isn't available. For those who aren't fans of Greg Gagne, you can breathe a sigh of relief.
Opening montage.
For those who lived in the 80s with one VCR in the house, the uploader's VCR was set to the wrong channel and recorded the 8 o'clock movie over most of the first fifteen minutes. I believe a Brad Rheingans/Kahlua match was omitted.
Match 1: Stan "The Lariat" Hansen versus Larry Winters
Highlights:
When Hansen hit the ring, referee Tom Zanini tried to restrain him.
On the other hand, Winters dropkicked Hansen shooing ring announcer Gary Michael Cappetta from the ring.
Hansen swatted away a second dropkick attempt and tossed Winters down to the floor.
As he rammed Winters face-first twice into the apron, Hansen slammed him in the ring.
He backdropped Winters and tied him to the Tree of Woe.
After Zanini freed him, Winters attempted a sunset flip.
Hansen countered with a double axe handle and followed with an elbow drop for 2.
While he fed Winters a back elbow that sent him into the front row, Hansen joined and mauled him to the sheer horror of those up close.
Back in the ring, he dealt Winters a high knee and clobbered him with a lariat for another 2.
During each pinfall attempt, Hansen picked up Winters. Devious!
Nonetheless, Hansen grabbed the chain that separated the crowd from the ring and mugged Winters like he was owed money.
Zanini called for the bell to disqualify Hansen at 4:12.
Rating: DUD
Summary: Showcase match for Hansen that demonstrates his ferociousness.
A ham'n'egger from the back tries to stop Hansen but gets annihilated. Another jabroni jumps into the ring but feels Hansen's wrath. Can anyone stop this guy?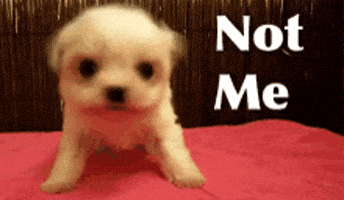 In the ring, Nelson interviews Hansen who lambastes him but also wants to destroy Rick Martel.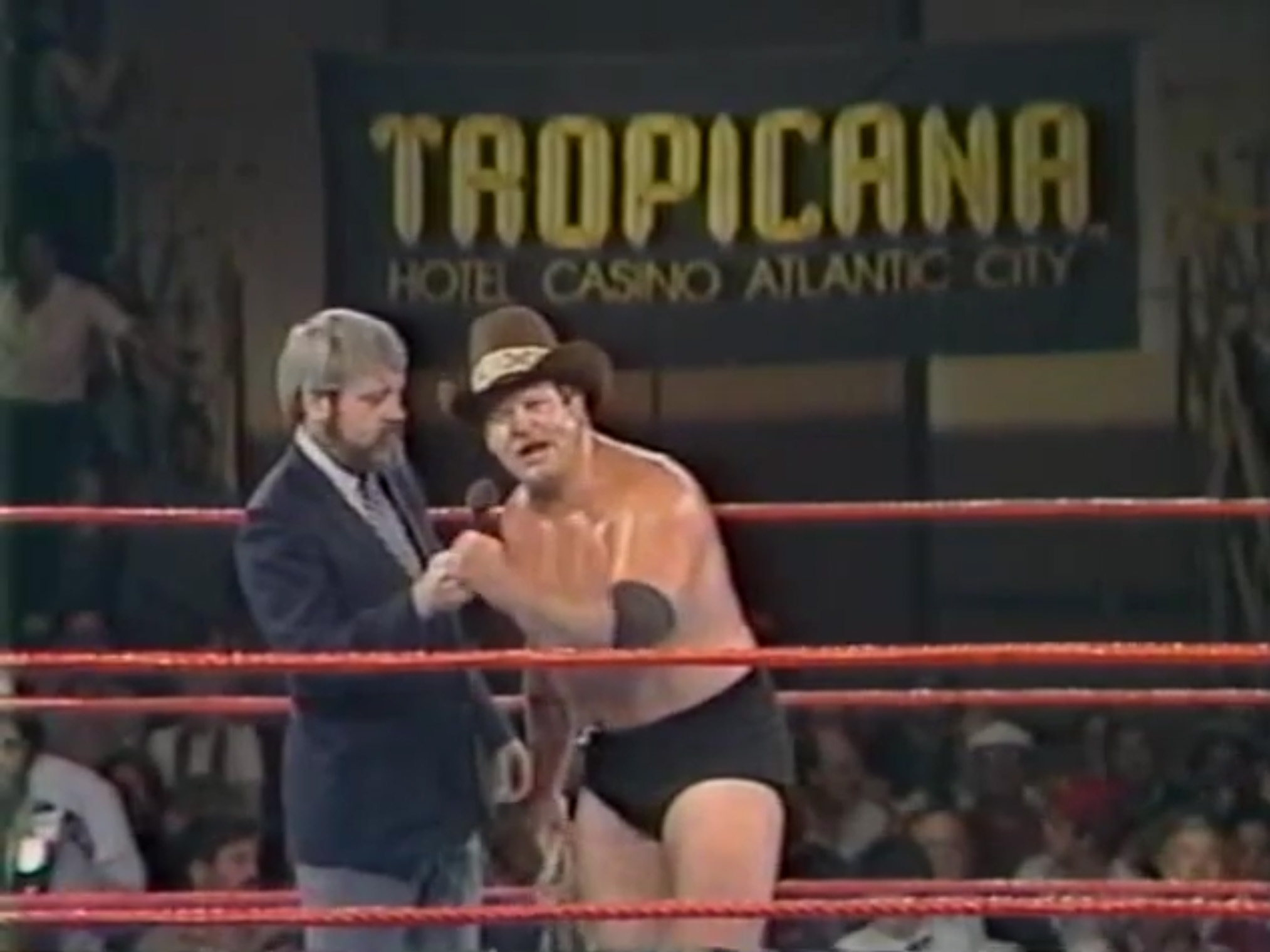 Match 2: The Fabulous Freebirds (w/o Terry "Bam Bam" Gordy) versus Tom Rice & Jim Londos
Highlights:
Despite having their own recorded song, the Freebirds made their entrance to Lynyrd Skynyrd's "Free Bird."
Roberts rammed Londos face-first into the match and tagged in Hayes.
As the Freebirds scored with a double boot to his midsection, Hayes clotheslined Londos.
Roberts tagged in and guillotined Londos with the top rope.
When Roberts mounted the second turnbuckle, he dealt Londos a flying knee drop.
A beleaguered Rice reluctantly tagged in, and Roberts STUFFED him with the top turnbuckle.
After Hayes tagged in, he fed Rice one of his DEVASTATING left hands.
He slammed Rice and tagged in Roberts.
While Roberts delivered a back elbow, he followed with a swinging neckbreaker for 2.
Londos hesitantly tagged in and ate a boot from Hayes in the heel corner.
As Hayes tagged in, he destroyed Londos' right leg and applied a Dusty Rhodes-style figure-four leg lock.
Londos submitted; therefore, the Freebirds won at 5:29.
Rating: *
Summary: Showcase match for the Freebirds.
In the ring, Nelson interviews the Freebirds who crows about beating the Road Warriors in Chicago in lieu of the reversed decision via instant replay. Hayes declares that the Freebirds "made Garvin and Regal the world champions" and challenges the Road Warriors.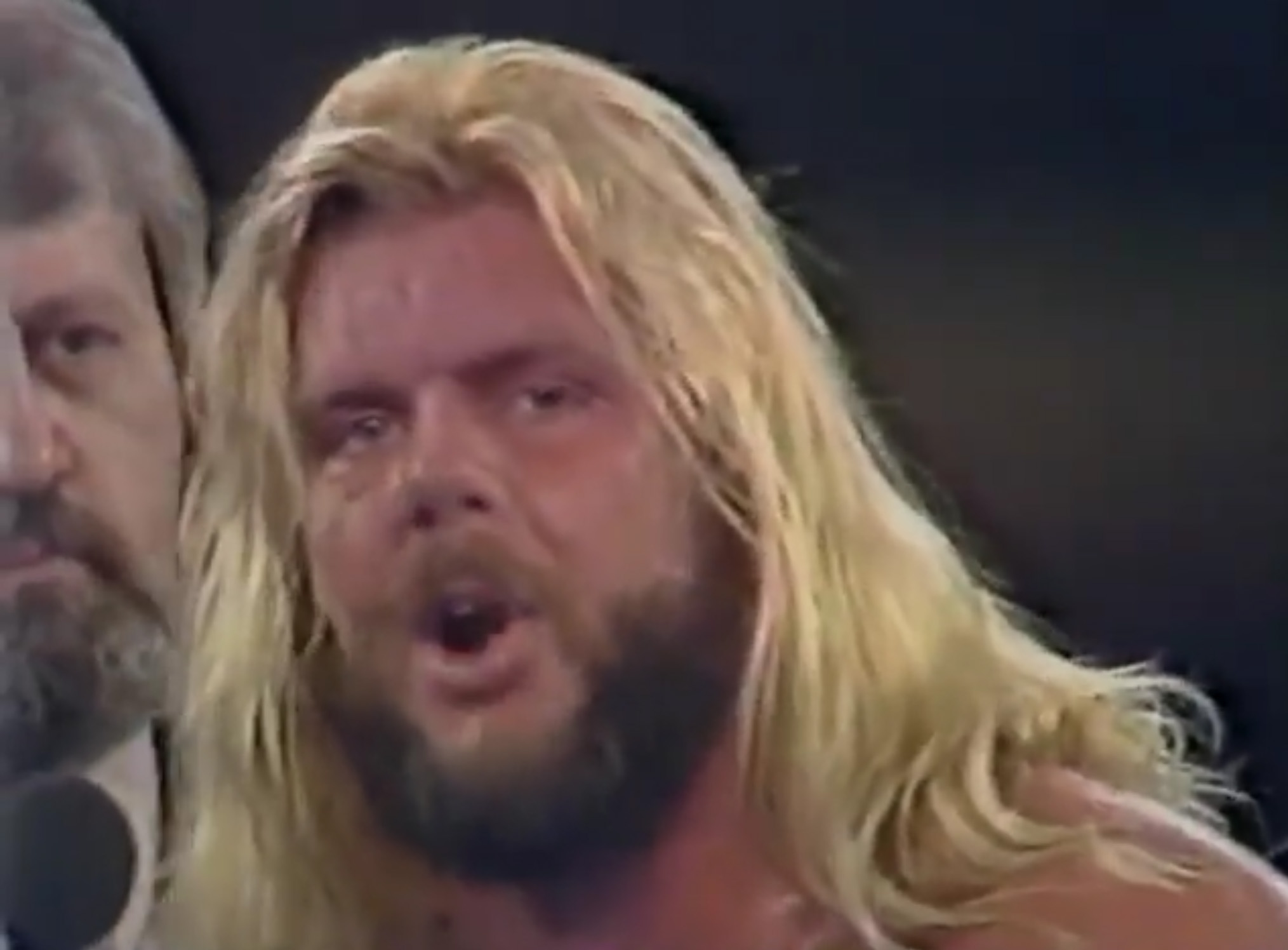 Catch the AWA on tour!
10/27 in St. Paul, MN. (Martel versus Hansen for the AWA World title)
11/2 in Milwaukee, WI. (battle royal)
11/3 in Chicago, IL. (Curt, Greg, Hall versus Garvin, Regal, & Zbyszko)
11/5 in Utica, NY. (Martel versus Bockwinkel for the AWA World title)
11/6 in Setauket, NY. (Martel/Bockwinkel)
11/15 in Denver, CO. (Road Warriors versus Freebirds)
11/17 in Green Bay, WI. (Hayes versus Blackwell strap match)
11/18 in Salt Lake City, UT. (Road Warriors/Freebirds)
11/24 in Rockford, IL. (Hayes/Blackwell strap match)
IN THIS CORNER: Video featuring Baron Von Raschke airs. Nelson and Zbyszko interview Von Raschke about the claw, and Von Raschke squeezes the bejeezus out of an apple.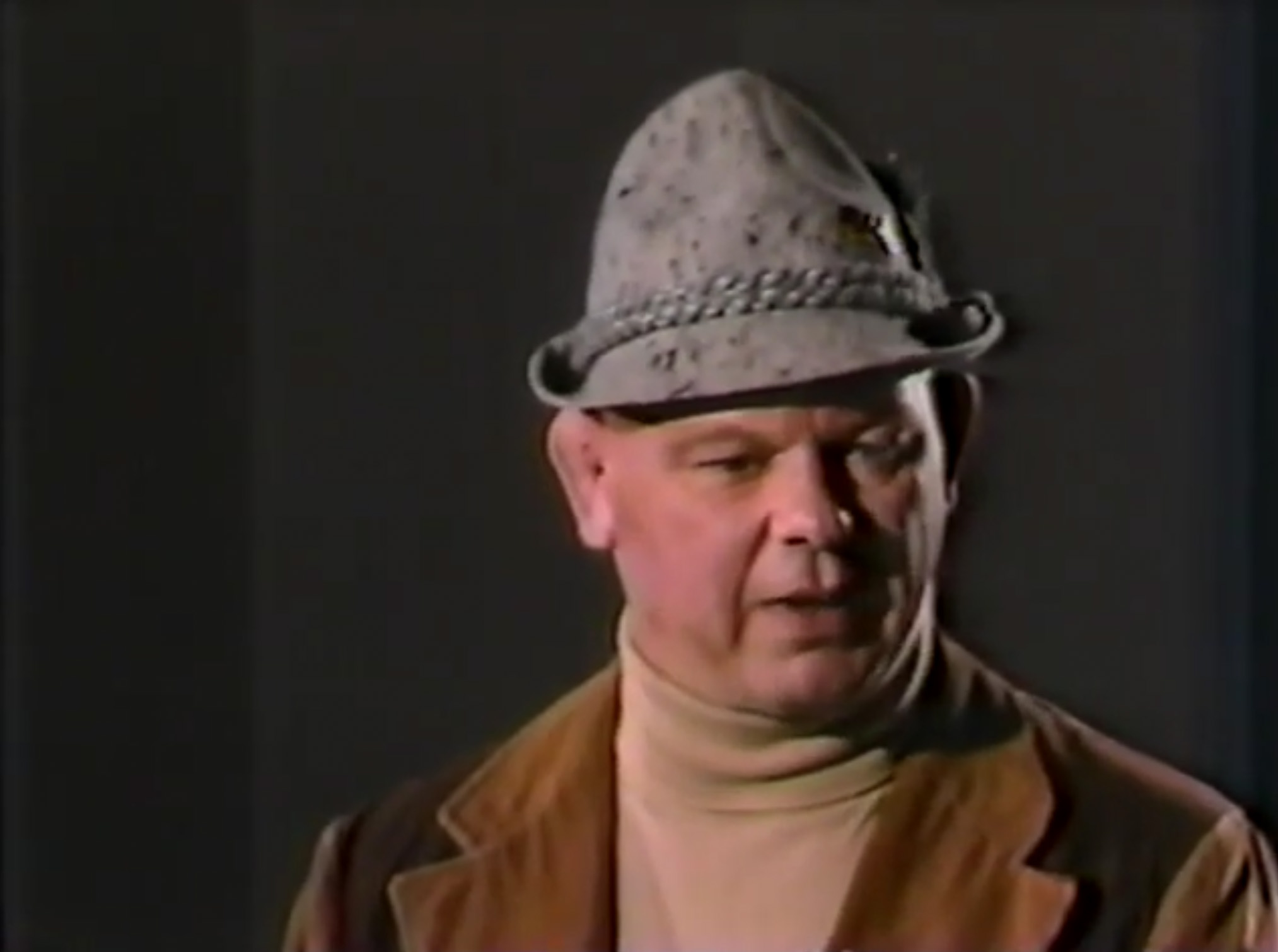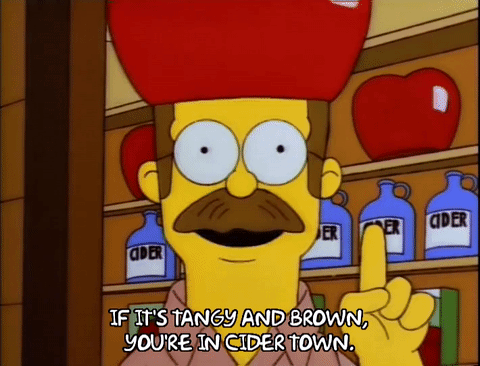 MAT CLASSIC: Ray Stevens versus Jerry Blackwell from 06/20/82 – take a pass.
Match 3: "Gorgeous" Jimmy Garvin (w/ Steve Regal & Precious) versus Curt Hennig
Highlights:
Curt leapfrogged Garvin twice and followed with a pair of dropkicks.
When Precious distracted Curt, Garvin attacked Curt from behind. SNEAKY!
Curt hooked a sunset flip and got 2.
As Garvin attempted a hip toss, Curt blocked and fed him one of his own.
Curt reversed a cross corner whip and backdropped Garvin for 2.
After Garvin nailed him, Curt spilled out of the ring like he had too much ginger ale.
Curt returned to the ring only to be guillotined on the top rope.
With two minutes remaining, a mid-ring collision put both wrestlers down on the mat.
Curt scored with a knee lift for 2.
While he trapped Garvin in an inside cradle, Curt earned another 2-count.
He slammed Garvin but couldn't get 3.
When he dealt Garvin the Axe, Curt mounted the top turnbuckle.
Precious got up on the apron to distract referee Tom Zanini, so Regal got up on the apron as well and knocked Curt down to the mat. How dastardly!
As Garvin got a 2-count, Greg Gagne came to ringside to brawl with Regal.
The match devolved into a Texas tornado match, and Greg backdropped Regal.
After Zanini called for the bell, he ruled the bout a double-disqualification.
Rating: **
Summary: Hot main event that serves as an appetizer for a tag title challenge by Curt and Greg.
In the ring, Nelson interviews Greg and Curt. While Greg challenges the tag champs, Curt cries injustice much to the delight of the Atlantic City faithful.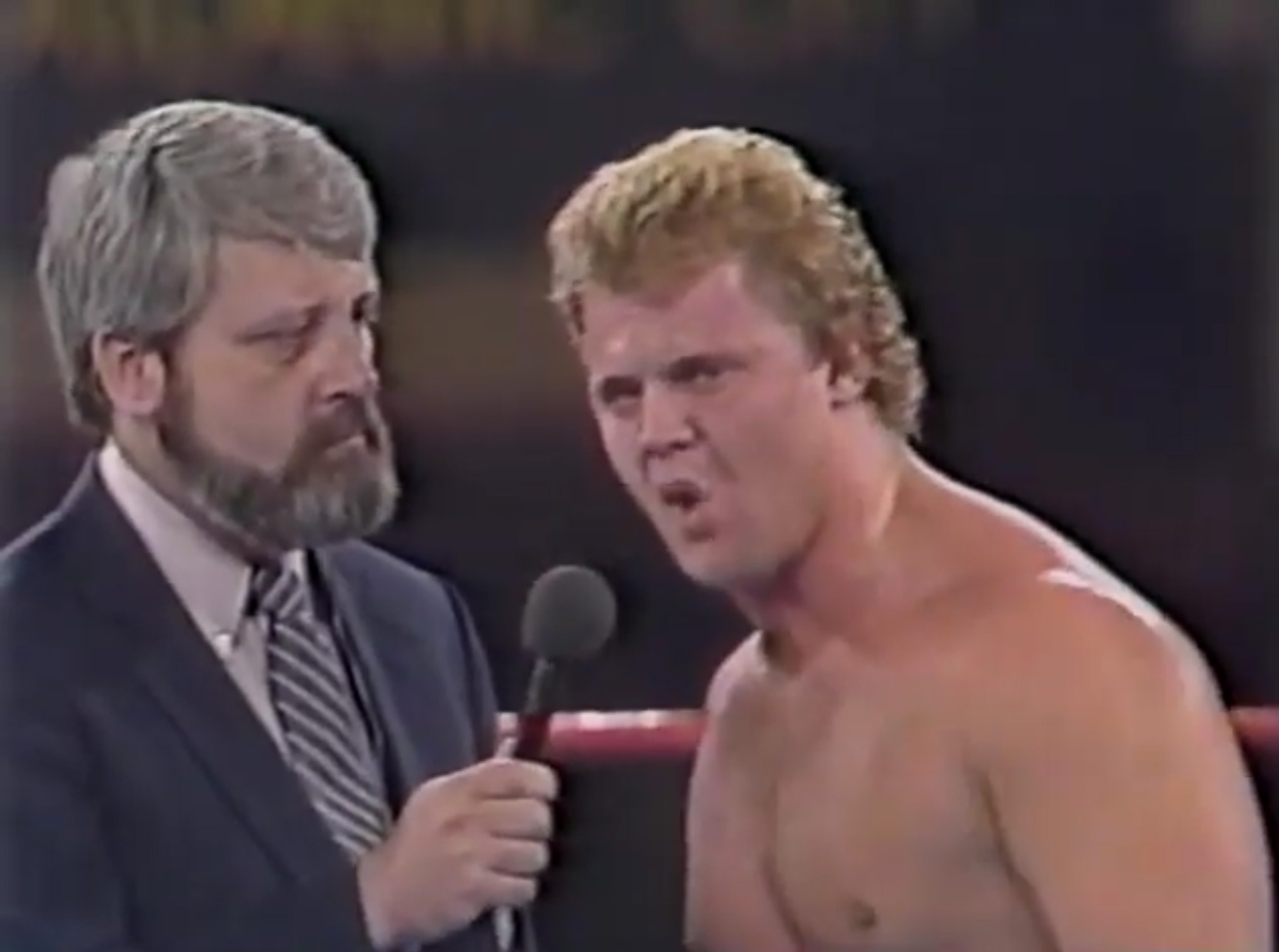 Conclusion: The main event is the sole element of the show worth a damn. I find it interesting that the AWA finally revealed that the Road Warriors lost the titles but didn't show the match. Perhaps I can do something about that….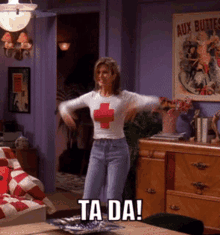 BONUS MATCH for the AWA World tag team titles: The Road Warriors (champions w/ "Precious" Paul Ellering) versus "Gorgeous" Jimmy Garvin & "Mr. Electricity" Steve Regal (w/ Precious)
Highlights:
Instead of reviewing the "mat classic," I will substitute this match for historical context.
This match took place in St. Paul, MN on 09/29/85.
As Hawk hip-tossed him, Garvin ate an elbow smash from Animal.
The heels tried to double-team him, but Hawk was having none of it and blasted both of them.
When tags were exchanged on both sides, Regal bounced off Animal like a pinball.
Hawk tagged in, reversed a cross corner whip, and dealt Regal a back elbow.
After Hawk fed Regal a knee lift, Garvin tagged in and choked Hawk.
Animal distracted referee Marty Miller, so the heels double-teamed Hawk. Sinister!
While Regal distracted Miller, Garvin took Hawk on a trip to the SOUTH side of St. Paul.
Hawk responded with a pair of knee lifts followed by a powerslam.
As Regal tagged in, he nailed Hawk who began to no-sell.
Animal distracted Miller again, so the heels gave Hawk the business in their corner. Nefarious!
When Garvin tagged in, Hawk nailed him into the middle of 1986.
Hot tag Animal.
After Animal delivered a flying shoulder block, he got 2.
Animal clotheslined Garvin for another 2.
With all four wrestlers in the ring, Hawk hit a big boot to Regal.
The champs rammed the heels together, but Animal couldn't get 3.
Suddenly, the Freebirds stormed ringside and demolished Ellering.
Heel shenanigans backfired for the challengers, so Animal powerslammed Garvin.
While Animal clotheslined Regal, Hawk made Roberts HIT THE POLE.
Hayes mounted the top turnbuckle and disturbed an Animal press slam to send Garvin atop Animal.
As a result, Garvin pinned Animal at 10:39.
WE HAVE NEW CHAMPIONS!
Rating: **
Summary: Thanks to the Freebirds, the unlikely duo of Garvin and Regal upset the Road Warriors and stole the titles.
After the match, the Road Warriors and the St. Paul faithful are STUNNED.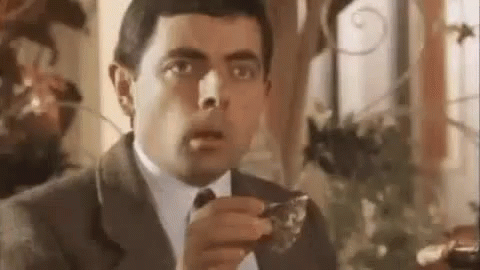 Backstage, Ken Resnick interviews the Road Warriors who are PISSED. They want to tear the Freebirds apart limb from limb.
TV Rating: NONE
Stay tuned for AWA 10-29-85!
Comments? Suggestions? Send them to me at [email protected] and follow me on Twitter (@rockstargary202). Also, please check out all of my reflections at rockstargary.com including Herb Abrams' UWF!