Battle Kat, Phantasio & Friar Ferguson (Dream Matches & One-Offs!)
By Jabroniville on 17th February 2021
I have literally no memory of this guy ever being a thing. I wasn't watching regularly enough.
Welcome back to more "Dream Matches"! This time with more weird, forgotten one-off characters who actually made TV in the Big Two! Short-lived weirdos like Battle Kat! Phantasio, the wrestling magician who had one WWF appearance and then vanished! Plus a match with Nick Dinsmore, pre-OVW- in WCW against Wrath! The Godwinns fight former stars under embarrassing identities in Who & TL Hopper! And the return of Big Bully Busick as he faces off against Kerry Von Erich!
BATTLE KAT vs. PAUL DIAMOND:
(WWF TV, Nov. 18 1990)
* So Battle Kat's another "quickly done" gimmick I've no familiarity with- the first was Brady Boone, a short roided-up guy who was done very fast- his WWF matches under this gimmick run from September to October before he's gone- I have no idea why. He largely ended up doing jobs for the rest of his career, so it's probably a combination of size and lack of charisma- his "gymnastic cat-man" thing didn't seem to get over anywhere. He died in a car accident in 1998, but was the inspiration to Rob Van Dam with his athleticism. Oh man, but the shiny purple cape and kitty ears… no, dude. Another jobber was given the role- Bob Bradley. I'm not sure which was which in the following two matches. Diamond has a GREAT mullet and is a jobber in silver tights here (we're a ways away from Kato).
Battle Kat does a pair of backflips and rolls around- the "waving his arms in cat-claws" motions are… okay, I see why this didn't go anywhere. It's very "indies". Armdrags, headscissors, back elbow of Bret's Rope, and a nice crescent kick hammer Diamond as Monsoon & Bobby try to ascertain his identity. Heenan crosses Tugboat & Dusty Rhodes off the list and bails to interview Earthquake's Survivor Series team as Kat cartwheels over Diamond, slowly runs around the ring, and hits the weakest-ass finisher I've ever seen- a "Knees Up" Thesz Press, for the finish (1:42).
Rating: 1/2* (easy enough jobber match with some good moves by the Kat, but just him showing off moves on a static figure, and a weak finisher)
BATTLE KAT vs. BORIS ZHUKOV:
(WWF Prime Time Wrestling, Nov. 1990)
* Battle Kat gets a "Feature Match" against Zhukov, long after he was relevant (not that he ever was).
Lord Alfred talks shit about how slow Boris is, but "he's deadly like a rhinoceros; he's not like a hippopotamus". Shows what YOU know, Alfred! Hippos are the most dangerous animal in Africa! Boris does a takedown but leans down so slowly Mooney talks shit about it and he gets lifted off and dropkicked outside. Kat hits a weak superkick and the world's softest elbow in the corner off a backflip. Snuka-chop knocks Zhukov down, but he puts his head down and gets elbowed- Zhukov chokes away, and Kat DOESN'T PUT HIS HANDS UP AT HIS THROAT! He just flails around with "cat claws". Oh shit, Jim Cornette said that is Vince's #1 pet peeve in matches- no wonder why this guy was gone so fast. Zhukov lays on him for some chinlockery as random fans shout "BORRRRING!", Kat snarls like a kitty, and Mooney & Hayes make cat jokes ("he might have six or seven lives left" "Picks him up by the scruff of his neck") and suggest that Battle Kat just isn't very effective- well that's death if they're writing him off on commentary. Zhukov's weak chop is ducked and Kat nails him, then hits nine Mongolian Chops in the corner. He runs into Boris's boot, but Kat cartwheels over him on a criss-cross and hits the Knees Up Thesz Press (I'm calling this the Cat Pounce… not that I have any more Battle Kat matches to recap…) for the win (5:02).
Pretty dreadful match, with Zhukov keeping the pace at his comfortable 0.0005 mph, and Kat having to work super-delicately probably as a result of that. His goofy mannerisms didn't quite get him over, and the finish largely comes out of nowhere and lacks impact.
Rating: 1/4* (way, WAY too long for what we got- Zhukov was super-lazy)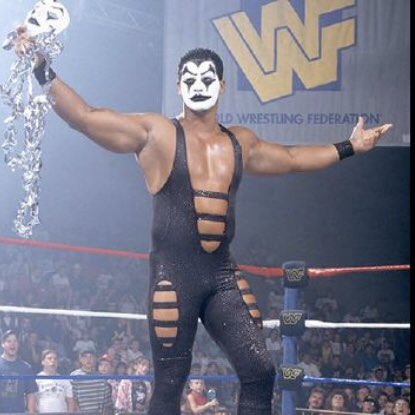 PHANTASIO vs. TONY DeVITO:
(WWF Superstars, July 16, 1995)
* So way back when I first discovered wrestling websites on the internet, I immediately had several needs that had to be fulfilled- in between lists of real names ("MONTY SOPP"!?!?) and pictures of Sunny's head on Tylene Buck's body, I just had to look up "Was Phantasio real?" Did I actually just dream this guy up? But it turns out that he was USWA wrestler Harry Del Rios, aka "The Spellbinder", with a good physique who got a couple of tryouts and then somehow ended up MAKING TV. Here, he is the Magician-gimmick wrestler, Phantasio. Right away he's a bit odd, coming to the ring in a facemask… then revealing his face painted identically to the mask. Oh, and his candle turns into a cane, which causes Gorilla Monsoon to mark out on commentary in a pretty hilarious way. He's in really good shape- tanned and toned, but wearing an outfit with a lot of cutouts on it- is this dude channeling Manami Toyota? But with the creepy mask, facepaint and cut-up outfit, he looks kind of off-putting, like he belongs in an S&M club.
We're joined in progress to a shoulderblock from Phantasio, who then stuns the pasty jobber by shooting white silly-string out of his hands (wait, did he find those Sunny pics, too?), then does armdrags until he bails. DeVito comes in but eats a big jumping shoulderblock (Monsoon marks out for his technique), and then the famous ending, as Phantasio reaches in the back of the guy's singlet, yanks out a pair of boxer shorts, then schoolboys him for the win (1:37 shown). And then he does it to the REF, pulling black & white striped boxers out of Earl Hebner's pants! Fuck it, that's great. Sadly, Phantasio never appeared on TV again, and showed up only in dark matches. He made appearances as "The Spellbinder" in that context, and brought Phantasio back in the 2000s for some indie stuff. He's not actually that old (only 48), so was possibly just too young and inexperienced here.
Rating: 1/2* (perfectly fine jobber match with some good technique and athleticism. I mean, he has a silly gimmick and Monsoon didn't even shit on him- that's something!)
He had a shillelaugh? He didn't use that in his WWF match!
FRIAR FERGUSON vs. CHRIS DUFFY:
(WWF RAW, April 12 1993)
* This is said to be the only TV match of Friar Ferguson, played by Mike "Bastian Booger" Shaw. The story here goes that the Catholic Church of New York complained and got the character removed. He was repackaged as Booger only two months later, possibly as punishment for his weight (which… I mean, he was a Big Fat Guy wrestler. That seems like such an arbitary thing. Never mind that Mabel & Yokozuna were around). Anyways, Ferguson comes down to church-like chanting, with a pad of paper around his neck… which he lifts to reveal a smiley face that says "monk", because Vince doesn't DO subtlety. This is pretty clearly a riff on Friar Tuck from the Robin Hood mythos ("Prince of Thieves" had come out two years prior, which, to be honest, is a bit "recent" given what we know about Vince), complete with the "ring of hair around the head", the obesity, and the outfit. The jobber is actually pretty big, but flabby- dad-bod and a hideous one-shouldered set of green & blue tights.
Ferguson gets shoved to start, but LAUNCHES Duffy with his own, then hits a standing backdrop right out of AJW rookie matches (Shaw watching joshi tapes for tips CONFIRMED- now let's see his Japanese Ocean Cyclone Suplex) and a legdrop. Vince actually gets a pretty funny line about the Friar's unfair advantage "considering just whom is managing" him. Duffy bails, then tries to flip Friar over the ropes- good luck, buddy. Friar reverses and whips HIM over the top to the outside. He continues the beatdown and literally does the Charleston (is that a Catholic tradition?), ending with a splash, but getting off at "2" to continue a slow, plodding beating. He avalanches Duffy and wipes the front part of his robe all over the guy's face, then hits punches, a NERVE HOLD (in a jobber squash?), and a back body drop, then noticeably gets the "go home" signal from the ref. Huffing and puffing now, he telegraphs another backdrop, but Duffy goes for a sunset flip- this sets up his ACTUAL finisher, the Sit-Down Splash, for the three (4:22).
Yeah, a FOUR MINUTE JOBBER SQUASH. Was this just a way for them to get some talking points in? Because holy cow, that's excessive. Shaw didn't have the offense for it, so we got a lot of "measured punches" and even a friggin' RESTHOLD.
Rating: DUD (these matches are usually 2:00 and under for a reason)
THE GODWINNS (Henry O. & Phineas I. Godwinn, w/ Hillbilly Jim) vs. T.L. HOPPER & WHO:
(WWF RAW, July 22 1996)
* Yes, REALLY. The babyface Godwinns (floundering midcarder Henry getting a "Clone Buddy" in Dennis Knight, who would stick around FOREVER given his lack of talent) get a squash in against two of the bottom-tier mid-90s gimmicks- Tony Anthony as a wrestling plumber, and Jim Neidhart as the masked "Who". Hopper's in tan khakis and his wifebeater (with a rag sticking out the back pocket, unless he's doing that Jeff Hardy thing for style)
Lawler mainly uses this to rag on Jake's alcoholism (which was supposed to be recovered, but was actually not, at this time). Basic criss-cross into an awful hiptoss by Henry, as I notice yet again that if he's big enough to dwarf Neidhart/Who, then he's WAY bigger than I thought he was when I was a kid. Phineas gets a slam and punches on Hopper, who cartoonishly wobbles while Bob Backlund talks suuuuuuuuuuuuper slowly on commentary about how lewd Shawn Michaels is. Who nails Phineas from the apron and they do a double back body drop. They slowly pound away while Bob rants about the school systems "teaching kids to avoid AIDS by applying condominiums" over the teaching of abstinence, as this is increasingly-obviously just filler to mention other stuff going on. Phineas reverses Hopper's suplex and both tag out- Henry hitting a boot and elbow while Gorilla Monsoon declares Ahmed Johnson's IC Title "vacant". Hopper breaks the count and the Godwinns are tossed into each other, but do-see-do into punches and Henry hits the Slop Drop on Who for the win (5:20).
Rating: 1/2* (Very clearly a backdrop to other stuff, as everyone hits 1984 WWF offense and slowly pounds away)
"THE TEXAS TORNADO" KERRY VON ERICH vs. BIG BULLY BUSICK:
(WWF Madison Square Garden Network, Oct. 28 1991)
* No Harvey for Busick tonight. This is after Kerry's push was done, and he's in yellow here.
It's the "House Show Special" (two minutes with no meaningful contact and a lot of playing to the crowd). Hiptoss… stalling… test of strength, hoo boy. Busick has to boot him to start winning, and Monsoon & Lord Alfred give the ref shit for counting with Kerry's shoulders up. Bully scores a Rainmaker clothesline, and Kerry goes shoulder-first into the post (Monsoon of course noting "He wasn't going in that fast"). Busick jumps into nothing and Kerry hits THE CLAW. Bully is taken down a bit, but makes the ropes… but Kerry just pulls him off (that's on both sides of the Pacific- why is that allowed?) and goes for the Discus Punch, which is blocked and he's punched in the mouth. Bully does a bearhug & back elbow as Monsoon & Alfred compliment their "caution" for having "not opened up yet", which I suspect is code for "They're being lazy tonight". Bully hits a sleeper, but Kerry makes the ropes, gets whipped to the corner, and gets his foot up- Discus Punch clocks Bully down like a tree for the finish (7:47).
Rating: 1/2* (totally slack-ass match. Little botching, but sooooo slowwwwwwwww)
He was once a highly-thought-of prospect!
WRATH vs. NICK DINSMORE:
(WCW Nitro, Sept. 21 1998)
* Yes, that's EUGENE, back before he was even an OVW darling, as a pasty, pale jobber in red trunks. Wrath was in the midst of his low-key Goldberg-esque push of murdering jobbers at this point until… you know. Wrath is in his blue & black singlet, looking like a huge star.
Wrath tosses Nick around to start, does some apron shots (telling the cameraman to "get out of the way!" in the process), then hits chops against the railing- a recurring spot of his. Nick's dropkicks are shrugged off in the ring, and he hits a backdrop suplex, corner shots, a jumping shoulderblock, and the Meltdown (pumphandle powerslam) for the three (2:10). Easy squash for Wrath, selling nothing. Though the reaction's nowhere near Goldberg's level, they definitely had something here.
Rating: 1/2* (acceptable quick jobber squash- Dinsmore got NOTHING in there)