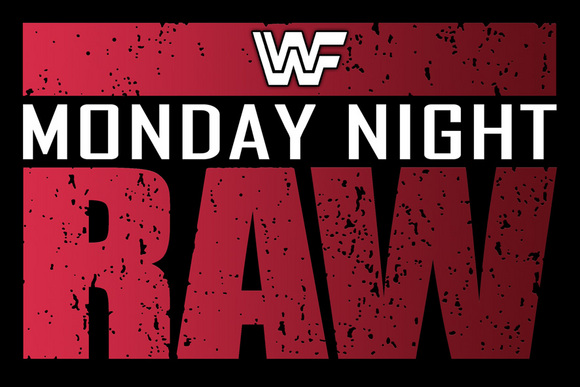 Taped from Poughkeepsie, NY
Airdate: November 1, 1993 (taped 10/18)
Attendance: unknown
Hosted by Vince McMahon & Bobby "The Brain" Heenan
Can Ramon conquer the behemoth Booger? Will the Gunns spoil the RAW debut of Well Dunn? Does Virgil stand a chance against Adam Bomb? What other surprise do I have inside? Let's find out!
To open the show, Heenan stands next to a table full of food and questions an extremely eager and hungry Booger who vows to "eat (Ramon) up too." Evidently, the food he's consuming is RAW.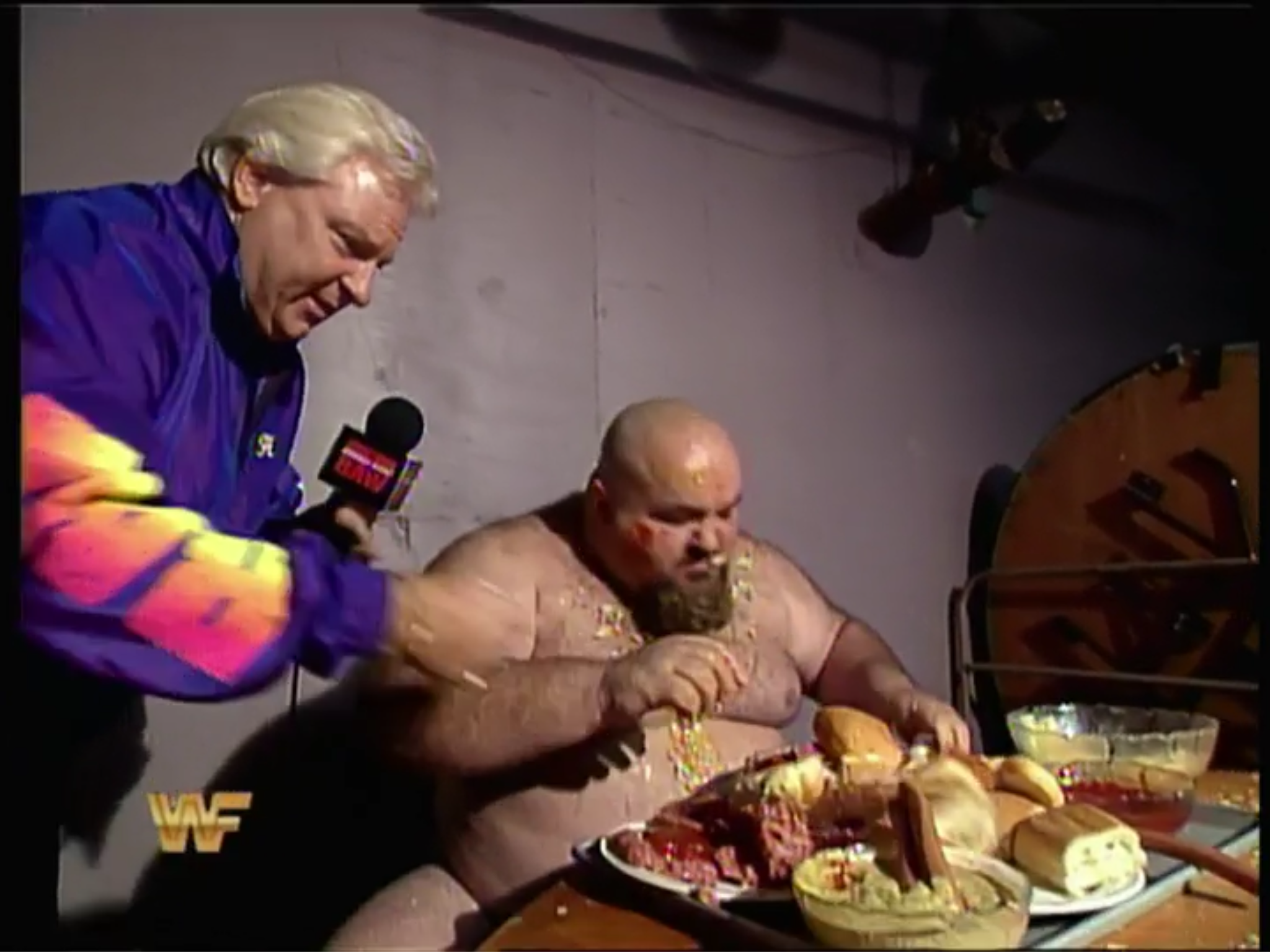 Opening montage.
Match 1 (non-title): WWF Intercontinental champion Razor Ramon versus Bastion Booger
Highlights:
While the Poughkeepsie faithful chanted "Ra-zor," Booger splashed their hero for 2.
Booger then celebrated unnecessarily, so Ramon nailed him sending him over the top rope to the floor.
When Ramon delivered a back elbow, Booger got tied up in the ropes.
Referee Danny Davis released Booger who took a respite outside the ring.
As he pulled Ramon to the floor with him, Booger rammed him face-first into the apron.
With Ramon leaning against the ring post, Booger SQUISHED him.
He then rammed Ramon back-first into the apron twice before rolling him into the ring.
After Booger applied a bear hug, Ramon escaped and landed a discus punch.
Ramon then failed with a slam attempt, so Booger powerslammed him for 2.
When the "Ra-zor" chants continued, Booger reapplied the bear hug. Considering this match occurred during the fourth stage of this taping, I'm surprised the Poughkeepsie faithful weren't slumbering.
Booger then reversed a cross corner whip but ate boot on his follow-through.
As Ramon successfully slammed him, he attempted a Razor's Edge.
Booger then countered with a back drop and hit a Trip to the Batcave for 2.
After Ramon flipped him over, he pinned Booger.
Ramon won.
Rating: *
Summary: Despite Ramon's increasing popularity, this match stunk on Melba toast.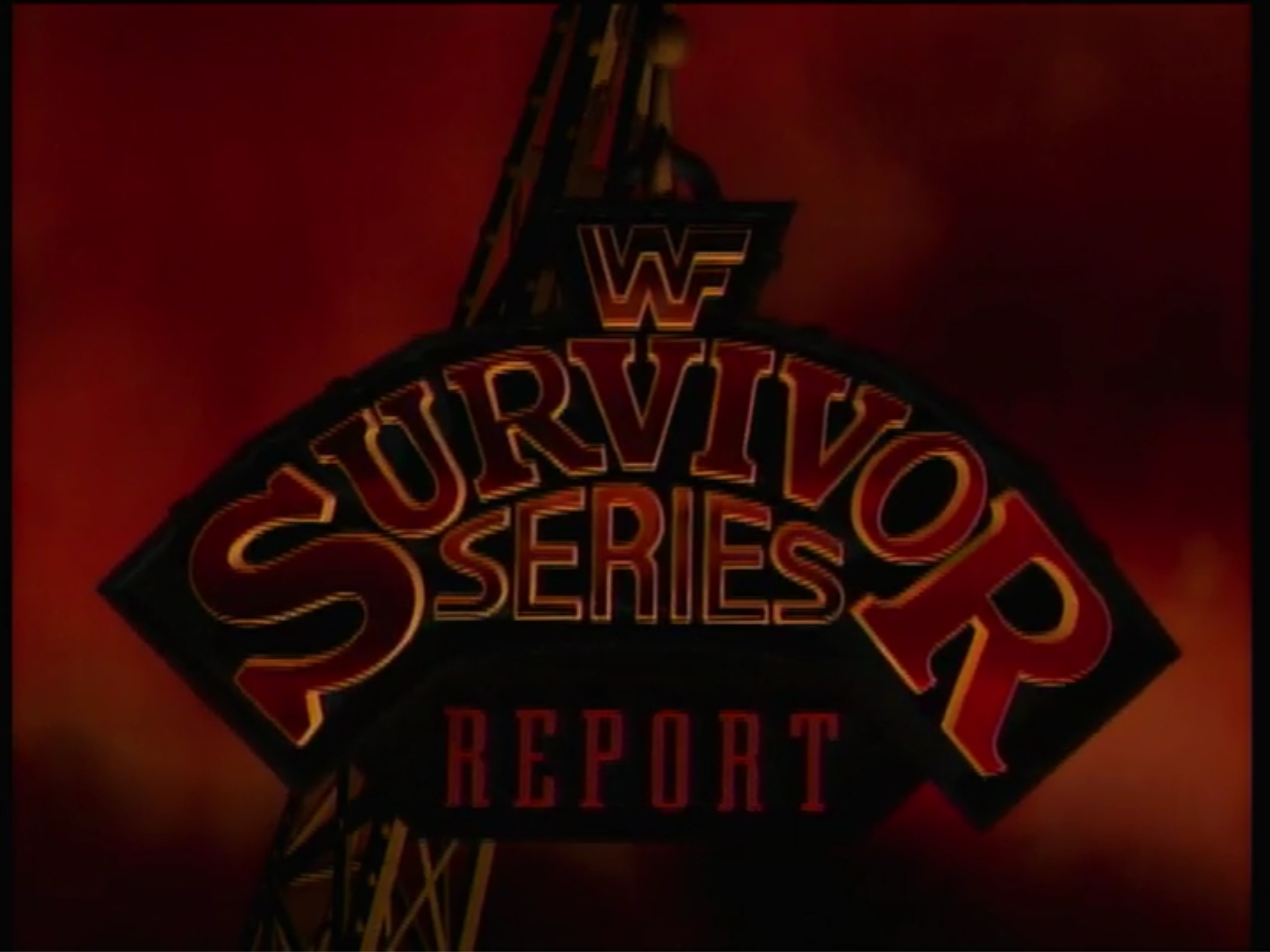 SURVIVOR SERIES REPORT: Joe Fowler Todd Pettengill shills the Riddick Bowe versus Evander Holyfield boxing PPV on 11/6 and shows off the promotional t-shirt in typical Pettengill fashion. He then shills the WWF PPV and runs down the card. We then revisit Superstars from this past weekend when the Foreign Fanatics cost Tatanka his undefeated streak. I guess if you're going to lose, lose in a big way.
https://www.youtube.com/watch?v=HNS47cXU4uY
In the ring, Vince interviews the Foreign Fanatics. Borga insults the angry heat machine and vows to defeat Scott Steiner next week.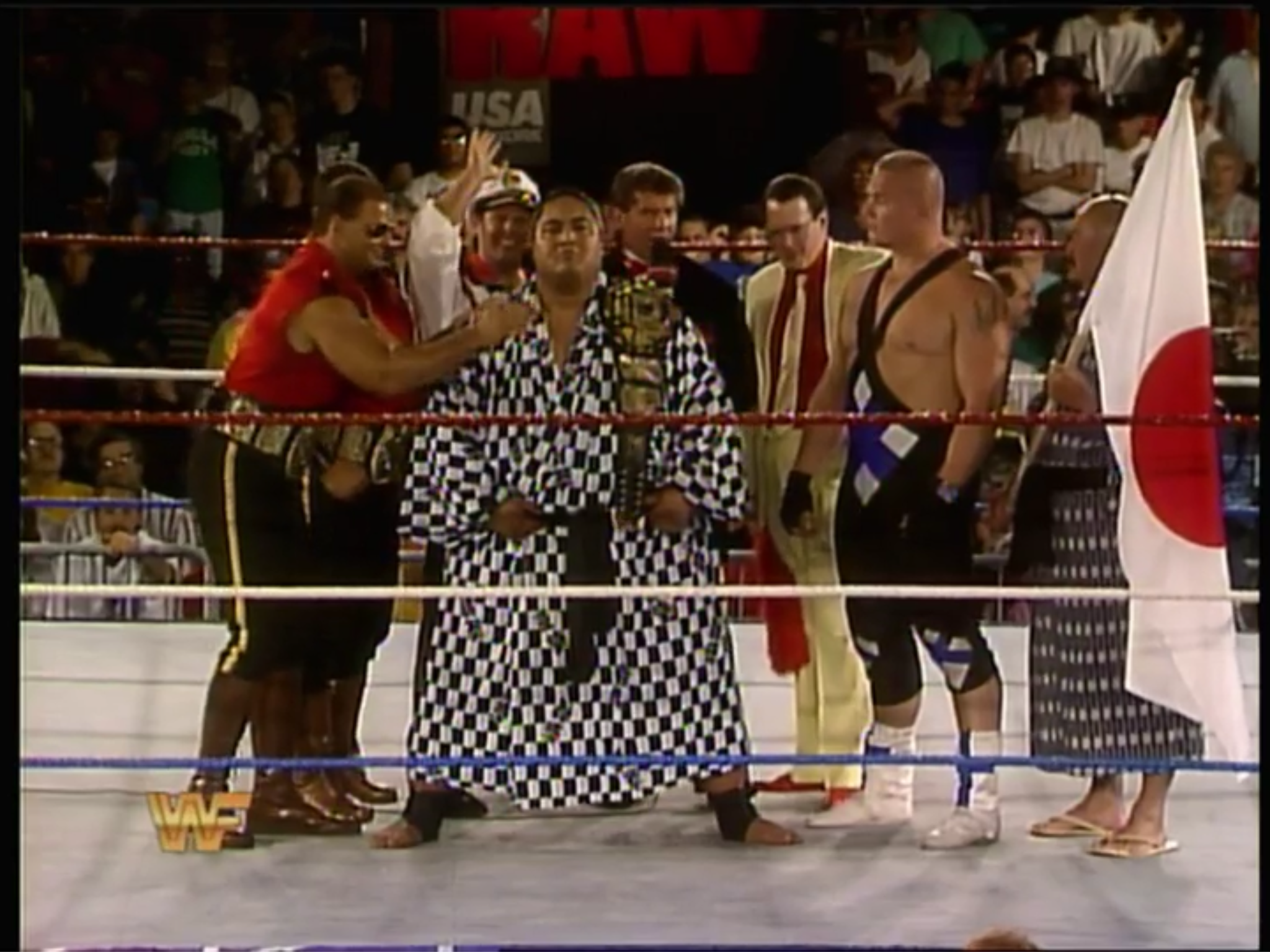 Promo airs for the Borga-Steiner match next week on RAW.
Match 2: Mr. Perfect versus the Executioner
Highlights:
The Executioner reversed a cross corner whip and hip-tossed Perfect.
As he gave Perfect a cross corner whip, Executioner came up empty on his follow-through.
Perfect then took us on a trip back to his AWA days by applying an Indian death lock.
When he provided the Executioner with a neck snap, Perfect delivered a Perfectplex.
1-2-3.
Perfect won.
Rating: *
Summary: Although this may seem like just a showcase match for Perfect, it was his last RAW wrestling match until 01/21/2002.
Promotional consideration paid for by the following: ICOPRO.
Vignette #3 for J-E-F-F J-A-R-R-E-T-T.
Match 3: The Smoking Gunns versus Well Dunn (w/ Harvey Wippleman)
Highlights:
Billy leap-frogged and nailed Well sending him reeling back to the heel corner.
When Dunn tagged in, Billy supplied him with an atomic drop.
Bart tagged in, mounted the top turnbuckle, and lowered the boom on Dunn.
As the Gunns delivered a suplex/cross body block combo, Well made the save.
Dunn then reversed a cross corner whip, but Bart floated over and hip-tossed him.
After Bart dropkicked him, Dunn gave him a cross corner whip.
Bart then attempted a flying headscissors, but Well interfered by guillotining him with the top rope. SNEAKY!
When Dunn clotheslined Bart, he got 2.
Well tagged in, and Well Dunn hit consecutive clotheslines to Bart.
As Dunn tagged in, Well Dunn provided Bart with a double back elbow for 2.
Well tagged in while Heenan made steak jokes about the program. HA!
In the meantime, Billy distracted referee Earl Hebner, and Well Dunn double-teamed Bart in the heel corner.
Bart then rolled up Dunn for 2.
Hot tag Billy.
After Billy delivered a lariat, Wippleman tripped him coming off the ropes.
Incredibly, Hebner saw every bit of the chicanery and called for the bell.
As a result, the Gunns won by DQ.
BOOOOOOOOOOOOOOOOOOOOOOOO!
Rating: **
Summary: Mediocre tag team match with a crappy finish.
After the match, the Gunns double-dropkick Dunn to send the heels scurrying.
Via telephone, "Macho Man" Randy Savage vows his return to RAW next week.
Match 4: Adam Bomb (w/ Harvey Wippleman) versus Virgil
Highlights:
After a criss-cross, Virgil leap-frogged Bomb before "hitting" a cross body block for 2.
Bomb then sought refuge outside the ring, but Virgil joined and rammed him face-first into the apron.
As he chased after Wippleman, Virgil delivered a plancha to Bomb on the other side of the ring.
Back in the ring, Bomb provided Virgil with a backbreaker and followed with a standing dropkick.
He then hip-tossed Virgil before clotheslining him.
When he gave Virgil a cross corner whip, Bomb ate a mule kick on his follow-through.
Virgil then mounted the opposite top turnbuckle and hit a missile dropkick for 2.
After Bomb reversed a whip, Virgil leaped to the second turnbuckle and attempted another cross body block.
Instead of catching Virgil, Bomb dropped him like a bad habit.
Bomb then hit the Atom Smasher and pinned Virgil.
Rating: ½*
Summary: Showcase match for Bomb.
Promotional consideration paid for by the following: WWF action figures.
Conclusion: With the exception of Hennig's last WWF match for nine years, this episode is nothing more than an appetizer for the PPV, and not a good one at that.
TV Rating: 2.8
IN OTHER NEWS THIS WEEK: In a number one contender's match, Sid Vicious battles "Nature Boy" Ric Flair on WCW Saturday Night (aired 10/30, taped 10/4). The winner will challenge Vader for the WCW World title at Clash XXV on 11/10.
https://www.youtube.com/watch?v=bxnkd6M6HmM
Stay tuned for WWF Monday Night RAW 11-08-93!
Comments? Suggestions? Send them to me at [email protected] and follow me on Twitter (@rockstargary202). Also, please check out all of my reflections at rockstargary.com.