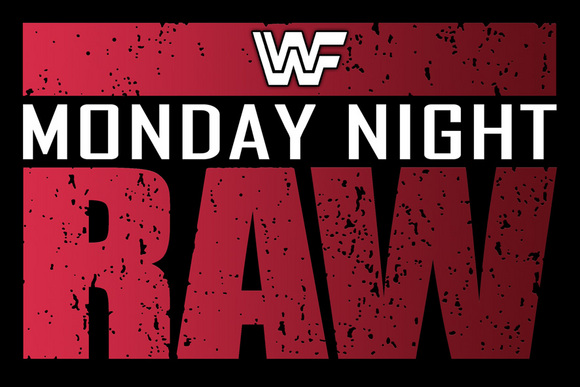 Taped from New York, NY
Airdate: July 26, 1993 (taped 7/19)
Attendance: 1,200 (sold out)
Hosted by Vince McMahon, "Macho Man" Randy Savage, and Bobby "The Brain" Heenan
Will Bigelow even the score or will Bret earn a second straight victory over the Beast from the East? What's up with Doink and Savage? Let's find out!
To open the show, Doink cuts an scathing promo on Savage.
Opening montage.
While Vince, Savage, and Heenan welcome us to the program, Stu and Helen Hart sit among the Manhattan faithful to support their son, Bret, for his match tonight.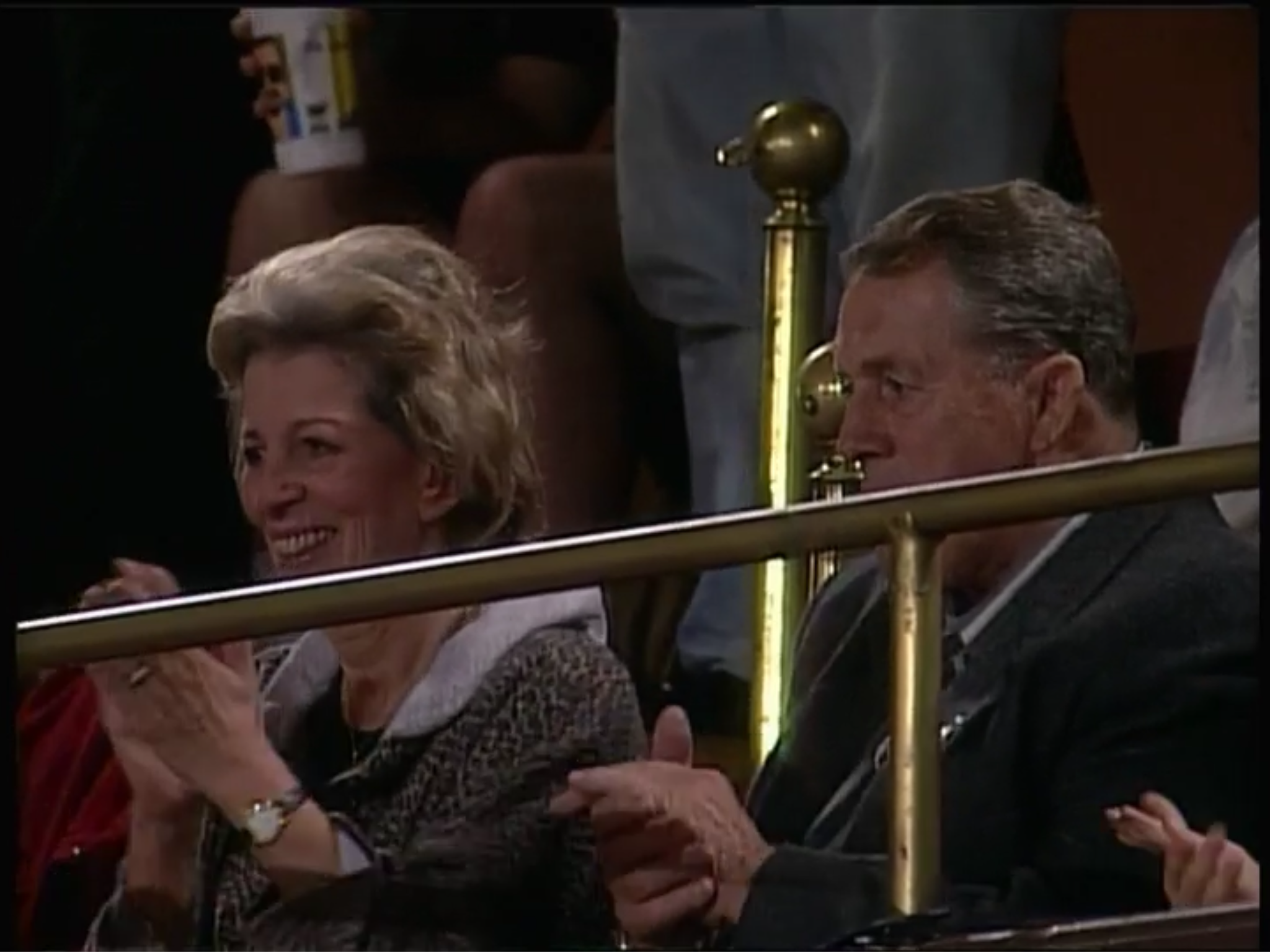 Match 1: Bret "Hitman" Hart versus Bam Bam Bigelow (w/ Luna Vachon)
Highlights:
According to Heenan, Jerry "The King" Lawler could make a cameo tonight. Considering he had his "King's Court" segment "last week," he should be backstage playing cards with IRS.
Bret dropkicked Bigelow but couldn't take him off his feet.
When Bret clotheslined him, he sent Bigelow over the top rope to the floor.
Upon Bigelow's return, Bret mounted the top turnbuckle and delivered a cross body block. In the process, Bret injured his knee.
Following a commercial break, Bigelow hit a belly-to-back suplex for 2.
He then gave Bret a HARD cross corner whip to injure the back.
As Bret attempted a second cross body block, Bigelow caught and powerslammed him for another 2.
He then delivered a pair of diving head butts before missing a third one.
After Bret hit his own belly-to-back suplex, he dropkicked Bigelow.
He then delivered an elbow smash for 2.
When Bigelow responded with his own dropkick, Heenan wouldn't stop lauding Lawler's destruction of Tiny Tim.
Following another commercial break, the Manhattan faithful chanted "Let's go Bret." If they chanted "go Bret, go," then I'd wonder if we were in the Sportatorium.
Bigelow then missed a second dropkick, so Bret backdropped him.
As Bret delivered a second elbow smash, he got another 2.
He then hit a side-Russian leg sweep but couldn't get 3.
Upon mounting the second turnbuckle, Bret clotheslined Bigelow yet only earned another 2-count.
He then applied a sleeper, but Bigelow used momentum to send Bret face-first into the top turnbuckle.
When Bret retaliated with a bulldog, he attempted a Sharpshooter.
Suddenly, Lawler appeared in the balcony with a microphone to chastise Stu and Helen.
Bret then tried to make his way through the Manhattan faithful, but Bigelow cut him off.
As Bigelow rammed Bret back-first into the ring post, Lawler exchanged insults with Helen.
Lawler then told obnoxious baby jokes about Bret, so Helen shoved him away.
Meanwhile, Bigelow gave Bret a cross corner whip that resulted in a sternum-first bump for 2.
While Lawler spouted his claim as the "king of wrestling," Bigelow slammed Bret.
He then delivered a senton splash, mounted the top turnbuckle, but missed a second senton.
After Bret hit a pair of clotheslines, he dropped a third elbow smash for 2.
He then gave Bigelow a DDT and sauntered after Lawler.
As a result, Bigelow won by countout.
Rating: ***
Summary: This match tried but failed to match the awesome encounter they had at King of the Ring '93. Lawler's annoying running commentary not only distracted from the pace of the match, it ruined the climax. I understand the build toward the king versus king match at Summerslam '93, but this match deserved a better finish.
After the match, Bret continues his pursuit of Lawler but changes direction to check on his parents. Aw.
Promotional consideration paid for by the following: ICOPRO and WWF action figures.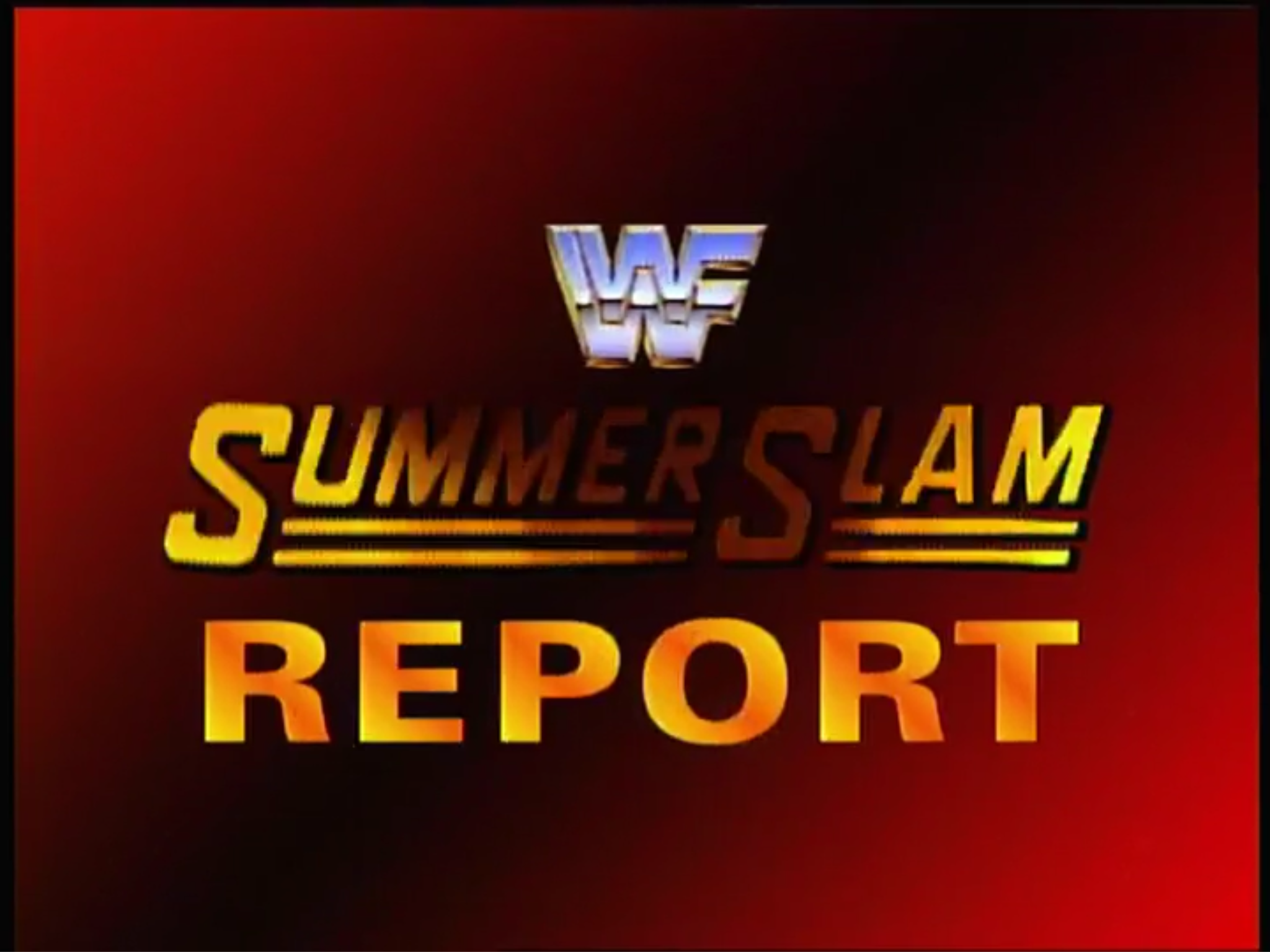 SUMMERSLAM REPORT: "Mean" Gene Okerlund runs down the card which includes:
For the WWF title, Yokozuna defends against Lex Luger. Per WWF President Jack Tunney, Luger must wear a pad over his right forearm.
in a battle of kings, Lawler faces Bret.
In an R.I.P. match, Undertaker challenges Giant Gonzalez.
Match 2: Mr. Hughes (w/ Harvey Wippleman) versus Ross Greenburg
Highlights:
Once again, a black wreath appeared at ringside during a Hughes match.
While the Manhattan faithful chanted "Un-der-tak-er," Hughes delivered a big boot.
He then powerbombed Greenburg prior to giving him a cross corner whip.
As he hit a Bossman slam, Hughes pinned Greenburg.
Rating: DUD
Summary: Showcase match for Hughes.
Vince then shills WrestleMania: The Album while Hughes destroys the wreath.
We then see clips from the release party for WrestleMania: The Album. In case you were wondering, the WWF provided Tiny Tim with a replacement ukulele during the event.
Match 3: The Smoking Gunns versus Glen Ruth & Duane Gill
Highlights:
Billy leap-frogged and dropkicked Gill.
When Ruth came in, Billy dropkicked him too.
Bart tagged in, mounted the top turnbuckle, and lowered the boom on Gill.
As Ruth tagged in, Bart ducked a double clothesline and delivered a double cross body block.
He then powerslammed Ruth and tagged in Billy.
After Billy hit a leg drop, he followed with an elbow drop to Ruth.
Bart tagged in, and the Gunns gave Ruth a double side-Russian leg sweep.
When Billy tagged in, he dropkicked Ruth.
He then slammed Ruth and tagged in Bart.
As Bart delivered a pair of knee drops, he suplexed Ruth.
Billy tagged in and hit a lariat.
After Bart tagged in, the Gunns delivered a drop toe hold/elbow drop combo to Ruth.
He then slammed Ruth and tagged in Billy.
When he powerslammed Ruth, Billy tagged in Bart.
The Gunns then ANNIHILATED Ruth with a back drop/piledriver combo.
GET OUT THE SPATULA!
1-2-3.
The Gunns won.
Rating: *
Summary: Decent tag team coordination by the Gunns, but Ruth may need a special trip to Mount Sinai after that finishing sequence.
Vignette airs for the incoming Ludvig Borga.
In an empty Manhattan Center, Vince interviews Luger who is "ecstatic" about his opportunity at the WWF title at the PPV. Luger then states that he doesn't have an issue with wearing a pad over his forearm. Furthermore, he'll take the Lex Express "coast to coast" and "rolling right up to…Summerslam."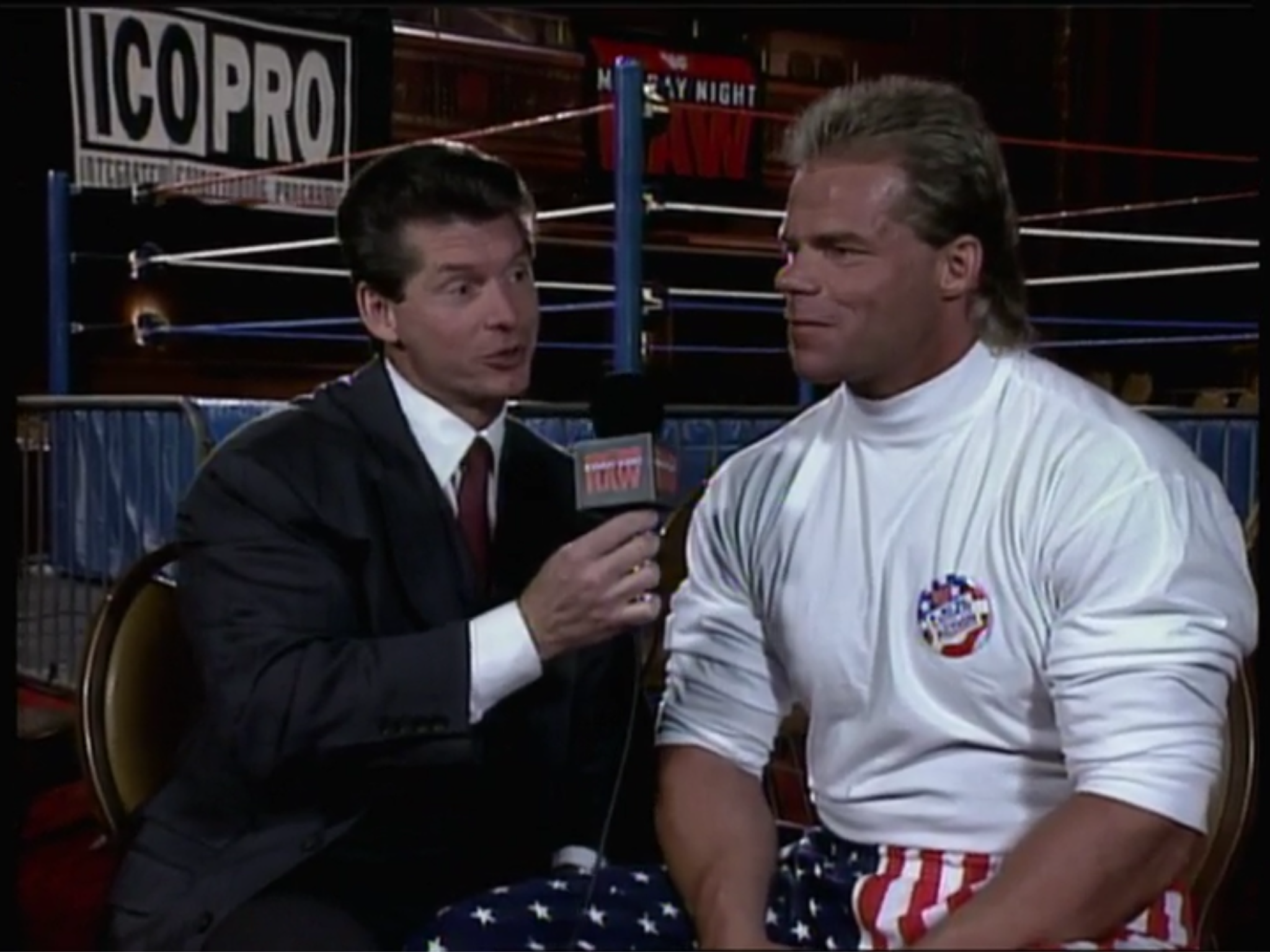 We then see clips of the Lex Express in Worcester, MA.
Match 4: Doink the Clown versus Phil Apollo
Highlights:
While Doink brought his unicycle with him, he didn't ride it. BOOOOOO!
Doink delivered a belly-to-belly suplex as Savage described him as "boring."
Meanwhile, Doink hit a belly-to-back suplex before delivering an elbow drop.
He then slammed Apollo, mounted the top turnbuckle, and hit a Whoopie cushion.
1-2-3.
Doink won.
Rating: ½*
Summary: Showcase match for Doink.
After the match, Doink grabs the microphone and cuts a promo on "Macho boy." When Doink points out that Savage interferes in Doink's matches, he challenges Savage to a match next week. Abruptly, multiple Doinks appear both in the ring and among the Manhattan faithful.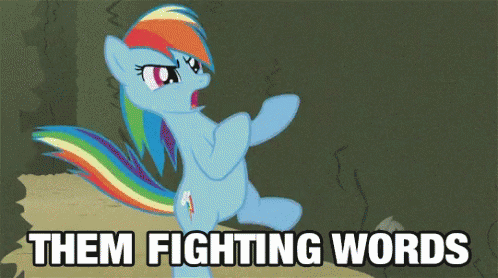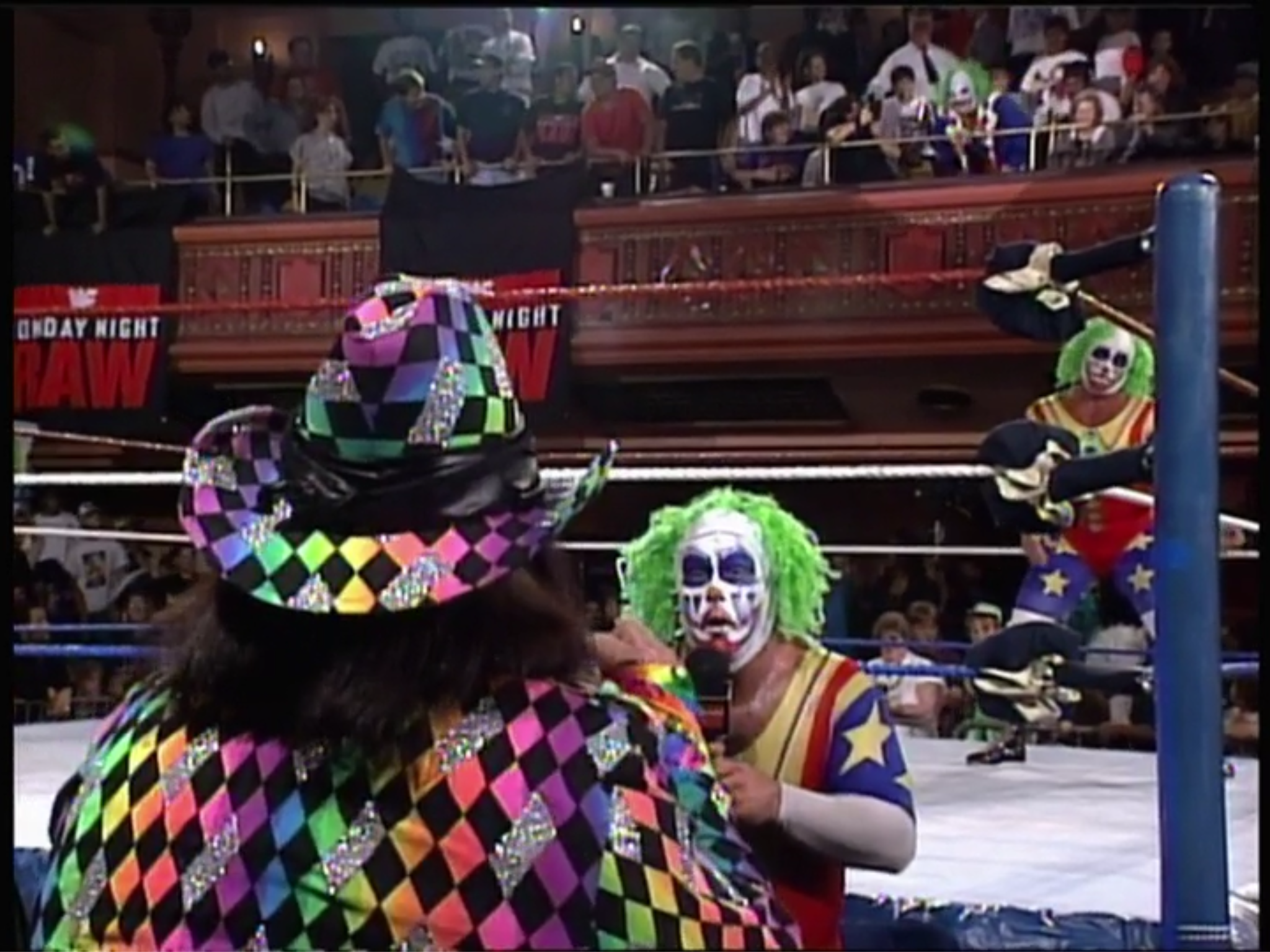 Promotional consideration paid for by the following: WWF Royal Rumble: the video game.
As the program leaves the air, Savage accepts Doink's challenge.
Conclusion: Despite being worthwhile, the Bigelow-Bret match only served to further the animosity between Lawler and Bret. In addition, while the angle at the tail end of the show encouraged fans to watch next week, the multiple Doinks created both a great visual and possible foreshadowing.
TV Rating: 3.0
Stay tuned for WWF Monday Night RAW 08-02-93!
Comments? Suggestions? Send them to me at [email protected] and follow me on Twitter (@rockstargary202). Also, please check out all of my reflections at rockstargary.com.