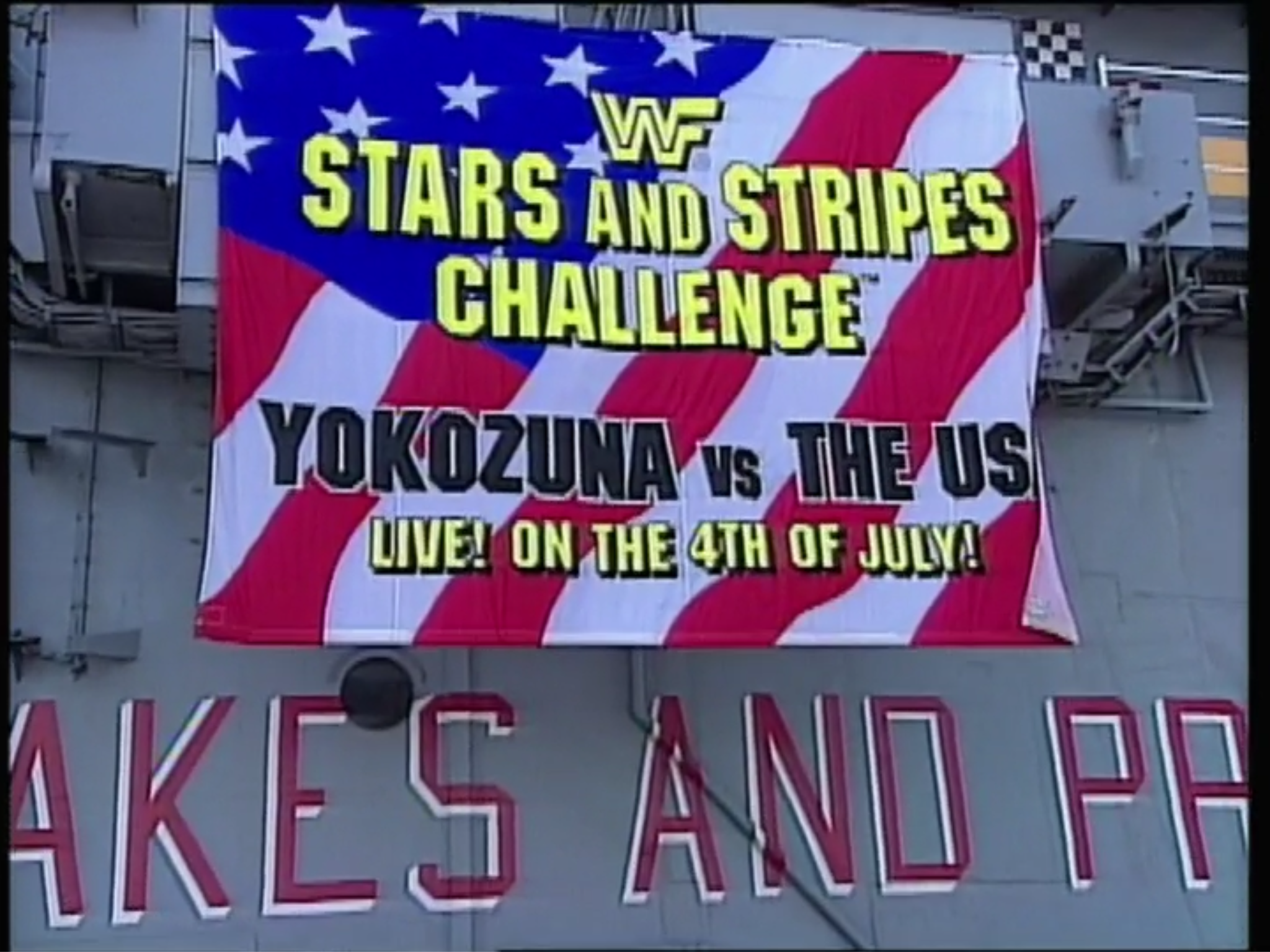 Live from New York, NY
Airdate: July 5, 1993
Attendance: unknown
Hosted by Vince McMahon, "Macho Man" Randy Savage, and Bobby "The Brain" Heenan
Will Yokozuna survive the Stars'n'Stripes Challenge? Or does a professional athlete from who knows where actually slam the WWF champion? Also, how will the 1-2-3 Kid fare against Blake Beverly? Let's find out!
Opening montage.
To open the show, we head to footage from yesterday's extravaganza aboard the U.S.S. Intrepid.
Stars'n'Stripes Challenge (non-title): WWF champion Yokozuna (w/ Mr. Fuji) versus the USA
Highlights:
Lee Rouson, former New York Giants running back, was the first contestant, got one of Yokozuna's legs up, but couldn't slam him.
Next, the second contestant was Bob Backlund. He gave it the ol' college try but failed.
Peter Taglianetti, defenseman for the Pittsburgh Penguins, didn't even come close.
Following Taglianetti, Scott Burrell, Charlotte Hornets shooting guard, took a hard pass on slamming Yokozuna.
WWF tag team champion Scott Steiner was the fifth contestant but came up empty.
After a time-out consisting of some rice for Yokozuna, Tatanka hit a series of chops, mounted the top turnbuckle, delivered a flying chop, couldn't slam Yokozuna, yet ate a superkick and leg drop.
Bill Fralic, Detroit Lions offensive guard, lifted Yokozuna off his feet but couldn't get the job done.
When Crush gave it a shot, he lifted Yokozuna up halfway, but his back gave out.
"Macho Man" Randy Savage tried his best but didn't succeed.
As Master of Ceremonies Todd Pettengill announced one more contestant, a helicopter landed on the ship. Who would emerge from it to challenge the WWF champion? Believe it or not, it was LEX LUGER! Upon shoving away Heenan, Luger cut a patriotic promo causing Fuji to spit on him. Nonetheless, Luger dispatched him from the ring, removed his American flag shirt, and stood toe-to-toe with Yokozuna. When Yokozuna charged, Luger evaded and caught him with a forearm. He then slammed Yokozuna successfully to a TREMENDOUS cheer from the New York City faithful.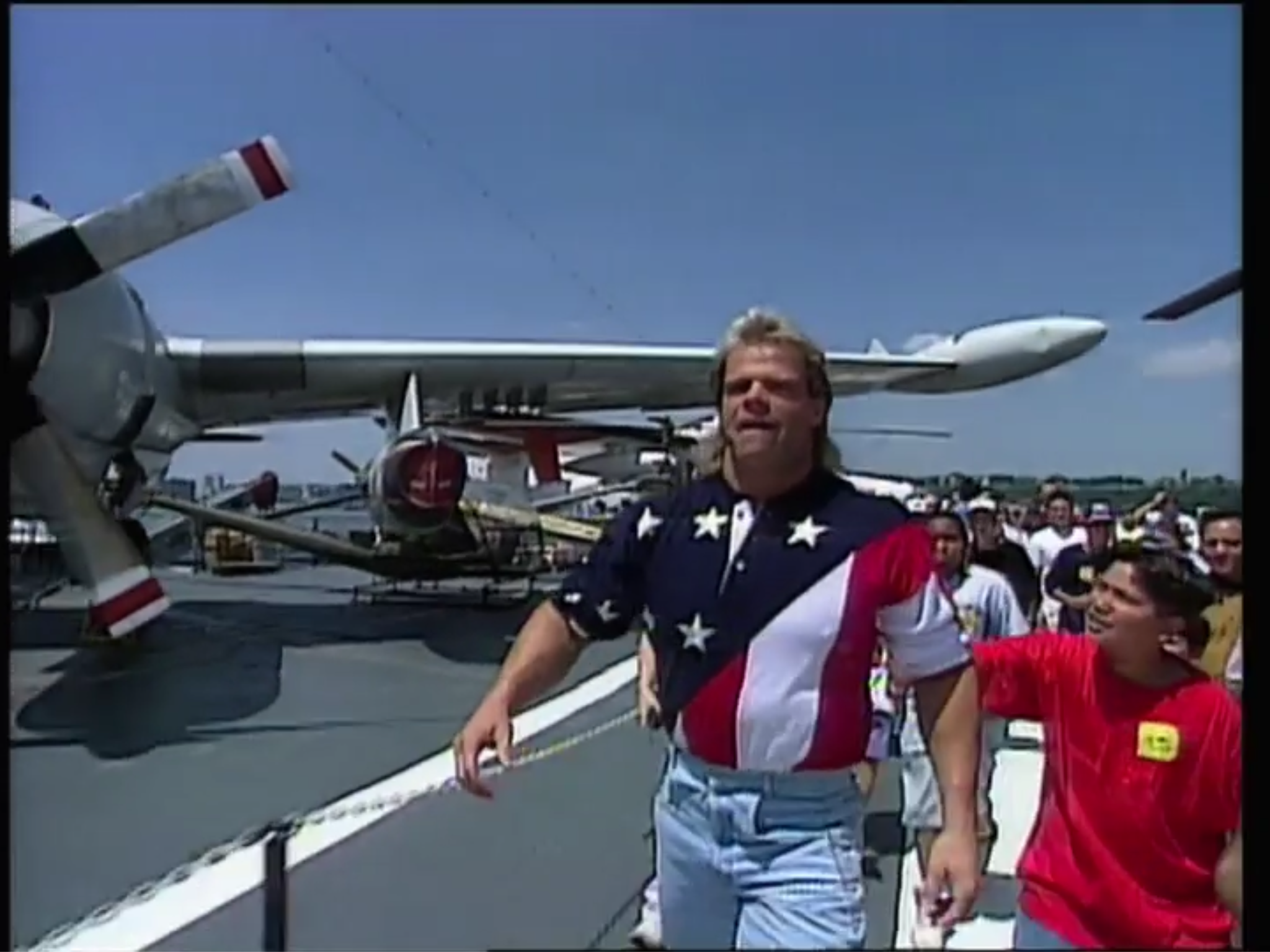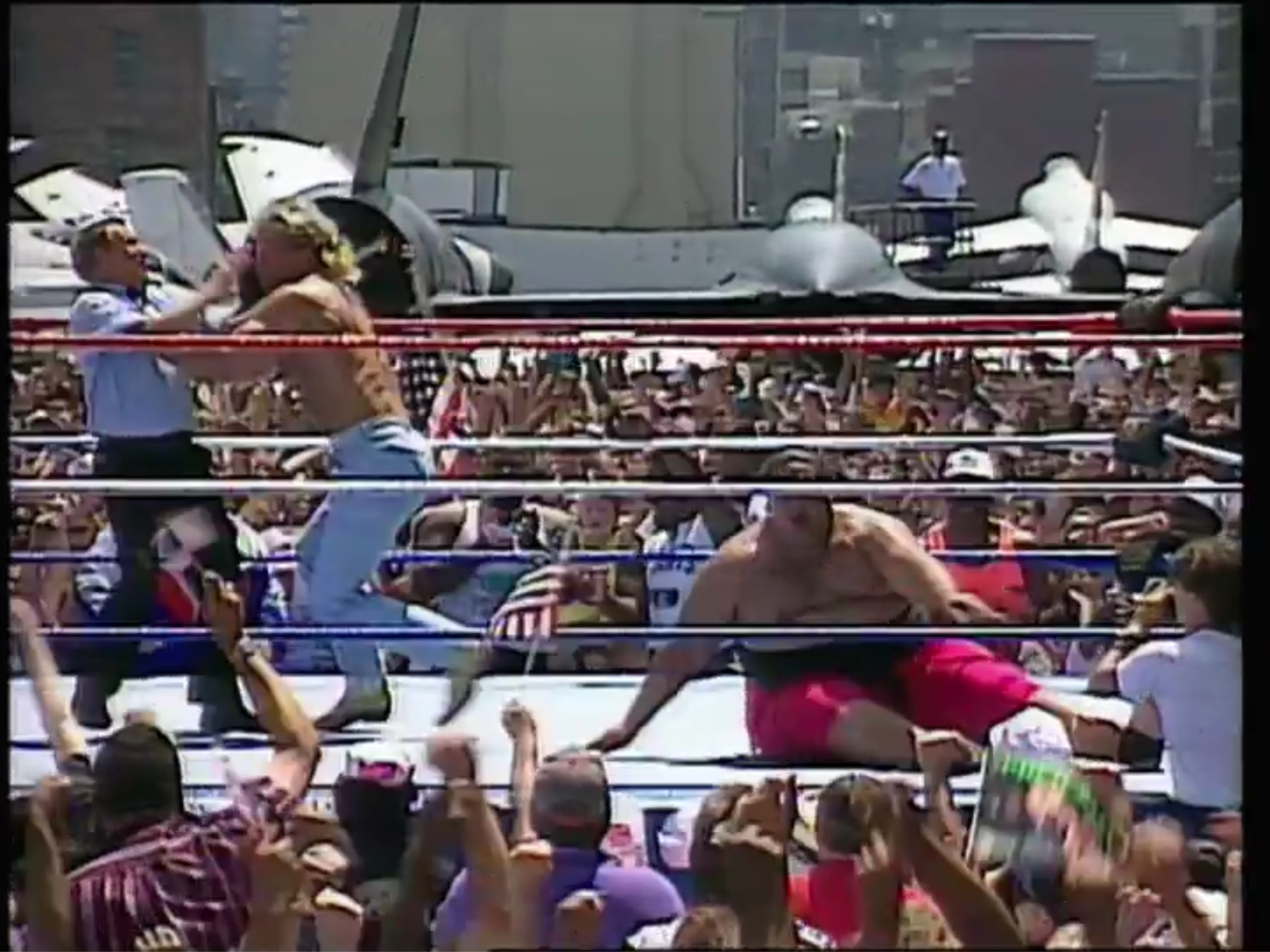 Upon returning to the Manhattan Center, Vince announces that Luger wants a title shot against Yokozuna. Savage emphatically provides support for Luger and calls his feat "the body slam heard 'round the world."
HOT TAKE: With Hogan gone, the WWF wanted to create a new hero instantly. Since it made no sense from a patriotic standpoint for Canadian Bret Hart to defeat Yokozuna, Luger changed his stripes and began bleeding red, white, and blue for the WWF. Let's see how this pans out.
Match 1: 1-2-3 Kid versus Blake Beverly
Highlights:
While the Manhattan faithful chanted "1-2-3″ in favor of their darling underdog, the Kid dropkicked Blake out of the ring.
He then gave Blake a baseball slide causing him to taste the steel railing. It must have tasted like the 8-hour Octopus at Death Avenue.
When Blake returned to the ring, he reversed an Irish whip.
He then attempted to flapjack the Kid but ate a dropkick mid-move instead. Wow!
As the Kid delivered an enziguri, he got 2.
Blake rebounded with a powerslam followed by a hangman's neckbreaker.
After Blake suplexed him onto the top turnbuckle, the Kid SPLATTERED down to the floor.
Blake then joined and humiliated him on the floor before tossing him back into the ring.
When he gave the Kid a flying head butt, Blake tossed him like a rag doll over the top rope to the floor. In fact, he DROPPED the Kid like garbage down a chute.
He then hit a backbreaker, sandwiched Kid in the corner, and powerslammed him again.
As Blake refused to pin him, he gave the Kid a cross corner whip.
On the other hand, the Kid leaped to the second turnbuckle but missed a cross body block.
Blake then delivered a short-arm clothesline before hitting a flying shoulder block.
After the Kid bounced down to the floor again, Blake mounted the second turnbuckle, leaped, but SPLATTED on the floor upon missing the Kid.
The Kid then mounted the top turnbuckle and gave Blake a corkscrew plancha. Woohoo!
When the Kid leap-frogged him, he made a second attempt only for Blake to counter with a belly-to-back suplex.
Blake then mounted the second turnbuckle but ate nothing but canvas on the way down.
As the Kid mounted the top turnbuckle, he hit a guillotine leg drop.
1-2-3.
The Kid won.
Rating: ***
Summary: Phenomenal match by the Kid who firmly had the Manhattan faithful in his back pocket and skyrocketed to victory.
Next, a vignette promoting the incoming Men on a Mission. If they're truly on a mission, I'm staying off the subway.
Promotional consideration paid for by the following: ICOPRO and WWF action figures.
Backstage, Luna Vachon pimps out her charge.
Match 2: Bam Bam Bigelow (w/ Luna Vachon) versus "Jumpin'" Joey Maggs
Highlights:
Bigelow gave Maggs a cross corner whip followed by an avalanche.
As he SQUISHED Maggs with a second one, Bigelow pinned him.
Bigelow won.
Rating: DUD
Summary: Showcase match for Bigelow.
Promo airs for All-American Wrestling each Sunday at noon ET.
Heenan then shills Summerslam '93 LIVE on PPV on 8/30 from Auburn Hills, MI. Order NOW!
Match 3: Undertaker (w/o Paul Bearer) versus Samu (w/ Afa)
Highlights:
Undertaker attempted to leap-frog him, but Samu inadvertently undercut him. Oops.
While the Manhattan faithful chanted "rest in peace," Undertaker reversed an Irish whip and dropkicked Samu. Impressive!
He then gave Samu the ropewalk shoulder smash followed by a clothesline.
When Undertaker missed a cross body block, he sauntered after Afa on the floor.
Due to the distraction, Samu leaped from the apron and delivered a double axe handle.
He then clotheslined Undertaker before hitting a thrust kick.
As Samu distracted referee Earl Hebner, Afa put his feet to good use on Undertaker. How dastardly!
Prior to the commercial break, Undertaker sat up.
Following it, Samu made Undertaker HIT THE POLE.
Back in the ring, Samu powerslammed Undertaker for 2.
He then slammed Undertaker who sat up again.
After Samu clotheslined him over the top rope to the floor, Undertaker landed on his feet.
He then returned to the ring, gave Samu a cross corner whip, and tossed him head-first into the ring post like a javelin.
.
When Undertaker hit an elbow drop, he missed a second one.
Samu then delivered a sidewalk slam and followed with a head butt.
As he mounted the top turnbuckle, Samu hit a diving head butt.
Sensing that Undertaker was finished, Samu mounted the top turnbuckle again and attempted another diving head butt.
This time, Undertaker sat up to counter it.
He then chokeslammed Samu before tombstoning him.
1-2-3.
Undertaker won.
Rating: **
Summary: Good TV match showcasing Undertaker's savviness against a tough but otherwise outmatched opponent.
Promo for WWF Mania airs. Saturday mornings at 10ET only on USA.
At ringside, Vince interviews Mr. Fuji with Yokozuna. While the Manhattan faithful chants "U-S-A," Fuji claims that Luger cheated thanks to his steel-plated forearm. As he declares that Luger didn't legitimately slam Yokozuna, Fuji states that Luger took advantage of the situation. He then says that no one in the WWF can stand up to the challenge of Yokozuna.
Abruptly, Crush interrupts them and praises Luger for his accomplishment. When Vince asks if Crush will answer Yokozuna's challenge, he's "here to kick the door down." Although Fuji tries to retract his challenge, Yokozuna accepts in Japanese. Hence, next week, Yokozuna and Crush will battle for the WWF title on RAW.
Promo airs for Summerslam '93.
Match 4: Mr. Perfect versus Brian Costello
Highlights:
Perfect leap-frogged and dropkicked Costello.
As he hooked a Perfectplex, Perfect pinned Costello.
Perfect won.
Rating: DUD
Summary: Showcase match for Perfect. With such a quick match, Perfect truly pumped it up.
Conclusion: Exciting episode with a HUGE babyface turn, a rather good Kid-Blake match, and a special challenge for next week's show. Grab some popcorn, gather some friends, and enjoy this one!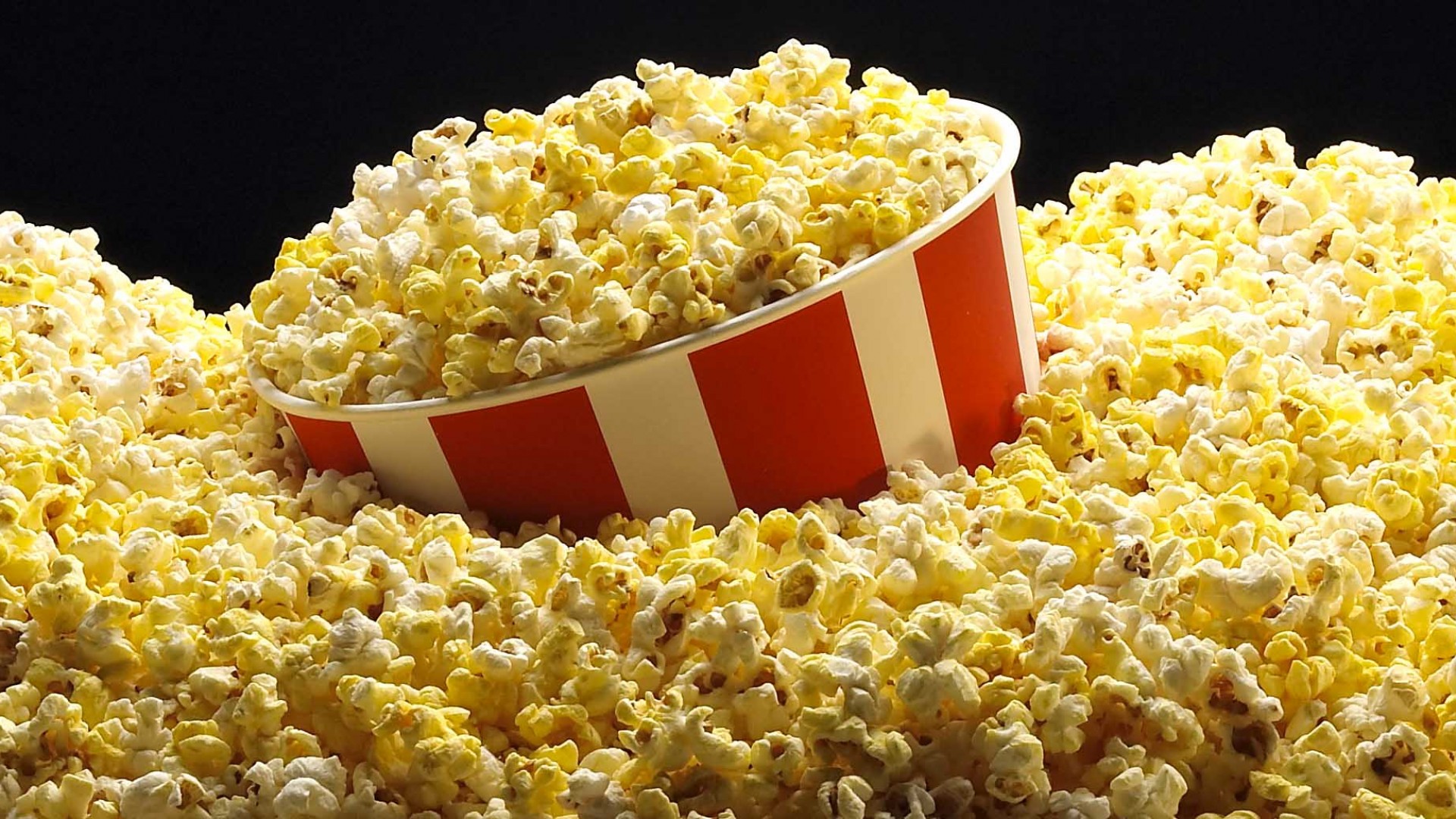 TV Rating: 2.9
Stay tuned for WWF Monday Night RAW 7-12-93!
Comments? Suggestions? Send them to me at [email protected] and follow me on Twitter (@rockstargary202). Also, please check out all of my reflections at rockstargary.com.